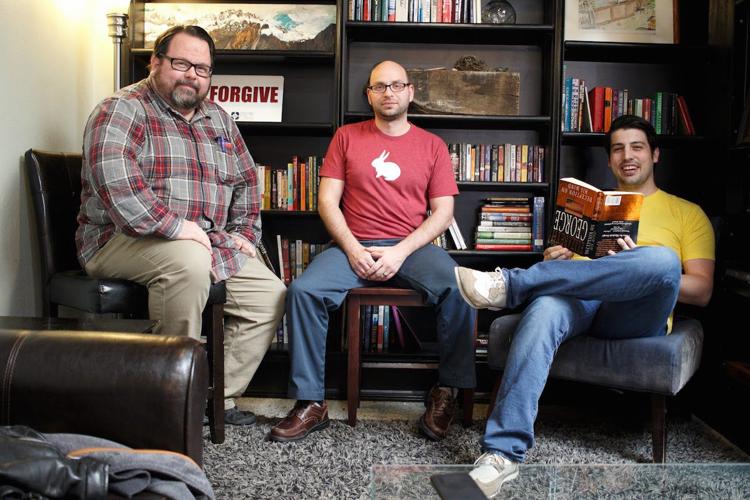 At first glance, An Evening with the Authors* may seem like your typical hoity-toity book reading. Turns out it's just the opposite.
"On its surface, the show sounds a little buttoned-up, but it's really far from that," says An Evening with the Authors* producer Iaaac Landfert. "Dracula is a reappearing character. We had the ghost of JonBenét Ramsey recently. A lot of weird stuff goes on in the show."
Every first Tuesday of the month at White Rabbit Cabaret, An Evening with the Authors* brings some of Indy's funniest comedians together for a production unlike any other. A tradition nearly four-and-a-half years in the making, the show features comics acting as fake authors, with each presenting his or her own zany, fake book. The result is an always-hilarious amalgamation of literary satire and sketch comedy that's now been taken on the road to several cities throughout the Midwest.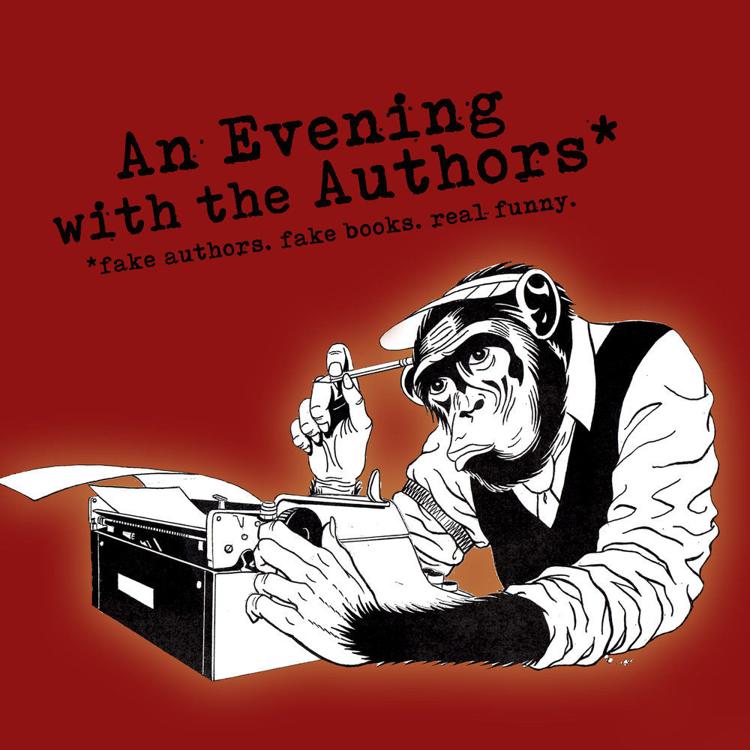 Started in June 2014, An Evening with the Authors* is a show that was originally conceived by comedian Jim Leugers, who has since passed away. "He just asked a bunch of comics that he knew to do the show, and after some pressuring and nagging, we finally put it together," recalls Stephen Vincent Giles, who still routinely performs at An Evening with the Authors*.
"The first show went off really well, and the concept of the show seemed to gel almost immediately." Having continued on strong in the wake of Leugers' passing, An Evening with the Authors* is made possible by a core group of active Indianapolis comedians, who regularly recruit guests to take part in the fun as well. In addition to Giles and Landfert, the core group of Authors* includes Jonathan Pfendler, Pauline Shypula, Joe Bates, Austin Reel, and Sam Griswold.
"Not to say there aren't great comics in the city who haven't participated in our show, but we use the best comics in the city for the most part," Landfert says. "The people who are on the show are generally pretty well-established performers. Out of the seven of us that do the show, our group really is more active than most."
He continues, "Three of our people work for The Bob & Tom Show. Quite a few of us have TV credits, online streaming credits, or writing credits on different things. So as much as our approaches are different, the work ethic is mostly what shows through."
Having been a part of An Evening with the Authors* for three years now, Joe Bates is no stranger to comedy. "I've been in four different scenes doing stand-up," he says. "I started out in Houston. I was out in the Bay Area for a while. And then, I was in Chicago for a little bit before I moved down here." Having had a hand in other well-established comedy scenes, he can truly reflect on this show's one-of-a-kind nature.
"When I came to Indianapolis, it was the first thing that made me love this scene," Bates says of An Evening with the Authors*. "The previous cities I was in all had their unique things, but this show is the most unique concept I've seen of any of the scenes."
More of a traditional stand-up comedian, Bates has enjoyed the challenge An Evening with the Authors* has presented him with. "If you see my stand-up, it's all over the place," Bates says. "So it helps clear my mind. It's a really good writing practice for me." Over the years, he's come up with all sorts of wacky ideas. "I had this character that was an astronaut that gambled on space—the Pete Rose of NASA," Bates says. "He gambled on the Challenger, and he won."
Much like Bates, Giles has favorite roles he's written for himself at An Evening with the Authors*—one of which being a poet laureate from the bayou. "Usually when I'm trying to decide on a character, I take a genre and then a character type or personality that's the complete opposite, and I just want to smash them together," Giles says.
Unlike his work as a stand-up, An Evening with the Authors* presents Giles with an opportunity to be part of a creative team of topnotch comics. With this backing, he feels his best work comes out.
"I'm emboldened and have this confidence, and then I try something new or I'm a little more daring than I am at stand-up," Giles says. "They give me the confidence to go do something. And when a comedian does something daring or tries something new, that's usually when the best stuff happens."