Photo by Beth Darragh
If you've been around Indianapolis comedy at all in the last few decades, there's a good chance you've crossed paths with Avery Dellinger.
With decades of experience in the local comedy industry, Dellinger worked at places like Crackers and Morty's before eventually accepting his current role as general manager at Indy's new Helium Comedy Club location at 10 W. Georgia Street in the heart of downtown.
Part of a larger chain that also includes locations in cities like Philadelphia, St. Louis, and Portland, Ore., Indy's Helium Comedy Club has already brought noteworthy names like Doug Benson, Jay Pharoah, and Margaret Cho to town. Alongside these marquee events, Helium also offers Indy comics opportunities for stage time via open mics and smaller-tier shows.
To get a better understanding of the ins and outs at Indy's Helium location, our Seth Johnson caught up with Dellinger for an interview one afternoon at the club, discussing the general manager's deep-seated love of laughter.
SETH JOHNSON: Where are you originally from, and how did you first get involved with the comedy industry?
AVERY DELLINGER: I'm from Indianapolis. I went to IU. I came back and went to Herron as an art student. My sister was a server at the Broad Ripple Comedy Club. When I turned 20, I was looking for a job in Indianapolis because I came back to Herron, and she got me a serving job there.
It was unlike anything I had ever seen. I had seen comedy on television. And for some reason, I thought these people were just coming up with stuff right off the top of their heads. So going into a comedy club and seeing it was the same set that they perfected really changed how I saw it. I was like, "This is an art. This isn't just off-the-cuff stuff."
I worked there for a little while. I had to work a New Year's, and I was like, "I don't want to work New Year's anymore." So I quit when they sold the business to Crackers. Shortly after I quit, they had a guy named John Fox come and work at the downtown location [of Crackers], which had been the Downtown Comedy Connection. The manager called me in to see if I could help out, and I was like, "Well, New Year's is over. Let's give it a shot."
I worked there and ended up staying for a long time afterwards. My sister got promoted to a manager position at the downtown location. And because she trusted me enough to close up on a night when she went on vacation, I ended up taking over some assistant management responsibilities. I went into bartending and just really enjoyed the comedy club atmosphere. It felt like a family.
I left Crackers and thought, "I just need to get out of comedy for a while." My current wife (girlfriend at the time) started working for One-Liners, so I'd go and help them out every once and a while. Funny Bone came into town, so I went and bartended for them a few times. I just kind of kept my foot in it a little bit. Then, a buddy of mine that I bartended with at Crackers reached out to me and said, "Hey. I'm going to open up a place, and I'd like you to be the operations manager." I was like, "That would be cool with me."
We opened Morty's in 2006. We thought about doing San Diego or New Jersey, but the Funny Bone building was sitting right there unused. It already had a stage built. So we established the 96th Street Morty's location, and we stayed there until 2010. I actually became a general manager at that Morty's for about two years. And then, I became an assistant advisor at the second Morty's, and then became their general manager.
With Morty's, we had close ties with the people that own Helium through the ticket company that we used. When Morty's was closing, they reached out to me to see if I could come and work here [at Helium].
I came and looked at the space when they were still building it, and it seemed really big for me. But comedy is all I really know now. I've done it for so long that I felt like this was the spot to go to. I think they've got the backing to do what they want to do, and it's not a risk.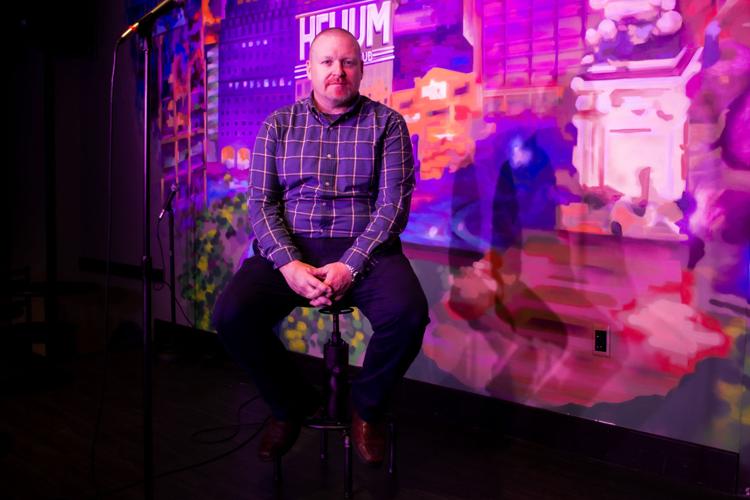 JOHNSON: Wow, that's a lot of comedy experience. What year was it when you originally worked that first server job at Broad Ripple Comedy Club?
DELLINGER: I started at 20, and I'm 44 now. I maybe took a year off here and a year off there, but I've been in Indianapolis as a comedy club manager for a long time. It's just not the same working a 9-to-5 as it is working at a comedy club. It's unlike anything out there. You feel like you're with your family. The comedians travel the world, and then they come back to you a couple times a year. So there's a really close friendship that you have with everyone. It's working with your friends, but your friends are hilarious people that keep getting better and better.
JOHNSON: You mentioned that you were excited to come on board with Helium Comedy Club in Indy. What about the opportunity was appealing to you?
DELLINGER: I've heard about so many other places that have "comedy scenes," and Indianapolis didn't seem like it had a comedy scene. We had Crackers, One-Liners, and Morty's, but it wasn't a community of comics. The comics from Crackers weren't allowed to play at Morty's. We would allow them to play at Crackers. But if Crackers found out, they got banned. It really felt like we were up against a wall with comedy. Anybody good that we'd have would leave and go to New York or Chicago.
We [Helium] are right down the street from Jokers, and there's no animosity between our clubs. I'm close to Crackers. I don't know if they have any bans against us at this point or not, but I'm not opposed to having any Crackers comics here. We also have Fountain Square with all the open mics and one-nighters that are happening. I'm like, "Now is the time we can have a comedy scene." And if I can have a club that supports that and brings in shows that influence these other comics, that's exciting.
You have these hungry comics that are looking for stages. And they're making their own because they don't have enough of them. I can help them get stage time, which makes them better. We've got Alex Price who's on the rise. We've got Ryan Niemiller, who was just on America's Got Talent. They're making strides, and I want them to say, "We're from Indianapolis."
All these other cities have scenes, and they have a style. I want to see what that style is here. I think it's a little different than a New York scene or an L.A. scene. It's kind of an alt scene, but it's not. I'm just interested to see how that's going to grow and what it's going to become.
JOHNSON: All that being said, what excites you most about comedy in Indy right now?
DELLINGER: What's exciting to me is I'm able to help give some of these comics stage time. If I can put them in front of good, quality crowds, I think that's going to help make that next hurdle for them. That's exciting to me. I didn't book at any of the other clubs I worked at. Or if I did, it wasn't for very long. So that's something I'm excited about [here]. I'm helping to create what this scene is going to be.
I always call myself a comedy connoisseur — I've never had the desire to be a comic. I have no desire to be up in front. I like to be in the back helping.
I just want to see who I don't know out there. I want to have people come in and do time for me, so I can say, "They've got something." And then, I can try to give him or her more opportunities. That's really the fun part.
JOHNSON: When you have touring headliners coming through town, how often is it that you get to put a local opener on the show?
DELLINGER: It's a little bit. A lot of comics have in their contract that they're bringing their own support. If that's the case, then I can't. But if they do have an opening, then it's on me to book that comic. I'm booking people that I know and think will do the job well, and that's why I'm watching all these open mics. I can only use the same people so many times, so I want to see what else is out there.
When I worked at Morty's, I didn't see any of the Crackers people because they weren't allowed. So now, I'm seeing some people that used to work at Crackers. I'm seeing people that were only doing their own little rooms. I'm seeing all these different kinds of comedians that have been doing it for a little while.
There are all these shows where I can see what they've got, and that's how I'll [know to] book them as support for those A-room comics. If I see that they're showing promise, I'm going to give them that opportunity so that they do better. And hopefully, they'll help to create that scene I'm looking for.
Slideshow: Indiana's Funniest Person Contest Prelims at Helium Comedy Club
Helium Comedy Club presents the first-ever Indiana's Funniest Person Contest. The contest began June 9, with 100 aspiring comics showing up to compete for the title of Indiana's Funniest Person and a grand prize of $1,200. Preliminary rounds end June 19 and semifinals will follow starting June 25. For more information on show times, click here.
Featured comedians: Matt J, Josh Hogan, Deon Curry, Tony Foxworthy, Luke Legende, Carrie Clouse, Zain Zaidi, Cameron Cooper, Saundra Edgell, Brian Christoph, Brad Hinshaw, and Genisha Redden.
Photos by Beth Darragh
JOHNSON: Aside from getting on big shows, what stage time opportunities do you offer locals at Helium?
DELLINGER: Our major headliners are here either Thursday/Friday/Saturday or Friday/Saturday/Sunday, so that [leftover] Thursday or Sunday is an open night for us. We use one of our rooms to put on an extra show to fill the rest of the week.
We've got a storytelling show called "Horrible People." There's "Comedy Roulette," where people pull out subjects suggested by the audience and do a few minutes on that particular subject. We're just trying different things to see what's out there in Indianapolis and the surrounding areas. The way to get on those shows is to come do the open mics and be seen.
JOHNSON: When is your open mic?
DELLINGER: Our open mic is on Wednesday night for the most part. We've got a contest, "Indiana's Funniest," which is also where I'm going to find a lot of these comics to use [on bigger shows]. That's where I'll see people that can get opportunities. I don't have the time to watch submissions online. I've just gotta see you, or get a recommendation from a comic I respect.