While the COVID-19 pandemic continues to impact major sports leagues like the MLB, NBA and NHL, it's also causing some drastic changes in one major esports league as well.
"Usually, we would be flying to New York every week to play our games," says Cody Parrent, Senior Director of Esports Operations with the Pacers Gaming team in the NBA 2K League. "There's a fully built-out production studio. So if we were playing Golden State, they would fly into New York, we would fly in, and we would actually sit down in person, five-on-five right across from each other. There's a crowd too."
While Pacers Gaming, along with the other 22 NBA 2K League teams, has been able to compete remotely, Parrent explains elements like "trash talk and gamesmanship" have been affected by the socially distanced competition.
"We've been playing here at home from Indy, so it's been different," Parrent says. "When practicing where you play, it's sometimes tough to flip that switch. So we've had to come up with ways to make sure our guys feel like it's game day, even with everything going on."
Pacers Gaming currently stands with a record of 4-6, with six games remaining in the 2020 NBA 2K League regular season. To help the general public get a better understanding of Indiana's professional 2K team, we've put together a primer, highlighting this year's Pacers Gaming squad as well as how the league works overall.
The League
Now in its third season, the NBA 2K League currently features 23 teams who compete in 16 regular season, best-of-three matchups and three in-season tournaments, which lead up to a 10-team postseason playoff.
Rather than playing as current NBA stars, NBA 2K League players compete as unique characters that they create.
"Each player in the 2K League has their own individual avatar that we dress up," says Bryant Colon, who plays center for Pacers Gaming under the gamertag of WoLF. "We put the accessories on and whatever shoes. I don't use Victor Oladipo, Malcolm Brogdon, or Myles Turner. We have our own players that are created by us to represent our name in the game.
"My player is actually kind of different," Colon continues. "He looks nothing like me in real life. I wanted to be somebody different in the game. I have a longhaired mullet. I have a big mustache. It's like my own unique identity in the game."
While professional gaming has certainly grown in popularity over the last decade, the NBA 2K League is somewhat of a trailblazer in that it's a joint venture between the NBA and Take-Two Interactive.
"It's the first professional esports league run by a sports league (the NBA)," Parrent says. "So that in itself is unique. Quite a few other leagues have seen our franchise model and started their own model similar to what we do."
The Current Squad
The current Pacers Gaming roster consists of center Bryant "WoLF" Colon, small forward Nate "NateKahl" Kahl, point guard Eddy "BOHIO" Perez, shooting guard Nick "Swizurk" Grech, power forward Jomar "Jomar" Varela-Escapa and sixth man Bobby "Bobby Buckets" Jones Jr.
"A lot of our guys were brought up in the traditional sports settings but then adopted gaming because it's another competitive outlet," Parrent says. "I think that leads to a lot of trash talk and competitiveness that you don't see in a lot of other esports leagues right now."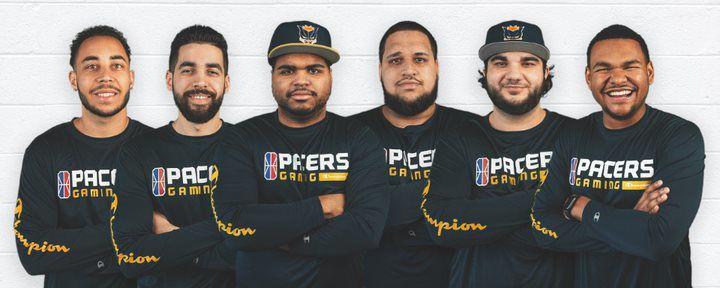 Colon, for example, played two years of college football at Ithaca College before eventually going down the professional gaming route.
"I was a pretty good athlete growing up," Colon says. "I played college football, and I played baseball and football in high school. So sports have always been a part of my life, and gaming is the best of both worlds."
When asked what his role as Senior Director of Esports Operations entails, Parrent compares his responsibilities to that of a typical NBA head coach.
"It's very similar to what you'd see Coach McMillan doing on the Pacers sideline," Parrent says. "I scout for us. I game plan. We'll watch film together. I'll schedule scrimmages against practice squads or other teams in the league."
As for the current six-man Pacers Gaming roster, Colon says the team is a pretty tight-knit bunch.
"We always hang out after games, so it's just good vibes," Colon says. "I think it's special for a team to be able to relate to each other and hang out after games. It's big and translates to our success."
Relationship with Pacers Organization
Considering the NBA has a hand in the NBA 2K League, the Pacers front office also plays a part in the everyday matters of Pacers Gaming.
"Since I stepped in the door about two-and-a-half years ago, it's just been an outstanding experience," Parrent says. "I've learned from some of the brightest minds in sports. The Simons are unbelievable owners with the way they've bought into what we do."
Originally from Queens, New York, Colon says he's also found a new, welcoming home in Indy as well, thanks in large part to the Pacers organization.
"People from the Pacers staff come in and out of our facility all the time to see how we're doing," Colon says. "Some of the players know who we are — we see them in the elevators here and there. It's just really cool to be a part of this family."
To check up on the progress of Pacers Gaming's 2020 season, be sure to visit the team's official website.