The Indiana State Teachers Association wants more money for teachers, no penalties for low ILEARN test scores and dropping the requirement for 15 hours of work experience outside of school.
ISTA unveiled its 2020 agenda for the upcoming legislative session Thursday. Much of what they are seeking echoes the demands raised on Nov. 19 when thousands of educators, parents and community members descended on the Statehouse at the Red for Ed rally.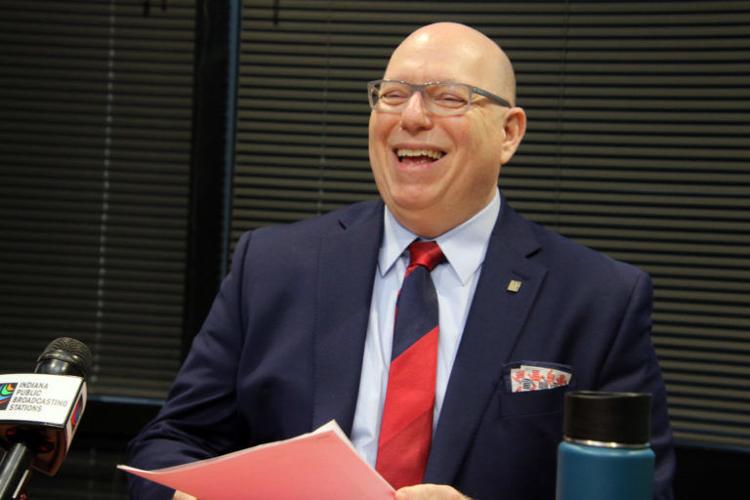 One of the top agenda items is likely to pass—legislation to hold schools and teachers harmless for the low ILEARN test scores. Gov. Eric Holcomb has said he back the hold harmless provision.
"We are hearing from legislators that they intend to act on that, when they go back in session in January, but we continue to monitor that to make sure all of our teachers, schools and school districts are held harmless from those results,"  ISTA President Keith Gambill said.
ISTA is also hoping to use this experience to demonstrate the need to move away from standardized testing to evaluate schools and teachers. They proposed the use of qualified evaluators to assess schools.
Many educators have said that standardized testing is just a snapshot in time, but qualified evaluators would assess the growth of students over time and how teachers interact and adjust based on student's needs.
Gambill compared Indiana's education system to a race to the Michigan border but some people start in Fort Wayne and others start in Evansville and they are all expected to finish at the same time.
"That's the system that we have now. It is not true to what is happening in our classrooms with the students or with the teacher," he said.
ISTA is also pushing to repeal the requirement for 15 hours of experience in a work environment outside of school, or an externship, to renew teaching licenses. Holcomb has proposed legislation to make the externship voluntary.
"Those 15 hours is a distraction that causes the practitioner to not look at what do they believe would help them to better their work in the classroom but to take 15 hours of those to go into an externship," Gambill said.
ISTA's demands that the state use some of its budget surplus to increase teacher base salaries has the support of neither the governor nor Republican leaders in the General Assembly,
Gambill noted that the state is expected to take in $400 million more this year than they originally projected, adding, "Although it's not a budget year we do we believe the state does need to invest additional funding into our schools."
ISTA is asking the legislature to use $75 million of that to provide a 1% increase across-the-board to teacher's base salaries.
In the last two-year budget, 60 school districts received less funding than previous years and another 96 districts received less than a 2% increase, according to Gambill. There are only 291 school districts in Indiana so more than half of the school districts are not receiving enough to even cover inflation rates.
"I believe they are being short sighted if they do not act in some way financially when we have the means to do that," Gambill said. "What I'm hearing from members is that if that's the decision they are going to make then perhaps they shouldn't be the person making decisions on the next budget."
Holcomb and Republican lawmakers have said they want to use surplus money for one-time investments rather than ongoing spending.
Other ISTA priorities include investments in more school psychologists and social workers and requiring transparency from all state funded schools.
"I am very proud of the work of what I consider mi familia, my family, ISTA, the dedication of the members who serve our students each and every day," Gambill said. "We continue to fight on."
The 2020 legislative session begins Jan. 6.
Brynna Sentel is a reporter for TheStatehouseFile.com, a news website powered by Franklin College journalism students.