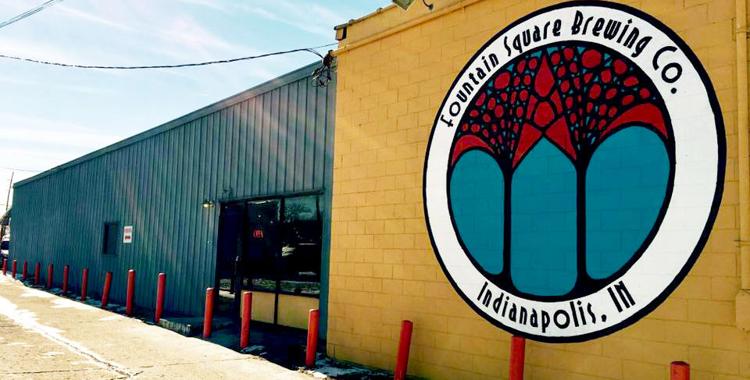 I recently visited Fountain Square Brewing Company, retracing my very first Day Drinking episode. Sitting at the same bar-height table, I now was chatting with new owner Brad Smith and new head brewer Mike Grap. Over the recent past, FSBC has had an overall makeover, including ownership, head brewer, interior decor, programming and, yes, branding and beer strategy.
Starting with introductions, we ventured into what's luring us over to FSBC. Be aware, the entrance is not at the listed street address. Forget about wending your way to 1301 Barth Ave. Instead, follow the website notice that reads: "We're located just South of Goodwill on the west side of Shelby Street. Our address is very confusing as it points to our back door on Barth Ave."
NUVO: What brought each of you to craft beer?
Mike Grap: I moved from Southern Indiana to Seattle, Washington in 1998 where you got looked at funny if you ordered domestic. There was (and is) a plethora of great craft out there, and I had started bartending so I had to be informed on what we were selling. My roommate got some homebrew equipment from a colleague and one of the regulars at the bar I was working at ran a homebrew shop. I ended up being hooked on full flavored beer and brewing my own was a great way to kill an afternoon.
I moved from Seattle to Mobile, Alabama in 2000 and the beer scene there was severely lacking. Homebrewing was illegal and the laws governing beer hadn't been changed since Prohibition so I had to step my game up. I read or went online to discover techniques and styles. My friends liked what I was making (I mean, who doesn't like free beer?) and I got pretty good at it.
In '04 The Cannon Brew Pub opened and I went to work there, managing the bar and brewing with Todd Hicks on my days off. The pub closed in '06 and I moved to Baton Rouge, Louisiana not long after. Baton Rouge didn't have a brewery at the time either, so I worked on my craft at home and started experimenting with local ingredients.
In 2009 I moved to New Orleans and went to work for Crescent City Brew Pub as part of the waitstaff and was looking over the brewers' shoulders, trying to learn all I could. I took a resumé and an imperial stout to Nola Brewing Co and said, "I hope you at least like one of these." Todd knew the head brewer there, Peter Caddoo, so I started volunteering there, washing kegs, sweeping floors, what have you, until they offered me a job.
From there I worked my way through the cellar up to a brewers position. I moved back to Indiana and started with Fountain Square Brewing in January of 2017. It's been a lot of fun and a huge challenge. There's a ton of history here and I'm trying to do it justice while putting my personal touches on the brews.
Brad Smith: After spending 10 years in the non-profit space, mostly in the Kansas City area, I moved back to West Lafayette in 2015 and began working on an MBA. While in school, I became friends with two couples who were brainstorming the idea that would ultimately become Brokerage Brewing Company (West Lafayette's first microbrewery).
After some initial daydreaming over beers, the soon-to-be ownership group offered me a part-time role as the Lead Startup Consultant for Brokerage, and over the coming 18 months I did a majority of the leg work to bring the idea to fruition. As that role came to an end, I was given the opportunity to become an Executive on Deck (EoD) with Little Engine Ventures (LEV), a private investment fund that buys small businesses, based in Lafayette.
In this new role, I was preparing to lead whatever sort of business might be the next purchase in line for the firm. However, I was pleasantly surprised when that next purchase happened to be Fountain Square Brewing Company.So, after negotiating the sale and participating in the due diligence process, I took over as the President and CEO of Fountain Square on February 1st [2018].
Additionally of note, regarding my entry into craft beer, was my brother, Andrew Smith. He is one of the owners of Junk Ditch Brewing Company in Fort Wayne, and when they started their planning process I was not terribly into craft beer. So as a way to further connect with my brother, I got a homebrewing system and started making some of my own beer. Much like Mike, though with significantly less skill, I found myself greatly enjoying the process and the product.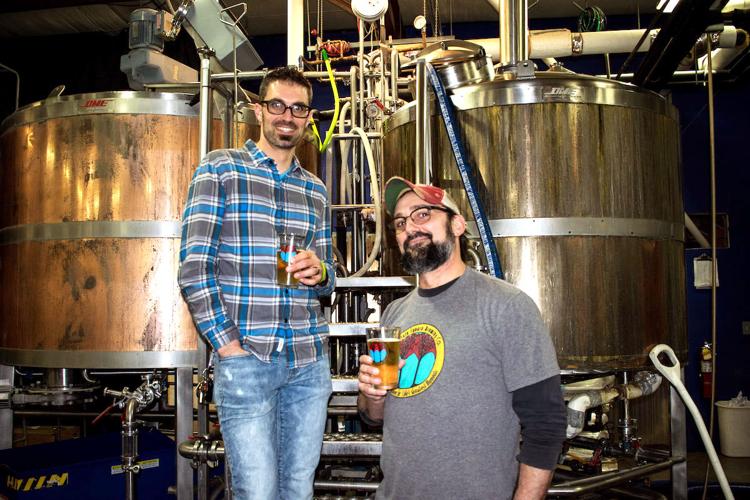 NUVO: What's special about Fountain Square neighborhood that draws you to want to serve as a traditional pub gathering place?
Grap: It's a very tight knit and loyal community. It's quirky, weird and artsy. At the same time, it's blue collar and gritty. It's hard to be both, but Fountain Square does it. I love that. I think our beer and the brewery stay true to that. The brewery is in an old auto shop. Our equipment runs like a mad bastard, and looks like one. You have to learn its quirks. It's rough around the edges but still makes beautiful things. I think it represents what the neighborhood is.
NUVO: What should we be looking for from FSBC that is a 'don't miss this' imperative?
Grap: We're going to have a big party to welcome back our four-legged friends and their humans this June. It's still in the planning stages but we'll be raising money for animal rescue, getting some of the pet adoption organizations involved, possibly doing some quickie training exercises, and we'll definitely have a beer release for it.
A motorcycle event also is in planning. We are sticking with Hop Your Face Festival and that'll be in August. We're getting the bands lined up for that. HYF [an American Double / Imperial IPA style beer ] will be back on tap and pouring, of course.
We did a three-way collaboration with Flat 12 and Burn 'Em, called Golden Rule. It's got Marris Otter malt, buckwheat honey, and Nelson Sauvin hops. We're doing tap takeovers around the state so check our social media for where and when.
We also brewed a batch with Sean Fickle, the head brewer prior to me at Fountain Square and now head brewer at Guardian Brewing Company in Muncie. It's a MexiCali lager made with Amarillo hops and Kafir lime leaves. That should be out in late April, with enough to last till Cinco de Mayo.
NUVO: What do you envision for FSBC a year from now; five years from now?
Grap: In the next year I see us making improvements to our packaging, coming up with new and non-traditional beers and strengthening our relationship with the Fountain Square neighborhood.
As for the next five years, that's really tough to say. I know we plan on getting more of our core beers out there. The craft beer drinkers are polyamorous so it's a challenge to keep up with what's hot. Will we be making trendy IPA's? Will we be barrel aging? Making sours? Keeping our core beers solid is priority one but even those might go through a slight revamp as new techniques and ingredients come to the fore.
Smith: We are in a full rebranding process that we will definitely fully unveil in the next 12 months. The branding will bring an updated logo, and a whole new look to the packaging. Additionally, the messaging for the brand will all be built around the phrase "The Perfect Beer for Life's Greatest Moments," and will often be shorted to "For Life's Greatest Moments."
When people buy our beer, what they are really buying are experiences and memories. Shared moments and encounters. Our brand exists to enhance the moments our customers are creating and savoring. The new packaging and branding as a whole will emphasize this position.
Additionally, we plan to move some, if not all, of our house beers into cans in the next 6-24 months. In the 5-year window, we envision being one of the largest breweries in the state and beginning to think about regional distribution at the very least.
NUVO: What role do you envision for FSBC within the Indiana craft beer community?
Grap: I'd like to take a more active role as an ambassador for craft beer here in Indiana. There's a lot of beer drinkers here who have no idea how diverse the beer scene is in their area. I'd also like to make craft beer more approachable. It's a little intimidating for folks that have been drinking domestics to make the switch. They are curious but don't want to pay the equivalent of a 12-pack of their standard beer on a six or even 4-pack of beer they might not like. I'd like to educate this demographic so they can make an informed decision about what they spend their money on.
Smith: I would reiterate Mike's bent towards being ambassadors and educators. Our target audience is the market that lies just on the outskirts of the craft beer scene. That might be the American Lager drinker who is looking in longingly from the outside and needs a guide to help them feel comfortable in the craft scene, or it might be the coming of age drinker who is deciding where they will live within the landscape. We want to be the guide for these individuals.
The market share of craft drinkers in the state is at a mere 7 percent, while locations on the coast reach shares of close to 50 percent. This is bound to change, and we want to be on the leading edge of how that change comes about. We want to be accessible, approachable and constantly taking the posture of a teacher. We believe this posture will serve both the community and our brand very well.
---
Taking a cue from Mike's and Brad's comments, I shared two IPAs with a new resident to Indianapolis. Paul Vitale moved here from Florida to join the new Indianapolis Ballet as associate artistic director and ballet master. Paul, a seasoned IPA patron, responded: "I enjoyed the Mosaic IPA. For tasting notes I'd say: it has a slight honey nose, a not unpleasant bitter undertone, and an earthier, less citrus taste found in many IPA's. I will have to fill you in on the other later."
SMaSH Mosaic is part of a new series featuring a single malt and a single hop as an extension of introducing craft beer as a beverage to explore ad talk about. The story on he can explains: "Our concept behind this series of beers is to showcase 2 high quality ingredients and how they compliment each other." Mike's plan is to place a changing array of hops against a recurring malt variety.
SMaSH Galaxy features Simpson's Golden Promise malt from the UK, with Galaxy hops from New Zealand and delivers on its promise for an immediate dank, resinous aroma. Don't be put off. Sip, for a reward of sweet, toffee/caramel flavor. A second sip brings on the complexity with a hint of melon, passion fruit and slight bitterness to cleanse the palate for another sip and another round of layers. I shared the pint can with a friend so we also could share a pint can of Kosmik Hefeweizen, a traditional German light honey-colored wheat beer that staves off bitterness yet feels clean with notes of bananas and bubblegum.