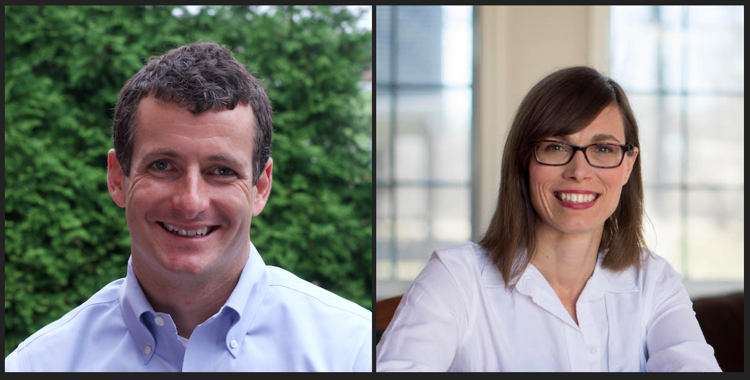 RACE
Rep. Trey Hollingsworth, R-Indiana, was first elected to represent the District 9 in the United States House of Representatives in 2016. Previous representative Todd Young left the job when he was voted into his current seat as Senator during the same election. Hollingsworth faces a re-election challenge from Democrat Liz Watson.
CANDIDATE PROVIDED BIOGRAPHY
INCUMBENT: Trey Hollingsworth
Trey Hollingsworth is the Republican candidate for Congress in the 9th district. Trey is a businessman who has been renovating abandoned warehouses and building manufacturing facilities across Indiana for over a decade. After experiencing firsthand the obstacles that government creates for businesses and families, it became clear that we need more real-world experience, not more politicians, lobbyists, and lawyers in Washington.
Trey is committed to changing the status quo of politics. To get back to a government that is by and for the people, he is an advocate for term limits and has voluntarily agreed to limit his own terms in the House. He has also authored the strictest lobbying ban in the House of Representatives, preventing anyone who has ever served in Congress from becoming a lobbyist and cashing in on your trust.
Since taking office, Trey has made over 35,000 personal phone calls to Hoosier families in addition to thousands of meetings, roundtables, town halls, and door-knocks. His commitment to personal calls and personally knocking on Hoosier doors is fundamentally because he believes that all Hoosiers have a stake in our government, not just the loudest or most politically active.
Trey supports a strong national defense, which is why he has voted to give a pay raise to our troops, to secure the border, and to defund sanctuary cities. He is an advocate for cutting spending, balancing budgets, and reforming the tax code so that the next generation is left with an abundance of opportunity, not a mountain of debt.
Trey is endorsed by the Indiana Farm Bureau, the Indiana Chamber of Commerce, Indiana Right to Life, and the Indiana Fraternal Order of Police.
Trey and his wife, Kelly, are raising their 14-month old son in Jeffersonville, just a few miles from where Kelly grew up.
You can learn more about Trey at www.VoteForTrey.com or Facebook.com/VoteTrey
CHALLENGER: Liz Watson
Liz Watson is a fifth-generation Hoosier and a Bloomington native.
She went to law school at Georgetown, and has spent her career as a workers' rights attorney fighting for working families. She has worked as the executive director of the Georgetown Center on Poverty, Inequality, and Public Policy; as the Director of Workplace Justice at the National Women's Law Center; and as the labor policy director for Democrats in the House of Representatives.
Over her career, Liz has worked on policy and legislation that address the school-to-prison pipeline, abusive scheduling in low-wage jobs, workplace sexual harassment, wage theft, and union busting. Now, she is the Democratic nominee for Congress here in Indiana's 9th district.
To learn more about Liz, visit lizforindiana.com.
QUESTION FOR THE INCUMBENT
NUVO:  Our reader, Leslie Lipman, Carmel, asks: Are you willing to listen to (and vote supporting) the wishes of your constituents—The People—as opposed to just following whatever Donald Trump wants on any given day?
Hollingsworth: Each week, I personally make 500 random calls to hear firsthand about the issues impacting individual Hoosier families; every week I am personally knocking on hundreds of doors to talk to Hoosiers about what matters to their family's future. These personal interactions, in addition to thousands of meetings, town halls, email polls, and roundtables, help me keep my focus on Indiana and the needs and wants of our District, not the noise in the media. I am not in Congress to build a career; I am in Congress to serve Hoosiers and will fight every day to do so.
QUESTION FOR THE CHALLENGER 
NUVO: People seem to be wondering what the Democrats stand for, and you have been quoted as saying you don't support Nancy Pelosi for the Democratic leadership. What should the party's leadership look like going forward? What should its message be? Should it be more centrist or more radical?
Watson: The Democratic Party's leadership should reflect its membership. We are a national party, and our leadership shouldn't be drawn exclusively from New York and California. I'd like to see more Midwestern leaders at all levels within the Democratic Party. Here in Indiana, I believe that the future of the Democratic Party is a diverse coalition of progressive voters with traditional union members, united by a shared commitment to our core principles: the promise of affordable health care, good wages, equal rights, and a secure requirement—for all.
RE: CONGRESSIONAL DYSFUNCTION
NUVO: Our reader, Evelyn Channelle Brown Jones, asks: Do you think Congress is working? If not, what will you do differently to make it work?
Hollingsworth: As a businessman, I know that the best way to fix outputs is to fix inputs. That is why I'm a proponent of term limits. We need to stop letting career politicians build a system that works for them but not for Hoosiers. I have sponsored term limits legislation, taken a term limits pledge and introduced the strictest lobbying ban bill in Congress. It would prevent anyone who has ever been a Member of Congress from becoming a lobbyist because we deserve elected representatives who work for us. Washington hasn't worked for Americans in a long time, and we must change that.
Watson: Congress is not working. We know that the American people agree, by big majorities, on commonsense solutions to our day-to-day problems. But politicians like Trey Hollingsworth aren't listening to the majority of us; that's why Trey hasn't held a single town hall. Right now, Congress is listening to corporate money and angry extremists. I have a different plan: I don't take a penny in corporate money, and I've held town halls across my district— because Congress will never work unless we make sure that it's working for us.
RE: FEDERAL JOBS GUARANTEE?
NUVO: Our reader, Deanna Menke, 23, Indianapolis, asks: What economic policies do you support to ensure that Hoosiers working 40 hours a week don't have to live in poverty? Do you support a federal jobs guarantee?
Hollingsworth: Our economy is stronger than it has been in decades. Jobless claims are at 50-year lows and wages are growing faster than any point in 17 years. The economy is creating more opportunity than at any point in recent history; for the first time, the Labor Department reported that there are more open positions than unemployed Americans. To ensure these opportunities are available to as many people as possible, I support expanding access to job skills training to help Hoosiers of all ages get the skills necessary for in demand careers. I want every American to realize the benefits of this economy.
Watson: I am a workers' rights attorney and a former labor policy director for congressional Democrats. I have spent my whole career fighting for a fair deal for working families. I support raising the minimum wage, guaranteeing consistent work schedules, making childcare affordable and accessible for every family, requiring equal pay for women, and defending workers' right to bargain together for their fair share. And I'm willing at least to consider any option that would ensure that any Hoosier who looks for work can find it— including a federal jobs guarantee.
RE: INCOME INEQUALITY
NUVO: Our reader, Tim Micheli, asks: The upper class is getting much richer and the middle and lower classes are falling further behind. How to you plan to get the middle and lower their fair share of the wealth?
Hollingsworth: Ninety-seven percent of Hoosiers saw their taxes decrease this year, and I was proud to vote to make these cuts permanent to ensure that more of your paycheck stays in your wallet instead of going to Washington. The tax code, which hadn't been substantially updated in 31 years, was holding back American families, and, with the changes made, Hoosiers have seen raises, bonuses, decreased energy bills, and job creation. Expanding career and education opportunities, not expanding government, is the best way to ensure prosperity for every American family.
Watson: In my lifetime, CEO pay has risen by more than 900 percent while workers' wages stay stagnant. There's no silver bullet for this problem, but I would fight for a variety of reforms. We need to make debt-free college a reality for everyone and invest in registered union apprenticeships, which have a proven record of success. We need to raise the minimum wage, make sure that corporations and the super-rich pay their fair share of taxes, and defend unions' right to organize. We have a lot of work ahead, but that's exactly why now is the time to get started.
RE: CLIMATE CHANGE
NUVO: Our reader, K.H. Brower, asks: What will you do to protect our land and water from corporatist-only quarterly profits? What will you do to remediate current toxins and effects (flooding/drought) of climate change?
Hollingsworth: U.S. carbon emissions per GDP dollar have declined for decades while China's emissions continue to be the world's highest. I believe that we should empower American innovation to find solutions and enable consumers to decide their best energy. Americans shouldn't be compelled to heat their homes at higher prices because of government regulations; at the same time, we shouldn't put more red-tape on businesses, taking dollars away from research and development and putting them towards expensive, unnecessary compliance. Firms are developing cutting-edge energy technology but they are being stifled by Washington's regulatory burden, leading to higher prices and fewer jobs.
Watson: Indiana faces some of the worst industrial pollution in America. From volatile chemicals in Franklin to coal ash in New Albany, Indiana families have suffered from the reckless greed of companies that prioritize profits over people. I would be a voice for Hoosiers in demanding that the EPA clean up these sites, and I'd be a vote for strong environmental protection laws. Finally, since none of that matters unless we leave a habitable planet for our children, I will fight for a carbon tax on greenhouse emissions, to give businesses a powerful incentive to invest in a clean-energy future.