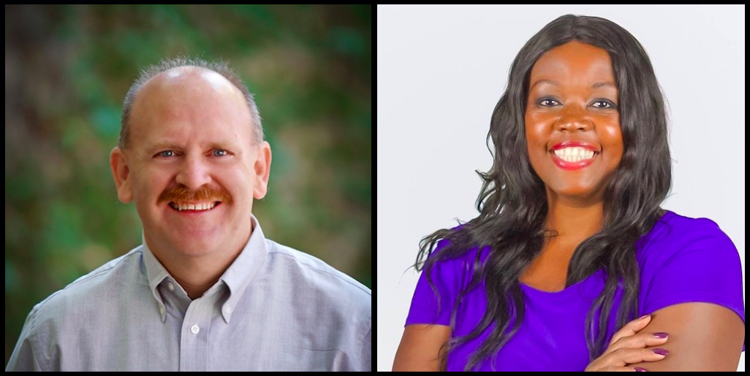 RACE
Looking to replace outgoing Republican Rep. Luke Messer are Libertarian Tom Ferkinhoff, Democrat Jeannine Lee Lake, Independent Heather Meloy, Independent John Miller, and Republican Greg Pence.
[Editor's note: Despite multiple attempts to reach reach Meloy, Miller, and Pence by phone, U.S mail, email and social media over a six-week period, she did not respond to us or the questions from readers we posed. Therefore, we are only publishing answers from Ferkinhoff and Lake, who did respond.]
CANDIDATE PROVIDED BIOGRAPHY
CANDIDATE PROVIDED BIOGRAPHY
Challenger: Tom Ferkinhoff
I am a CPA who works as a tax and business consultant for my clients and as a contractor for other CPA firms. Prior to going into public accounting I worked for a health insurance brokerage firm so I have dealt with the public for my entire professional career. In addition to helping struggling businesses turn around I have considerable experience assisting people from all walks of life with their income tax filings and have an in depth understanding of how our tax laws affect people.
I was born and raised in Batesville and have a degree in accounting and business management from Indiana Wesleyan University in Marion. I served as the treasurer and vice chairman of the local board of the Fountain City Wesleyan Church during a time period where the church went through two multi-million dollar building projects. Prior to that, I founded a youth ministry in Richmond that worked with underprivileged youth inspiring them to use their abilities to reach their potential. I coached junior high and varsity high school cross country at Northeastern High School for nine years.
My wife and I have three adult children who are all employed professionally and we have two young grandsons. For years we have purchased homes and rehabilitated them and sold them to hard working people who have proved themselves to be responsible. Many of these homes we sold on contract terms due to the families not qualifying for traditional financing. We have been involved in several business ventures over the past 34 years in an ownership role providing jobs for hundreds of individuals.
Challenger: Jeannine Lee Lake
Jeannine Lee Lake has lived in Indiana her entire life which makes her a prime candidate who truly knows the concerns of her district. Before deciding to run for Congress, Lake was editor and publisher of her own newspaper The Good News, which focused on spreading positive news to combat negativity that predominates in media. Lake also holds a journalism degree from Ball State University. She is also Chairwoman of Feed My Sheep which provides over 1,000 meals for the impoverished in her town of Muncie, IN on Thanksgiving. Service to her community and care for the greater good are tenets that inspired Lake to run for Congress and ones she will use once elected. She is a candidate for all Hoosiers in the 6th District and would be honored to represent them.
RE: CONGRESSIONAL DYSFUNCTION
NUVO: Our reader, Evelyn Channelle Brown Jones, asks: Do you think Congress is working? If not, what will you do differently to make it work?
Ferkinhoff: No Congress is not working. As only 1 of 435 representatives I am obviously not going to be able to change that myself. We need for voters across the country to vote for men and women who will go to Washington and work on behalf of the people and not on behalf of the party. Once elected I will always put the good of the American people ahead of any special interests and will not be under the control of any party leaders.
Lake: I believe that Congress could be working much better than it currently is. What Congress needs is more compassionate and empathetic people who are willing to work together for the good of our country. The creation of bipartisan bills strengthens our country because they solve problems that mean something to everyone, instead of just pushing a party's agenda. No matter their personal views, people want to be able to live good lives and it is the job of Congress to make sure that all Americans have the opportunity to do so.
RE: GUN CONTROL
NUVO: Our reader, Deanna Menke, 23, Indianapolis, asks: What gun control legislation do you plan to introduce to combat the epidemic of mass shootings, suicides, and both inner-city and domestic violence?
Ferkinhoff: I do not plan to introduce any gun control legislation. The second amendment is very clear that the right to keep and bear arms SHALL NOT be infringed.
Lake: The current red flag law in Indiana is one I believe works well in combating suicide and domestic violence in that the police can quickly de-escalate the situation by removing the firearm from the person who may cause harm. I would also like to institute legislation that requires citizens who do own guns to store them safely in a way that prevents children from using them and others from using them in high stress situations. If people do not comply with these regulations, then there should be a fine or legal action taken.
RE: INCOME INEQUALITY
NUVO: Our reader, Tim Micheli, asks: The upper class is getting much richer and the middle and lower classes are falling further behind. How to you plan to get the middle and lower their fair share of the wealth?
Ferkinhoff: I believe that anyone's 'fair share' of the wealth is what they earn by their labor, taking risks with their assets, managing their money and making good decisions. When I travel the world the one common theme is that they are losing talented people because they immigrate to America where there is opportunity for everyone. I do not believe that the government needs to step in because someone else has been more successful than you or has been able to accumulate more wealth than you.
Lake: The increasing inequality of our nation is a problem that must be solved. I plan to increase the minimum wage to $10 an hour, which I believe is closer to a living wage than the current federal level of $7.25. Increasing the federal minimum wage is a first step in making sure the average Americans can live the fulfilling lives they deserve.
RE: CLIMATE CHANGE
NUVO: Our reader, K.H. Brower, asks: What will you do to protect our land and water from corporatist-only quarterly profits? What will you do to remediate current toxins and effects (flooding/drought) of climate change?
Ferkinhoff: I believe that our environmental laws are sufficient. The U.S. continues to lead the world in reducing CO2 emissions. To some extent the Earth's climate has always been changing and it always will so it is foolish to believe we can stop it entirely or reverse it. To a large extent if people want to do something for the environment they need to stop buying goods that are produced in countries that are not making an effort to be more environmentally friendly.
Lake: Preserving our public lands is one way to make sure that we do not have to later remediate damage that would be done. Continuing to expand and create national parks should be a step in protecting our country's environment. Creating legislation that re-instates the Clean Air and Clean Water Acts, especially in Indiana, and ensures that companies must follow them or be penalized is a priority of mine. Natural resources should be a right for all and they cannot be if some profit while others are hurt.
QUESTION FOR THE THIRD PARTY
NUVO: Many people are saying this is the most important election of our lifetimes. Why should voters consider a third party? Won't it just serve as a spoiler for the major party candidates? Do you realistically think you can win?
Ferkinhoff: Yes I can win. In off presidential elections only 30 percent or less of Hoosiers typically vote. Many people who did not plan on voting have told me that they don't vote because they don't see a difference in the two major parties and we are giving those people an option. I don't think it is a waste of my vote to vote for someone who is a long shot to win. It is a waste of my vote if I vote for someone who is going to go to Washington and represent a party instead of representing the people.