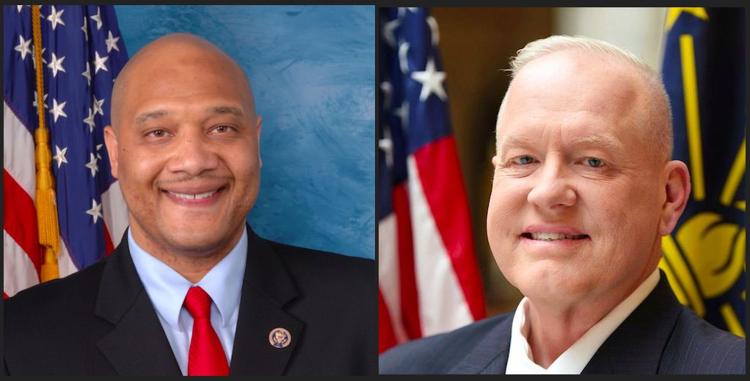 RACE
First elected in 2008, incumbent Democratic Rep. André Carson is running for re-election against Republican challenger Wayne "Gunny" Harmon.
[Editor's note: Despite multiple attempts to reach Harmon via telephone, U.S. mail, email and social media over a six-week period, we did not receive his answers before the deadline, so we are only publishing Carson's answers.]
CANDIDATE PROVIDED BIOGRAPHY
INCUMBENT: André Carson
Congressman André Carson was elected to Congress in 2008 and serves Indiana's 7th Congressional District. He is a member of the House Permanent Select Committee on Intelligence and the Committee on Transportation and Infrastructure. Carson is also a rising member of House leadership. During the 115th Congress, he serves as a Senior Whip for the House Democratic Caucus, sits on the powerful Democratic Steering and Policy Committee, and is a member of the Congressional Black Caucus' Executive Leadership Team. Prior to coming to Congress, Carson worked in law enforcement and served on the Indianapolis City Council.
RE: CONGRESSIONAL DYSFUNCTION
NUVO: Our reader, Evelyn Channelle Brown Jones, asks: Do you think Congress is working? If not, what will you do differently to make it work?
Carson: Congress is not working the way that it should. For too long, partisan ideology has taken priority over true public service. Since I was first elected to Congress, I have pledged to work with anyone, Democrat or Republican, who shares my desire to build a better city, state, and country. I will use my success with this approach to find new partners in Congress, in the hope of changing the culture that has kept us from focusing on good paying jobs, quality education, affordable health care, and so many other priorities.
RE: GUN CONTROL
NUVO: Our reader, Deanna Menke, 23, Indianapolis, asks: What gun control legislation do you plan to introduce to combat the epidemic of mass shootings, suicides, and both inner-city and domestic violence? 
Carson: While I support the Second Amendment right to bear arms, I support a comprehensive approach to counteracting gun violence. We need universal background checks, an assault weapons ban, more robust mental health services, and mechanisms to deny guns to people with serious mental health concerns or records of violence.
RE: INCOME INEQUALITY 
NUVO: Our reader, Tim Micheli, asks: The upper class is getting much richer and the middle and lower classes are falling further behind. How to you plan to get the middle and lower their fair share of the wealth?
Carson: The Republican tax reform package was highly imbalanced, giving the vast majority of relief to the wealthiest Americans and large corporations. We need a tax reform package that focuses on the middle class, giving them the bulk of relief and promoting companies that create jobs rather than simply making massive profits. We also need greater investment in the industries that are most likely to provide stable, high paying jobs well into the future. We need to educate our children for these jobs and help current workers retrain in a way that will give them broader opportunities.
RE: CLIMATE CHANGE
NUVO: Our reader, K.H. Brower, asks: What will you do to protect our land and water from corporatist-only quarterly profits? What will you do to remediate current toxins and effects (flooding/drought) of climate change?
Carson: I have been highly disappointed by Trump Administration decisions to repeal EPA regulations protecting us from toxins in our air and water. Congress should act to ensure that the EPA is legally mandated to curb emissions and toxic substances, without leeway for a change in Administration to deregulate in the interest of polluting corporate interests.
RE: IMPEACHMENT
NUVO: Many people are speculating that if the Democrats retake the House, they will begin impeachment proceedings for President Trump soon after. What would be your criteria be to support impeachment?
Carson: Regardless of what any of us think of the President, impeachment would be incredibly difficult for our country to endure. If done incorrectly, it could set bad precedents that would open up future presidents to impeachment for highly political reasons. For this reason, I believe that we should treat impeachment as the founders intended. We should have concrete reasons to believe that the President committed high crimes or misdemeanors and should vote based on the facts of the case, not political considerations. If a strong case is made that crimes have been committed, I will not hesitate to vote for impeachment.