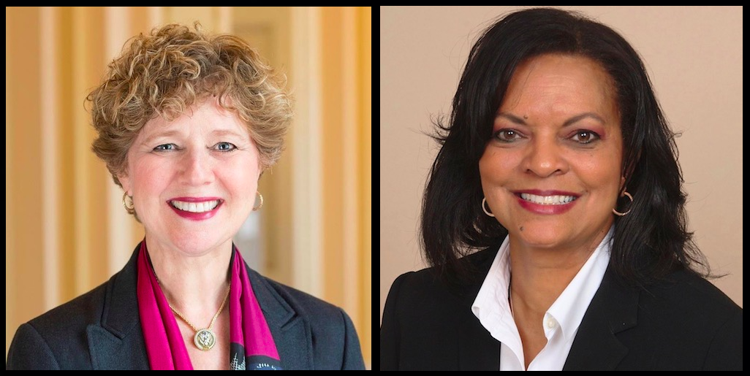 RACE
First elected in 2012, incumbent Republican Rep. Susan Brooks is facing a re-election challenge from Democrat Dee Thornton.
[Editor's note: Despite multiple attempts to reach Brooks by phone, U.S mail, email and social media over a six-week period, she did not respond to us or the questions from readers we posed. Therefore, we are only publishing Thornton's answers.]
CANDIDATE PROVIDED BIOGRAPHY
CANDIDATE PROVIDED BIOGRAPHY
Challenger: Dee Thornton
Dee earned a basketball scholarship to play at the University of Louisville and was the beneficiary of Title IX. The 1972 landmark legislation written by Indiana Senator Birch Bayh prohibits discrimination based on gender, and in her situation, ensured she could attain a college degree. Dee took her knowledge and leadership skills from college to work at Xerox. During her 30 years with the company, she quickly earned increasing levels of responsibility and retired early as an executive and consultant. While working full time and raising a family, she earned her MBA at Indiana Wesleyan University. This is who Dee is and what she will bring to Congress—hard work, resilience, grit and ability to solve what others may perceive as problems, into opportunities. Her experiences have made her ready for what lies ahead to be the representative for the 5th District.
RE: CONGRESSIONAL DYSFUNCTION
NUVO: Our reader, Evelyn Channelle Brown Jones, asks: Do you think Congress is working? If not, what will you do differently to make it work?
Thornton: I don't believe that the representatives in congress are getting things done for all people. Since we have a super majority it allows one party to control what gets done and that would not be a bad thing if the focus was to govern for all people but its clear that the focus is on the top 1 percent. I would like to see more compromise. I believe that when we change the balance of congress during this midterm, we will see Congress start to work for all and get great work done.
RE: MEDICARE FOR ALL
NUVO: Our reader, Deanna Menke, 23, Indianapolis, asks: How will you guarantee access to quality, affordable healthcare for all Hoosiers? Do you support Medicare for All?
Thornton: I believe that affordable, high quality healthcare is a right for all. Noone should be one illness from bankruptcy. I believe that the Affordable Care Act was a step in the right direction and look forward to working to improving it and making it better because for the first time over 25 million people had healthcare coverage. As for Medicare, I believe we should first look at reducing the eligibility age for Medicare to 55 rather than raising it. We must take a broader look at healthcare to include the cost to deliver services, prescription drugs and insurance coverage as they are all connected. I would like to see us move toward Medicare or healthcare for all.
RE: GUN VIOLENCE
NUVO: Our reader, Ann Stack, Indianapolis, asks: Children don't die from gun violence in other countries the way they do in the United States. Can guns be viewed as a public health issue or do we value guns more than our children?
Thornton: Gun violence can be viewed as a health issue if your tying it to mental health. I believe gun violence in American is clearly related to access, socio economic and mental illness. On an average day we have 96 Americans killed with guns and seven are children and teens The presence of a gun in a domestic violence situation increases the risk of the woman being killed by five times. I support common sense responsible gun legislation that begins with reinstating the ban on semi automatic assault weapons, strengthening our background checks, promoting safety, setting reasonable limits on when guns can be carried and enforcing laws that keep illegal guns off the streets.
RE: MARIJUANA POLICY
NUVO: Can you explain your positions on both medical and recreational marijuana? And, should veterans be allowed to have access to medical marijuana if it is recommended by their VA doctor?
Thornton: I support the legalization of medical marijuana and 30 states have already adopted it. Some anecdotal studies suggest that marijuana can help with chronic pain, Parkinson, PSTD, epilepsy and multiple sclerosis. The approaches to medical marijuana differ significantly from state to state. The differences are in dispensaries and home cultivations. That tells me we need consistency from state to state since we are a very mobile society. Congress needs to look at rescheduling and conducting the clinical trials to support medical use. Everyone should have access to medical marijuana if becomes legal. I do not support recreational marijuana without criminal justice reform around expunging felony records on marijuana possession and helping those convicted with the transition from prison to work.
RE: IMPEACHMENT
NUVO: Many people are speculating that if the Democrats retake the House, they will begin impeachment proceedings for President Trump soon after. What would be your criteria be to support impeachment?
Thornton: There have been three impeachment proceedings against US Presidents, so there are precedents and standards for impeachment. President Trump has surpassed them to include attempting to obstruct justice, violating the emoluments clause and the constitution because he has never divested from his business dealings and abuse of power.