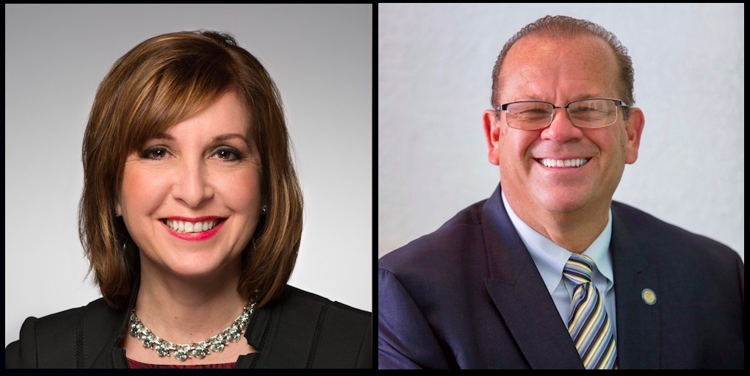 THE RACE
Republican Indiana Treasurer of State Kelly Mitchell, who was first elected in 2014, faces a challenge from Democrat John C. Aguilera.
[Editor's note: Despite multiple attempts to reach Mitchell by phone, U.S mail, email and social media over a six-week period, she did not respond to us or the questions from readers we posed. Therefore, we are only publishing Aguilera's answers.]
CANDIDATE PROVIDED BIOGRAPHY
Challenger: John C. Aguilera
John Aguilera is the Democratic candidate for Treasurer of State. As a four term Indiana State Representative, John was appointed to the Ways and Means, Local Government, and Transportation committees; he served two terms as a County Councilman, including 2 years as the President of the County Council; and he served seven years in the US Military. As Treasurer, he wants to use this experience to ensure our state government has diverse representation that invests in people before profits. After 40 years of one party controlling the Treasury, John wants to restore the checks and balances system of our state government and remind Hooisers that they're the most important resource of the state. John Aguilera would greatly appreciate your support and vote for State Treasurer on November 6th!
RE: COUNTRY OVER PARTY
NUVO: Our reader, Evelyn Channelle Brown Jones, asks: Are your party's political views and mandates more important than doing the right thing no matter the party line?
Aguilera: No, my personal values and those of my constituents come before the party's political views. Ideally these are aligned, but my priorities are to serve the people of Indiana and do what's right to ensure the betterment of their lives. For too long, the state has neglected the most vulnerable Hoosiers. I hope to invest in all the state's valuable resources and that includes our public education system, our environment, and our workforce. 
RE: CORRUPTION
NUVO: Our reader, K. H. Brower, asks: How will you dismantle systemic corruption and abuse of power in our political and economic systems?
Aguilera: Transparency and campaign finance reform. We need Hoosiers to know how their money is being spent and must fight for Hoosier interests, not corporate profits. The Republicans have controlled the Treasury for 40 years and during that time they've used the office to line the pockets of their corporate donors instead of supporting Hoosiers families and businesses. On my first day as Treasurer I will I will order an immediate and complete and independent audit of accounts, deficiencies, and spending.   Our taxpayers deserve a treasurer that will keep them informed on how, and on what, their money is being spent. That is my pledge to Hoosiers.
RE: INCOME INEQUALITY
NUVO: Our reader, Tim Micheli, asks: The upper class is getting much richer and the middle and lower classes are falling further behind. How to you plan to get the middle and lower their fair share of the wealth?
Aguilera: Many factors play into the growing economic inequality such as cost of living, stagnant wages, budget cuts to crucial programs, poor infrastructure, and lack of opportunity. For decades the Republicans have diverted money away from addressing these issues and towards corporate interests. Hoosiers want to work hard, we're proud of working hard.  As treasurer, I will ensure that our tax dollars foster development, opportunity, and innovation. I will advocate for a living wage, affordable healthcare, and job creation.
RE: PUBLIC EDUCATION FUNDING
NUVO: Our reader, Deanna Menke, 23, Indianapolis, asks: Will you pledge not to take away funding from public education? Do you support raises for our public school teachers?
Aguilera: I wholeheartedly support the funding of public education and raises for our public-school teachers. The systematic defunding of our public schools has disenfranchised our most vulnerable children and endangers their ability to succeed in life. Our teachers voluntarily lead a life of public service and are entrusted with the difficult task of cultivating the minds of our future. They should not only be compensated appropriately, but they should also be held in high-esteem for their contributions to our society. Well-paid teachers are also a high indicator of a healthy state and would assist in promoting economic development.
RE: BUDGET SURPLUS
NUVO: Why is it a good thing that the state has a budget surplus? Aren't there areas of our state government like schools and roads that could use some of those funds?
Aguilera: In short, yes. However, maintaining an enormous budget surplus is only valuable when it doesn't come at the cost of hurting Hoosiers. As taxpayers, we have saved our money. However, portions of our collective savings account should absolutely be used to issues critical to our state. We need to combat dangerous lead poisoning problems, deteriorating roads, falling bridges, failing schools, crime, addiction epidemics, etc. Our infrastructure hasn't been maintained because our state's revenues have fallen short of expectations for the last four years. Indiana ranked 48 out of 50 states for quality of life, and the current administration's only response is, "but we have a big bank account." We're better than that. We can do better than that. As I work to improve our state's infrastructure and quality of life, we'll attract more businesses, more revenue, and improve our quality of life.