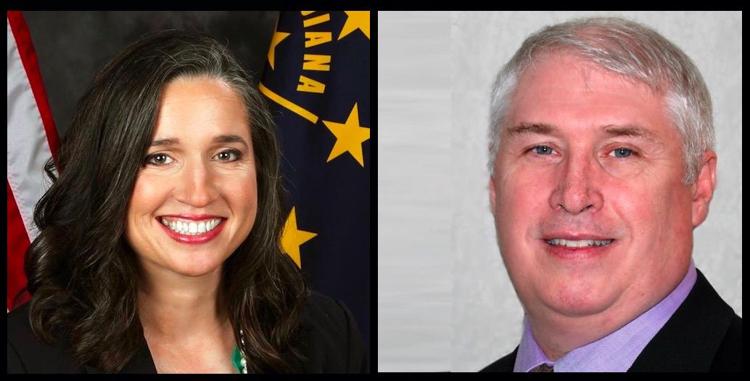 RACE 
This is the first election for Republican Indiana Auditor of State Tera Klutz, who was appointed last year after Gov. Eric Holcomb appointed her to replace now Lt. Gov. Suzanne Crouch. Klutz is facing a challenge from Democrat Joselyn Whitticker and Libertarian John Schick.
[Editor's note: Despite multiple attempts to reach Klutz and Whitticker by telephone, email, U.S. Mail and social media, we did not receive their answers before the deadline, so we are only publishing Schick's answers.]
CANDIDATE PROVIDED BIOGRAPHY
CHALLENGER: John Schick, Libertarian
John Schick is a Management Consultant with an MBA from Indiana University who has lived in Indiana all his adult life with his wife of 37 years and three sons who all live and work in Indiana.
QUESTION FOR THiRD PARTY CANDIDATES
NUVO: Many people are saying this is the most important election of our lifetimes. Why should voters consider a third party? Won't it just serve as a spoiler for the major party candidates? Do you realistically think you can win?
Schick: This is not a football game where the winner takes all. When the two old parties see that voters are starting to turn away from their divisive policies and want elected officials who promote tolerance and economic growth over polarization and protectionism…they will change their behavior to match what they see voters turning to.
RE: COUNTRY OVER PARTY
NUVO: Our reader, Evelyn Channelle Brown Jones, asks: Are your party's political views and mandates more important than doing the right thing no matter the party line?
Schick: As a Libertarian, my views and that of my political party are pretty well aligned…1) less-intrusive government, 2) respect for individual liberty, 3) peace, 4) tolerance, and 5) free markets.
Libertarians don't really have mandates, as we'd rather people pursue their goals voluntarily than use coercion or the force of government to get what we want.
RE: CORRUPTION
NUVO: Our reader, K. H. Brower, asks: How will you dismantle systemic corruption and abuse of power in our political and economic systems?
Schick: The key enabler is transparency, which the Auditor of State's office could provide better than any other public office. I am the only candidate for Auditor who is truly independent of influence from either of the two old parties and am the best choice to head the State's Auditor office in a way that improves transparency to the electorate and unbiased reporting to the legislature.
RE: INCOME INEQUALITY
NUVO: Our reader, Tim Micheli, asks: The upper class is getting much richer and the middle and lower classes are falling further behind. How to you plan to get the middle and lower their fair share of the wealth?
Schick: I am not a proponent of simple redistribution of wealth. However, there are things that could be done to restore equal opportunity to people with middle and lower incomes by removing regulation that is designed by large incumbents to stifle competition from small businesses and start-ups, where most new jobs and opportunities are created.
RE: BUDGET SURPLUS
NUVO: Is it a good thing that the state has a budget surplus? Aren't there areas of our state government like schools and roads that could use some of those funds?
Schick: It would be short-sighted to just spend all the available money. The schools and roads will need money during the next economic downturn also. The more interesting question is whether or not the surplus could be even larger if the legislature only spent money on things they are required to by constitution and law, rather than also spending money on partisan initiatives by the two old political parties.