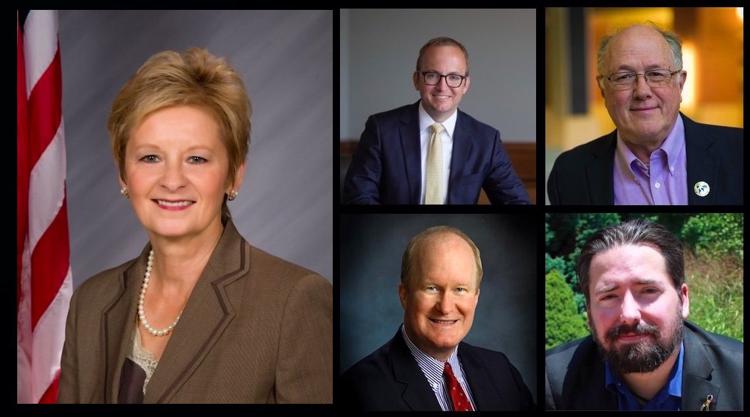 THE RACE
Republican Indiana Secretary of State Connie Lawson was first appointed in 2012 by then Gov. Mitch Daniels after predecessor Charlie White resigned. Lawson faces a re-election challenge from Democratic Party candidate Jim Harper, Pirate Party candidate Jeremy Heath, Libertarian candidate Mark W. Rutherford, and Green Party candidate George W. Wolfe.
[Editor's note: Despite multiple attempts to reach Incumbent Connie Lawson by telephone, U.S mail, email and social media over a six-week period, she did not respond to us or the questions from readers we posed. Therefore, we are only publishing the answers of her opponents who did return answers.]
CANDIDATE PROVIDED BIOGRAPHY
Challenger: Jim Harper
Jim Harper is a Northwest Indiana native. He was born and raised in Valparaiso, and he is a 2001 graduate of Valparaiso High School. Jim went on to graduate with highest honors from Indiana University and received his law degree, with high honors, from Georgetown University. Upon graduating, he completed a federal judicial clerkship in Indianapolis and then served as a public defender in New Orleans.
Jim then returned home to Indiana to serve his community. He practices law in Porter County at his family's firm, Harper and Harper. Jim serves on the board of a non-profit law firm that provides free and reduced-cost legal services to veterans, as well as the Hilltop House, a Valparaiso non-profit that provides early-childhood education and other services to Porter County families.
Challenger: Jeremy Heath
Jeremy Heath describes himself as a happy husband, a blessed father, a proud Hoosier, and an unrepentant American. Jeremy was raised in Royal Center, Indiana, were he graduated from Pioneer Jr. Sr. High School.
After high school, he attended and graduated from the University of Evansville in Evansville, Indiana where he currently lives with his wife and three children. Jeremy currently serves as a Case Manager with Volunteers of America, a nonprofit that serves Hoosiers from every corner of the state and from all walks of life.
Jeremy Heath has long fought against the political establishment on both sides of the aisle including a State Representative run against a career politician on the left and a State Senate run against a career politician on the right, all the while attempting to provide for his family. As a write in candidate for Secretary of State for Indiana, he hopes to take the fight against the establishment to a whole new level.
Challenger: Mark W. Rutherford
Mark Rutherford is campaigning for Indiana secretary of state. This office oversees elections, business services, and securities. Rutherford's legal concentrations include small-business and election law. He is a shareholder and practicing attorney at Thrasher Buschmann & Voelkel, P.C. Rutherford has been serving on the Indiana Public Defenders Commission, a position he has held since his 2007 appointment by GOP Gov. Mitch Daniels, and is currently chair. Rutherford has led his party as vice chair of the Libertarian National Committee and chair of the Libertarian Party of Indiana.
Challenger: George W. Wolfe
George Wolfe, the 2018 Green Party candidate for Secretary of State, is Professor Emeritus at Ball State University and the former Director of Peace and Conflict Studies at Ball State University. He is the author of over 50 articles on the website Voices of Humanity, and three books, including The Spiritual Power of Nonviolence: Interfaith Understanding for a Future Without War which has been endorsed by Judy O'Bannon, the former First Lady of Indiana He is also a trained mediator and formerly served as a member of the advisory board of the Toda Institute for Peace, Policy and Global Research.
Dr. Wolfe received a Doctorate in Higher Education Administration from Indiana University. As an educator, he frequently speaks on topics related to nonviolence, peace education, academic freedom and the role of the arts in social activism. In 2008 he was a visiting scholar at Limburg Catholic University in Hasselt, Belgium. He has also lectured in the Hall of Philosophy at Chautauqua Institution and in April of 2012, served as a panelist at the International Conference on World Affairs in Boulder, Colorado. In 2004, conservative commentator David Horowitz listed George Wolfe as "one of the 101 most dangerous academics in America."
QUESTION FOR THE THIRD PARTY
NUVO: Why should people vote for a third party in general? Won't it just serve as a spoiler for the major party candidates? Do you realistically think you can win?
Rutherford: There has been so much movement in the last 10 years for third-party candidates and a great spike in interest and support in the last two years. A third-party vote isn't a spoiler for other candidates, its a chance for the voter to offer their opinions. Each and every voter needs to make their voices heard regardless of party as that's what a true democracy is.
Wolfe: The "Spoiler Effect" which make people critical of third parties would be remediated by moving to a system called "Ranked Choice Voting." This system has just been approved by the voters in the state of Maine. Under Ranked Choice Voting, if there are more than two candidates, a person votes for multiple candidates, ranking their first, second, third and fourth choices, etc. If no candidate receives a majority of the votes, then the candidate with the lowest number of votes is dropped, but the votes that were received by the second, third or fourth choices under that candidate are given to the other candidates. That process continues until someone with a clear majority prevails. This virtually eliminates the spoiler effect and also opens up the public forum so more voices can cue heard. If I am elected Secretary of State, I will propose we apply Ranked Choice Voting to any office where there are more than 2 candidates.
We also need to understand that running for office should not about winning or losing. It is about challenging the status quo and contributing new and creative ideas to the political conversation. We should take the best ideas from all candidates, and not simply dismiss candidates based on party affiliation. I like to say that Ranked Choice Voting does for the electoral process what the three-point shot did for college basketball. It opens up the middle and gives the "long shot" more influence in the game!
QUESTION FOR THE PIRATE PARTY
NUVO: What is the Pirate Party and why should people vote for a third party in general? Won't it just serve as a spoiler for the major party candidates? Do you realistically think you can win?
Heath: We are a third party fighting for the disenfranchised. Left, Right, centrist…we're fighting for everything that the Democrats and Republicans claim they stand for, but are too busy arguing to actually do. A vote for a third-party candidate is one less vote to Republicans, and Democrats, and one more voice added to those who wish to break the Two-Party rule. Of COURSE, I have no chance of winning…unless you, and others like us, are willing to take the initiative and change things by writing my name on the ballot. Anger without action is wasted.
RE: COUNTRY OVER PARTY
NUVO: Our reader, Evelyn Channelle Brown Jones, asks: Are your party's political views and mandates more important than doing the right thing no matter the party line?
Harper: Simple answer: NO. The Secretary serves as the State's chief election officer, enforces state securities regulations, regulates automobile dealerships in Indiana, and manages the state business services division. Nothing in that description of the job duties of the Secretary of State should in any way be administered in a partisan way. Full stop.
Heath: One of the main problems with the two-party system is that it breeds an us vs. them mentality. It is easy under this system to cling to party and dogma because if you stray, then the "Other side" the "Enemy" wins. Party loyalty should never interfere with an elected official's loyalty to the people of his or her district. The Short answer is no, Evelyn. The people, and their needs, should always come first.
Rutherford: Following the right task is always the priority. Tri-partisan cooperation is imperative an as an elected official, I would be looking forward to working with all others, regardless of party.
Wolfe: Great question! Our party's political views and mandates are NOT more important than "doing the right thing." I believe candidates should exercise freedom of conscience, and "doing the right thing" should override the political "party line." This is easier for Green Party candidates because we do not take money from corporations, PACS or special interest groups. I have run my campaign for Secretary of State on less than $5000, so I can make decisions according to my conscience, not my bankroll.
RE: CORRUPTION
NUVO: Our reader, K. H. Brower, asks: How will you dismantle systemic corruption and abuse of power in our political and economic systems?
Harper: Voters have every right to be skeptical of their elected officials these days. Elected officials owe it to their constituents to serve honorably, with their best interests at the heart of every one of the elected officials' decisions. Unfortunately, that doesn't always happen. The Statehouse is controlled entirely by one party right now, the Republican Party. I intend to use my voice to be a check on one-party control at the Statehouse. I will also work to make it easier for all eligible Hoosiers to participate in the electoral process and hold their leaders accountable
Heath: The first step in dismantling the systemic corruption and abuse of power is to dismantle the system that embraces it and allows it to flourish. The Two party system must be broken, and the power that the Democrats and Republicans have consolidated over the years MUST be returned to the people and to the candidates that put people before party. The only way we can even begin to do this, is get more third parties on the ballot
Rutherford: I believe that we need to have clear definitions compared to the assumptions and multiple interpretations made in our state's constitution. This will create a clearer law for elected officials to follow and will get Indiana back into its true Hoosier Values.
Wolfe: The first method and most constructive way in a democracy to dismantle systemic corruption and abuse of power is to engage and inform the voters so as to "speak truth to power" and "make the injustice visible." In other words, use our First Amendment rights to speak out and publicize the injustice and its consequences
Secondly, there are usually specific policy changes that can be made. For example, the current Secretary of State, Connie Lawson, has purged names from the voter roles based on the assumption that you no longer live in Indiana if you haven't voted in the last two presidential elections, and did not return a postcard requesting you to confirm your status. This assumption is not valid and also tends to discriminate against lower income citizens because people who are poor tend to move more often, moving in with family because they cannot afford their own housing, which means they would be more likely not to have received the postcard that was sent.
I maintain that NO PERSON should have there named purged from the voter roles unless there is documentation that they have moved out-of-date or are deceased. And I Secretary of State, I would make that specific policy change
Third, there is legislation that can be proposed and passed to prevent or at least limit the abuse of power, both political and economic. We have seen this happen when regulations were imposed on corporations to protect the environment, or on large banks to prevent them from making predatory loans
Finally, and the least desirable, we can take legal action and involve the courts as has been done against Connie Lawson when she tried to purge voter names by using using the "State Cross-Check System" that was ruled unconstitutional in Kansas and later upheld by a judge in Indiana.
RE: GERRYMANDERING
NUVO: Our reader, Steven Cornett, asks: Do you agree that partisan gerrymandering is antithetical to democracy, and that Indiana should adopt an objective process to create optimally compact census based equal-population congressional districts in Indiana by requiring it in the state constitution?
Harper: Yes. Non-partisan redistricting reform will be one of my top priorities as the next Secretary of State. It isn't just a problem with congressional districts in Indiana, but also in state legislative seats where one party controls 70 seats of 100 in the House, and 41 seats of 50 in the Senate. Voters should choose their elected officials, not the other way around. We'll only arrive at a fair system if we take the process of drawing maps out of the hands of the people who vote on their passage.
Heath: The way that districts are drawn are glaring indictments on the corruption of the Parties in power, as well as the blatant hypocrisy of each of their candidates. The next time you hear a politician speak about how much they will fight for the people, ask them to speak out against their party's role in gerrymandering, and see how quickly they will avoid doing just that. Gerrymandering is nothing less than the Republicans and Democrats sitting around a turkey carving up which pieces they want for themselves. It is unethical, and not in any way beneficial to democracy.
Rutherford: Absolutely, we are currently working with a system where officials at choosing their voters when it should be the voters choosing officials. We absolutely need to fix the issue of partisan gerrymandering and give the voice back to Hoosiers across the state.
Wolfe: I do agree with wholeheartedly that partisan gerrymandering is antithetical to democracy. However, since the redrawing of district lines is in the Federal constitution, I do not believe it would be possible to overrule the U.S. Constitution by passing an amendment on the state level. We can however, pass laws that serve to guide the process of redistricting so as to make it more objective and fair. If I am elected Secretary of State, I will establish a Citizen's Nonpartisan Redistricting Commission which would begin by using an algorithmic model to redraw districts line, then adjust it according to shifting demographics that may not have been adequately addressed by the algorithm. This result would then be presented to our legislators for confirmation. If the political party in power modifies the commission's recommendations in a blatantly partisan way, I will be sure to let the voters know.
Redistricting should not be in the hands of politicians because there is a conflict of interest inherent to a process where people determining the district lines are financially benefiting from the results. Both Republican and Democratic party's have, in the past, been guilty of gerrymandering. Only a Secretary of State from outside the two major party's can effectively bring an end to gerrymandering, voter suppression tactics, and other forms of party-based political corruption.
RE: ELECTION SECURITY
NUVO: Are we doing enough to secure the integrity of our elections? Should we move to paper ballots instead of electronic voting machines?
Harper: No. Every day, we learn more about foreign actors interfering in our elections. The federal government has provided money to states to help secure election systems. Unfortunately, the current Secretary only requested our share at the last minute and has done little to secure our voting machines this year. She could have requested additional money from the legislature, but she did not. We should have moved to paper ballots this year (most counties have no paper trail). Every voter should be confident that her vote will be counted as cast, and paper ballots are the best way to achieve that.
Heath: Our most secure systems, no matter how secure they claim to be, can be vulnerable at any time to someone with the right training and the right motivation With the last election flooded with accusations of Clinton cheating Bernie, and rumors of DHS and Russian hackers. ...It is absolutely vital to back up the electronic ballot with paper ballots, if only for peace of mind.
Rutherford: There is a lot more that can be done to secure our election process however there is a need for the state to determine that as a priority. Private industries have done so much to secure their systems and there is a lot that we can learn from those groups to secure our voting process without going to paper ballots.
Wolfe: In this age of international cyber attacks and computer hacking, I believe our electoral system is particularly vulnerable to disruption. Even if our voting machines are not connected to the internet, we are still at risk because hackers could bring down our power grid, and as we have seen, generate totally false stories about candidates (i.e. fake news). In addition, maintaining computerized voting systems and insuring security is expensive. Our current Secretary of State Connie Lawson, has spent over $7.6 million on election security. The only way to insure security and drastically reduce this outrageous cost would be to return to paper ballots as has been done in the past the state of Oregon. I have a nephew who lives in Portland and he swears by the ease and security of the system that has been used there. It also is perceived to be more friendly to older Americans who may be reluctant to embrace technology. As Secretary of State, I would establish a commission to investigate such a system.
RE: AUTOMATIC VOTER REGISTRATION
NUVO: Do you support automatic voter registration? Why or why not?
Harper: I support automatic voter registration. My goal when elected will be to ensure that every person who is eligible has the right to vote, no matter where she lives, no matter what language she speaks, and no matter whether she's a Republican or Democrat. Indiana ranked 51st in voter participation in the last election. That is unacceptable. The reasons Indiana ranked so low have everything to do with our strict registration rules and also with our short voting hours, which make it difficult for, especially, working people to vote.
RE: AFFORDABLE HEALTH CARE
NUVO: Our reader, Tim Micheli asks: Does your party have a specific and detailed plan to make health care affordable?
Wolfe: Yes! I support the Green Party's position that we need to expand medicare and eventually establish a "Medicare of All," single payer system. In the long run, this would be far less expensive than the fractured system we have now. We can start by expanding medicare to lower age groups, continue to offer preventive strategies (such as free vaccines and yearly wellness exams), continue with a "no pre-existing conditions" policy, and gradually expand this for all citizens.