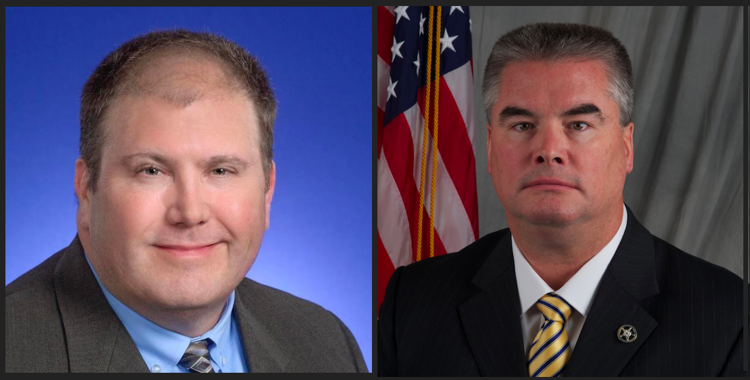 RACE
Marion County Sheriff John Layton is not running for re-election given the constraints of the two-term limit. Instead, running for his seat are Republican candidate Brian K. Durham and Democratic candidate Kerry Joseph Forestal.
CANDIDATE PROVIDED BIOGRAPHIES
CHALLENGER: Brian K. Durham
I was raised in Indianapolis Marion County where I currently reside. I have been involved with public safety since 1983. I started out as a Marion County Sheriff's Explorer and rose to the rank of Sheriff of the Explorers. I also have experience as a Warren Township Volunteer Fire Fighter/EMT I and I am a former Republican Precinct Committee person,
I am a second generation Marion County Deputy Sheriff, serving in various capacities with the Sheriff's Department from Patrol to Detective including Federal Law Enforcement Deputy Appointments to the U.S Marshal's Service Fugitive Task Force and the Federal Bureau of Investigation's Organized Crime and Drug Enforcement Task Force (OCDETF) prior to the merger with Indianapolis Police to become a Indianapolis Metropolitan Police Detective with over 21 years of service
I am a certified Law Enforcement Officer and graduate of the Indiana Law Enforcement Academy session 93-114. I am a National Certified Fire Explosion Investigator through NAFI and a Certified Post Blast Investigator through the ATF. I am a free Mason and belong to Brookside Lodge 720, raised in 2002. I am also a Murat Shriner since 2004 and member of numerous Shrine Clubs and Units. I am a member of the Fraternal Order of Police. I have a 23-year-old daughter, and a 16-year-old son.
CHALLENGER: Kerry Forestal
Public service was a family value for Kerry Forestal, who grew up on Indianapolis' east side. After graduating from Scecina Memorial High School, and studying Criminal Justice at Ball State University and IUPUI, Kerry Forestal joined the Marion County Sheriff's Department in 1977. Kerry rose through the ranks of the Marion County Sheriff's Department, going from Detective in Undercover Narcotics; Sergeant in the White Collar Crime section then the Homicide and Robbery section; Lieutenant in East District Burglary and Auto Theft; and Captain, overseeing county-wide Property Crimes Investigations. In 2003, Kerry was appointed Colonel and Chief Deputy of the Marion County Sheriff's Department by Sheriff Frank Anderson.
In 2010, Kerry Forestal was appointed by President Barack Obama, with the advice and consent of the United States Senate, to the position of United States Marshal for the Southern District of Indiana. In that role, Kerry's responsibilities included security over four federal courthouses; coordination of warrant service and arrests by Federal Agencies; and the responsibility of protecting federal judges in the Southern District of Indiana. In 2015, Kerry Forestal returned to the Marion County Sheriff's Office, and was appointed by Sheriff John Layton to the rank of Lieutenant Colonel and Executive Officer, overseeing the Marion County Sheriff's Office Criminal Division. Kerry Forestal married his high school sweetheart, Kathy (Naughton), in 1978. They have three children, and seven grandchildren.
RE: ON THE JOB
NUVO: How do you think you could do the job better than your opponent? Name something your predecessor did you would do differently.
Durham: I will do the job better than my opponent by ending 16 years of the "pay to play" mentality that has plagued the sheriff's office. All employees will be evaluated and promoted on their skills, abilities, training, and knowledge. All business contracts will be awarded to those who do the best work at the lowest prices. At no time will an employee or business receive "special treatment" based on a campaign contribution. What I would do differently than my predecessor is show my employees that they are valued. That their hard work and dedication will not go unnoticed and that they will be treated fairly and with respect. I have over 27 years of continuous law enforcement experience and everyone of those years has been spent actually doing the job and not sitting in an office. I will lead by example.
Forestal: Experience matters. My resume is vast and varied with decades of leadership within the Sheriff's Office, as United States Marshal, managing budgets, and making tough decisions to create best outcomes. I am a lifelong public servant, and have the experience and compassion needed to usher in a new era of criminal justice reform that Marion County residents want and deserve. As Sheriff, I will work with the Council to raise the pay of Sheriff's Deputies and 911 Dispatchers to address the current staffing shortage in the Jail and the 911 Center.
RE: CRIMINAL JUSTICE REFORM
NUVO: Deanna Menke, 23, Indianapolis, asks the following questions: How will you use the power of the office you seek to implement criminal justice reform?
Durham: As Sheriff, I will work closely with the City of Indianapolis' Criminal Justice Reform Task Force, as well as our city and community leaders to implement data driven best practices proven to deescalate violence and not use a one-size-fits-all approach to policing.
Forestal: I see reform as rooted in keeping poor people and sick people out of jail. Poverty and mental illness cannot properly be treated in a jail. The new Community Justice Center will soon replace our current Jail, and will be a great catalyst for criminal justice reform in Marion County. I have the vital, historical experience that it will take to make a safe and successful transition from the old Jail to the new Jail and to work with our partners in criminal justice, as well as the community, to create a truly rehabilitative environment for inmates.
RE: CASH BAIL
NUVO: Do you support the end of cash bail?
Durham: My current position is that I do not support the end of cash bail. Cash bail is a very strong incentive for offenders to appear in court when required as a condition of their release.
Forestal: As Sheriff, I will work closely with the Courts to ensure that we are jailing dangerous criminals that we are afraid of, and not those individuals facing mental illness, addiction, or who simply cannot afford their bond.
RE: IMPLICIT BIAS
NUVO: What steps will you take to hold our police officers to higher standards and combat implicit bias?
Durham: Again, I will lead by example. Fostering an accountable, ethical culture within the MCSO will start with me and my command staff. I will lead with competency, fairness, and transparency—not only to my employees, but the citizens of Marion County. I will have organizational mechanisms of control in place that will enforce those values and ensure high standards of conduct are met by all employees, not just deputies. Implicit bias training is a relatively new concept in law enforcement, however I believe it is important to expand officers awareness of possible prejudices so I would be in agreement to providing that type of training to all employees.
Forestal: The Marion County Sheriff takes an oath to perform their duties "justly, impartially, and faithfully," and if I am given the opportunity to serve, I will let that oath guide me, and be the Sheriff of all the people. As Deputies go through the nationally-accredited MCSO Training Academy, they receive training on cultural diversity and competency, racial profiling and unconscious bias, and micro-inequities. As Sheriff, I will continue to emphasize the importance of training in these topics, and will maintain high expectations of our Deputies and staff than to treat every member of our community with dignity and respect.
RE: PUBLIC SERVICE
NUVO: What steps will you take to ensure local law enforcement serves all of our communities with the same amount of competency, efficiency, and respect?
Durham: Education is the key to success. Continued training will be available for officers to ensure we are following best practices and proven methods that provide excellent service to the community at the same time treating individuals who are incarcerated humanely.
Forestal: Community policing starts from recruitment within the community. The MCSO trains Deputies in the areas of cultural diversity and competency, racial profiling and unconscious bias, and micro-inequities, but most important is to hire a workforce that reflects the community that it is to serve and protect. The MCSO is always hiring, and as Sheriff, I will reach out into minority communities to encourage applicants through what I call the "Church to Employment Pipeline." The MCSO has good jobs with good benefits available, and I will work through Indianapolis' strong and steadfast religious community to recruit Deputies and civilian employees.