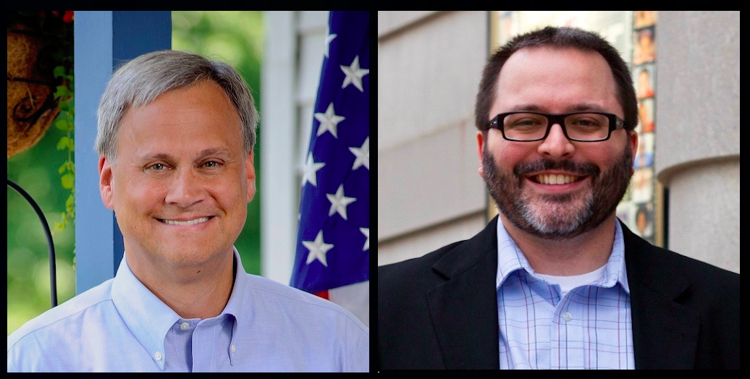 THE RACE
First elected to represent District 31 in the Indiana State Senate in 1990, Republican Sen. James Merritt Jr. is facing a re-election challenge from Democrat Derek Camp.
[Editor's note: Despite multiple attempts to reach Merritt by phone, U.S mail, email and social media over a six-week period, he did not respond to us or the questions from readers we posed. Therefore, we are only publishing Camp's answers.]
CANDIDATE PROVIDED BIOGRAPHY
Challenger: Derek Camp
Derek Camp is a proud, lifelong Hoosier. The son of a working-class family, Derek learned first-hand the success that hard work can bring. After earning his degree from Purdue University, Derek began his own small business. Eventually, Derek began working at an Indianapolis law firm to help struggling families get back on their feet and become financially stable. In addition to living in Lawrence with his wife, Nicole, Derek leads a state-wide youth civic organization that has seen record growth in membership throughout Indiana.
After decades of the same old thinking from the legislature, it's time for a change. Derek Camp is running for State Senate to bring a fresh perspective to the problems facing our community. He will work hard to represent all Hoosiers, and as the first millennial in the State Senate, Derek will be a voice for all the young families in Indiana seeking a better tomorrow.
RE: AFFORDABLE HOUSING
NUVO: Our reader, Andy Beck, asks: We know that safe and affordable housing is necessary for employment, provides the opportunity to build wealth via stability, and has a tremendous positive benefit for health. Do you agree that housing is a human right? Do you agree that public dollars should only be awarded to organizations providing permanently affordable housing units instead of the short and medium term (5 or 20 years) affordable units that have been used to flip neighborhoods and tear apart communities?
Camp: I do believe that housing is a right, and we should work to maintain affordable housing throughout Central Indiana. Long term affordability should be considered when awarding taxpayer dollars to organizations for providing long term housing.
RE: GERRYMANDERING
NUVO: Our reader, Steven Cornett, asks: Do you agree that partisan gerrymandering is antithetical to democracy, and that Indiana should adopt an objective process to create optimally compact census based equal-population congressional districts in Indiana by requiring it in the state constitution?
Camp: Senate District 31 has parts of Indianapolis, Lawrence, Fishers, and Noblesville but not all of any of them. Each of these communities have different needs, but by being cut up, they are collectively silenced. I support the establishment of an independent redistricting commission tasked with creating fair district maps that are competitive because if competition is good for our marketplace, it is certainly good for our politicians.
RE: RENEWABLE ENERGY
NUVO: Our reader, Mary Lou Dolan, asks: What is your position on moving toward more policies favoring renewable energy?
Camp: I support investing in renewable energy sources to create more clean energy jobs and to create a healthier environment in Indiana. I also support reestablishing the net metering law that my opponent abolished as the chairman of the Senate Utilities Committee in previous years.
RE: DISCRIMINATION
NUVO: Our reader, Todd Fuqua, Would you support legislation that would block public dollars from going to private schools if they engage in discriminatory employment practices based on sexual orientation or gender identity? Please comment on your rationale.
Camp: Any school receiving taxpayer dollars should be held to not only the same high accountability standards but also to the same non-discriminatory standards. Our government should promote non-discrimination and that should be attached to schools receiving taxpayer dollars so that what happened at Roncalli High School does not happen again.
RE: CRUMBLING INFRASTRUCTURE
NUVO: Our reader, Deanna Menke, 23, Indianapolis, asks: What steps will you take to improve our state's crumbling infrastructure?
Camp: I would adjust our complicated road funding formula so that our cities are getting the funding they need from the state to repair and maintain their roads. Currently, Indiana does not fund based on lane miles, meaning the formula does not account fully for how wide a road is when allocating funds. I would like to change this so that our cities can receive the help they need to get our infrastructure back into shape.