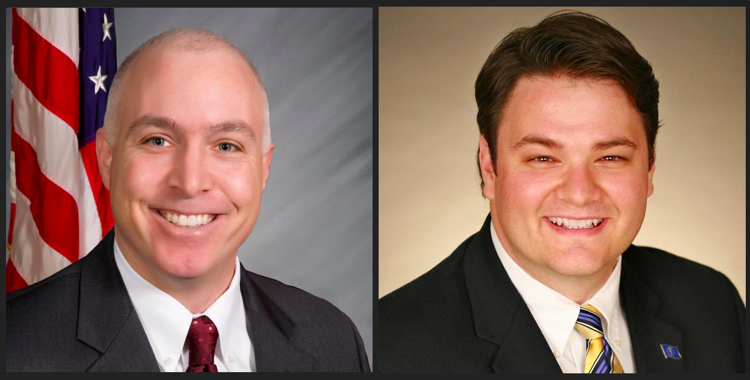 RACE
Sen. Mike Delph, R-Carmel, has represented District 29 in the Indiana Senate since 2005. As was the case in 2014, he is once again being challenged by Democrat J.D. Ford.
CANDIDATE PROVIDED BIOGRAPHY
INCUMBENT: Mike Delph
Elected: 2005, 2006, 2010, and 2014
Chairman: Senate Committee on Veterans Affairs and the Military
Education: Graduate of Carmel High School, 1988;Bachelor of Arts, Indiana University, 1992; Master of Science, Environmental Science, Indiana University, 1996; Master of Public Affairs, Indiana University, 1996; Doctor of Jurisprudence, School of Law, Indiana University, 2010.
Military service: Major, United States Army Reserve; Graduate of the Military Intelligence School at Fort Huachuca, Arizona; Graduate of AMEDD School at Fort Sam Houston, Texas; Level II Anti-Terrorism Trainer with FORSCOM; Currently serve as the Deputy Emergency Preparedness Liaison Officer for Team Indiana for Army North, DSCA Operations; Most recently, deployed to Puerto Rico during Hurricane Maria Relief Operations.
Work: General Counsel, CarDon & Associates Inc.
Family: Married to Beth for 25 years; 5 Daughters: Abby, Evelyn, Anna, Emma, and Lilly
Religion: Christian
Mike Delph is a an Advanced Open Water PADI trained Scuba Diver and enjoys all aspects of underwater sea life in addition to an avid hiker and outdoorsmen.
Mike Delph is an accomplished musician and songwriter and has opened twice this past year at the Vogue in Broad Ripple. Indianapolis's Premiere Live Music Venue. Mike is working on his first studio album. Mike loves playing guitar whenever possible!
Website: mikedelph.com
Twitter: @mikedelph
Facebook: https://www.facebook.com/mikedelph/
Instagram: https://www.instagram.com/mikedelph/
CHALLENGER: JD Ford
JD Ford's most ardent desire is to serve the people of Indiana as a State Senator for the 29th District. Born Nov. 6, 1982; JD's interests turned to public service at an early age. His maternal grandfather was a city councilman and his paternal grandmother, a city auditor during his childhood. JD inherited a strong sense of civic duty from his grandparents and an understanding of true servant leadership by holding leadership positions throughout high school and college.
After enrolling at The University of Akron, JD was the first person in his family to go to college. JD understands what it means to be a first-generation college student. In addition to his primary coursework, he also completed two minor courses of study (Pre-Law and Conflict Management) and served as an intern for the Ohio Senate, where he loved working in state government.
JD returned to college to pursue his Master of Science degree in Education with an emphasis in Human Services from Purdue University. During this period, he worked full-time as a Graduate Assistant for Residential Education and was quickly promoted to Assistant Director of Residential Education all while taking his graduate coursework at the Purdue-Calumet campus in Hammond. During graduate school, JD also completed a 300-hour internship at the Midwest Center for Youth and Family, where he worked with adolescent males with diagnoses ranging from Schizophrenia to ADHD. This work was done under the supervision of a licensed social worker.
JD has spent most of his career working in higher education and with college students, where he has seen first-hand our students struggling with mental health issues and food insecurity. He has also spent time working for local non-profits at the senior leadership level.
Currently, JD works in the education field, where he gets to witness first-hand how our General Assembly is under-serving our children and educators in Indiana.
To learn more about JD, please visit www.jdford2018.com.
RE: HOUSING
NUVO: Our reader, Andy Beck, asks: We know that safe and affordable housing is necessary for employment, provides the opportunity to build wealth via stability, and has a tremendous positive benefit for health. Do you agree that housing is a human right? Do you agree that public dollars should only be awarded to organizations providing permanently affordable housing units instead of the short and medium term (5 or 20 years) affordable units that have been used to flip neighborhoods and tear apart communities?
Delph: Thomas Jefferson wrote in the Declaration of Independence: "We hold these truths to be self evident. That all men are created equal and endowed with inalienable rights among them: Life, liberty, and the pursuit of happiness." Everyone needs to have a home but the question is does government subsidize it over the long term. I believe the answer is no because of the pursuit of happiness ideal. We are all free to pursue our own way and make decisions but we are not free from suffering the consequences of those decisions. So if someone is homeless because they were a drug addict, they should suffer the consequence and either get better and pursue their happiness or fail themselves. If someone is injured or has some sort of lifetime medical condition which impedes the pursuit of happiness then I would support a governmental safety net to help. Ideally, it would work best if the faith based community helped.
Ford: I believe that housing, like health care, is a human right. There is more than enough wealth and prosperity in our county to ensure no Hoosier is homeless. I would stop short of banning public dollars from being used on medium and short term housing, but I am sympathetic to the issue of skyrocketing property taxes that can sometimes "price out" longtime residents of historically distressed neighborhoods experiencing revitalization. I would support the bill introduced by Rep. Cherrish Pryor that addresses the issues surrounding what people sometimes refer to as "gentrification." Ultimately, we must find a balance between revitalizing neighborhoods and making housing too expensive for longtime residents and my door and mind will always be open to people and organizations working toward trying to find that balance.
RE: GERRRYMANDERING
NUVO: Our reader, Steven Cornett, asks: Do you agree that partisan gerrymandering is antithetical to democracy, and that Indiana should adopt an objective process to create optimally compact census based equal-population congressional districts in Indiana by requiring it in the state constitution?
Delph: Voters should pick their elected officials. Elected officials should not pick their voters. For nearly a decade I have introduced an Independent Redistricting package that 1. would amend our constitution taking the Indiana General Assembly out of the decision process and 2. create a statutory scheme laying out the details of an independent nonpartisan redistricting commission. Both are required because the Indiana State Constitution currently requires the Indiana General Assembly to draw the districts. My proposal is the most comprehensive fair and independent package of any sitting member of the Indiana General Assembly of either political party.
Ford: Redistricting reform is a huge priority for me and we simply are running out of time to address it here in our State. State Senate District 29 is the perfect example of a gerrymandered district. District 29 stretches from Main Streets in Carmel and Zionsville all the way down to Rockville Road on the West side of Indianapolis. This is a clear example of legislators picking their constituents instead of the other way around. I have been incredibly disheartened to see zero progress made on this issue in the Indiana General Assembly. The cornerstone of a functioning democracy is a fair system of voting and districts that do not disenfranchise or minimize the power of any voter or group of voters. I am committed to doing everything I can to take on the issue of gerrymandering and establish a fair and non-partisan system of establishing districts moving forward.
RE: RENEWABLE ENERGY
NUVO: Our reader, Mary Lou Dolan, asks: What is your position on moving toward more policies favoring renewable energy?
Delph: I support alternative sources of energy including wind and solar. I hold a Master of Science degree in Environmental Science from the Indiana University School of Public & Environmental Affairs. My faith teaches me that I am required to be a good steward of the resources God has provided me. I take this very seriously. I consider myself a conservative environmentalist.
Ford: I will work to protect our environment. More and more, Hoosiers are demanding clean energy alternatives to coal and I agree with them wholeheartedly. We need to invest in wind, solar, hydro-power, geothermal, and biomass industries to take Indiana from a leader in burning coal to a leader in renewable clean sources of energy. The failure to do so will result in the continued desecration of our state's air and water resources, a process that we cannot allow to continue.
RE: DISCRIMINATION
NUVO: Our reader, Todd Fuqua, asks: Would you support legislation that would block public dollars from going to private schools if they engage in discriminatory employment practices based on sexual orientation or gender identity? Please comment on your rationale.
Delph: This is the Roncalli question. I believe in this case, the employee intentionally misled her employer compromising the values of the Catholic Church and its teachings. We must be reasonable and tolerant all around. In this case, a lie led to a series of events which led to the current Roncalli situation. Outside of this example, I believe employees should be hired strictly on their qualifications for a given job. No one should be discriminated against for any reason.
Ford: Public funds should not go to private schools who participate in discriminatory employment practices. I stand with Roncalli counselor Shelly Fitzgerald and am proud of her for calling attention to this issue. This hits home for me as I grew up Catholic and I was always taught that we are God's children and that we were created by God. I understand that Roncalli is a private Catholic school and they can handle personnel decisions how they want. However, I'm not comfortable with a private school being given taxpayer dollars, then turning around to discriminate against a staff member who dedicated her life to improving the lives of students. We need every allotted dollar, and more, to make public school systems in Indiana the absolute best in the nation and discriminating against any minority group is absolutely wrong.
RE: CRUMBLING INFRASTRUCTURE
NUVO: Our reader, Deanna Menke, 23, Indianapolis, asks: What steps will you take to improve our state's crumbling infrastructure?
Delph: We need to make sure the revenue that has been allocated for infrastructure improvements is used wisely and efficiently. The Indiana Legislature just passed the largest tax increase in our history with the implementation of the new gas tax. Elected officials time and again return to the taxpayers and ask that they pay more to fund improvements. We need to be prudent and thoughtful in terms of how we allocate the funds raised from tax revenue. We need to cut down on wasteful spending. We need to make sure the work is done on time and within budget. The taxpayers should not have to be repeatedly told new taxes, and especially tolling, is needed in order to make necessary improvements. Government must live within its means just as we ask of all Hoosier families.
Ford: The state of infrastructure in Indiana has reached a dangerous crossroads. I support finding the funding to significantly increase infrastructure spending at all levels, including a renewed commitment to mass and public transportation. These projects not only support the economy through better transportation efficiency but more so through creating good paying, often union, jobs for Hoosiers.