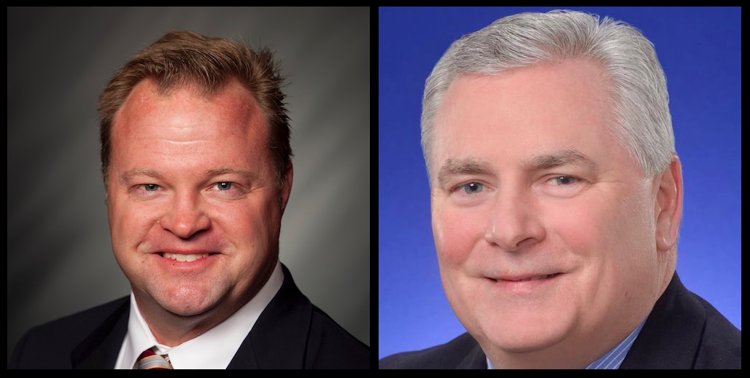 THE RACE
First elected in 2010 to represent District 90 in the Indiana House of Representatives, Rep. Mike Speedy, R-Indianapolis, is facing a re-election challenge from Democrat Tim Jeffers.
[Editor's note: Despite multiple attempts to reach Speedy by phone, U.S mail, email and social media over a six-week period, he did not respond to us or the questions from readers we posed. Therefore, we are only publishing Jeffers' answers.]
CANDIDATE PROVIDED BIOGRAPHY
Challenger: Tim Jeffers
Tim Jeffers is an Iraq War veteran who is running in House District 90 to bring new ideas and leadership to the Indiana House of Representatives. Jeffers also wants to encourage the young and young at heart throughout the district to mobilize and get engaged in their government. He believes in a Service First mentality when it comes to public office.
Jeffers is a Wabash College graduate and 1994 candidate for Indiana Secretary of State. He served as Chief of Staff for former House Speaker John R. Gregg for eight years and was an Executive Assistant and Deputy Legislative Director for former Gov. Evan Bayh. He is a U.S. Army veteran having served during Operation Iraqi Freedom in 2004-05. He was assigned to the 98th Division out of New York and reported to the Multi-National Security Transition Command Iraq, where he served as a Public Affairs Officer for then Lt. General David H. Petraeus who oversaw the training of all Iraqi Army and Police forces.
Jeffers has served in a variety of other public service capacities including as a Governor's Fellow for former Gov. Robert D. Orr, intern for Congressman Lee H. Hamilton, Public Affairs Officer for the Indiana National Guard, and Chief of Staff and Deputy Commissioner for Highway Operations at the Indiana Department of Transportation. Two years ago, he was nominated as a finalist to fill a vacancy on the Indiana Utility Regulatory Commission.
An experienced businessman, Jeffers has been employed by Verizon----and CSO Architects where he has worked for nearly ten years and currently serves as Director of Business Development and Community Relations. Jeffers is married to, Chris, and they have five children---Jacob, Kylie, Ryan, Jackson & Nevan. They attend Calvary Lutheran Church. He coaches baseball at Edgewood Athletic Association and serves on the Breckenridge HOA Board. He is very proud of his affiliation with Samantha's House & Van Foundation, the Indy Chamber's Business Advocacy Committee, his tenure as a member and President of the Catholic Youth Organization Board as well as his designation as a Lifetime Member of the Scecina Memorial High School Board of Trustees.
RE: AFFORDABLE HOUSING
NUVO: Our reader, Andy Beck, asks: We know that safe and affordable housing is necessary for employment, provides the opportunity to build wealth via stability, and has a tremendous positive benefit for health. Do you agree that housing is a human right? Do you agree that public dollars should only be awarded to organizations providing permanently affordable housing units instead of the short and medium term (5 or 20 years) affordable units that have been used to flip neighborhoods and tear apart communities?
Jeffers: Yes, we can certainly be more effective when it comes to housing our fellow citizens. I am particularly interested in what other cities are doing to house homeless veterans in tiny houses.
RE: GERRYMANDERING
NUVO: Our reader, Steven Cornett, asks: Do you agree that partisan gerrymandering is antithetical to democracy, and that Indiana should adopt an objective process to create optimally compact census based equal-population congressional districts in Indiana by requiring it in the state constitution?
Jeffers: I am an outspoken advocate for an independent redistricting process. It is the most important issue facing our state and our nation. We need a competition of ideas every two years in order to ensure a more accountable and visionary government—not a Russian election, which is close to what many of our districts resemble.
RE: RENEWABLE ENERGY
NUVO: Our reader, Mary Lou Dolan, asks: What is your position on moving toward more policies favoring renewable energy?
Jeffers: I'm a big believer in renewable energy. We can do better, and we should be creating incentives for those making investments and creating new jobs, not penalizing them. Sadly, we're about 30 years behind in this respect.
RE: DISCRIMINATION
NUVO: Our reader, Todd Fuqua, Would you support legislation that would block public dollars from going to private schools if they engage in discriminatory employment practices based on sexual orientation or gender identity? Please comment on your rationale.
Jeffers: Yes. I am not comfortable with the use of public monies in parochial schools in the first place. It is a Constitutional issue, that in my judgment, is not being considered properly.
RE: CRUMBLING INFRASTRUCTURE
NUVO: Our reader, Deanna Menke, 23, Indianapolis, asks: What steps will you take to improve our state's crumbling infrastructure?
Jeffers: I support Gov. Holcomb's plan to spend more on infrastructure and access to the internet. I'm not sure using Toll Road fees is the best answer in the long term. I would strongly urge the Governor to dedicate $6-8 million in the next biennium for sidewalks, shoulders, and better roads to enhance community connectivity in Franklin and Perry Townships. The Indiana Utility Regulatory Commission needs to explore ways to make access to the internet and cable news more affordable for all Hoosier citizens.