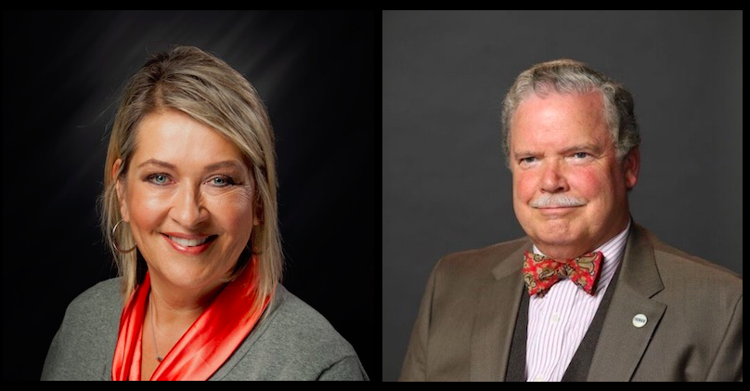 THE RACE
First elected to represent District 89 in the Indiana House of Representatives in 2010, Republican Rep. Cindy Kirchhofer, R-Indianapolis, is facing a re-election challenge from Democrat John Barnes.
[Editor's note: Despite multiple attempts to reach Kirchhofer by phone, U.S mail, email and social media over a six-week period, she did not respond to us or the questions from readers we posed. Therefore, we are only publishing Barnes' answers.]
CANDIDATE PROVIDED BIOGRAPHY
Challenger: John Barnes
My name is John Barnes and I was born into a "baby boomer" family of seven children and raised in Irvington on the eastside of Indianapolis. After graduating from Thomas Carr Howe High School and Butler University, I started my career as a high school social studies teacher at Carmel High School and then moved to Warren Central High School in 1984. It was my privilege to teach at WCHS for 28 years, and I also served as Department Chair for 9 of those years.
In 2008, I was elected to the Indiana State House of Representatives where I served a two-year term. Retiring from teaching in 2012, I accepted a position with State Superintendent of Public Instruction Glenda Ritz as her Director of Legislative Affairs. It was my honor to advocate on behalf of children, parents and educators through four consecutive sessions of the Indiana General Assembly.
As I view our current state of affairs, I realize there is unfinished business that needs to be dealt with. House District 89 needs new leadership and a voice in the Indiana General Assembly that is laser focused on our needs.
RE: AFFORDABLE HOUSING
NUVO: Our reader, Andy Beck, asks: We know that safe and affordable housing is necessary for employment, provides the opportunity to build wealth via stability, and has a tremendous positive benefit for health. Do you agree that housing is a human right? Do you agree that public dollars should only be awarded to organizations providing permanently affordable housing units instead of the short and medium term (5 or 20 years) affordable units that have been used to flip neighborhoods and tear apart communities?
Barnes: Safe and affordable housing needs to be an especial concern in House District 89 on the east and southeast sides of Indianapolis. I believe that housing is a human right, and that the awarding of public dollars should prioritize the stabilization of existing communities and not outright gentrification.
RE: GERRYMANDERING
NUVO: Our reader, Steven Cornett, asks: Do you agree that partisan gerrymandering is antithetical to democracy, and that Indiana should adopt an objective process to create optimally compact census based equal-population congressional districts in Indiana by requiring it in the state constitution?
Barnes: Partisan gerrymandering is an insult to voters living in the world's greatest democracy. Eliminating this practice, used by both parties when they are in power, is essential. Establishing an independent commission to oversee the drawing of district lines needs to be the highest priority in the next session of the Indiana General Assembly. Districts will be drawn again in 2021 after the decennial census, and if we don't have a new process in place by next year, it will be used as an excuse to delay reform for another 10 years.
RE: RENEWABLE ENERGY
NUVO: Our reader, Mary Lou Dolan, asks: What is your position on moving toward more policies favoring renewable energy?
Barnes: Renewable energy is important, especially in a State like Indiana, when we rank at the bottom of air quality and have so many environmental issues caused by the continued practice of burning coal. My opponent, Cindy Kirchhofer, voted to phase out the practice of Net Metering at a time when we need it most. It's a shame that special interests have the ability to curtail common sense practices like Net Metering. I was in the legislature 10 years ago when Win Moses, of Fort Wayne, started pushing "NM" and got it passed. It's hard to believe that the utilities have the power to eliminate the ability for average citizens to get credit for producing their own energy.
RE: DISCRIMINATION
NUVO: Our reader, Todd Fuqua, Would you support legislation that would block public dollars from going to private schools if they engage in discriminatory employment practices based on sexual orientation or gender identity? Please comment on your rationale.
Barnes: The situation at Roncalli brings the issue of school vouchers into specific focus. Public dollars should not go to private schools when they engage in discrimination. School choice is here to stay and I don't see that practice ending anytime soon. Rep. Dan Forestal has offered a very simple solution to this problem and I hope it will be considered in the next legislative session. What Roncalli, or any other private school, does in this kind of situation, is their right as a private educational entity. However, they need to make a choice. If they want to be private and independent, they should not accept public tax dollars. They need to make a choice, and they can't have it both ways.
RE: GUN CONTROL
NUVO: Our reader, Deanna Menke, 23, Indianapolis, asks: Considering the Noblesville shooting and the fact that Marion County is on track to have more homicides this year than last, what is your plan for common-sense gun control legislation at the state level?
Barnes: Gun issues are always tough, because guaranteeing 2nd Amendment rights needs to be a priority. However, as a responsible gun owner, I believe that we can tighten existing laws to promote gun safety, keep guns out of the hands of criminals, and respect the rights of responsible gun owners. In talking to Marion County Prosecutor Terry Curry, he explained that his office is working on legislation for the up-coming session. He wants more regulations concerning the carrying of long guns and the banning of bump stocks. He assured me that law enforcement agencies, across the board, approve of considering such reforms. If elected, I would want to seriously consider his ideas. Since you mentioned Noblesville, I would also add that if something like that can happen there, in an upscale community, it can happen anywhere in this state. We need to take this issue, and especially the issue of school safety in general, more seriously.