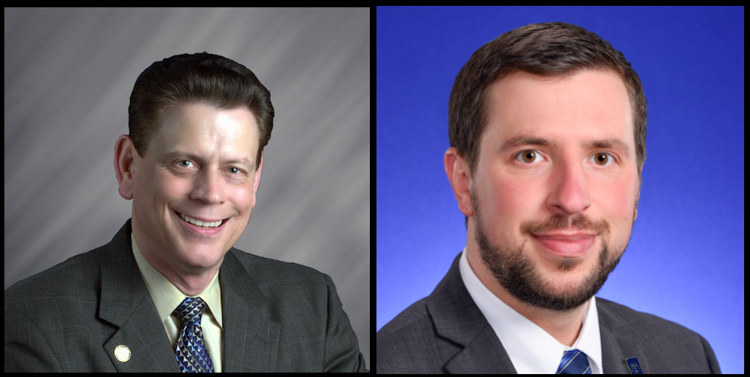 THE RACE
First elected to represent District 93 in the Indiana House of Representatives in 1992, Rep. David Frizzell, R-Indianapolis, is facing a re-election challenge from Democrat Greg Rathnow.
[Editor's note: Despite multiple attempts to reach Frizzell by phone, U.S mail, email and social media over a six-week period, he did not respond to us or the questions from readers we posed. Therefore, we are only publishing Rathnow's answers.]
CANDIDATE PROVIDED BIOGRAPHY
Challenger: Greg Rathnow
Born in Missouri and raised in Central Illinois, Greg moved to Indiana in 2000 to study Business Management and Political Science at Saint Joseph's College. In 2004, Greg began his career in higher education working as an Admissions Counselor at his alma mater where he helped high school students achieve their dream of a college education. In December 2009 Greg accepted a position as an Assistant Director of Admissions at IUPUI where he worked until moving to his current position at the IUPUI Lilly Family School of Philanthropy in 2017. As the Assistant Director of Student Recruitment, he continues to provide students a pathway to higher education and a career in a field that improves lives in Indiana and beyond.
RE: AFFORDABLE HOUSING
NUVO: Our reader, Andy Beck, asks: We know that safe and affordable housing is necessary for employment, provides the opportunity to build wealth via stability, and has a tremendous positive benefit for health. Do you agree that housing is a human right? Do you agree that public dollars should only be awarded to organizations providing permanently affordable housing units instead of the short and medium term (5 or 20 years) affordable units that have been used to flip neighborhoods and tear apart communities?
Rathnow: Housing is absolutely a human right. It's unconscionable that in the wealthiest nation in the world, we still have as many individuals experiencing homelessness as we do. In Marion County alone it is estimated that we have nearly 1,800 people who are experiencing homelessness on a given night.
I would like to see public dollars going only to organizations that provide real, proven, and permanent housing solutions. Likewise I believe we need to hold employers accountable for providing a livable wage to their employees. If a company's employees are on any form of poverty assistance, that company should lose any tax breaks they are currently receiving through the state.
RE: GERRYMANDERING
NUVO: Our reader, Steven Cornett, asks: Do you agree that partisan gerrymandering is antithetical to democracy, and that Indiana should adopt an objective process to create optimally compact census based equal-population congressional districts in Indiana by requiring it in the state constitution?
Rathnow: Gerrymandering is a huge problem in our state and is completely antithetical to democracy. The currently partisan drawn districts are why we have supermajorities in Indiana. Supermajorities, on either side, are bad for democracy and bad for Indiana. Under the current Republican supermajorities, there is literally no debate or compromise that takes place on proposed legislation. I concede that Indiana is a right leaning state. However, our political leaning is not the 74 percent Republican to 26 percent Democratic that the current make-up of the Legislature would suggest.
RE: RENEWABLE ENERGY
NUVO: Our reader, Mary Lou Dolan, asks: What is your position on moving toward more policies favoring renewable energy?
Rathnow: I believe that renewable energy is not only going to help us drastically clean up the air we breathe and the water we drink, but it is also going to be the driving force of our economy in the very near future. We must embrace and encourage current and emerging forms of renewable energy—and we must do it now. Indiana has the chance to be a national leader in renewable energy. Unfortunately, our current laws tend to incentivize older and dirtier forms of energy production. As an elected Representative, I would be bold on supporting the future of energy production in Indiana.
RE: DISCRIMINATION
NUVO: Our reader, Todd Fuqua, asks: Would you support legislation that would block public dollars from going to private schools if they engage in discriminatory employment practices based on sexual orientation or gender identity? Please comment on your rationale.
Rathnow: Yes. Nearly $4.5 million was taken from Southside school districts to fund the voucher program—a program that, under current law, allows public dollars to be used at institutions that can discriminate. The recent publicity surrounding Roncalli High School has shed light on this very issue. Discrimination in any form is wrong. I believe that any institution receiving public dollars should be held to an equal set of standards. If an institution desires to discriminate in their hiring or admission process, then they give up all public funding—it's as simple as that.
RE: CRUMBLING INFRASTRUCTURE
NUVO: Our reader, Deanna Menke, 23, Indianapolis, asks: What steps will you take to improve our state's crumbling infrastructure?
Rathnow: Our crumbling roads and bridges is costing Hoosier drivers an estimated $2.1 billion a year in vehicle repairs and maintenance. Not only is it an economic issue, it is also a major safety concern. The Republican controlled Legislature recently passed a significant gas tax increase with the promise that we would see major improvements in our infrastructure. The promised improvements have not sufficiently happened. I would support ensuring that all taxes collected at the pump were promptly put back into the repair and maintenance of our roads.