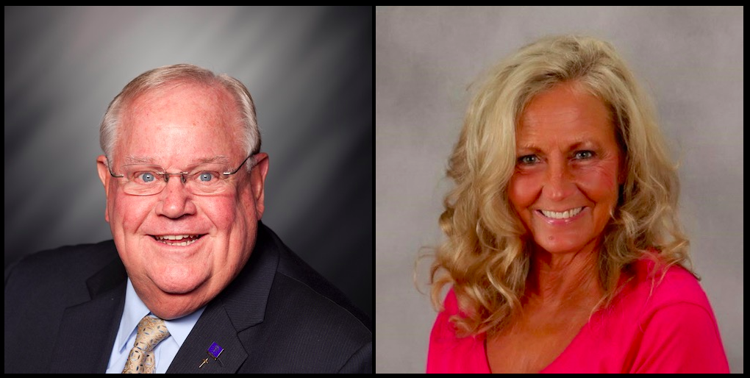 THE RACE
First elected to represent District 58 in the Indiana House of Representatives in 1988, Republican Rep. Charles "Woody" Burton faces a re-election challenge from Democrat Cindy Reinert.
[Editor's note: Despite multiple attempts to reach Burton by phone, U.S mail, email and social media over a six-week period, he did not respond to us or the questions from readers we posed. Therefore, we are only publishing Reinert's answers.]
CANDIDATE PROVIDED BIOGRAPHY
Challenger: Cindy Reinert
Cindy Reinert, a lawyer and long-time political activist (running in House District 58), was born in Michigan and moved to Indiana when she was five years old.
She grew up in Perry Township schools just across the Marion-Johnson county line. Caught in the education reform, she went to both Southport and Perry Meridian Schools, graduating in the first graduating class at Perry Meridian.
She has maintained a relationship with five fabulous friends whom she has known since junior high. They remain friends to this day.
Cynthia has been recognized as a Gun Sense Candidate by Moms Demand Action.
RE: PUBLIC SCHOOL FUNDING
NUVO: Our reader, Steven Cornett, asks: Do you believe that it is in the best interest of the state to have an outstanding and well-funded public school system in every town and county in the state, and would you vote to make sure that education funds are distributed equitably around the state in order to improve public education in the less wealthy parts of the state?
Reinert: I am a strong supporter of public education. I have a separate group of volunteers who created their own FaceBook page, "Teachers For Cindy." My opponent, Woody Burton, has been in teachers' line of fire for many years, and the teachers, not just in my district, but statewide, have formed a group of support!
My basic things about education are these:
Make funding for public schools a priority.
Decrease the funding for vouchers.
Assert oversight on charter schools.
Pay our public school teachers a living wage.
Allow teachers the right to negotiate their contracts.
Less emphasis on high stakes testing.
Get teacher input on curriculum and textbooks.
Arm teachers with participation, supplies, and proper pay, not guns.
School districts like Gary and Muncie would NOT have been in the situation they were in if the State legislature was doing proper oversight. Now, those districts have school boards that do not represent the communities, and are not held to the same standards as other pubic school boards across the state. This is wrong and entirely due to laziness on the part of the supermajority GOP in State government.
RE: GUN CONTROL
NUVO: Our reader, Deanna Menke, 23, Indianapolis, asks: Considering the Noblesville shooting and the fact that Marion County is on track to have more homicides this year than last, what is your plan for common-sense gun control legislation at the state level?
Reinert: I have been endorsed by Leap Forward, and by Mom's Demand Action and GunSense twice. The main point is that I do not advocate taking guns away from anyone. Many friends and family members have guns, and are responsible gun owners.
I want guns to be registered and a comprehensive national vetting be done of persons who purchase a firearm. (Current gun owners would have an amount of time to register guns that they may already have that are not registered). Persons convicted or who plea to domestic violence charges will be banned from owning a firearm for a period of time yet to be determined. This holds if the charges were in another state. Also, anyone charged and convicted of a felony involving a firearm.
Assault weapons are meant for killing humans. They have no place in the general population. Zero.
Stricter penalties for carrying or owning an unlicensed firearm. Stricter penalties for irresponsible gun ownership. Worse if there are children in the home.