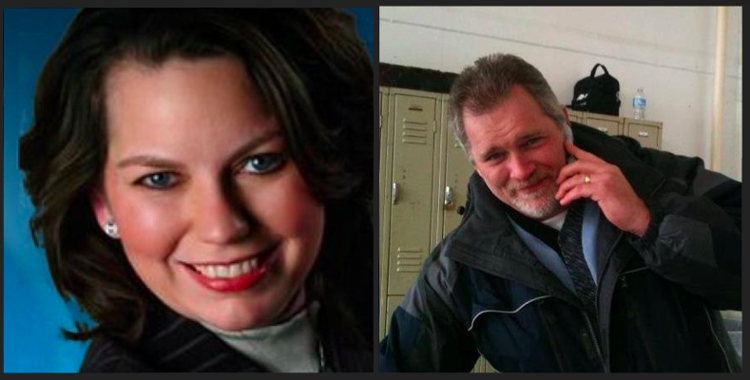 RACE
Sen. Joe Donnelly, D-Indiana, was first elected in 2012, defeating Republican Richard Mourdock to take retiring six-term incumbent Sen. Richard Lugar, R-Indiana. Now the only elected statewide Democrat, Donnelly faces a re-election challenge from Republican Mike Braun, as well as several third-party candidates including Libertarian Lucy Brenton and Independent Christopher Fischer. 
Donnelly and Braun were the first to return their candidate surveys, and we've posted the responses to their questions here.
Below are the responses from two of the third-party candidates in the race, Lucy Brenton and Christopher Fischer.
CANDIDATE PROVIDED BIOGRAPHY
LUCY BRENTON (Libertarian)
Lucy Brenton is a proud, native Hoosier. From her years at IPS, to the Broad Ripple HS of Performing Arts and even television production at the Center for Instructional Radio and Television, she graduated from Northwest High School in Indianapolis in 1989. After high school she was crowned Miss Indianapolis Teen 1989, winning the college scholarship offered by the Pacers. She continued her education at IUPUI studying French and Economics and earned her degree.
Lucy met her husband at IUPUI and their whirlwind romance continues today. Lucy and Dorn celebrate their 27th wedding anniversary on May 11, 2018. In true Libertarian fashion, they married by private contract – never asking permission from the State. This union has produced seven daughters and three sons ranging in age from 24 to 3 years.
Lucy has served her Party in a multitude of ways. Currently, she serves as the Secretary of the Hamilton County Libertarian Party. In 1995 Lucy ran for City-County Council of Indianapolis and received the largest percentage of votes for a Libertarian candidate at that time. She remains an active member of the Libertarian Party today and enjoys the Libertarian lifestyle of philosophy, debate and the advancement of Liberty. She stands on principle.
Lucy believes in serving the greater community as well. She served as Treasurer of the Indiana Notary Association and is herself a Notary. Lucy has served in the positions of Secretary, Vice-President, President and At-Large of the Central Indiana Real Estate Investors Association, the largest real estate investor trade association in Indiana. Under her leadership, the association expanded its membership base and increased revenue, providing educational opportunities to members and service to the community.
Professionally, Lucy is an entrepreneur and works as a business consultant. She has owned, managed and operated mortgage companies. Lucy has worked and invested in the mortgage industry – she has earned a unique perspective on the fraud committed by Wall Street and insists that an honest money system is the foundation of economic stability.
Lucy's busy life revolves around family, business, and evangelization of liberty. Although a term as Senator certainly means a sacrifice of time, Lucy is ready to serve her Party and her country so that libertarian principles might be advanced. Taking a generational view, Lucy says this, "The time to fight for freedom is now! Our great grandchildren will thank us or curse us – will we stand against Leviathan or shrink from the challenge? Liberty will not wait. Join me now!"
CHRISTOPHER FISCHER
I am just a normal guy who wants to represent the people of Indiana because I am tired of career politicians more worried about re-election than doing the right thing, or those looking to be a yes man for profit. I can only encourage people to find out about the candidates, and vote in such a way that they themselves have the betterment of the country in mind. I am at @CF4Sen on Facebook.
QUESTIONS FOR THIRD PARTY CANDIDATES
NUVO: Many people are saying this is the most important election of our lifetimes. Why should voters consider a third party? Won't it just serve as a spoiler for the major party candidates? Do you realistically think you can win?
Brenton: Of course I can win. I wouldn't have started if I didn't intend to win. The idea of a "spoiler" is just a marketing gambit put forward by the duopoly to convince you that you should continue voting for one of them so that they can maintain power...even if it is the "lesser of two evils" it's still evil. Voters should vote their conscience and for what the DO want. The second loser, whether Braun or Donnelly, will know that they missed your votes because they refuse to return your freedoms to you (like re-legalization of cannabis and releasing non-violent cannabis users from prison) and instead protected their corporate buddies. Voting for third parties sends them the clear message that you own your vote and will cast it in a way that is in your own best interests. That you refuse to be fooled any more by their broken campaign promises. Send them a message and vote Libertarian.
Fischer: I don't answer to parties, I answer to you. I have accepted exactly 0 dollars from lobbyists/donors and ordinary people. This is your money and your country. I can/will work with any party who wants to put forward good legislation for EVERYONE. I will oppose narrowing of your rights, benefits and bad policies. I could be a potential spoiler for the upcoming election, but if you believe the ads the opposition is running, than neither one of them should be representing Indiana. My odds are slim, if you are a serious voter and want to help, tell your friends, then have them tell their friends etc.. that would be the only shot I have in this election.
QUESTION FOR THE CHALLENGERS TO INCUMBENT SEN. JOE DONNELLY
NUVO: Our reader, K.H. Brower, asks: What will you do to protect our land and water from corporatist-only quarterly profits? What will you do to remediate current toxins and effects (flooding/drought) of climate change?
Brenton: I believe in strict liability for polluters. EPA guidelines only enshrine how much corporations are allowed to pollute. Our tolerance should be zero for pollution. People and corporations who harm our environment must be held liable for their actions and must clean up their mess. If they cause harm to someone else's property, they must pay for it.
Fischer: I didn't mind leaving the climate accord, but we should have taken that money and moved forward in our own country, not back. There was a reason for the EPA regulations, now they are being scaled back in the name corporate profit through manufacturing. We as a people need to do better for ourselves and our future generations. We need to re-institute EPA [regulations] and progress forward into cleaner, renewable energies. I am not talking about a war on coal, and miners losing their jobs. We can find a way to be cleaner while allowing these hard working individuals to keep jobs, maybe we can retrain them to work in the clean energy fields so they don't lose their way of providing for their families.
QUESTIONS FOR ALL CANDIDATES
RE: COUNTRY OVER PARTY
NUVO: Our reader, Evelyn Channelle Brown Jones, asks: Are your party's political views and mandates more important than doing the right thing no matter the party line? 
Brenton: The Libertarian Party has a set of ideals and platforms which are based on allowing maximum freedom and minimum government. I invite you to review them atwww.lp.org/platform. My party's political views are always focused on doing the right thing, protecting individual freedom and liberty.
Fischer: No, I do not believe in party line politics, that is why I ran as an independent. I can work with either party as long as the benefit is for the people of the U.S. I think more senators are worried about reelection than doing the right thing. I am not lobbied, nor have I taken any donations. If I only had one term it would be more important to do the right thing instead of being re-elected.
RE: FEDERAL JOBS GUARANTEE
NUVO: Our reader, Deanna Menke, 23, Indianapolis, asks: What economic policies do you support to ensure that Hoosiers working 40 hours a week don't have to live in poverty? Do you support a federal jobs guarantee?
Brenton: My economic policies are based on Austrian economics. The removal of government interference in our daily lives is my ultimate goal. I do not support a federal jobs guarantee. It is not the government's job to guarantee anyone a job and would be unconstitutional. Guaranteed government job [equals] communism. Working a certain number of hours per week doesn't guarantee that you won't be in poverty. We must instead help people get better skills and education that leads to higher paying jobs to lift them out of poverty. Government has never been able to do this and isn't the answer. We must do this in the private sector.
Fischer: I hate the fact that anyone would have to work more than 40 hours at a job to make ends meet. I currently work 48-plus hours a week (my decision on hours) just to make my own ends meet. Honestly, I had no idea about the Federal jobs guarantee, but after looking it up I would support it. I would also support any program to aid struggling families. My rationale is that we have seen a stagnated wage growth, but the price of goods and services are on the rise. Anyone going out and busting their butt at work should not be left behind.
RE: INCOME INEQUALITY
NUVO: Our reader, Tim Micheli, asks: The upper class is getting much richer and the middle and lower classes are falling further behind. How to you plan to get the middle and lower their fair share of the wealth?
Brenton: There is no such thing as a fair share. Government should not be in the business of taking from one class of people and giving to another. What government must do is make sure that the Constitution is followed, that all have equal rights to pursue their own happiness. The divide between rich and poor gets wider because of economic policies like "quantitative easing" and other Federal Reserve boondoggles.
Fischer: I think on the Federal level we need to raise minimum wage, but we also need to scale back the corporate tax break while maintaining personal tax breaks for the middle class and below. I think everyone paying their fair share is the right thing to do. I am not penalizing the rich for being successful, But I refuse to overtax the rest of our citizens for doing the best the can. We have seen some incredible growth this year, but not in wage increases for workers. It is sad that money drives Corps. and not humanity. When it comes to money, any amount never seems enough when it is profit v. wages. I would be interested in giving tax breaks to businesses that take care of employees (wages, insurance etc.)