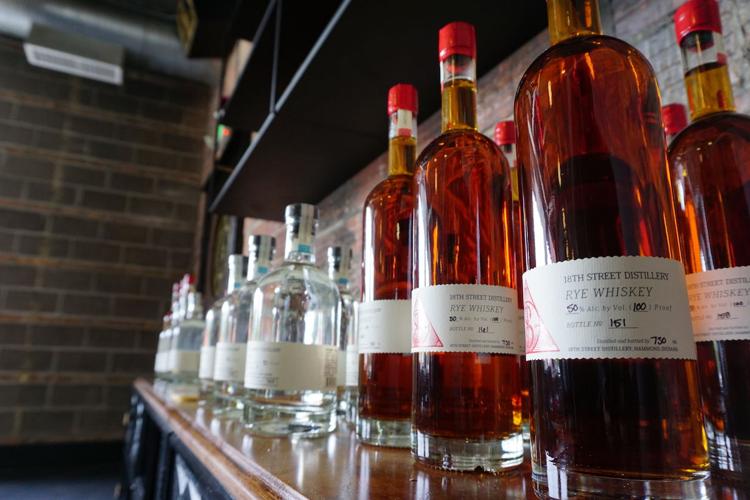 18th Street Brewery's Best Patio Pils
 was ranked #28 in a field of
134 Best Pilsners blind tasted and ranked by Paste Magazine
in May 2018. The verdict posted on-line reads: "Three different score sheets on this beer all use the word "Euro," so there's probably something to that assessment. 18th Street's offering is all about the malt complexity for the most part. It's quite bready and one of the most distinctly "yeasty" pilsners in the tasting, with a doughy quality that works well with a moderate dose of perfumey hops. "Bright and bready, very approachable" says one score sheet. This chewy pils feels downright wholesome, in a way. ABV: 4.9%" 
This newest recognition was the impetus to track down founder/brewer Drew Fox. Since its 2013 debut, 18th Street has attracted national attention, including: 
Rate Beer, in 2013, named 18th Street as Indiana's "Best New Brewery." 18th Street was one of 18 that opened in Indiana that year. 
April 2014, Beer Advocate listed 18th Street Pale Ale, 'Deal with the Devil' in the top 20 most popular APA's. 
April 13, 2016, Thrillist included 18th Street in "The Best Up-and-coming Breweries in the Midwest" with this write-up:
"18th Street Brewery HAMMOND AND GARY, INDIANA: From magnificent label artwork to innovative brews, 18th Street is proving to beer lovers that they aren't any ordinary brewery. It brews funky sours, including collaborating on a barrel-fermented Belgian with Denmark's Alefarm Brewing. [18th Street] Brewers also recently created Euro Tight Pants, a DIPA collaboration with Swedish brewery, Sahtipaja. 18th Street's versatility and skillfulness are not surprising when you consider its founder, Drew Fox, got his start at Pipeworks and enjoyed a relationship with Spiteful, two brash, innovative, and successful Chicago breweries. 18th Street has also won "best beer" and "best brewery" awards, collaborated with breweries in Arizona and Texas, and recently expanded to a second location—not bad for three years of work.

May 6, 2016, Paste Magazine wrote: "You may have heard about 18th Street [Brewery] in the last few years. Situated in the rather unlikely craft beer burg of Gary, Indiana, they've been making waves and have slowly become one of those "IT" breweries that people make a point out of bringing to bottle shares and similar beer geek peacocking functions. We tried Jade this month, and gave the beer a 7.8/10. It's a classical American pale ale in construction, but with a twist: It specifically features Pacific Jade hops. On the palate, you're greeted with lots of herbal flavors, and a bit of a musty maltiness, with mid-strength caramel and more toasted malt flavors as well. It's a unique palette of flavors we recommend definitely trying out for yourself." 
Sept. 2016, Beer Advocate top 100 beers in IN cited thirteen 18th Street beers with eight in the top 50.  
Feb. 2017, 18th Street was nominated for USA Today's 10 Best Readers' Choice.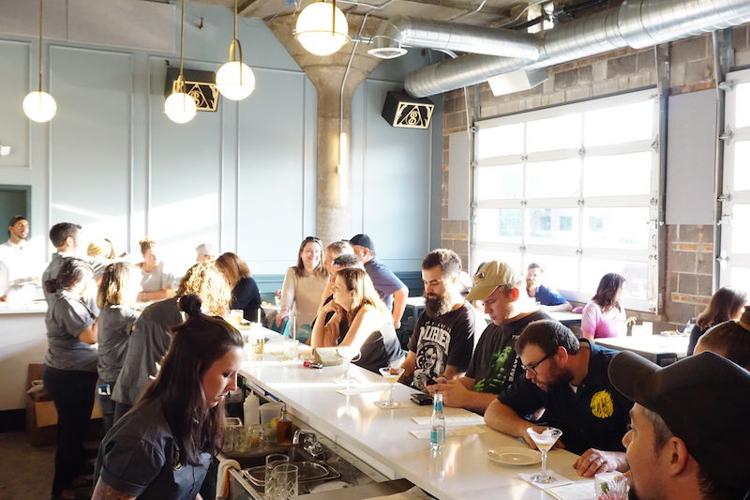 Drew Fox's no-frills overview reads: 
"18th Street Brewery was founded as a home brewery in 2010. After years of hands on learning and exploration, 18th Street Brewery became official with the release of Sinister DIPA in 2013, soon followed by the opening of a 3,200 sq. ft. brewpub in an old dry cleaners in Gary. Quickly outgrowing that space we purchased a 32,000 sq. ft. a former furniture warehouse in Hammond, at the Illinois border and is just off the Monon Trail within the downtown business and government center. Our Hammond location now houses our production, packaging, barrel program, a taproom and a full service kitchen. Our original Gary site now houses a small 10-barrel open fermentation system, as well as a taproom, craft cocktail bar and kitchen." 
Joey Potts, 18th Street art director and go-to spokesperson, filled in for, "Why the name 18th Street?"
"Drew first had the idea to start brewing when he lived on 18th Street, in the Pilsen neighborhood of Chicago. As time went by and his brewing became more serious he began thinking of opening his own brewery. He spoke to his local alderman about opening a brewery, but his idea wasn't well received as the alderman thought a brewery would bring trouble to the neighborhood. Drew's brewing and dream continued, and he decided to use the name of the street where the idea was born."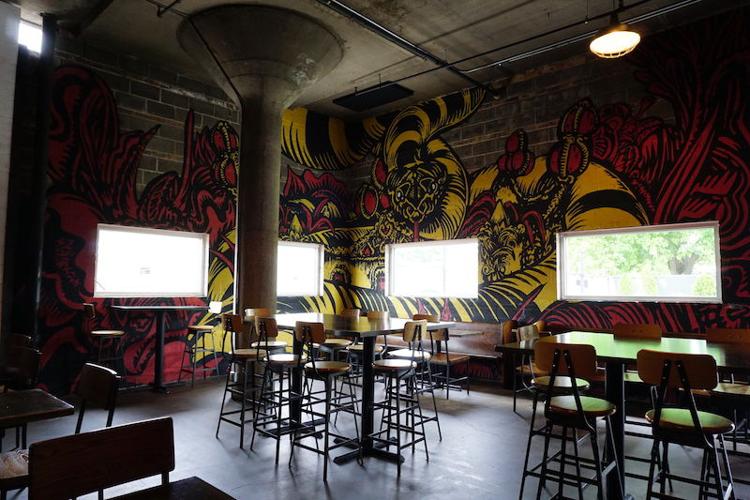 Here's the email Q-A with Drew Fox:
NUVO: What to you is special, unique, exemplary for each of the locations?  
Drew Fox: Gary has a very special place in my heart because it was such a hard fight to get the damn place open. I spent 80-percent of my time educating the City of Gary on what a brewery was. It was great to see NWI and the Miller neighborhood support what we were doing, because without that support I would have given up.
The Hammond location was a home-run for us; we own the building outright, which was a big plus, but we still had to put a lot of money into her to get things the way we wanted to. I have no regrets about spending one dime of money on something we would own for years to come. Hammond has allowed us to expand and grow the business at a nice pace we can be comfortable with. The Hammond location to me is like Willy Wonka and the Chocolate Factory; it has so much history and nooks to hide in and we always find a place to hide and escape when we need a break from the world.
NUVO: 18th Street began its journey with a unified approach between the beer itself, the visual image projecting the beer, the language describing the beer, the service on site and the distribution plan, and most important the connection with community. What in your background underpinned this holistic approach?  
Fox: I learned early on when I was working at Pipeworks, the beer had to be first. Taking care of the beer and making it as perfect as possible and using my background in the food and beverage industry also played a big party in the styles of beers I wanted to brew.
I also felt self distribution at the time when we launched bottles was very important; I got to tell my story in communities that had never heard of 18th Street or even had tried our beers. Still to this day in the State of Indiana people don't know who 18th Street is and that makes me happy because I have a lot more story telling to do. 
NUVO: What do you want 18th Street to represent within Indiana's craft beer industry; within the brewing industry at-large?  
Fox: I want the industry to know that I took a chance and made history with opening the first brewery in Gary, Indiana. My core team and I built a powerhouse brand on sheer hard work to make the best beer possible with very little [capital] and exceeded everyone's expectations, including our own. From Joey Potts, our amazing art director, to Rich Mendoza, our head brewer, to Mike Mendoza our 'Distro King,' we made it happen with no excuses and with major [personal] sacrifices.
[Matt Kasperan now holds the Kitchen Manager title.] 
NUVO: Recognition came early. What made this particularly "sweet" in light of the journey you had to take to launch 18th Street?
Fox: When we won Rate Beer best new brewery in the state of Indiana [in 2013] it was a shock; that day the world was about to know who 18th Street was. It was sweet because we didn't know people knew anything about us. 
NUVO: What are you looking forward to for the next 3, 5 years? 
Fox: In the next 3 years I'm looking at spending more time with my wife and friends. I have spent the last  4 years traveling over 80 days a year building the brand all over the country and Europe. I want to slow down and enjoy a little free time, go camping, drive my pick-up truck and travel with my wife for fun and not work. Or if the right offer was on the table I would sell it all, open a dive bar in Indy and work behind the bar and sling beer. 
[I see a wink-wink-nod-nod here, since Fox adds:]
"I have been so proud that this industry has welcomed me and my family with open arms. In our State of Indiana I would like to thank Nick Floyd, Omar and Clay Robinson, and Dave Colt for sound advice to keep shit real. A big thanks to all the retail stores, bars and restaurants who buy 18th Street beer and have continued to support us over the last five years." 
June 8, 18th Street Distillery, co-owned by Drew and Hannah Fox, had its Grand Opening at 5417 Oakley Ave. in Hammond, producing Rye Whiskey, Bourbon, Gin, Rum and Moonshine. Louisville-based Vendome Copper & Brass Works, Inc. custom built the 250-gallon copper pot still and 400-gallon cooker. Three small-batch stills distill open fermentation Rye Moonshine.  
"The distillery has the unique opportunity to distill some of the high gravity beers like Hunter Double Milk Stout and Imperial Blud, produced by our sister company, 18th Street Brewery," cited Potts, adding "The distillery's tasting lounge is designed with the overall feel of the Roaring '20s and The Great Gatsby. The cocktail lounge will serve a few select beers in cans from its sister company, 18th Street Brewery. The distillery will be open 7 days a week."
18th Street Distillery Barrel Proof Rye Whiskey and 90 Proof Rye Whiskey each won Bronze Medals at the 2018 American Distilling Institute Craft Spirits Competition, where the Barrel Proof also took home a Bronze Medal for Best in Class. 
The 90 Proof Rye Whiskey took a Bronze Medal and the Barrel Proof Rye Whiskey took a Silver Medal at the 2018 San Francisco World Spirits Competition.
"This is a very historic event for 18th Street Distillery and the City of Hammond, Indiana," said Potts. "18th Street Distillery is the first artisan distillery to open since Prohibition in Hammond, let alone in Northwest Indiana. Hammond has a rich distilling history. In 1901, the Hammond Distilling Company was the second largest distillery in the nation, producing 25,000-50,000 gallons of alcohol on a daily basis, producing items such as "The Hammond Rye," "Hammond Dry Gin" and other refined spirits."
As with all Indiana craft breweries, philanthropy is an 18th Street commitment. Among the many, this May 2018 notice especially resonates:
"18th Street Brewery takes mental health just as seriously as we take brewing our beer. We are proud to be teaming up with Hope for the Day, an organization that achieves proactive suicide prevention through outreach and mental health education. Our collaboration brew, The Simple SIPA, a Session IPA with Grapefruit added, is perfect for the good days... and the bad." 
"There is nothing better than craft beer and a cause," reiterated Potts in a his latest email. "We're supporting Art with a Heart at Victory Field on Aug. 30, with our brothers over at Sun King Brewing Company. Use promo code "awah" when purchasing your ticket and come hang out with our team.
For $20, you'll get a ticket to the game and 2 beer samples. Sampling starts at 5:30 and the game starts at 7:05 PM.
Throughout all its expansions, 18th Street's mantra has remained constant:
Please drink responsibly. Please recycle. Please be awesome to each other.