A writer never knows the full impact of the story at the time of writing. 
When Backstop Brewing opened in downtown Crawfordsville in late 2017, among a list of historically related factors, I wanted to know how they were connecting with the community's brewing heritage going back to the 1840s. The original brewery building at Lafayette Ave., Market St., and Grant Ave., lasted through various changes until 1924, when the building was razed. In reply to 'What tie-in to the original traditions do you plan as you build your own beer portfolio?' Head brewer Josh Miller said, "Making a beer as a tribute to Henry Lorenz, the first known owner of a brewery in Crawfordsville (Lorenz Brewery), has been discussed. I have also looked at other ideas to give credit to previous brewing tenants of the location. I already love brewing German beers so a German tribute beer to Lorenz seems very natural to me."
NUVO originally ran the story on December 11, 2017. On March 12, 2019, I received this email: 
"Greetings Rita, I am writing you to say "Thank You" for the very informative article you wrote on December 17, 2017 about Crawfordsville's Backstep Brewery. My name is George Lorenz, I'm the great-grandson of Henry Lorenz the Crawfordsville brewer in the 1850's and 1860's. While doing some family history research I came across your article and the mention that the three partners were considering brewing a tribute beer to my great grandfather. I contacted them and have been corresponding with Pat Pennington. He said that they did feature the "Pilsner Lorenz" and added it on July 6, 2018. I inquired if they would like a photo of Henry Lorenz as I have one taken in 1855. He said they would be pleased to display it in the Tap Room. My wife Emily and I will be in Crawfordsville on May 16 [2019] and plan to visit Backstep Brewing at around 4:00 to present the photo, and if they have brewed another batch of "Pilsner Lorenz" drink a toast to the three founders for the tribute they have shown Henry. If they don't have any "Pilsner Lorenz" we will still toast them. Our oldest son Kent, Henry's great, great-grandson may also be able to join us if his schedule allows. If you happen to be in Crawfordsville on the 16th we would love to meet you to personally thank you and buy you the favorite beverage of your choice. Kindest Regards, George Lorenz"
Of course, a friend and I showed up at Backstep Brewing Company on May 16. Housed on the first floor of the 1927 Monon Hotel building, at 125 N. Green St., steps from the old Monon Railroad tracks, Backstep has been part of Crawfordsville's recent economic development initiative.
Despite a drenching rainstorm, what happened when the Lorenz family arrived, to be greeted by Backstep founding owners Jim Boros and Pat Pennington, and founding brewer Josh Miller, along with Dellie Craig, Crawfordsville District Public Library's Local History Specialist, was nothing short of spectacular. 
Now, several months later, George Lorenz sent me another email:
"Greetings Rita, Happy New Year 2020. Attached is an article I put together for Dellie Craig for the Genealogy Club of Montgomery County Indiana Newsletter. It is a summary of the research I have been doing on Henry Lorenz and the impact your article and Dillies' help have had on everything that has transpired. Thank you again for your article, it turned out to bring my project to life! Emily and I were delighted to meet you and are inspired by [your] spirit and enthusiasm. George & Emily Lorenz"
Here is the article George Lorenz wrote:
"While working on the Lorenz Family History, I learned that my Great Grandfather, Johann Adolph Heinrich Lorenz, "Henry", age 5, arrived in Baltimore MD in 1832 from Germany with his parents, Siebert & Sophia and brothers, William, Heinrich, Lewis, Charles and sister, Sophia.
In 1853 Henry purchased an existing Brewery building in Crawfordsville, Indiana. It was located in the triangle encased by Lafayette Ave, at Market St and Grant Ave, the western boundary of the town.
In January 1855, Henry married Augusta Reinhard. They had five children, Frederick, Mary Anna, Caroline, William, and George, from December 1855 to October 1867.
The brewery prospered. The local newspaper archives have been an excellent resource for information on the Lorenz Brewery. Henry was granted a license in 1859 to retail his beer by the dram or drink. To assure superior quality, the beer was tested and found to be pure by Dr. T.W. Fry a practical chemist.
In 1864 Henry dug a "Lagering Cellar" under the street, which was used to cool the beer and store it in hogsheads. He delivered his Lager to retailers and pubs as far away as Cincinnati and Chicago.
In 1867 Henry Lorenz was elected Councilman for Crawfordsville's First Ward. He was also active in other civic duties. In 1869 Henry served as a referee in the Crawfordsville Regatta.
Augusta Lorenz, 32, died on July 27, 1868. Henry was widowed with five children, the youngest, George just nine months old. Henry took the loss very hard, and over time the business began to suffer. On April 22, 1870, Henry died by suicide. He was buried alongside Augusta in Oak Hill Cemetery, Crawfordsville, Indiana.
In September 2016, my wife Emily & I Visited Crawfordsville District Public Library's Local History Department to meet with Dellie Craig, Local History Specialist, to review information about Henry Lorenz. Dellie was a big help.  
We shared information and photos we brought with us and she shared documents that were part of the Local History Archives. We promised to keep in touch and send her additional information we had at home. Dellie posted an article with the photos covering our visit to the "Genealogy Club of Montgomery County Indiana" newsletter.
In October of 2018, while doing a random search on Google, I found an article written by noted Author Rita Kohn featuring the establishment of Backstep Brewing Company in Crawfordsville. The co-founders, Jim Boros, Pat Pennington, and head brewer, Josh Miller were interviewed by Rita. She asked, "What tie-in to Crawfordville's original brewing traditions do you plan as you build your beer portfolio?" Josh's answer just knocked me over! "Making a beer as a tribute to Henry Lorenz, the first known owner of a brewery in Crawfordsville (Lorenz Brewery) has been discussed".
I reached out to them and introduced myself as Henry's great-grandson and asked if they did brew a tribute beer. He told me that yes in July 2018, they featured "Pilsner Lorenz" and put it on the menu with a brief history of Lorenz Brewery. Pat invited Emily and me to visit them if we ever were in the area. In May of 2019 we were on our way to North Carolina and would be driving close by so we asked if they would be available for a visit. We let him know that we had a framed photo of Henry and asked if he would hang it in the "Tap Room"? They were delighted.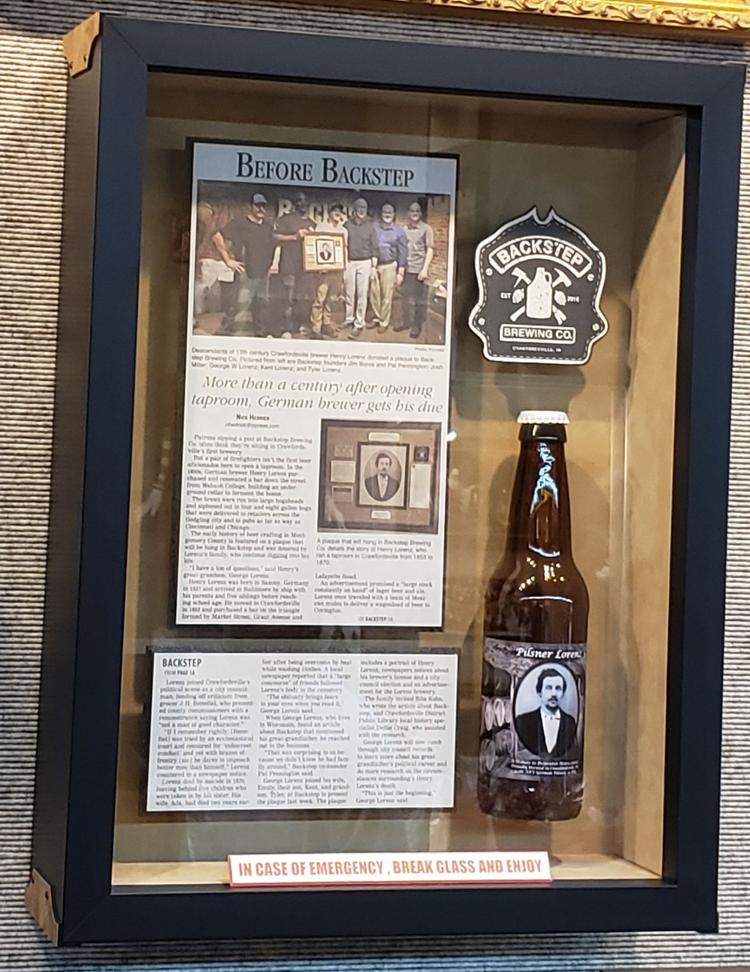 We put a plaque together featuring Henry's photo, copies of the newspaper notices granting his license, his election to councilman, an ad for the brewery in the local City Directory, a Backstep Logo and a copy of the menu featuring "Pilsner Lorenz." The dedication on the back of the plaque reads; 
To Pat Pennington, Jim Boros and Josh Miller. The Lorenz family presents you this token of our thanks and gratitude for brewing the "Pilsner Lorenz" beer in July of 2018 as a tribute to Henry Lorenz.
We were moved by your sense of Crawfordsville brewing history as you began your business. You and the Backstep Brewery are now part of that storied history.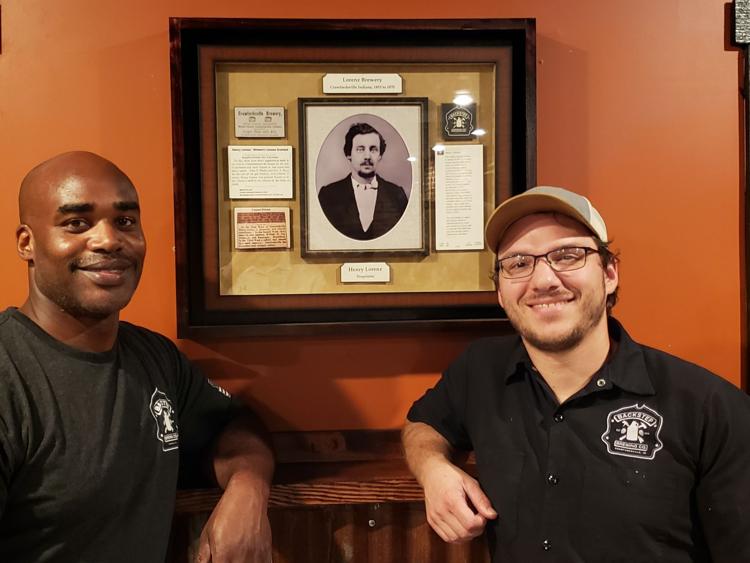 You exhibit a wonderful entrepreneurial spirit, and we wish you much success in your "Brewing Adventures".
George W. Lorenz (Henry's great-grandson) 
Upon hearing what we were going to do, our oldest son Kent asked if he could join us. Then his son Tyler, our grandson, asked if he could come. We were thrilled, three Lorenz generations, to present the plaque to Jim, Pat, and Josh.  
This would not have happened if not for Dellie Craig spending time and helping us along our journey, so we asked her to join us. Then we asked Rita Kohn who, without her article, we would not have known about Backstep and the tribute "Pilsner Lorenz".
On May 16, 2019 we all met at Backstep and presented the plaque. We took lots of photos and had a wonderful visit. Dellie contacted Nick Hedrick at the Journal Review in Crawfordsville and let him know what we had done to thank the owners of Backstep. Nick contacted me for an interview. Dellie sent him photos, and he published an article with a photo of the three founders and three generations of Lorenzes, along with a photo of the plaque that now hangs in the Backstep Brewing Company.
Another batch of "Pilsner Lorenz" was brewed for the Octoberfest Celebration held at Pike Place on September 28, 2019. Emily and I were unable to attend however, Josh Miller provided us with enough "Pilsner Lorenz" for us to serve at our Lorenz Family Celebration to be held at our home, on October 6, 2019. The event was a great success, and the "Pilsner Lorenz" was enjoyed by all. We had 19 of the 21 members of the Lorenz Family in attendance.
Doing genealogical research is rewarding in many ways. This particular journey gave us an added reward, the new friends we met, and the way they shared their time and interest in our history. There are still many things to uncover in Lorenz Family History. This phase has been a most wonderful highlight. " 
[See the original Backstep Brewing Company NUVO column here: https://www.nuvo.net/beerbuzz/backstep-brewing-opens-in-historic-monon-hotel/article_a3cb0084-de94-11e7-98b8-e73885b9010e.html
Cover image: Lorenz Family at the October 6th Celebration