Indiana craft breweries brought home five Gold Medals, three Silver Medals, and a Bronze Medal from the 33rd Great American Beer Festival held in Denver, Oct. 3-5, 2019, particularly marking a strong showing in barrel-aged styles and gaining attention with a "come-back" 18th Century brew. 
The GABF B-A winners, along with a fulsome rack of other Indiana craft B-A beers will be featured at the 3rd annual Broad Ripple Beer Fest, Oct. 12, 2-6 p.m. at Opti Park, 780 E. 66th St., Indianapolis. Learn more about the fun-time events on-site, and get tickets here: https://drinkin.beer/broad-ripple-beer-fest/ 
Sun King Brewery [Dave Colt and The Sun King Crew] and the Indiana Beer Brigadiers gained a Gold Medal in GABF's first Collaboration Competition, that had 0 entries. "Getting By on Central Time," a Barrel-Aged Strong Stout. At 11.4% ABV, it's a big Fall/Wintertime brew that grew forward from the 2017 Indiana Beer Brigade collaboration by Central Indiana craft breweries. Commenting on the GABF Gold Medal, Rob Caputo, Executive Director of Brewers of Indiana Guild, enthused, "We're just excited that the barrel-aged version of Sun King's IN Beer Brigade collaboration beer "Getting by on Central Time" won the collaboration competition. The base beer, "Stuck in the Middle," [American Imperial Stout] was fantastic, and it's good to see that carried over in the barrel-aging process."
Sun King Small Batch Brewery in Fishers won Gold for "Eis Nine," a German-style Eisbock, that had 57 entries. Sun King's "Gran Muckle" won Silver in the Wood & B-A style, which had 66 entries.
Sun King "Midnight Choir" and Upland "Crimson Cherry Variant" took Gold and Silver, respectively, for an Indiana 2/3 sweep of the Fruited Wood & Barrel-Age Sour style, that had 128 entries.
Blind Owl took a Gold for "Parliament Drive," a German-StylePilsener, with 183 entries. Metazoa'd Gold was for "Meadowlark" Classic Saison, with 106 entries.  
Chilly Water gained Bronze for "Moonlight Sonata" Vienna-style Lager, with 93 entries.
The Silver medal for Fishers-based Four Day Ray" "Afterburner Smoked Lager" is getting a particular notice in the Historical Beer category because a Gold medal was not awarded to any of the 47 entries, making this Silver the current top-rated smoked wheat beer on a come-back curve. Variously listed as Grätzer or Grodziskie, its original name before the Russian government occupied Poland after WWII and changed place names, does not roll trippingly from the tongue. The Russian government also made it hard for breweries to resurface in Poland after WWII, so the beer effectively dropped off the brewing map until homebrewers brought it back, and a handful of professional breweries gave it a try. However, even for the most adventurous craft beer drinker, it takes more than a minute to gain immediate appreciation as a session brew at 4.5% ABV and 22 IBUs. Despite an upbeat description on the FDR listing, as "An aroma of oak-smoked malt upfront with hints of wheat closely behind. Flavors of smoke and wheat meld together with the beer finishing dry," this retro brew was slow going when it first appeared at Four Day Ray a year ago. 
"We were looking for an alternative to pumpkin beer, which is not exactly our cup of tea," said Brian Graham, owner, and president of Four Day Ray, during a phone conversation.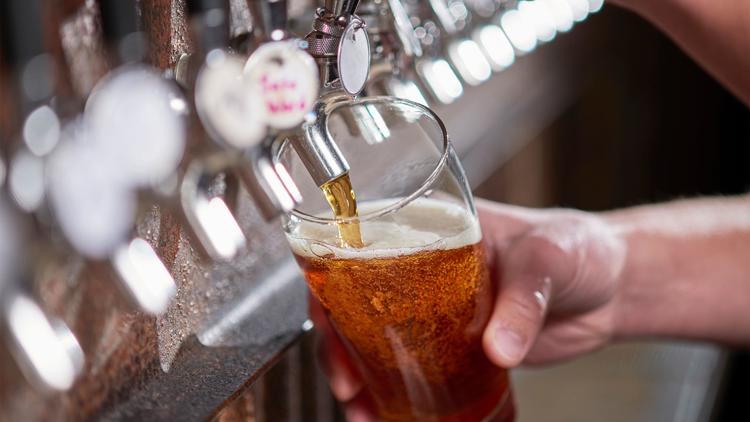 Mitch Ackerman, owner, and head of brewing operations, added to the trajectory in an email. "Part of the reason that we brewed a Gratzer was because of Live Oak Brewing in Texas. I was at CBC [Craft Brewers Conference] in Nashville a couple of years ago, and I was in the historical beer open table, and they were speaking about their Gratzer and one thing stuck out to me that he said, "I'm going to keep brewing this style until they start drinking it." Personally I love smoked beers, and I wanted to brew one that was easy to introduce to people, and this style is perfect for that. I took his motto, and kind of used it as my own. We brewed it for the first time last year, and it definitely wasn't a fast seller, but it found its crowd, and I loved it, so, I decided that this year I was going to do the same thing as Live Oak Brewing and brew it until they drink it. We were very pleased with it this year and decided to take our chances with it at GABF. I can only hope that more people will come to enjoy this odd, unknown style and hopefully come to love it as I do."
Beer writer Stan Hieronymus, in a column titled "Smoke Signals: Grodziskie is back" underscores, "These beers are full of flavor, not particularly full of alcohol, refreshing and gentle on the palate because they are brewed with up to 100 percent wheat. However, that wheat is smoked during malting, and few flavors in beer are more polarizing than smoke."
In June 2014, Michigan-based New Belgium launched Grätzer Ale, made in collaboration with Indiana-loved Three Floyds. Following the dictum of New Belgium's Lip of Faith Series, this iteration of a Grätzer finishes sour, at 4.5% ABV. At that time, Chris Boggess, head brewer at Three Floyds, described the beer as," Really refreshing and the tartness complements the smoke and makes the whole drinking experience harmonious." But he was thinking about trying for an "imperial" variation that could come out at around 9% ABV. To date, I've not heard of an Imperial Grätzer, so the original description on the New Belgium site stands: "It's not dead, but Gratzer is definitely a long-buried style from Poland. And together with 3Floyds, we have unearthed the best of beer zombies. Full of bold flavors from oak-smoked wheat, and along with Midnight Wheat, this beer presents a pure black pour. A subtle, spicy note from the Polish Lublin hops hides in the aroma, just below the dark and smoky surface. Despite all appearances, the Gratzer is very drinkable at 4.5% ABV and walks itself with a nice, light body. Cheers to drinking smoky, undead beers. Prost!"
This limited Grätzer batch was in 22-ounce bombers and on draft at both breweries. I acquired a bottle and wished I had not shared it away when empty. The art still haunts me. You can see the art on this post.
To round out the story on Four Day Ray's special win, I emailed Caleb Michalke, at Sugar Creek Malt in Lebanon, to learn about his forays into Grodziskie beer. Caleb emailed back, "Thanks for reaching out, Rita. FDR was not using our smoked malt, and that particular beer with 3 Floyds was before we were malting. I have sold them smoked malt, but I honestly am not sure what beers it went into. 
"It seems like more and more breweries are brewing smoked beers, which is great. Starting to see a lot up in Chicago area too! Once we get the Såinnhus running we will be making a traditional Grodziskie malt. I should have that available in November/December. I have a few orders of other styles (Stjørdal malt and Appalachian wind corn) I have to make before I get to the Grodziskie."
Be assured NUVO readers will be the first to gain a full report on the in-process Sugar Creek Malt Såinnhus. I've been following that build-out along with all of the Michalke operations since their beginnings a handful years back.
Rounding out the 2019 GABF Indiana story, overall, Sun King gained three Golds and a Silver to add to the impressive GABF cache they've garnered over the past decade.
Itemizing the GABF tally, 318 medals in 174 beer styles went to 283 craft breweries, "establishing a best example of each style in the U.S." according to the GABF news release. 2, 295 U.S. craft breweries that include breweries from Washington D.C., Puerto Rico, and the Virgin Islands entered 9,497 beers; the Pro-Am competition had 113 entries, and the newly established Collaboration Competition had 70 entries. Three hundred twenty-two judges came from 18 countries.
The full list is posted on the GABF website.
For GABF 2019 listing under "Hybrid/Mixed Beer styles, Grodziskie is "Subcategory c. in #21 Historical Beer: [Note: Smoke Beer is Category #35]:
https://www.greatamericanbeerfestival.com/brewers/beer-styles/
Read more about Gratzer beer about at these sites: 
by Stan Hieronymus: "Smoke Signals: Grodziskie is back"; 
by Aaron Ritchie and Andrew Becker: "Piwo Grodziskie"