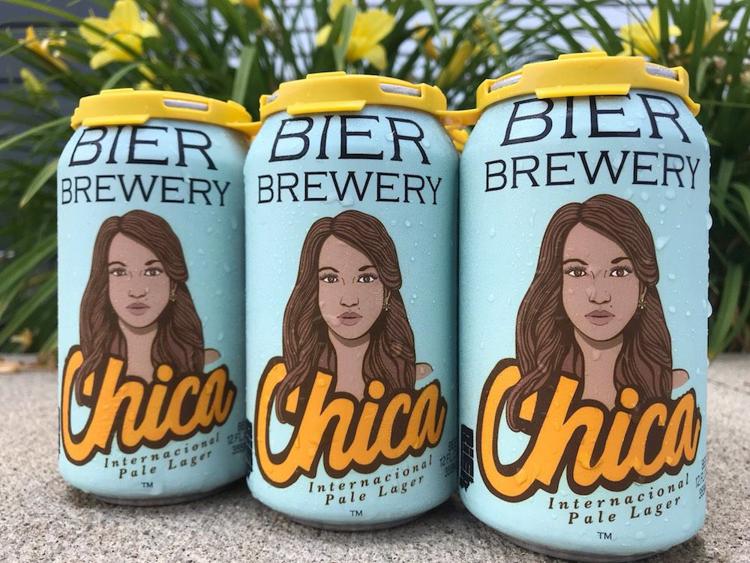 Three Indiana breweries won a total of eight awards at the 3rd Annual Can Can Awards, which calls itself "the premier beer competition focused solely on canned craft beers."
Bier Brewery took gold medals each for Special K Kolsch and Weizengoot; silver each for PDG and Backpackin' Brown.
Chapman's again won Gold for Valiant American Stout, a repeat from the inaugural Can Can Award in 2016. 
Daredevil Kolsch won silver, a repeat from the 2017 Can Can Awards. Winning bronze each are Daredevil Pils and Marzen. In 2017 Daredevil earned gold for Brett Project.
In 2018, 350 beers were entered from across the globe, according to the Brewers Association news release. "Judging took place over two days near Atlanta, Georgia. The Can Can Awards competition was sanctioned by the BJCP. Judges were not allowed to judge beers in which they had an affiliation and judged all beers in blind taste tests. Medals were not awarded to any beers scoring less than 30 out of 50." 
For 2018, here is a full list of the winning entries by category.
"We are always challenging ourselves to make the best beer possible," said Darren Conner, brewmaster and co-founder of Bier Brewery. 
"We also just canned our international pale lager Chica. These 6-pack cans are currently only available around town in local liquor stores."
Bier entered Chica at the 2017 Best of Craft Beers and won bronze. 
Shane Pearson, in 2017, said Daredevil entered the event because, "We liked that the Can Can Awards are focused on breweries that can their beers and we wanted to support it from an industry viewpoint of advocating for canned beer. We likely will continue to enter beers in this competition." 
Chapman's website informs, "Valiant was first released on draft in September of 2014, followed by 16 ounce pint cans in November 2014...as a uniquely American Stout that finishes crisp instead of sticky sweet. On the palate, experience creamy malt, coffee bean, roasted coffee, dark chocolate and a pleasing hop finish." 
Indiana's 2016 winners in the inaugural Can Can Awards were People's Farmer's Daughter, gaining a Gold medal, and Tin Man Damascene Apricot Sour, also gaining a Gold medal. 
UpCup Homebrew Winners at Upland Brewing Company
Taylor Brummett of Newburgh took first place out of 52 entries in the 11th Annual Upland UpCup Homebrew Competition, winning best of show with his Scottish 80 Ale. He'll be brewing his recipe with Upland brewers, with tapping in July at all Upland sites. 
Second place for his Kolsch went to Nathan Pollard of Pittsboro; third place for English-style Porter went to Rob Myers of Bloomington; Jocelyn Pollard of Pittsboro won fourth place for her New England "milk shake" IPA; Tom Edwards of Solsbury won fifth place with his California Common.
UpCup is a BJCP sanctioned competition with certified judges. Homebrewers can enter any style of beer. Greg Kitzmiller, in his report on indianabeer.com, notes that in the eleven years, no style has won first place more than once.
Zymurgy Magazine Sleuths "Best U.S. Beers"
Three Floyds Zombie Dust again earns a place in the Top Ten 'Best of the Best', according to a poll of the 46,000 members of the American Homebrewers Association. A Pale Ale with an ABV of 6.2 percent, Zombie Dust was first released in 2010.  
The AHA was founded in 1978; for the past 16 years, home brewers have been invited to list no more than their top five professionally brewed all-time favorites. Culling these submissions, AHA determines a top fifty list, with the top ten gaining the most media attention.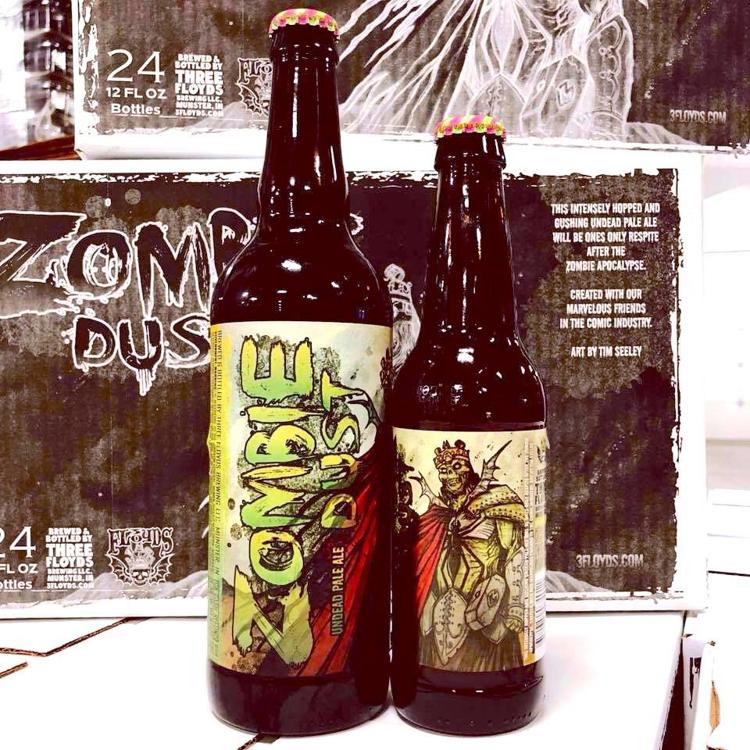 Top-Ranked Beers (T indicates tie; *indicates small and independent craft brewer):
1. Bell's Two Hearted Ale*
2. Russian River Pliny the Elder*
3. The Alchemist Heady Topper*
4. Bell's Hopslam*
T5. Sierra Nevada Pale Ale*
T5. Founders CBS (Canadian Breakfast Stout)
T5. Founders KBS (Kentucky Breakfast Stout)
8. Three Floyds Zombie Dust*
9. Founders Breakfast Stout
T10. WeldWerks Juicy Bits*
T10. Founders All Day IPA
"As brewers, the members of American Homebrewers Association can discern the subtle differences between a good beer and an outstanding beer," said Gary Glass, director, American Homebrewers Association, in the news release. "Zymurgy's Best Beers in America survey showcases which commercial beers are truly the best of the best out there, and all the breweries who made the list should be proud."
The release also notes, "Despite the plethora of delicious options available to beer lovers, the same two beers have been battling it out for first place for the past eight years. For the second straight year, Bell's Two Hearted Ale bested Russian River's Pliny the Elder, which had taken the top spot from 2009 to 2016."
John Mallett, Bell's director of operations, commented, "When I think about the elements that Bell's shares with the passionate homebrewing community, the values that rise to the top include creativity, a meticulous attention to detail, and the joy of sharing thoughtfully crafted beers with friends. To be recognized for excellence by people who truly understand all that goes into creating and delivering quality beers and experiences to our communities is a huge honor. These values are true drivers for us all."
Also ranked are the top 25 breweries, with Three Floyds coming in at number ten. For the top 15 Brewery Portfolios, Three Floyds also makes the cut, with 19 of their beers being mentioned as a 'best beer.'  
Homebrewers have access to replicating some of the winningest beers, according to the news release. The AHA provides clone recipes in Zymurgy and online via the recipes section of the AHA website.
Seasonal Brews
Jake Keefer reported Foam Blowers of Indiana Homebrew Club best of "Light Hydrometer" in-club competition winners: 
1. Martin Brungard - Best Bitter
2. Tim Palmer - German Pils
3. Lee Daniels - Belgian Wit
4. Nathan Compton - Dark Mild
Judges were Tom Wallbank and Jeff Jennings
Keefer, replying to my query, 'What's this all about?' said, "Light Hydrometer is a bit of an inside joke with the club, because our other 'club members-only' competition is called Heavy Hydrometer where we only accept certain styles that have a high enough original gravity to produce a higher alcohol beer. We usually have the Heavy Hydrometer in January or February, and for the past couple of summers we've started doing a Light Hydrometer competition of the lighter gravity styles as you can see in the list of winners." 
While homebrewers, like professional brewers, especially work together to help each other envision the best brews possible, every now and then an edge of competition sneaks in, and we're grateful for the 'envelopes that get pushed' past brewing for straight-up style according to tradition.
Where Tradition is Foremost 
Haley Lamp, programming and events manager for the Indiana State Fair Commission reports: "Judging for the 20th Annual Indiana State Fair Brewers' Cup Competition takes place July 13 and 14 at the Indiana Farmers Coliseum inside the Indiana State Fairgrounds located at 1202 E. 38th St. in Indianapolis, and concludes with the Awards Banquet,  following the completion of judging on the evening of July 14.
Entries by homebrewers and professional brewers are due by July 3.
A call-out for stewards includes the meticulous checking in of brewers' entries on July 8 at Sun King Brewery at 135 N. College Ave.
Email: brewerscup@indianastatefair.com if you would like to sign up. Volunteer to steward on July 13 and 14.
Ultimately, the 'best beer' is the one you most enjoy at your favorite local brewery. With some 6,300 craft breweries nationwide, the rule is local, with only a tenth of that number gaining a national reach, and about 20 percent with regional reaches. In Indiana, most likely you have to go to a brewpub to experience their specialties, or attend a festival.  Which segues nicely to...
Brewers of Indiana Guild Microfest on July 28 at Military Park, downtown Indianapolis, 2-6 p.m., with 100 Indiana breweries featuring cask ales and specialty beers along with each brewery's 'best' as 3 ounce pours. 
$3 from every ticket benefits BIG's philanthropy partners. "The remainder of your ticket price makes it possible to throw this celebration and goes toward the mission of the nonprofit Brewers of Indiana Guild to support Hoosier breweries through legislation, education and promotion," according to the news release.
This event is 21+ only.
Oaken Barrel in Greenwood announced: "Kwang Bang IPA is almost gone, and we thank you for making this seasonal beer a successful one! Our Brewers are currently working on Oaken Barrel's 3000th batch, and we are excited to release this milestone brew! Keep an eye out on future emails and social media for its release date. July 4: Oaken Barrel annual anniversary 'Pork of July' b-b-que party starts at 11 a.m.