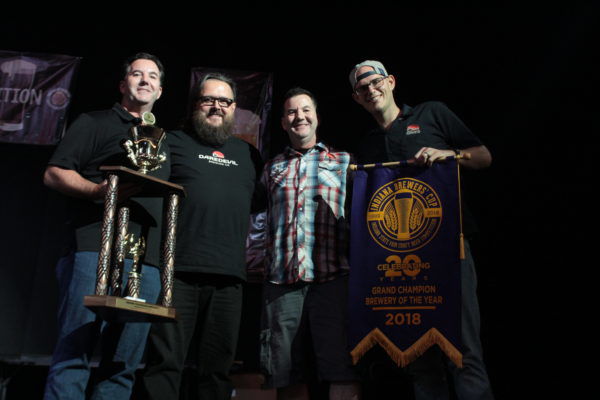 Congratulations to big winners Daredevil Brewing Co. at the 20th annual Brewers' Cup Competition this year. The Speedway brewery took home Indiana Brewery of the Year and Grand Champion Brewery, in addition to other wins for specific brews.
It was another cliffhanger as emcees Rob Caputo and Thom England delivered results from judging in 32 categories. Professional breweries nationwide entered nearly 700 beers, and homebrewers representing more than 40 homebrew clubs entered another 800.  
Daredevil received three golds and one silver medal, followed by Flix with two golds and one silver; Central State with two golds, along with gold and bronze in Best of Show; and Taxman with two golds.
Newly opened Hop River Brewing Company took silver in Best of Show.
Of note, Sun King entered in separate entities, gaining one gold, one silver, and two bronzes as Sun King Brewery in Indianapolis and one gold and one silver as Sun King Fishers Tap Room & Small Batch Brewery.
Metazoa matched Sun King Brewery with one gold, one silver, and two bronzes.
Bakersfield, California-based Temblor Brewery earned a gold and silver, prompting Rob Caputo to throw in an aside about Temblor's brewmaster Mike Lahti, known here for award-winning beers at Figure Eight in Valparaiso and Upland in Bloomington. "Bakersfield is not that far away," quipped Caputo.
Bell's Brewery in Galesburg, Michigan, gained two golds, a silver, and a bronze; Hansa in Cleveland, Ohio, won a gold; Wolf's Ridge in Columbus, Ohio, won two bronzes; and Rock Bottom Orland Park, Illinois, won silver. Brewmaster Iain Wilson was a founding brewer for Rock Bottom College Park in Indianapolis.
Newly and recently opened breweries joined the long-timers in walking across the stage to pick up a medal and a ribbon. These represent a return to small brewpubs, including Backstep in Crawfordsville; Cedar Creek Winery & Brew Co. in Martinsville; Hop River Brewing Co. in Fort Wayne; Teays River Brewing & Public House in Lafayette; and The Guardian Brewing Co. in Muncie.
Homebrew Overview
Winning homebrews came from across America. Nine FBI Homebrew Club members won a total of 22 medals in 10 categories to gain Homebrew Club of the Year status for FBI, including: David Bordenkecher who won a gold for Bock Another American Ale; silver for Belgian and French Ale and Spice/Herb/Vegetable; bronze for Best of Show.
As Homebrewer of the Year, he will brew Two Goats Doppelbock at Broad Ripple Brewpub to be served at the 2019 competition.  
Other homebrew winners included: 
Tim Palmer: golds for Light Lager, Stout, and Smoke & Wood-Aged

Andrew Korty: gold for Pilsner; bronze for Euro Amber Lager and Traditional Mead

Nathan Compton: golds for Strong Ale and Spice/Herb/Vegetable

Brian Steuerwald: gold for German Wheat and Rye; bronze for Sour Ale

Tom Wallbank: silver for Smoke & Wood-Aged; bronze for Light Lager

Ryan Mills: silver for Belgian Strong Ale; bronze for Belgian Strong Ale

Dean Steuerwald: gold for Traditional Mead

Bradley Hopkins: bronze for Strong Stout

Joe Werner: bronze for Amber Hybrid Beer

Eric Wiens: bronze for American IPA
Homebrew Best of Show winners are gold, J.D. Vasher (LAGERS); silver: Martin Hassock; bronze: David Bordenkecher (FBI).
And if names of beers were to get an award, I'd vote for Metazoa's "Chairman Meow," with ties to Flix for "Sith Happens," "Garde Your Grills," and "Saison de Walt." Honorable mention to Chilly Water's "Breakfast in America," citing Supertramp's 1970s song about dreaming of going to America, which provides a nod to current sentiment. 
Find a full list of winners here