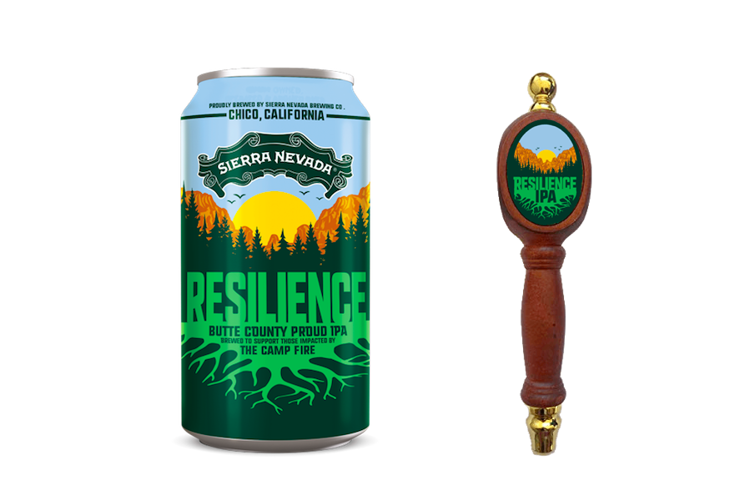 The Camp Fire in Northern California is one of the most devastating in American history and one that came close to the Sierra Nevada Brewing Co. headquarters in Chico.
In addition to helping with immediate relief efforts, Sierra Neva founder Ken Grossman is creating a special IPA named after the county where the fires took place and donating 100 percent of the sales of the beer to the Camp Fire Relief Fund. 
"We will be brewing Resilience Butte County Proud IPA on Giving Tuesday, November 27, and donating 100-percent of the beer sales to the Camp Fire Relief Fund," said Grossman in a news release. "We are also asking every brewer in America to brew Resilience and do the same."
As of Dec. 3, 1,200 breweries across the U.S. are joining the cause including 18 Indiana craft breweries using Sierra Nevada's recipe for Resilience Butte County Proud IPA. Nationwide the beer will be released on Dec. 17 in cans by Sierra Nevada and on tap at participating breweries.   
Indianapolis breweries include:
Wabash Brewing at 5328 W. 79th St.

Triton Brewing, 5764 Wheeler Drive

Black Acre Brewing, 5632 E. Washington St.
In addition, Upland, which is brewing in partnership with Switchyard Brewing in Bloomington, will have the special beer on tap at its College Ave. Tasting Room. 4842 N. College Ave., and Carmel Tap House, 820 E. 116th St.
In Bloomington, Switchyard Brewing is at 419 N. Walnut St., and Upland is at 350 W. 11th St., and at 4060 Profile Pkwy. Upland spokesperson Kate Langdon reports, "Switchyard and Upland are looking to release their batch of Resilience IPA the first week of January across all locations."
Central Indiana includes:
Auburn Brewery, 309 N. Main St., Auburn

Creatures of Habit Brewing, 1031 Meridian St., Anderson

Wasser Brewing, 102 E. Franklin St., Greencastle

Upland Pump House at 148 Lindsey St., Columbus
Other Indiana locations: in Michigan City,
Shoreline Brewery, 208 N. Wabash St., Michigan City

Burn 'Em Brewing, 718 Freyer St., Michigan City

Three Floyds Brewing, 9750 Indiana Pkwy, Munster

By Way Brewing, 2825 Carlson Drive, Hammond

Crown Brewing, 211 S. East St., Crown Point

Figure 8 Brewing, 150 Washington St., Valparaiso

Crooked Ewe Brewery, 1047 Lincoln Way E, South Bend

Bare Hands Brewery, 12804 Sandy Ct., Granger

La Otto Brewery, 202 S. Main St., La Otto

Trubble Brewing, 2725 Broadway, Fort Wayne
Great Fermentations is releasing a "Resilience IPA" kit for homebrewers.