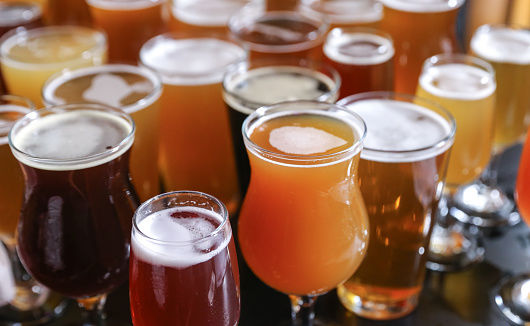 Downtown Indianapolis hosted the 23rd annual Brew-Ha-Ha, a Phoenix Theatre fundraiser, on June 16, and it was a wonderful opportunity to catch up with some favorite brewers.
Broad Ripple Brew Pub is where Brew-Ha-Ha was born just shy of a quarter century ago when a group of Phoenix Theatre regulars, pints in hand, hashed out how to raise funds and have fun. The pantheon of Indiana brewers has made its mark on Brew-ha-ha, and conversely, Phoenix Theatre's "fundraising invention" has made its mark on the craft brewing industry. Festivals abound.
Inclusiveness has been a special asset. Michigan-based Bell's has been at Brew-Ha-Ha since year one, bringing their beloved seasonal, Two-Hearted. Monarch and Cavalier distributing companies have been showcasing since the beginning.
Brew-Ha-Ha has become a neighborhood block party. One family puts out a porch buffet for law enforcement officers. One pair of children has grown up with their small-scale lemonade stand—sharing proceeds with the Phoenix and another philanthropic organization of their choice.
"Brew-Ha-Ha is the second-largest fundraiser for Phoenix Theatre, raising around $50,000 each year," reported Pam Dyar, Phoenix Theatre director of advancement. "We depend on the revenue of this event to support the edgy and new productions Phoenix Theatre brings to the stage each year. Our community wants to be challenged by the productions we put on and comforted by the comradery at our social events. Communing over a local craft brew shows Hoosier heart and interest in new experiences."
"This is my first time doing Brew Ha-Ha with Flix, but it is definitely not my first [time at the festival]," said Rob Malad, Flix Carmel's lead brewer. "It's my fourth or fifth time attending as either a vendor or just as a patron to enjoy without the hassle of working it. Flix does a limited and select number of beer festivals, and this is one that I had no intentions of turning down. It is one of my favorite events of the year. I was born at Ninth and Broadway, just north of the Phoenix Theatre, and I love that neighborhood. It makes a great, cozy, intimate setting for the event, and it benefits such a wonderful organization." 
Malad added, "There are, of course, some downsides to any event. This year was unseasonably warm. The music was great, but we were just a couple of booths away from the stage, which made it difficult for us to communicate with the people enjoying our beer, which is always my favorite part of these events. Nevertheless, the intimacy of Brew-Ha-Ha makes it possible [for attendees] to catch up with what's happening at a brewery. Killer Bee Honey Wheat is our national seasonal," reported Malad. "Also set for July release is Strawberry Gose in the Machine, a Strawberry Gose, with the same base recipe that Chris [Knott] has won several awards with, including the Indiana Brewers Cup and Best of Craft Beer Awards."
"June 16 was an all-hands-on-deck affair because we had so much going on," reported Tia Agnew, co-founder and CEO of New Day Craft. "Members of our fantastic crew ran things flawlessly at the tasting room while Brett [Canaday, head meadmaker and co-owner] and I each got the chance to spend some fun and quality time with customers at both Brew-Ha-Ha and the IMAF/Indie Handicraft Exchange. Brew-Ha-Ha is always especially fun for us because it's like old home week as a member of the alcohol community. We all get to chat and drink one another's products. Also, Brett and I love the Phoenix Theatre and are always happy to participate in this annual fundraiser.
Agnew enthused, "News? We're launching our South Cider and Johnny Chapman hard ciders in cans. We've been working toward this since we began our production expansion three years ago. So keep your eyes peeled for our cider cans as they hit shelves and bar tops all around the state."
Blind Owl's booth was a showstopper, so to speak. Head brewer Alex Petersen said Brew-Ha-Ha is a perfect place to test new label and beer art. Positive reaction is expected to get people to visit the Eastside brewpub that's just a mite out of the way.
"We are continuing to do outreach and create partnerships with the various arts attractions along the [Indianapolis Cultural] Trail relative to us," said Andy Meyer, co-founder/brewer of TwoDeep, located a short walk from the "new" Phoenix. "We have long been fans of supporting the Phoenix Theater with Brew-Ha-Ha. We have been able to use this festival as a way of introducing fun projects to the masses in the past and going forward. For this year, we released Tiger Snooze, our White Wine Barrel Aged Cream Ale. Given the reception, we look to expand upon its release and continue to grow the various styles that we barrel-age."
Jason Cook, Rock Bottom Downtown head brewer, said Phoenix Theatre Brew-Ha-Ha verifies why a small festival has big value. Its relaxed setup along the 700 block of North Park Avenue is homey. He talked me through his summer list, including Clown Town Imperial Stout and what was special about brewing Flippie Floppies Hazy Pale Ale with Lebanon, Indiana, based Sugar Creek Malt. Even though Rock Bottom has a national presence, it's a hometown Indy brewpub.
Brew-Ha-Ha always is a chance to catch up with brewers on the move, including Nathan Scruggs who now is at Oaken Barrel in Greenwood. He is collaborating on brews, including Counterpoint and Deviate, creating Request for Deviation.
What's out of this world? Planetary Brewing's Cream Dreamsickle Milkshake IPA.
Coming up: July 28, 2–6 p.m. 23rd Annual Brewers of Indiana Microfest at Military Park. It's a benefit for the Leukemia and Lymphoma Society of Indiana and Little Red Door Cancer Agency, along with the statewide outreach of BIG. Tickets here: http://indianabeerfest.com/tickets/