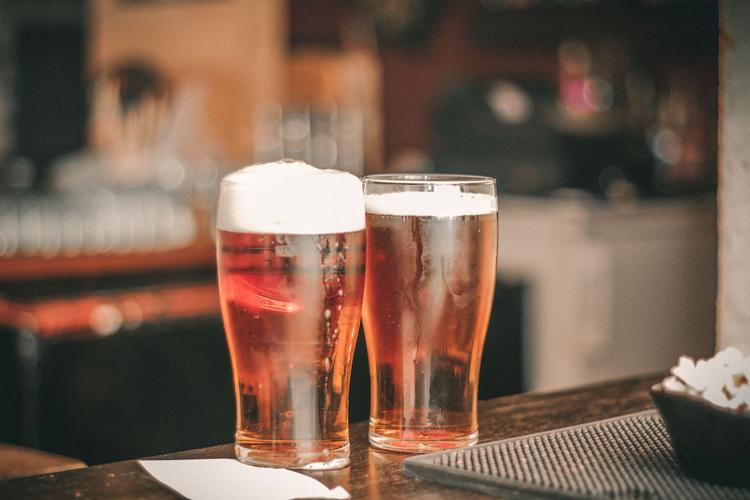 As part of their year long 20th anniversary celebration, Upland has collaborated with Indiana's original Craft Brewery, Broad Ripple Brewpub, for their newest beer release. "John Hill established the Broad Ripple Brewpub in 1990, paving the way for all future Hoosier brewers," says Upland. "We combined John Hill, the Upland hills, and 100% Indiana raw materials to bring you The Hills Have Ryes All-Indiana Rye Pale Ale.
The Hills Have Ryes is a pure celebration of Indiana brewing and farming heritage. The subtle spice of rye stands out among the blend of four locally sourced malts from Sugar Creek Malt in Lebanon. A blend of seven hop additions from four different Indiana hop farms (White River Hops in Jasper, Indy High Bines in Indianapolis, Eight One Two Farms in Columbus, and Crazy Horse Hops in Knightstown) adds layers of citrus and pine, with a moderately bitter finish. Finally, the yeast, collected from a flower behind the Broad Ripple Brewpub and grown at Matt Bochman's lab at Indiana University, provides one-of-a-kind, Indiana esters, featuring notes of cloves and bubble gum.
Related: Two New Breweries Open in Indy This Week
Just in time for their 24th Anniversary on July 4th, Oaken Barrel released their 3,000th batch, golden-hued Funky Kwang Time. A crisp, kettle soured Peach Sour Saison, the heavy tart flavor balanced by fruity notes comes from adding peaches during the souring process, said brewer Nathan Scruggs. Both owner Kwang Casey and head brewer John Treeter affirms,  "This is the perfect summer brew."
On tap at Bier are Sippychron IPA, Tripple dry hopped with 16 hop varieties and 31 hop additions, and Persephone, a Chamomile and Orange Peel spiced Hefeweizen, making its return from 2014.
Bloomington Brewing Company's summer favorite cross-over Kolsch is back on tap at Lennie's. This all-barley pale ale uniquely combines the full flavor of an Ale with crispness of a Lager: "Light gold in color with sweet, aromatic grains and earth notes,  Pilsner malt is balanced by the subtle bitterness of Tetnanger jobs. Crisp, refreshing and light…" Also newly up is Back Country Session IPA, with a portion of its proceeds benefiting the Indiana Forest Alliance.
Sun King's annual anniversary brew. GFJ is in 4-packs and on tap at multiple locations. The 2018 limited-release Coconut Bourbon Barrel-aged Timmie is on tap and as single and 2-pack screw-top cans.  "The cocoa, dark chocolate, and molasses flavors of our Imperial Stout are rounded out with subtle but distinct smoky oak notes brought on by bourbon barrel aging and the tropical flavors of coconut," reads the description.
I recently sipped a pint of Small Batch Chance of Precipitation English-Style Mild Ale , enjoying a malt-forward aroma, and toasty, chocolatey and biscuity character, with a light finish. Its coppery color glistened in full sunshine. I also sampled the Small Batch Common Thread California Common Ale with a light and crisp body and a bitter hoppy finish.
New at Rock Bottom Downtown are: Double Swirl Kettle Sour brewed with Raspberries and Blackberries  (4%ABV, 11 IBUs); Clown Town Imperial Stout with lactose, coconut, vanilla, and cinnamon added, (10%ABV, 60 IBUs); and Pas Amis Saison brewed with a blend of French and Belgian yeast (7.5%, 20 IBUs).
Upland canned Little Wheat Lies in 4-packs as their 3rd installment in the Side Trail Series.  "For this Juicy White IPA, coriander is added to the whirlpool in a similar method as is used in Upland Wheat. After fermentation, the beer is recirculated through orange zest for the freshest orange flavor and aroma possible.  Most of the hops were reserved for after the boil to minimize bitterness and amplify flavor and aroma," reads the description.
Related: Bringing Home the Gold, Silver and Bronze from the 2018 Open Beer Championships
I stopped at Flat 12 to view the makeover as a family-friendly and 21+ site. The flight tasted in the company of regulars included: Farmhouse Wit with refreshing tart sweetness at 4.7%ABV and 19 IBU was a fine opening for what followed; Kiwi Hefe took us on a different path of refreshing balance, upping the ABV to 5.6% and 39 IBUs; Blackberry Berliner Weise provides a closing full fruit mouthfeel after a sweet, slightly tart opening sip at 4.3% and 6 IBUs;Violet B. Wit is a glyph on the winning favorite Dan Patch Wit, nosing in as a Sour Belgian Wit with Blueberry at 4.5% and 21 IBU; Mango Kolsch features barley smoothness along with a delicate mango puree, at 5.2% and 24 IBU; Ministry of Rye, the Barrel-aged Olde Ale collaboration with Broad Ripple Brewpub, is hearty at 9% and 42 IBUs; Spring Loaded was perfect to close out with. This dry, rye spiced, Saison is layered with taste, towards a clean finish. Valerie Green affirmed Flat 12 no longer is filtering any of their beers.
Mike Hofferman, Head Brewer at Grand Junction in Westfield, reports, "I am currently waiting to launch Blood Weiss and Lonely Hop Series: Pilgrim. The Pilgrim hops include distinct fruit and spice characteristics with pleasant lemon, grapefruit, pear and berry flavors. The malt allows a playful balance between the hops and delicate malt bill of sweet breadiness.
"July 11, we will be canning Squirrel Stampede for the first time ever. It's a Northern English Style Nut Brown with sweet toasted barley and a subtle nutiness imparted by the use of malt. It's dark in color, but light in body and flavor. She sits at 5.5% and 15 IBU's and will be available at both of our locations the day we can it and will hit the market the week of 7/16. PSA: No squirrels were harmed in the making of this beer!," he says.
"On tap now at Broad Ripple Brewpub is High & Rye, a traditional Roggenbier (German Rye Beer) as close to style as I feel I can get," said Mullens. "With not a lot of breweries making this style it is hard to gauge and is now considered a historical style beer. It uses 70% rye in the malt bill and I let the yeast handle the rest since it uses the same yeast strain as a Hefe to bring out the clove and slight hint of banana as it warms." Expect as well a hearty pumpernickel bread flavor and combined with other specialty grains to give it a hint of caramel sweetness and a deep copper color.
Thr3e Wise Men's July seasonal beer, So It Gose, a gose style ale is a bright pink 5% ABV tart wheat ale featuring  "a refreshing balance of raspberry, hibiscus, and salt flavors," says Keely Thomlinson, head brewer. "So It Gose is full of bright flavors."
Indiana craft provides an everyday adventure and every beer has a story. Just ask.