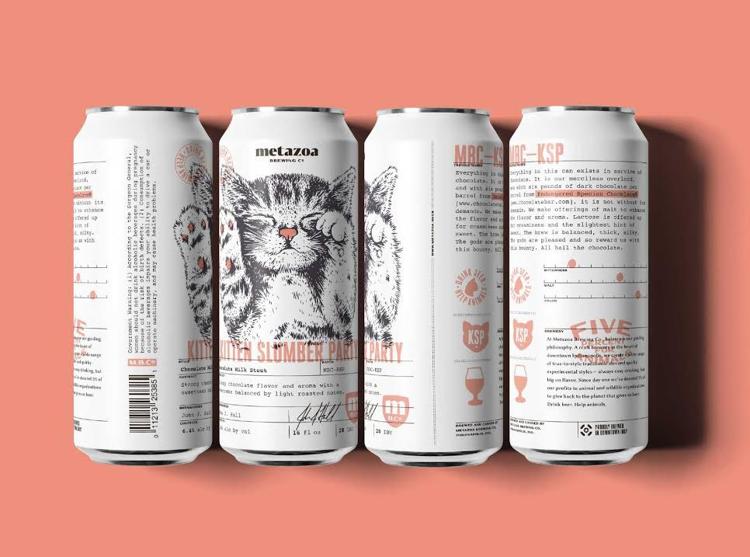 Two Indiana Craft Breweries received medals at the World Beer Awards announced Sept. 20, in London, while back in the U.S. four Indiana craft beer breweries brought home medals from the Great American Beer Festival held in Denver, Sept. 20-22.
Taxman's Qualified won the U.S. Gold citation in the World Beer Awards for Best Dark Belgian-style Strong.  
Metazoa earned U.S. Gold medals each for Snakehair in the session IPA style, and for Nap in the Hammock in the Pale Cream Ale style.
Metazoa also gained a Silver medal in the beer can design competition with Kitten Slumber Party, a chocolate milk Stout.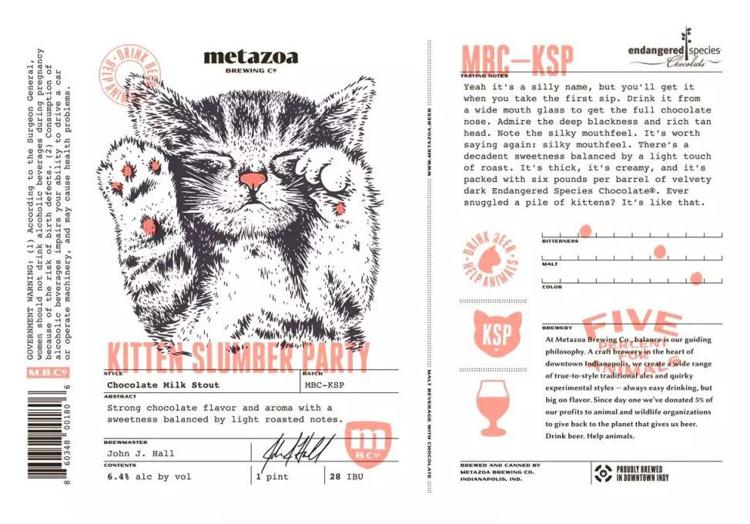 "Metazoa took its first steps into canning in July 2018, but when offered the opportunity to submit their first and, at the time, only can artwork into competition, the team jumped at the chance for feedback on the newly-minted design," says Metazoa spokesperson Lauren Frederick.
Kitten Slumber Party, the brewery's flagship Chocolate Milk Stout delivered the U.S. Silver Medal for Beer Can Design. In addition to Kitten Slumber Party, 16 oz. cans of Nap in the Hammock Cream Ale and Hoppopotamus IPA are also available in various locations across the Indiana market.
An international competition that purports to distinguish the very best the world has to offer, The World Beer Awards selects, awards and promotes the 'World's Best Beers' to consumers and the trade throughout the world.
Beers must be generally available and for sale in bottles or cans to become part of one of the nine overall winners in the tasting competition and a gold, silver or bronze winner in the five design categories.  2,300 beers from more than 50 countries were blind-tasted and scored across three rounds of judging. The final round was held in London.
There are now more than 80 craft breweries in Central Indiana; part of a resurgence that can be traced back to Broad Ripple Brewpub nearly 30 years ago and a tradition going back to the founding of Indianapolis in 1820.
Closer to home at the Great American Beer Festival (GABF) in Denver last week, the Brewers Association (BA) awarded 306 medals to 280 breweries across the United States
Earning Gold was Flix for Tripel Carmel-ite in Belgian-Style Tripel; Upland for Two of Tarts in Gose style; and The Tap for Kill the Lights in Imperial Stout style.
Taxman earned two GABF medals: Bronze for Deduction in Belgian-Style Dubbel or Quad, and Silver for Qualified in Belgian-Style Strong Specialty Ale.
In a ceremony at the Colorado Convention Center, award-winning breweries received medals in 102 beer categories covering 167 different beer styles (including all subcategories), establishing the best examples of each style in the country and earning a symbol of brewing excellence.
For the fifth year in a row, the staff of the Brewers of Indiana Guild poured BIG member beers   at each of the four local beer festival tasting sessions.
Included were:
3 Floyds Brewing, Zombie Dust (Pale Ale)
Centerpoint Brewing,  Blood Orange (Fruited IPA)
Central State, Garden (Rustic Blonde Ale) and Dad Bod (Double IPA)
Four Day Ray Brewing, Hot Pink Strawberry Rhubarb Jalapeno (Blonde Ale)
Hoplore Brewing, Outskirts Dreamsicle
Mad Anthony Brewing, Auburn Lager (American Lager)
Scarlet Lane Brewing, Katrina (Spiced Brown Ale)
Summit City Brewerks, Mango Monky (Fruited Belgian)
Switchyard Brewing, Lavender Blonde (Blonde Ale)
Upland, Lindera