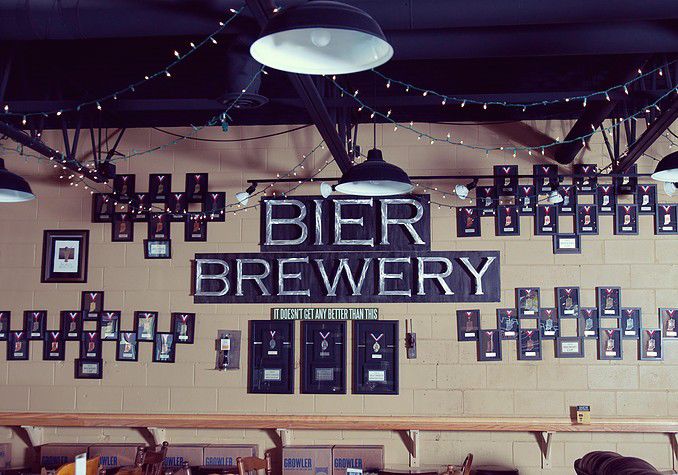 Bier Carmel Taproom at 13720 N. Meridian St, is expected to open around the first of October.
"Plans for an additional location have been in the works for more than a year," said owner Jerry Connor in a news release. "The site in the Meridian Village Plaza provides the perfect combination of location accessibility, parking, and quality retail partners. The storefront mall is easily reached from downtown Carmel from North Guilford Rd., from either direction on US 31, from the west along 136th St, and north from 146th St."
The 3500 sq. ft. taproom will double the space of the original Bier Production Brewery Taproom with family friendly seating, a larger stage area for live entertainment, and a private party section. "Puccini's Smiling Teeth is located in the strip center and they, along with BoomBozz Pizza, will be important food partners for Bier," said Sarah Buschmann, Bier marketing manager.
Co-owner and head brewer Darren Connor said, "As we grow, we will always remain focused on making beers of unsurpassed quality for our customers. We have the capacity to increase production and to add capacity when called for. The new taproom will allow us to make new friends - so drink up, we'll make more."
"Leah Connor, Jerry Connor's daughter/Darren Conner's sister, will be managing the new taproom," said Buschmann, in an email to NUVO. "House biers will be the same: Special Kolsch, Weizengoot and PDG. Our house biers are very frequent but not always guaranteed to be on tap.
"Variety is the spice of life so we will have a variety of biers on tap-just like at our current taproom. When we open in Carmel, Pumpkin Ale will be available so that'll be a staple for the Fall months. We will can our Marzen (Oktoberfest) so that will also be available in cans and most likely draft come Fall.
"Like at 65th St., there are many surrounding [residential] neighborhoods around the new location. We want to cater to our new neighbors and families - allowing children (adult-supervised) in the new location and planning family-oriented events outside," said Buschmann. "By moving into the new location, we hope more local businesses will join us in that specific area."
"Being the neighborhood taproom/ hub is important to us. This is what we have created on 65th St. and fully intend to recreate at the new location. The couches, the laid back atmosphere, the hodge-podge of decor and tables relay to the customer: 'Come on in, drink a bier, and be comfortable.' We want everyone to feel welcomed - designed to feel like an extension of your own living room. We are the friendly neighbor who everyone visits for a bier, a quick bite, a good laugh and a great time."
Buschmann, who manages the 65th St. taproom, affirmed her chalkboard artistry will travel northward. "Oh, yeah! There will be another chalkboard--you know that is a Bier Brewery staple!! Not sure if the lineup will change every week like the current taproom, but I will be the artist behind that one as well. These are logistics that will get worked out once we open the doors!"
Bier now joins other Carmel-based Indiana craft breweries, including Danny Boy Beer Works (12702 Meeting House Road),
Flix Brewhouse (2206 E. 116th St.), Union Brewing Co. (622 S. Landline Road), Upland Carmel Tap House (820 E. 116th St.). Also of note, Deviate Brewing is just below the Carmel line, at 4004 W. 96th in Indy and Sun King Spirits at 351 Monon Trail technically is a distillery, though their brews are available on tap and in cans in the cooler.
Related: Bier Celebrates Seventh Anniversary (July 26, 2017)
Raise a Pint to International Beer Day
First Friday in August—August 3 this year—is International Beer Day, celebrating its 10th anniversary as "a global celebration of beer, taking place in pubs, breweries, and backyards all over the world. It's a day for beer lovers everywhere to raise a toast to our brewers and bartenders and rejoice in the greatness of beer," with three goals:
To gather with friends and enjoy the deliciousness that is beer.
To celebrate the dedicated men and women who brew and serve our beer.
To bring the world together by celebrating the beers of all nations and cultures on this one remarkable day.
Learn more here: internationalbeerday.com/about-international-beer-day/