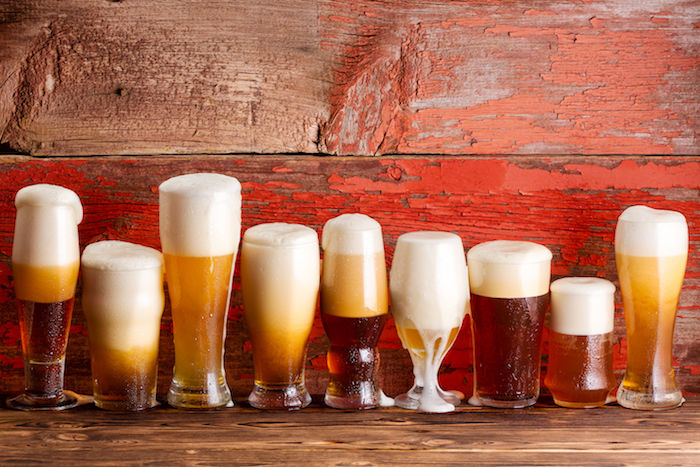 Oktoberfest is almost upon us, and that means more beer events than any other time of the year. Here's a list of 25+ not-to-be-missed craft brew happenings around Central Indiana over the next several weeks.
---
Sept. 1
Carmel Firkin Fest at Union Brewing Co., 1:30-5 p.m. Participating breweries include Union Brewing, Centerpoint Brewing, Danny Boy Beer Works, Bier Brewery, Burn 'Em Brewing, Wooden Bear Brewing, People's Brewing Co., Traders Brewing Co. $40 admission.
Sept. 3
Metazoa Brewing, Indy Pet Parade & Tappings Party, 2-10 p.m. Attendees are invited to walk in the pet parade through Fletcher Place neighborhood followed by a party at Metazoa Brewing Co. featuring live music, food trucks, local vendors & more. 21+ to enter.
Sept. 5
Return of the Hempire Strykes Back-hemp-IPA at Triton Brewing Company, 3-10 p.m.
Sept. 6
Thr3e Wise Men Brewing Co.  releasing 5th annual Antonius 1742, an Oktoberfest style beer,  at their Broad Ripple and Muncie tap room locations at 7 p.m. In 2015, Antonius took home a silver medal at the Great American Beer Festival in the German style Märzen category (also known as the Oktoberfest style). "Antonius is an amber colored German lager with bready malt character, hints of caramel, and a smooth body," said Keely Thomlinson, head brewer of Thr3e Wise Men Brewing Co. "It's pretty much fall in a glass."
Sept. 6-8:
Sept. 8
Return of CANvitational at Pan Am Plaza in downtown Indianapolis, 1-5 p.m. 60 independent craft breweries from Indiana, the Midwest, the U.S. and worldwide, are bringing 250 beers, many being newly introduced here.  Proceeds benefit Art with a Heart, Boys and Girls Club Indianapolis, Gleaners Food Bank of Indiana, IndyHub, Keep Indianapolis Beautiful and Mary Riggs Neighborhood Center. Includes live music, food trucks. $50 admission.
Sun King and Founders Brewing Co. will release Riding the Rails, a hoppy session lager, at CANvitational. It will be available for a limited time throughout Indiana and parts of Illinois and Ohioin cans and on draft.
Sept. 8:
Sept. 14
Indianapolis Oktoberfest presented by the Columbia Club at the north half of Monument Circle; biergarten with beer and wine, food, live music. A portion from what you buy benefits the Soldiers & Sailors Monument and Indiana War Memorials Foundation. Free.
Bier Brewery releases Pumpkin Ale--winner of multiple awards.Bier has also just released their Oktoberfest Marzen at the Bier Taproom and for sale on shelves in 6-pk cans.
Sept. 14-16
23rd annual Indy Irish Fest at Military Park; of course there's beer along with music, culture, and shenanigans. Supports Irish American organizations citywide.
Sept. 15
Pax Verum Brewing Co. (908 Main St., Lapel) hosts its inaugural Oktoberfest starting at 6 p.m. 21+ And don't forget to check out the new patio. Live music featuring Polkamotion. 
Sept. 19
Sept. 21-22
Sept. 21
Sept. 22
Irvington BrewFest at Our Lady of Lourdes. Buy tickets here.
Sept. 22
19th annual Rocky Ripple Festival in Hohlt Park focuses on art and artisans; with beer and wine from Broad Ripple Brewpub. Kid and dog friendly; free 11 a.m.-6 p.m. Benefits Rocky Ripple Parks Endowment Fund.
Sept. 28
Sept. 28
Oktoberfest and German Supper, Cornerstone Lutheran Church in Carmel. 4-10 p.m., polka music and dancing, face painting, costume contest, bingo, some kids activities; bring cash for food and some events. Free.
Sept. 29
Sept. 29
Flat 12 Oktoberfest in the Biergarten, noon-10 p.m., special tapping of Slam Dunkel,  dark German-style lager with a malty smooth finish. Live polka band, Hoagies and Hops food. Free admission.
Sept. 29
Oct. 5-6
Holy Name Oktoberfest, Holy Name Parish of Beech Grove. 5 p.m.- midnight. Authentic German food, biergarten, live music and kids zone with games, prizes; couples as a health & safety fair with free screenings. Funds raised support the Holy Name of Jesus Catholic Church.
Oct. 6
3rd annual Corn Maze Beer Fest at 450 North Brewing Company in Columbus, Ind., noon - 5 p.m.   Work your way through the 6-acre corn maze to find and sample from 60 Independent craft brewery booths hidden throughout. Event includes live music all day on two stages from top local and regional acts.
Oct. 6
Oct. 6
Oct. 13
Wabash Brewing Annual Oktoberfest features German-inspired beers from Wabash Brewing and food from Between Brews. Don't miss the lederhosen run, weiner dog races, and contests for best outfits. Live music starts at 6 p.m.