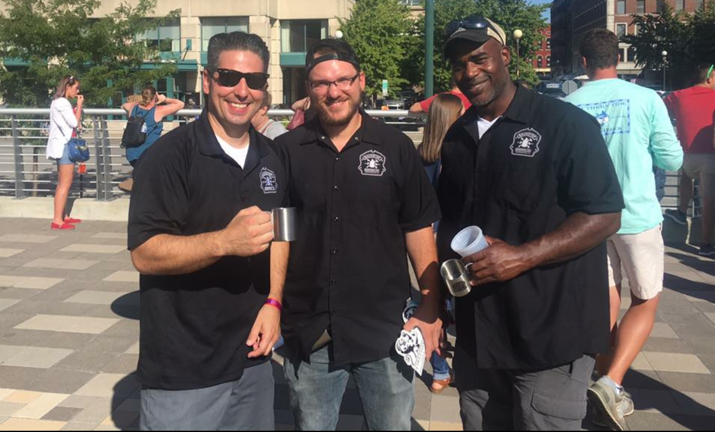 Backstep Brewing Company, Crawfordsville's first microbrewery, is housed on the first floor of the 1927 Monon Hotel building, at 125 N. Green St., steps from the old Monon Railroad tracks. After closing as a hotel in 1977, the building has housed several bars.
Backstep co-founders, Patrick Pennington and Jim Boros, are professional firefighters in the Pike Township Fire Department. Both are fans of craft beer; both are entrepreneurial — Boros was in the restaurant and bar business, Pennington sells real estate in greater Indianapolis. Using sweat equity, they've renovated just enough to put their stamp on the interior without taking anything away from the early 20th century decor.  
Down the street is Wabash College, one of the few remaining all-male colleges. Backstep also is in the company of about a dozen properties listed in the National Register of Historic Places, including the Study of General Lew Wallace, author of Ben-Hur. Crawfordsville was first spotted as a good site for settlement in 1813. Two-hundred years later, in 2015, the state of Indiana awarded Crawfordsville the stellar designation to help the community move forward with economic development and overall quality of life. Backstep Brewing Co. has become part of this initiative.
I first met Pennington and Boros in the spring of 2017, and began following their progress as a bar with beers from other breweries while they were waiting for permits to brew. By mid-Fall Josh Miller, whom I first met as the FLIX assistant brewer two years ago, was brewing on the newly installed 5-bbl system, with four 5-bbl fermenters and and four 5-bbl brite tanks. I caught up with the threesome early December.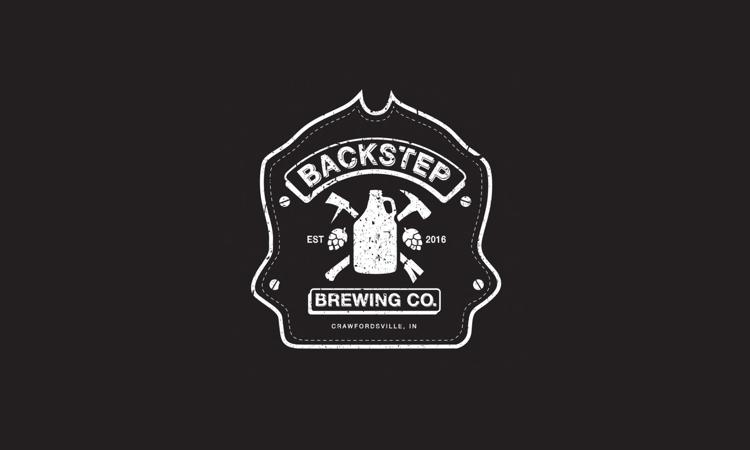 Rita Kohn: The building came with a three-way liquor license because it previously housed a bar and grill; what's the good and bad part of that bit of 'luck'?
Patrick 'Pat' Pennington: The three-way liquor license has been all positive for us at Backstep. The license allowed us to open immediately after our remodel and start providing the city of Crawfordsville with a craft beer selection they had not had before. In addition, unlike most breweries, we were able to begin generating income while waiting on our brewing permits to be approved. It also allowed us to see what the community tended to gravitate towards and what didn't do as well. That information is invaluable and will help us plan for the future. 
Jim Boros: There is no bad part to that, as far as I'm concerned. I believe more breweries would have a three-way if they were more readily available or cheaper. It's a great way to round out your beer selection. And there is always someone in a group of friends who would prefer a cocktail. So as a business, I am able to accommodate that friend.
Also, as the craft beer industry dives further into producing distillate, we are poised to serve those products as well.  
Rita: From the beer list, along with Josh Miller's fine brews you are offering Indiana Craft alongside InBev-AB products and non-craft beers from elsewhere. What's the rationale for this mix? 
Jim: As a taproom with 32 available taps, we set out to definitely highlight Indiana beer. At the same time, not to block any great regional beers from surrounding cities such as Chicago, Cincinnati, Louisville, etc. 
We strategically carried Goose Island's 312, and a couple other similars, as a recognizable and approachable gateway beer for a city and a county who had not had an overall extensive exposure to craft beer. Don't get me wrong, there are definitely craft beer aficionados here and we have always catered to that element, but we felt compelled to make a portion of our taps accessible to even the novice.
It's a big responsibility to be the first taproom/brewery (since Prohibition?) in the area and helping someone new or inexperienced to craft beer is something we do not take lightly. We want to be approachable, to help educate, and to make that lifelong craft industry customer. So if we started with a few gentle and recognizable selections, that is the greater motivation. 
Backstep has never carried the big name macros, but we do have PBR. Mostly because it is a cultural icon and nectar of many an artist or musician. We also have Old Style (to the dismay of my business partner Patrick) because I am a Chicagoland transplant and I know Old Style is awesome. Besides, they donate a percentage of each case of their "Fireman Cans" to a firefighter bereavement cause, which I am rightfully a sucker for. 
NUVO: You own the whole building; what's happening for the top three floors? How are the history of the building and the story of The Monon Railroad surfacing?
Pat: Right now we have no plans for the upper levels. The upper floors are in rough shape and have not been touched since the hotel closed many years ago. It is fun to throw around some fun ideas, like having a banquet hall, restaurant upstairs, or even apartments, but the reality is, it would be very expensive, and being a new brewery, our focus right now is our beer and making a product that competes with the best breweries in the state.
Jim: Funny you ask, because a patron pulled me aside just yesterday to tell me his grandfather ran a nearby pool hall and attested to the fact that John Dillinger would hang out at the Monon Hotel and drink in the lobby (of what is now Backstep). From what I hear, small Indiana towns that were train stops out of Chicago were often used as hiding places for Prohibition-era gangsters on the lamb. So it would make sense if Johnny D. had strolled through [what's now our place], as we are a block from the train station. 
Normally, we just hear stories of how someone's dad used to party here at the bar during his wild days in the 70s or how whats-his-face got in a big bar fight here in the 80s. Mostly stuff like that. 
As far as the top three floors go, they are available to rent/renovate if NUVO would like a West Central Indiana office, but otherwise we leave them undisturbed as to not bother the residents (ghosts).
NUVO: What is the lure for Indy residents [and anyone else from every other place] to come to Backstep Brewing?
Jim: First and foremost, the lure for Indy residents would be to enjoy Josh's beer in a warm, comfortable, and historic taproom served by people who truly care about their experience.
And when's the last time you checked out Crawfordsville? 
Our downtown has beautiful turn-of-the-century architecture, boutiques, cafes, and antique shops. We are also close to Turkey Run and Shades state parks. 
Pat: I spoke to a Crawfordsville realtor this past week, who told me she had four clients this summer decide to retire to Montgomery County from Indianapolis. She said one of their deciding factors was there is now a brewery in town! The small town could be the next big thing. I can literally walk from Backstep to my accountant's office, my attorney's office, and the local bank. I love it! I think people will not only love the environment, staff, and beers at Backstep, but the city of Crawfordsville as a whole.  
Pat: When Jim and I set out to open our own brewery (which still seems a bit nuts), we wanted to open a place that we would want to hang out in. Boy, have we accomplished that and had some fun and challenging experiences along the way.
I am very proud to say not only is Backstep Brewing Company the only fireman-owned brewery in Indiana, but also one of the few African-American owned breweries in the country, let alone in the state. 
Jim: I am looking forward to paying back the craft beer industry with our own great beer, as they have bountifully provided me for so long 
NUVO: Josh, the last time we talked you were burning the road from Crawfordsville to FLIX Brewhouse in Carmel. Now you're in league with Blind Owl brewer Alex Peterson as one of the 'youngest' head brewers at the moment.
For Backstep, you had to set up your brewery. How awesome was that, working with Blichmann up the road in Lafayette? How different from FLIX's brewing system? What's the learning curve here?
Josh Miller: It was very nice to lay out the brewery as I saw most fit, and how it would be most efficient for me to brew on. It was also very difficult, however. Setting up a brewery is not easy and we did most of the construction, setup and install ourselves with help from some local friends.
Working with Blichmann has been great! Having them just up 231 has been getting set-up issues or questions solved very quickly. I also love that we were able to support a local business in our industry (most of the large equipment in the brewery came from within 50 miles of Crawfordsville). The system we have at Backstep is completely different from the one I worked on at Flix. The learning curve was very difficult, because I had never worked on a system like this before, and it is also the first system of its type that Blichmann has done. It has taken a lot of studying and analyzing of the data I am getting to start dialing in the system perfectly.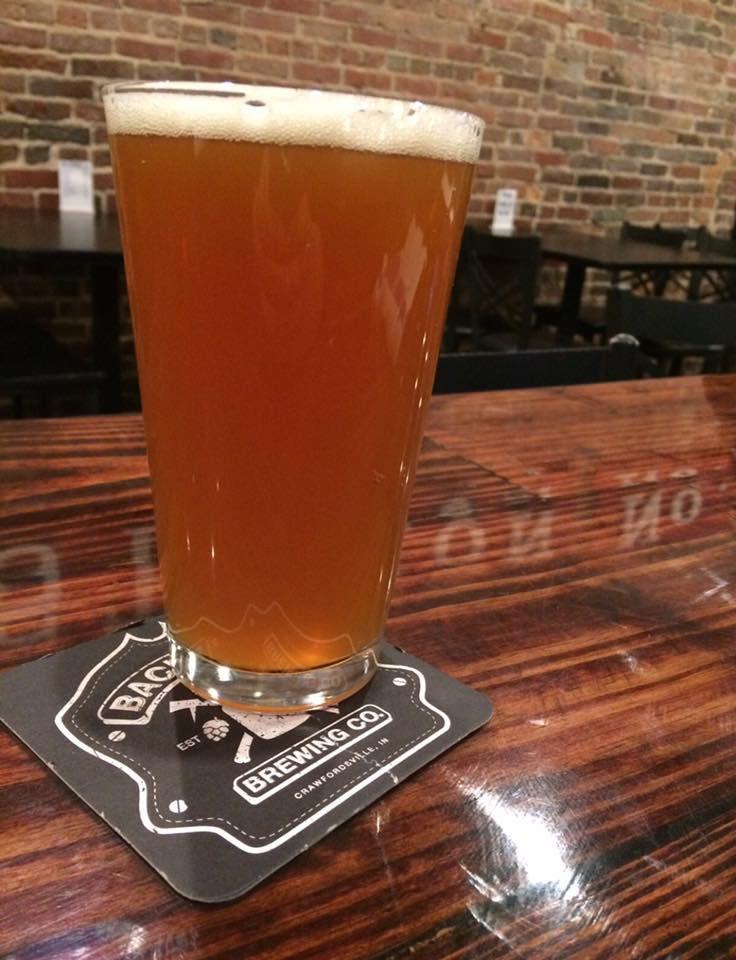 NUVO: What's the Chris Knott (senior brewer for Flix Brewhouse) legacy you bring to Backstep Brewing Co.? What's becoming the Backstep House Beer? 
Josh: There will never be a day in my brewing life (or life in general) that the words "Attention to detail" won't pop into my head. It is a motto Chris was taught when he started that he passed down to me. Every detail matters. Unless you pay attention to the small things, the big ideas can't happen.
We have four house beers right now, but it will be a "fluid" list that could change down the road. Right now they are: "Florian" a west coast IPA, "Rook" a blonde ale, "Black Hat" an oatmeal stout, and "9 Daughters" Berliner Weisse. I will have variations of all of those beers year round as well. For instance: I will always have one or two fruited versions of the Berliner Weisse, a coffee version of the oatmeal stout, and a separate version of the IPA. I am going to eventually add another malty option down the road as well. 
NUVO: Crawfordsville's brewing story goes back to the late 1840s, with the original brewery building at Lafayette Ave., Market St., and Grant Ave. lasting through various changes until 1924, when the building was razed. What tie-in to the original traditions do you plan as you build your beer portfolio?
Josh: Making a beer as a tribute to Henry Lorenz, the first known owner of a brewery in Crawfordsville (Lorenz Brewery), has been discussed. I have also looked at other ideas to give credit to previous brewing tenants of the location. I already love brewing German beers so a German tribute beer to Lorenz seems very natural to me.
We may be a small town brewery, but I plan on producing some of the highest quality beer in the state. I hope that the beer that I produce will attract people to visit our beautiful small midwest town. The town of Crawfordsville has been looking for a spark to revitalize the downtown area and bring a new breath of air to our historic community.
I am going to strive to make Backstep that spark that helps people not only visit our beautiful town, but also as a reason for young people to stay in town and contribute to its growth. Breweries have been known to be those sparks in communities, and that is my goal for Backstep in Crawfordsville. 
I asked Chris Knott to trace his trajectory into professional brewing that has led to now being a mentor to another generation of brewers.
Chris replied,  "I started homebrewing in 2008 when I was a manufacturing engineer in Athens, GA. The 3.5 years I spent there being exposed to such a diverse music, food, and beer culture were so different from growing up in Southern Indiana, and it was the most critical and influential time of my life in terms of my development as an adult and leading me to follow my dream of professional brewing. 
"Fast forward to 2010, when Andrew Castner hired me as his assistant brewer at Ram about a year after I moved back home. I was really in the right place at the right time. Luckily, Andrew saw something in me, and Mike Pearson [Daredevil Brewing] put in a good word with him. I was in that position for three years, but only head brewer for about a month [Castner left to open MashCraft] when Scarlet Lane hired me as their head brewer. 
I left SLB after nine months and got hired by Flix shortly thereafter. I've been here for almost three years now, and I was promoted to senior. brewer for the company this past February.