Editor's Note: With the Indianapolis Downtown Artists and Dealers Association (IDADA) no longer putting out a monthly art tour guide, your friends at NUVO have attempted to fill in the gap by putting out a list of numbered First Friday destination ideas in blog form. (The numbered selections correspond to our map.) You'll find here links to more detailed event information, photos, and even a quote from an artist or two.
We'll see you at the galleries.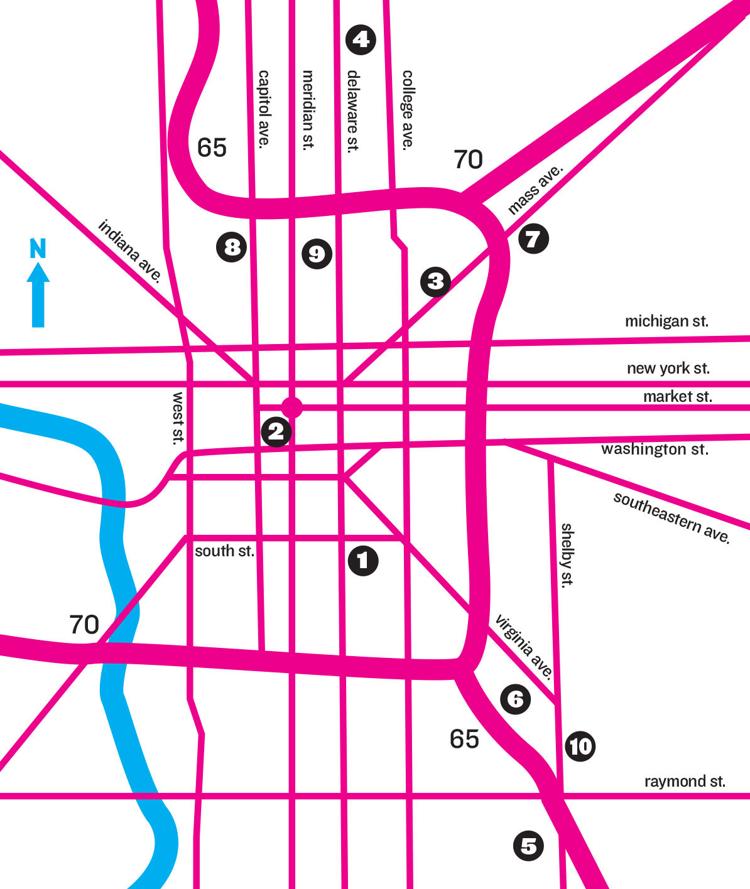 1. Heeseop Yoon's Connecting the Lines at  iMOCA (at CityWay)
Through Dec. 31, 2017, 9 a.m. — 7 p.m.  This is a do-not-miss installation for art lovers, without the amenities. There's no spread here — no cheese and wine  — just an empty gallery space at the Alexander CityWay.
Well, not entirely empty.  
The white walls and pillars of this gallery space have become the canvases for giant drawings, the lines of which were drawn with some unusual media. That is, the artist drew not with pens or brushes but with strips of quarter-inch electrical tape on Mylar.
The items depicted resemble mountains in a way.  But they are actually heaps of superannuated electronics, appliances, knick-knacks, you name it, the kinds of stuff you might find in outdoor markets in sub-Saharan Africa and in the warehouse of your local Goodwill Outlet store.
Thrift stores are, in part, from where Heeseop Yoon —  born and raised in Seoul, South Korea — drew her inspiration.
And as you move among this work, you might get the feeling that you're floating among mountains of junk hanging upside down, in an upside down Japanese landscape painting made of junk, in mountains of trash linked across seas and continents.
You might also find yourself inspired by this artist using simple materials to expound poetically and profoundly on complex ideas.
- Dan Grossman
2. Athena Shrugged Remix at Long-Sharp Gallery
Dec. 1, 6 p.m. - 9 p.m.  This gallery on the ground floor of the Conrad Hotel has recently been doing some great things. I'm thinking of the exhibit of Nelson Mandela's artwork in September, 2016 and their more recent exhibit of works by Andy Warhol.
In Athena Shrugged, eight female artists are featured, including Cagney King, Constance Scopelitis, and the ArtPrize-winning Anila Quayyum Agha.
Dan Grossman
3. The Beatles Cartoon Art Show featuring Ron Campbell at Art Bank
Dec. 1,. 3 p.m. - 7 p.m. Now retired, Ron Campbell visits cities all across the country and now paints the characters he once drew on storyboards over his 50-year-long career on his canvases. And those characters include, Scooby Doo, the Smurfs, The Flintstones, Beetle Bailey, The Jetsons, and the Beatles -  in an animated series and in the animated feature film Yellow Submarine. He will be at the Art Bank in Indianapolis from Dec. 1 - Dec. 3. During the exhibit, he will also create new paintings — Beatles pop art paintings — at the Art Bank. 
"People still love all of the cartoons we made in the '70s and the '80s and the '90s," Campbell told me on Nov. 26. "The Smurfs and Rugrats. Scooby Doo, Jetsons and The Flintstones. Everybody still loves all those films and they are still making money for the owners. They're still being transmitted.  And here I am totally retired… I've been retired since 2008 and I'm approaching 80 years old and I'm doing paintings based on the cartoons that I helped make. And people are buying my paintings. I'm travelling around the country putting a three or four-day show on and people come in and love to look at the paintings and sometimes they buy them."
After checking out the work of Ron Campbell, you can check out the work of the 30 artists who display their work in the historical Art Bank bank building, complete with a vault.  
- Dan Grossman
4. Emerald City Artist Reception at the Harrison Center for the Arts
Dec. 1., 6 p.m. - 9 p.m. Now in its 16th year, Harrison Center for the Arts is presenting their biggest group show of the year, Emerald City, a color-themed show along with an artist reception. The show itself features more than 60 local artists who, for the show, emphasized emerald and every other shade of green to make their work come together as one. After the reception, the 36 artists-in-residence at the Harrison Center will have their studios open to the public. Also check out Nathan Foxton's plein air paintings of Soldiers and Sailors Monument in The Monument Project. And don't forget the Indieana Handicraft Exchange's Winter Market, with dozens of vendors displaying their locally crafted works, also located at the Harrison Center.  
- Breanna Cooper
5. First Friday Night Market at Tube Factory artspace
Dec. 1, 6 p.m. - 2 a.m. Come here to check out what's going on at Tube Factory including the Night Market with its local artists, musicians and food trucks, including the featured exhibits at Listen Hear and the exhibition Keeper of my Mother's Dreams by Lashawnda Crowe Storm and Maria E. Hamilton.  And when you've had your fill don't forget to pay a visit to the Garfield Park Arts Center's Student, Faculty and Staff Exhibition.  
- Dan Grossman
6. Pandemonium: Mayhem and Debauchery at Pioneer (21+)
Dec. 1, 5 p.m. - 2 p.m. In Fountain Square, Pioneer is offering a night of electronic dance music and various DJs to keep the party going throughout the night. The free event features dancing, art and beats made by artists such as DJ Coppertop and DJ Bad Faerie. Also, check out the art they have on the walls. Every month they have work by local artists on the wall so check that out too.
- Breanna Cooper
7. Simple Gifts at Full Circle Nine Gallery, Circle City Industrial Complex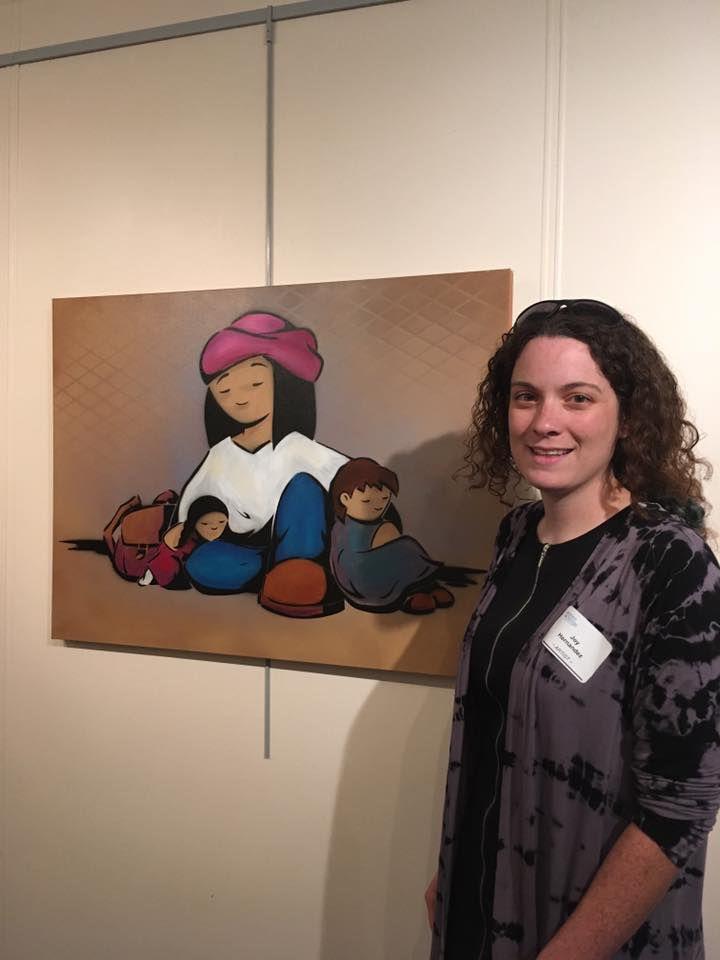 December 1, 6 - 9 p.m., Full Circle Nine Gallery will be offering art on a budget in the hopes of helping local artists sell their work, and helping more people get art into their homes. From 6:00-9:00 p.m., the free group show will feature minimalistic works and pieces relating to the Shaker song "Simple Gifts."
(And while you're at the Circle City Industrial Complex, don't forget to check out some of the 60 art businesses and artists showing their work at the venue.)  
The interpretation of the term minimalist was up to the individual artists participating in the event. Joy Hernandez, artist and former president of the now disbanded Indianapolis Dealers and Artists Association (IDADA), changed her technique a bit to get the minimal effect.
"For me, personally, it was actually kind of challenging. I'm not entirely sure if I achieved minimalism. I probably didn't," Hernandez said. "I do a stencil and aerosol technique, so my brain went to just doing less on the stenciling, but that felt cheap. So I kept adding little touches until I was happy with it, and it probably doesn't read minimal at all. But, the other half of it was the "Simple Gifts" part, the title taken from the old Shaker song, so some of the artists approached it as making their regular art in gift form, something a little scaled down and simpler than what they regularly do."
- Breanna Cooper
8. 10th West Gallery and Stutz Starry Night Artist Holiday Open House at the Stutz Business & Arts Center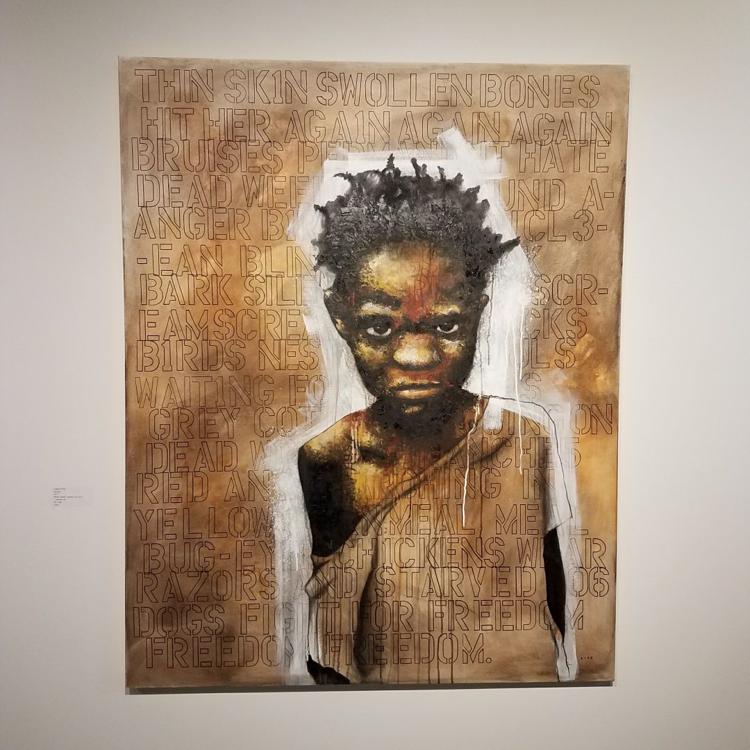 Dec. 1., 5 p.m. - 9 p.m.  10th West Gallery is the newest addition to the Indy gallery scene. Its soft opening occurred last month, but now their renovations are completed. With both a permanent of artists including Constance Scopelitis, Philip Campbell, and Susan Brewer —  as well as a plan for rotating exhibitions —  this is a gallery well worth checking out on Friday before you check out the main event Friday night at the Stutz:
And that is Stutz Starry Night Holiday Open House: Jewelry, furniture, paintings, sculptures and more will be for sale, with more than 40 Stutz artists opening their studios for the public. Accompanied by holiday music and refreshments, visitors can take their time exploring the 400-square foot building, built in 1911 and houses classic and collectible cars, along with the art.
As a condensed version of their Stutz Artist Open House that takes place every April, this annual holiday event gives guests the opportunity to meet the artists, see the spaces that they create their work and possibly start their holiday gift-shopping.
Director Cathi Wineland hopes that this event will inspire guests to incorporate local art not only in their gift-giving, but in their own lives.
"It would be wonderful if people appreciated the local art and things that were created by artists right here in Central Indiana for their homes and offices," Wineland said. "It is something different than what they would find at a retailer or something that's massed produced. This art is truly unique, and that's what makes it special."
- Breanna Cooper
9. Tiny VI: Celebrating the Work of Vonnegut at Gallery 924
Dec 1, 6 p.m - 9 p.m.  During the yearlong celebration of The Year of Vonnegut, the Arts Council of Indianapolis is celebrating the life and works of Hoosier author Kurt Vonnegut with Tiny VI: Celebrating the Work of Vonnegut. The exhibit at Gallery 924 will feature work inspired by the stories of Vonnegut, and is up to the artist to decide how subtle or obvious that inspiration may be. The gallery is free to the public and will be available through Dec. 14.
- Breanna Cooper
10. Sergio Sanchez Santamaria at Circle South Gallery
Dec 1, 6 p.m. - 9 p.m.  From La Sardina Facebook page:  "Sergio Sanchez Santamaria was born in Tlayacapan, Morelos, Mexico in 1976. He received his Fine Arts degree from the National School of Painting, Sculpture, and Engraving in and the Esmeralda National Arts Centre in Mexico City. As an artist, he works primarily in the field of relief printmaking, and is one of the most renowned teachers of this medium. Santamaria is especially known for his exquisite bookplates."
Unnumbered bonus: In-Betweens and Subtleties at the Middlespace Gallery, Cat Head Press
Dec. 1, 6 p.m. - 9 p.m.  From the Cat Head Press website: "Come check out artwork by artist, Lisa Wicka. Lisa received her MFA in printmaking from Purdue University and is currently an Assistant Professor of Art at University of Wisconsin-Marinette. Her work has shown both nationally and internationally in New York, Chicago, Toronto, Mexico and Edinburgh, and Sweden. "In betweens and Sublteties" will be in the Middle Space Gallery November 10th-December 1st. Closing reception on December 1st 6-9pm, drinks provided by Ash and El."