You might not be thinking of the Patient Protection and Affordable Care Act (aka Obamacare) as you're driving past the sculpture entitled "Herron Arch 1"— with its curves of sturdy aluminum and painted geometric forms — by James Wille Faust. The sculpture, which embodies much of Faust's signature style, stands in front of the Herron School of Art & Design, Faust's alma mater.
But maybe you are thinking about healthcare in general. Within a mile radius of this sculpture are Eskenazi Hospital, the IU Melvin & Bren Simon Cancer Center, IU Health University Hospital and the VA Medical Center. The list goes on.
If you're heading to a hospital for treatment, or to see someone who's sick, you might not even notice this sculpture.
Because it's hard to appreciate art, let alone make art, if you are sick, or someone you love is sick. It's also hard if you know that a sickness will devastate your family financially. And if you're a self-employed artist — even if you're as successful as someone like James Wille Faust — you will likely be crushed financially if you don't have health insurance and you get severely ill. And health insurance is not easy thing to deal with if you're self-employed, as many artists are.
But if there's one time this year to think about health insurance, it should be now, because we are currently in the open enrollment period for the Affordable Care Act (ACA), which lasts until Dec. 15, 2017.
Over 600,000 people across the country have signed up under the ACA during the first week of open enrollment.
You can get coverage if you don't have it. Or change plans if you need to. 
And you don't have to be in this alone. You can go to HealthCare.Gov and shop for a plan. There are also health insurance navigators who can help you free of charge. In fact, if you go to the Indiana Department of Insurance website, you'll find a whole list of healthcare navigators (more about that later). In addition, we'll have some more information in the form of lists, links, charts, graphs and stories about artists trying to navigate through the healthcare system. You might even be able to find a plan for less than you expected, or find that you qualify for the Healthy Indiana Plan.
Full disclosure: We at NUVO want to get you as much good information as possible in part because the Trump Administration has been acting in bad faith in regard to the ACA (more about that later too) and causing a lot of confusion.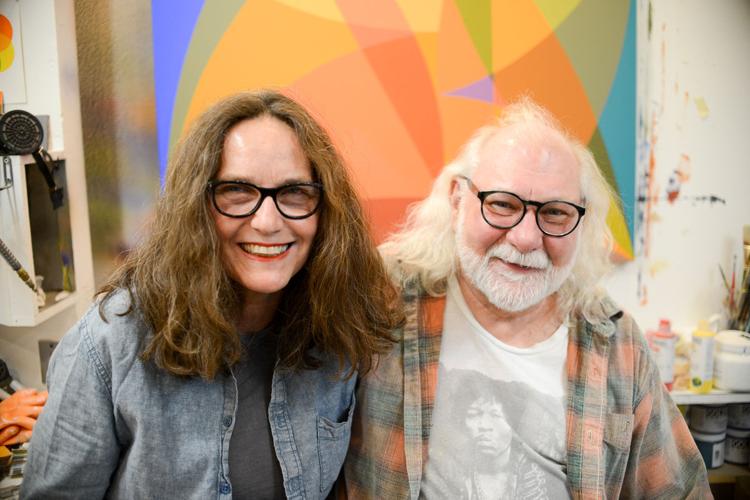 But for now, let's get back to James Wille Faust, who goes by Wille, because if you've seen his work around town, you might assume that a highly renowned artist such as him wouldn't have ever had any trouble accessing health insurance.
Actually, it's hard really to think of Wille as self-employed, because usually his wife and artist-manager, Martha, is by his side, making necessary arrangements. That's where she was in the kitchen of their log cabin house in a secluded stretch of land on Indy's far Northside as we talked about their health care and insurance history.
Martha and Wille moved back to Indianapolis in 1974 after a stint at the University of Illinois, Champaign-Urbana where Wille received a MFA in painting. Since 1981, Martha has been running the business end of things for Wille.
After a short stint teaching at Herron in 1978, Wille decided he wanted to create art full time.
Martha recalled what she said to him at this point.
"'Here's the deal,' she recalled telling him. "'As long as we can pay our bills and we have healthcare insurance, you can do this. Otherwise, you have to go back to work. Really, our goal was to keep Wille painting.
"So I took a job for a psychiatrist for 10 years to get insurance for us, so we were covered. That job ended in 1990. So from 1990 to 2009 through a broker we obtained Golden Rule insurance. When the annual insurance premium increased to $32,713.92, with a high deductible we could no longer afford coverage."
They didn't have success in getting their insurance premiums down on their joint insurance plan throughout this period, but it wasn't through a lack of trying.
In 2005 in an attempt to lower their premiums, they talked to to a representative of another health insurance company, Anthem, in order to bring their rates down.
"She came back a few weeks later and said," Martha said. "You [Martha] have coverage, he cannot have coverage."
Wille couldn't be offered a plan by this particular insurance company because, during the previous year, he had had an in situ melanoma removed from his skin that was stage 0. Melanoma was, according to Martha "the key word," that Anthem pointed to in denying him coverage.
"I thought it was my head," said Wille, about the denial of coverage. "It had nothing to do with that."
Wille was referring to a health crisis that manifested six years earlier. In 1999 he had a thalamic brain hemorrhage due to a congenital malformation in his brain. He had a two-year recovery.
"Luckily, I saved money and that kept us going," says Martha.
During this time, before the Affordable Care Act was passed, insurance companies were allowed to look back over an applicant's medical history. If an applicant had a preexisting condition within a given timeframe, they could be denied insurance. The hemorrhage, unlike the in situ melanoma, however, had occurred outside the window of the five-year look-back period so he couldn't be denied for that.
Faust experienced more minor periods of brain trauma from 2010 to 2011. It was a difficult time for the Fausts because that was during the time that they were locked in a dispute with the Indianapolis International Airport Authority. The airport wanted to remove Wille's site-specific "Chrysalis" installation from the bulkhead wall of the stairwell leading into the main waiting area. The sculptural work, installed in 2008, was intended as a formal gateway to the city of Indianapolis.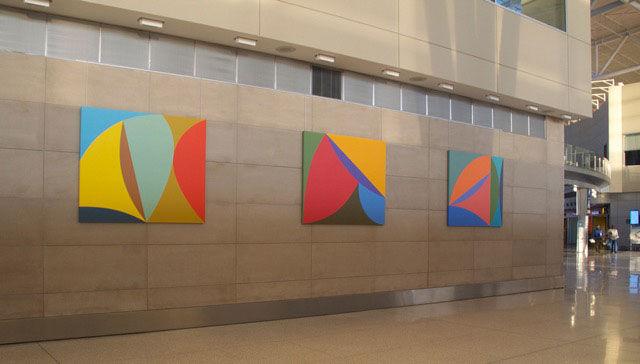 (While the installation was removed in late 2011, and replaced with a video wall, you can still see his "Wings in Flight" painting triptych on the wall of the IND waiting area.)
In order to do the public art project at the airport, the Fausts needed to start a limited liability corporation, which they did in 2006.
"I had incorporated Faust Art Studio LLC for the airport project," says Martha. "I did some research and I found out that although Wille had been denied insurance as an individual that the state requires health insurance companies to give companies insurance. That's how we got around it. We got our insurance through Faust Art Studio."
Paying health expenses with a high deductible plan took its toll. Wille needed to switch plans again because the premiums went up so high.
"Over the years, the cost of maintaining health insurance coverage put us into financial hardship," said Martha.
And during this period Faust experienced a 62-day period gap in health care coverage. He was finally able to get coverage, however, under the Indiana Comprehensive Health Insurance Association.
When the first Affordable Care Act (ACA) open enrollment rolled out in 2013, Wille was able to sign up for an Anthem Blue Cross Blue Shield bronze plan for 2014.
"It brought Wille's rate to less than half," said Martha, speaking of the plan she found for her husband under the ACA. "I am so grateful that [the ACA] happened and it needs to continue."
Subsequently, the Fausts both reached age 65, and went on Medicare, which means a whole different set of concerns.
A brief sketch of Indiana's ACA implementation
The ACA was signed into law on March 23, 2010 by Barack Obama, after a prolonged fight in Congress, with near-unanimous Republican opposition. It went into effect on January 1, 2014.
Among the law's many provisions, it disallowed denial of insurance coverage due to pre-existing conditions, whether your healthcare issue was stage zero melanoma, a thalamic brain hemorrhage, or something in between.
The ACA was derided as Obamacare by Obama's political enemies, but the administration eventually embraced that name. That might yet be the ACA's undoing, however, because Obama was succeeded by Trump, who gained political capital by questioning Obama's national origin.
The ACA made it possible for families making between 100 and 400 percent of the federal poverty level to receive tax subsidies, as well as putting in place a penalty that those choosing to go without insurance must pay. It also includes the following regulations: no longer could policyholders be dropped by their insurance companies when they get sick. No longer could preventative care, medical screenings and vaccinations be subject to co-payments, co-insurance or deductibles.
"The Affordable Care Act has brought quality, affordable coverage to millions of Americans, and put in place important consumer protections, such as guaranteeing coverage for individuals with pre-existing conditions," Congressman André Carson told NUVO. "Since the Affordable Care Act took effect, the uninsured rate has been cut almost in half, including through HIP 2.0.
"That is especially true for the millions of Americans who are self-employed or who work in nontraditional fields, where they don't receive job-based insurance," he continued. "Before the ACA, it was almost impossible for those in this growing sector of the economy to find affordable insurance that would protect them when they got sick. This key change has given millions of Americans the confidence they need to take risks and grow our economy, without the fear of becoming bankrupt when they get sick."
In 2017, 146,956 people in Indiana were enrolled in Marketplace coverage.  
ACA also included a Medicaid expansion which 20 governors throughout the United States rejected, meaning millions of low income people in these states continued to go uninsured.
Mike Pence, Indiana governor from 2013 to 2016 — now Vice-President under Donald Trump — chose a different route. Instead of rejecting Medicaid expansion out of hand, he applied for a waiver with the Obama Administration to try a revamped Healthy Indiana Plan (HIP), which had been first rolled out as a pilot program under the Mitch Daniels' administration as a high deductible health insurance plan that required monthly monetary contributions from its participants.
The revamped version, HIP 2.0, was fueled by the Obamacare Medicaid expansion. It required that covered individuals, couples, and families pay a limited monetary contribution to keep their optimum HIP Plus plan, a comprehensive plan that includes vision and dental coverage (ranging from $1 to $100 a month).
After coming to an agreement with the Obama Administration, HIP 2.0 was unveiled in Feb. 2015, allowing people between 100 and 138 percent of the federal poverty line to be covered by this plan. On Nov. 29, 2016, HIP's architect Seema Verma, was nominated by Donald Trump to serve as administrator for the Centers for Medicare and Medicaid Services and subsequently confirmed by the U.S. Senate. On her first day in office, Verma wrote the nation's governors and urged them to charge premiums and impose work requirements on Medicaid recipients.
In 2016, 412,700 Hoosier adults were covered under the ACA-funded Medicaid expansion.
Obamacare didn't work for everyone
Sofiya Inger's installation "What Lies Within" incorporates a wide variety of media — including fabric, beads, feathers and mirrors. In looking at this work, that takes up nearly the entire lobby wall of the Eastgate Still Waters Adult Day Center, you just might imagine yourself immersed in the water with many mirror-coated fishes. It might make you think of a Chagall painting you once saw, or a storybook you were read as a child.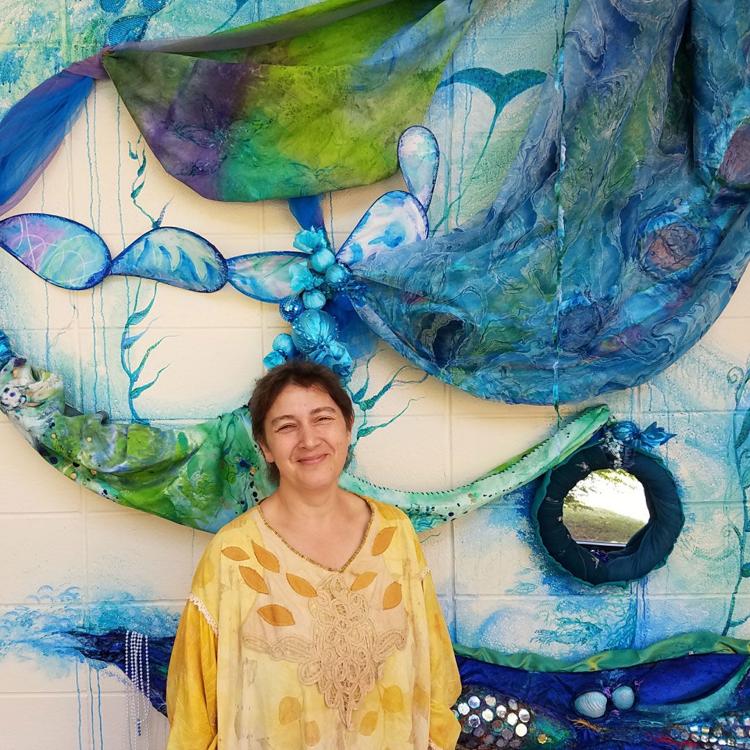 Inger was on hand Sept. 21, 2017 to dedicate the installation, which incorporated the paintings of her art students at the Adult Day Center, and was funded by the National Endowment for the Arts.
The full impact of her work, with its soothing effect, is not necessarily measurable in bar graphs and data points, but some researchers have nevertheless undertaken that attempt.
That is to say, such works that are part and parcel of the arts' overall $440.5 million annual economic impact in Indianapolis, which generate over $47 million in tax revenue annually for the city and the state, according to the Americans for the Arts Art & Prosperity 5 Study.
Inger, 57, came to the U.S. in 1991. She was born in Kirov, in Northern Russia. She has displayed her work in numerous venues and taught at the Indianapolis Art Center, where she won the Skip McKinney Faculty Award in 2011.
Inger, who lives in Indianapolis with her husband, is an artist who has clearly had an impact on the city. And she is uninsured. She earns too much to qualify for HIP 2.0 and she wasn't able to afford the policies available under the ACA.
Inger had left her job with a company that provided health insurance in 2004.
"It was a huge step and it was very scary," said Inger. "But we just jumped in because I wanted to do things that I wanted to do. I wanted to do art… So we found an individual plan for just the two of us. We don't have any dependent children. My children are grown and they're on their own, just my husband and I. And we don't have any pre-existing conditions... It was fairly high deductible, higher than you would get from the insurance you would get from the employer. We had affordable monthly payments and we had preventive care [through] Anthem."
 Inger said that she was hopeful about the advent of the ACA.
"We were happy and excited, especially when the president said; if you like your insurance plan, you can keep it. This was the phrase that sold us."
But things didn't work out as they hoped. 
"So our plan changed immediately [under the ACA]... about 30 percent increase and then almost twice more than we were paying," she said.
She and her husband wound up having to drop the coverage.
"I know many people that Obamacare worked really well for; it's people with low income, people who have young kids," she said. "I wish them well and in every situation I understand there's no pleasing everybody. Somebody wins, somebody loses; we lost.
"And over the years, when I see this situation with health insurance… my feeling is that the people that are most creative, most energetic, most wanting to change their own life, to have something for themselves, to advance their lives, they get punished for that."
As far as her healthcare now, Inger goes to the doctor and negotiates.
"I think more doctor's offices are doing that now. And we know people who negotiate with us; we have payment plans if we need to. If something horrible happens, we're screwed... We have nothing, no safety net. I'm just happy that my kids have health insurance but that's all that we got out of it."
Shannon Linker, Vice-President of the Arts Council of Indianapolis and Director of Gallery 924, has some thoughts on Inger's dilemma. She's seen many artists in similar situations.
"The idea of the self-employed, that's the issue," she says. "That's the thing that gives artists the freedom and creativity to do what they need to do but it also is a huge risk. And that's why they need support for sure because not everybody can take that risk. We need people doing that."
Navigating around the Trumpian Tweet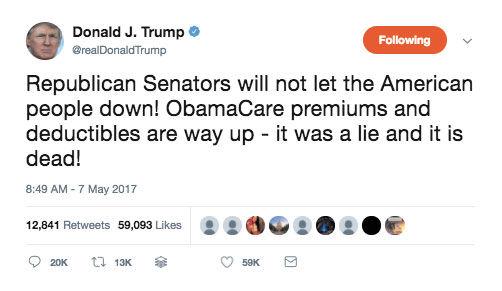 Between deceitful tweets like the one above and the Trump Administration's Oct. 12, 2017 announcement that it would end cost-sharing reductions to insurance companies (CSRs) — which did not put an end to the ACA — it's no wonder why Susan Jo Thomas, Executive Director of Covering Kids & Families in Indiana, is fearful.
"What I'm seeing now that scares me to death is all of the misinformation," Thomas says. "Because it hit the news last week that the president did away with CSRs, that's the only thing that people heard, that that was taken away. And what they don't know is that it really doesn't affect them.
"CSRs really only affect the insurance companies and the rates were already set before the president did that. So today when they log into HealthCare.Gov and it says that they're actually getting more premium tax credits than they've ever had, they don't trust it, because in their mind all they heard is that the CSRs have been eliminated."
That is to say, if Trump intended to make plans under the ACA less affordable, in this instance, he did exactly the opposite.
"He instituted something that was already a legislative initiative and it affected the insurance company's price, not individuals like you and me in the marketplace," she said. "And by doing that, by taking away that extra money that they gave insurance companies, all they did was inflate the amount of money that the individual gets as a premium tax credit.
"So there's literally people that are logging on today, let's say, looking to see if they should change plans because it might be a little cheaper. Or in Indiana two of the insurance companies have pulled out of the market so they're changing to another program and it's going to cost them less. And they're going to get good insurance….and they can't trust it."
Julia Holloway, Director of Program Development and Navigator Services at ASPIN Health Navigator, has some examples of insurance options and premium price points on the tip of her tongue.
"If you meet with a navigator, there's a lot [available in terms of] affordability. So I'm assuming someone who's like 200 percent of poverty [level] which is about $24,000 [a year], a silver plan is going to cost you over $100 a month; a bronze plan might be under $100. People might not be aware that it's not a one size fits all. Different plans have different deductibles and premium amounts. As navigators we talk to people about what their healthcare needs are and then show them the array of plans that might be available."
And, at this point you might be asking: What are navigators, NUVO?
Both Holloway and Thomas are directors of organizations that employ navigators. These are experts that you can talk to by phone or in person — for free — and can assist you with the process of applying for health insurance. (They receive no commissions for their work and are not allowed to recommend one plan over the other.)
Perhaps you're in Sofiya Inger's situation, and you have not been able to afford ACA payments in the past and are currently doing without. You have nothing to lose by clicking on "Indiana Navigators" on in.gov/idoi to find a list of them— but you should do it soon because demand is high. 
The navigators are facing challenges in this first year of the Trump Administration. Federal funding for navigator programs is down 82 percent compared to last year in Indiana. And federal funding for advertising said programs is the state is down 90 percent. The enrollment period this year, from Nov. 1 - Dec. 15, 2017, was cut in half compared to last year.
The resulting strain in the system might in fact be why the Commissioner of the Indiana Department of Insurance (IDOI) declined to talk to NUVO for this story. (This is speculation on the author's part.) Their website, however, is an excellent resource with a list of navigators available in Indiana, and it's worth paying attention to the details – seeing which navigators work in what county, for example –  to find the closest navigator to you.
If there's debate about the effectiveness of the ACA in the media — stirred up by Ayn Rand acolytes, Trumpian birthers, pizza chain moguls and Fox News hosts alike — there doesn't seem to be any at ASPIN Health Navigator, if Holloway is indeed representative of opinion at the organization she heads.

 "People come in with stories of having insurance now," says Holloway. "Our uninsured rate is down in Indiana and people come in and call us and they get insurance and they call us back and they tell us about a surgery that they've had or cancer treatment; or they've been diagnosed now with diabetes and they're getting their medicine and they're feeling so much better. So it's really changed people's lives."
At present, Indiana lowest uninsured rate that the state has ever enjoyed, according to Thomas.
"It's not just because of the ACA but since the ACA," she said. "This is literally the first time ever we've seen the number of children and kids uninsured; this is the lowest we've ever seen it. We've seen a huge dent in the adult population, as well. And some of that is because people are signed up through the marketplace; they're getting insurance.
"There's a huge demand, pent-up demand from all the people excluded from the market because they had pre-existing conditions; who were just plain, too risky for insurance companies; they got priced out of the market and now they are definitely enrolled and staying enrolled. And the HIP 2.0 is a savior that has been a wonderful program for this state."
And Thomas has praise for the way the Medicaid expansion rolled out in Indiana.
"This was a new experimental way of doing things," she said. "Other states hadn't done it. They were really taking a chance that this idea [Medicaid expansion] would work and it saved several of our rural hospitals. There are many of them that were literally going under because of uncompensated care. Half the people who came in their emergency department didn't have insurance. Now those hospitals are doing a whole lot better and becoming more stable."
And now Seema Verma, the architect of the HIP plan that is serving as a model for Medicaid expansion in other states, is part of the administration that seems hell-bent on killing it, along with the rest of the ACA.
On the other hand, it could be that the Centers for Medicare and Medicaid Services under Verma will model a national health care policy incorporating aspects of HIP 2.0. But that might require that Trump's actions not sabotage the insurance markets beyond repair.
"Trump is coming in and he is clearly, intentionally sabotaging the act because he couldn't kill it legislatively," said Sheila Kennedy, professor in the School of Public and Environmental Affairs (SPEA) at IUPUI. "Going back, really, into the Bush Administration, and more in the Obama Administration and now Trump, because Congress has been essentially not there because the government is just not working, more and more policy is being made via executive order.
"I don't think that changes to the ACA should be made. I think that it's clearly improper to attempt to do by the back door which Trump is doing that which congress was unable to do legislatively. … What this administration has been trying to do is make up for the fecklessness of Congress by issuing all of these orders."
Back at James Wille Faust's alma mater
On the night of Thursday, Nov. 9, across the IUPUI campus from SPEA, adjunct instructor Ginny Taylor Rosner asked her Practical Concerns for Studio Artists class at Herron School of Art & Design for a show of hands. She asked the 30-some odd students in the class how many were covered under their parents' health insurance plans.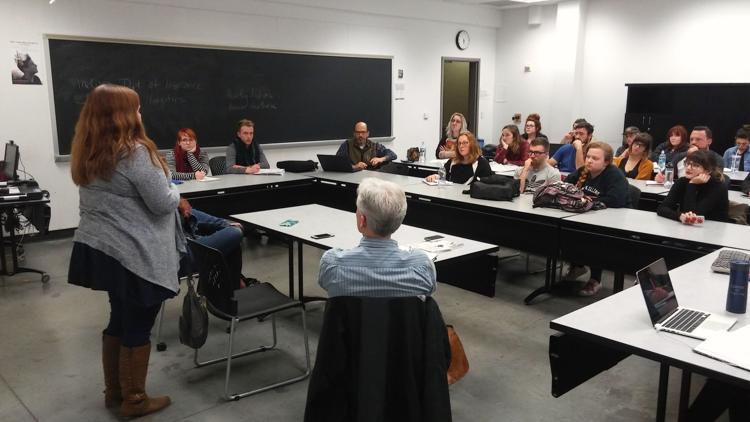 More than half raised their hands.
Under the Affordable Care Act, these students can keep their plans until they're 26-years-old — thanks to Obamacare. Whether or not they will be able to purchase affordable healthcare once they turn 26, is an open question.
Ginny Taylor Rosner's area of expertise is photography. The 49-year-old considers herself lucky. For 10 years, from the ages of 18 to 28, she went without health insurance, and without going to the doctor.
Once she married, and got on her husband's plan, she went to the doctor.
It turned out that there were concerns that need to be addressed. "From 28 to 49, I had eight surgeries," she says.
Her class deals with all sorts of business-related concepts.
"It could be their resumé, or their artist statement, but it could be also talking about pricing their work," she says. "How to do personal finances so they can make their work; getting a job. The idea of how do you plan for the future, especially the unexpected; things that happen in the future; how do you look at the big picture in your life when you're a young person, considering the fact that you have this goal of wanting to make work your whole life. Then planning for the unexpected is going to be really important for you to have those conversations and health care is one of them."
On that night, one of the seniors taking the class, Sara Robinson, 35, talked a little about her healthcare history with NUVO. 
"In December of last year, I had lost my job, so I qualified for food stamps," she said. "Because of that, I was enrolled in HIP, which had been super-difficult to get into HIP previous to that and it only cost me like a dollar because I didn't have a job.
"And then I found out in the summer that I had type 1 diabetes. So now, I'm terrified about what's going to happen with my insurance because my income has changed."
One of the guest lecturers addressing the class that night was Emily Schwank, who owns her own photography business, Raincliffs Photography.  While Schwank's five children are covered under the Hoosier Healthwise plan (a.k.a. Indiana Medicaid), both Schwank and her husband are doing without healthcare coverage for the time being. Like Sofiya Inger, Schwank had found the ACA plans cost-prohibitive in the past and has looked around to see what else is available. For her that's the Martindale-Brightwood Clinic.
"For me to go [to Martindale-Brightwood] I have to call that morning, and see if they can get me in," she said.  "So it's not like a traditional doctor's office where you could make your appointment in advance. You kind of have to be like, 'Hi, I'm here for my follow-up, and they're like, 'Okay we can get you in at this time, and if I don't call before 7:45 in the morning I won't get in,' " she said.
But Schwank and her husband are planning taking advantage of open enrollment this time around. Because free clinics, and emergency rooms, can only go so far with dread diseases like cancer, or rehabilitative care after a car crash.
"We are looking at all of our options," she says.
Winners and losers
So there you have it, an open enrollment roundup from an arts editor's point of view. I suppose it will surprise no one when I say that we at NUVO see the ACA as a good faith attempt to solve the nation's healthcare problems, and Trump's attempt to crush it as a spiteful political act.
Like previous large-scale reforms to the American medical system, Medicare and Medicaid, the ACA is not perfect. "Don't let the perfect be the enemy of the good," Obama was wont to say. It was meant to be tweaked. But that requires a Congress that doesn't continually cater to the most radical parts of its party and a President that can ignore the fact that a highly significant piece of American legislation will always have a Black man's name attached to it.
The ACA's basic premise is that you deserve decent healthcare, whether you live in a trailer park or Trump Tower. We agree.