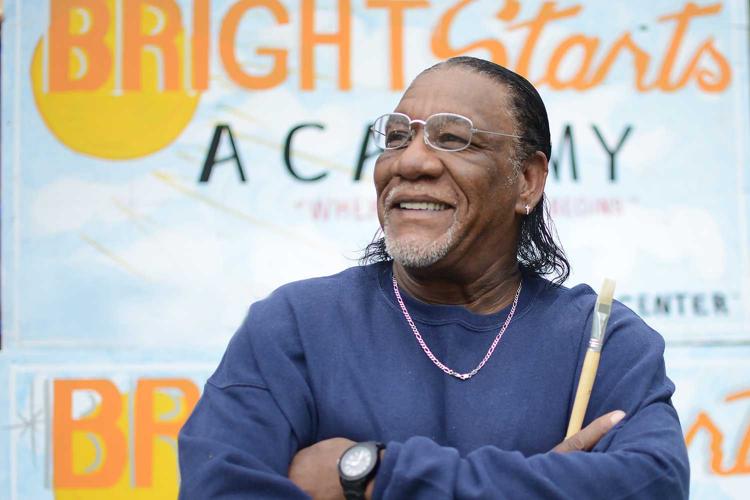 It was sometime in the 1990s when I first took notice of a large window sign in a storefront on College Avenue advertising a mysterious institution named the 38th Street Men Club. 
The sign was full of character, transposing contemporary hand-painted lettering over graphic elements from a vintage commercially manufactured sign. Perhaps what most intrigued me about the sign was the fact that the 38th Street Men Club wasn't even close to 38th Street. It was just off 18th and College, in a building currently occupied by Kountry Kitchen. 
I'd later understand that these fantastic eccentricities were the hallmarks of a Brush Master sign.
The 38th Street Men Club sign became a beloved landmark for me as I made routine trips up and down College Avenue — until a day came when the sign just  disappeared. You might find it odd, but I was extremely troubled by the change. I poked around in the building's back alley with a hope that I might save this treasured artifact of mine from winding up in a landfill somewhere. 
But no luck. The sign was nowhere to be found.
By this time, I'd started noticing other hand-painted storefronts along College Avenue that held a strong stylistic resemblance to the 38th Street Men Club sign. One of my favorites was Frog's Records at 30th and College. The elaborate assemblage of hand-painted signage at Frog's advertised a bizarre combination of items, including "hot rapp," nachos and pantyhose.
I started venturing down the side roads off College, hoping to find more of these wonderful hand-painted creations. I wasn't disappointed. I found dozens of similar pieces covering block after block of city streets. As I began to take a closer look at these unique storefronts and signs, I noticed some of the pieces were tagged with the signature J. Travis, and some also included the rather grand-sounding title of Brush Master.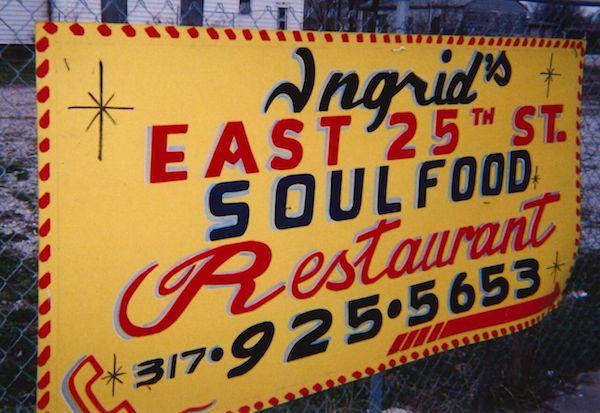 The Brush Master … something about the name ignited my imagination. I began searching for more of his work, and I widened my circle of investigation. I spent many weekend afternoons roaming the streets of Indianapolis neighborhoods like Haughville and Martindale-Brightwood, searching for the work of the Brush Master. 
It was during one of these investigative treks that I spotted a familiar sign. It was the 38th Street Men Club sign, now propped against the wall of a small building near the intersection of 16th and MLK. For a second, I contemplated taking off with the sign. But I knew my conscience wouldn't approve ... and, aside from that, it was far too big to stash in my trunk.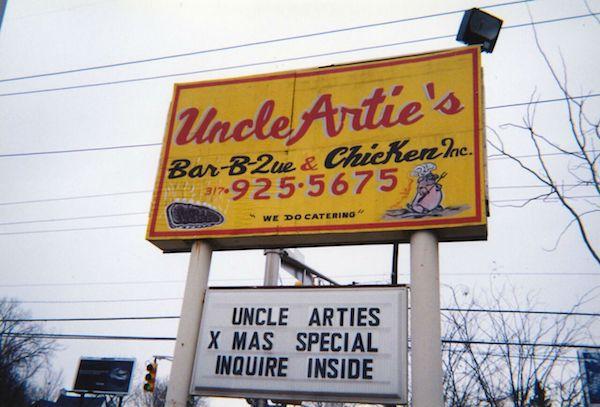 So, I decided to buy a cheap, disposable camera and begin my documentation of the Brush Master's work.
Many of the photos included in this story are from that original collection of snapshots I took sometime around the year 2000. Sadly, most of these businesses are now gone. You'll notice many of the trademark elements of a Brush Master design in these photos: the creative use of available space, curiously positioned punctuation marks, and most importantly, an artistic approach that is far more ornate and decorative than simple function would require. 
This story represents a nearly 20-year desire I've held to get to know the Brush Master and see his work acquire the recognition it deserves. I learned a lot from the Brush Master during our recent two-hour conversation, including the fact that his friends call him Mississippi. I also learned that painting helped him escape the harsh work of cotton farming back home in Mound Bayou, Mississippi.
At the height of his activity in the early 2000s, Mississippi's artwork covered an enormous span of the Indianapolis cityscape. For me, Mississippi's once-omnipresent hand-painted signs are an important component of the visual aesthetic of Indianapolis. His hand-painted signs represent a dying tradition in a world increasingly dominated by technology and the generic corporate design of chain stores and franchises. 
Mississippi's work is threatened by the ever-expanding intrusion of gentrification in Downtown Indianapolis, a reminder that we need to protect our cultural assets. 
I'll let Mississippi tell the rest of the story.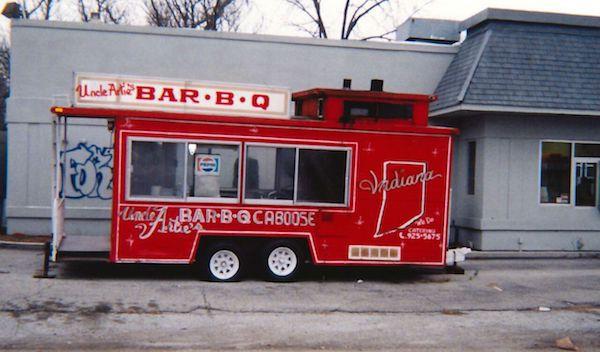 Kyle: I remember the first time we talked, you told me you grew up on a cotton farm in Mississippi. You grew up with quite a few brothers and sisters, I can't remember exactly how many you told me you had.
Mississippi: There was about 20 of us. My dad, he was a mechanic. He did all kinds of odd jobs on cars and tractors. My mom, she helped out people in different houses. She wound up working in a cafeteria at a school. She was in the fields too, at first. But then she helped clean different people's houses. We sharecropped, and they had us picking and chopping cotton and different stuff on a plantation. 
I was always drawn into Frog's Record Mart by the elaborate signage surrounding the exterior of the building. The hand-painted signs advertised an amusingly diverse variety of items from hot rapp [sic]" to "nachos and pantyhose."
Kyle: And this was in Sunflower, Mississippi, correct?
Mississippi: Well, I was born in Sunflower. It was Sunflower County, the town was called Drew, Mississippi. We finally moved from Drew, to Jackson, then my father passed in 1967 and we moved back to Mound Bayou, Mississippi. That was in the Delta. They've got some of the richest land in the world in the Delta. You can grow just about anything.
But yeah, I was picking and chopping cotton. I figured I wasn't no real good cotton picker. [laughs] But I believe my sisters and brothers was stealing my cotton. I would put my sack down and pick my cotton and lay it in the middle of the rows. I'd put my cotton down, and when I'd come back and get my sack to put my cotton in, half of my cotton was gone! I believe my sisters and brothers was stealing it! For real. Because their sacks was always heavy. And all this was before school in the morning.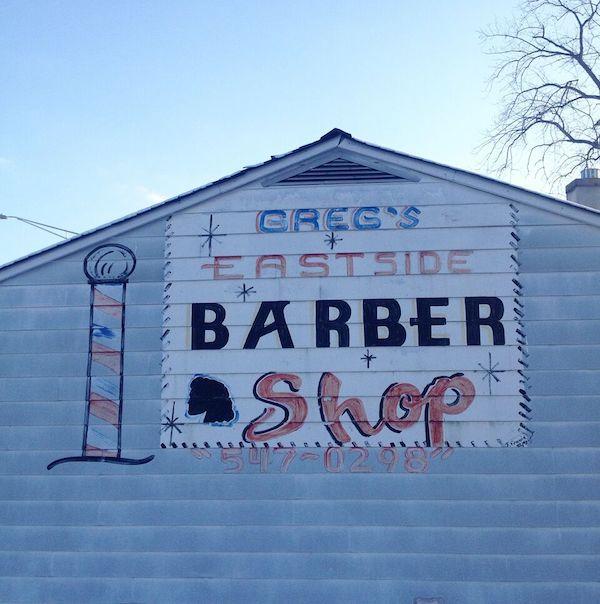 Kyle: This was during the 1960s?
Mississippi: Yeah, because I was born in 1959. We was still chopping and picking cotton. When my mom finally saved up enough money, we moved off the plantation, and my mom built a house up toward town. 
But then we'd still be chopping cotton. They had this truck that used to come through at about four in the morning. You'd sign up, and they'd pick certain people up in this big flatbed truck. Everybody would hold on, and it'd be cold. We'd ride to different fields they had about 20 miles away. Then, we'd go chop cotton all day. The thing is, the people who picked us up, they was the ones who was really making the money. When they'd take us to all these places miles away; we wouldn't come back until late that night. But then you got to eat, so they had food during lunchtime. They would bring the food out there and sell it to us, and we'd pay for it in the evening. The food was expensive.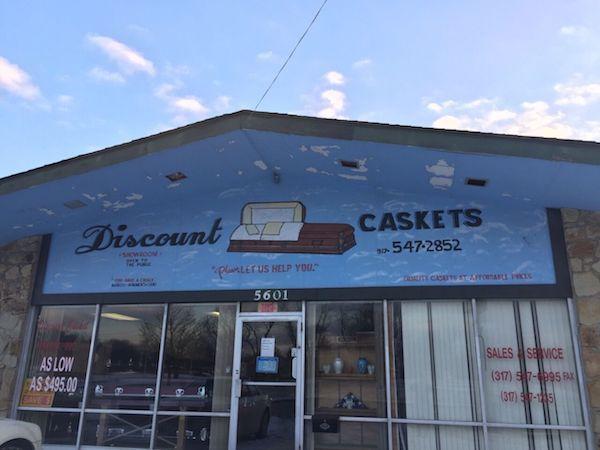 Kyle: The system was designed to keep you permanently in debt.
Mississippi: Yeah, and when we was still living on the plantation, every Christmas my mom had to pay up. Because we was living in their house. Every year they'd say, "Well Miss Travis, you almost made it. But you still owe us for this and this." They had a little tally book. My mom stayed under that for years and years.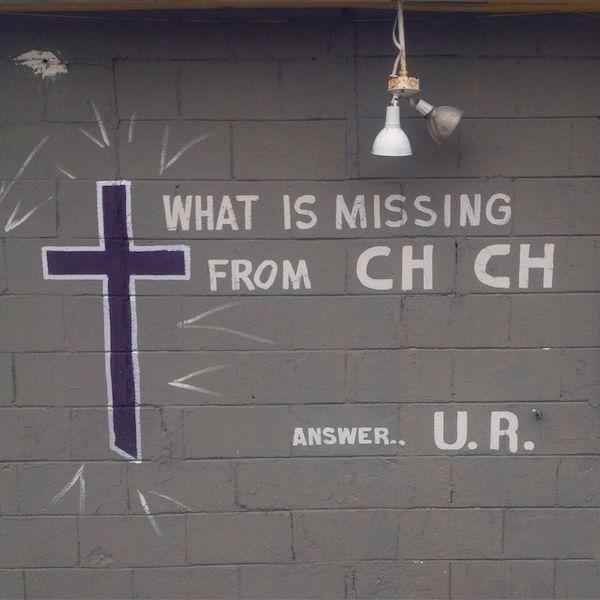 Kyle: Were you interested in art or drawing as a chid? 
Mississippi: Yeah, that was my pastime. My other brothers and sisters, they was bigger then me, so they was into they own thing. So, I was mostly around my mom. My mother used to draw and sketch and stuff. She got kinda old and couldn't do it, so she'd call me over there and she'd say, "Hold this pencil." I'd be holding on to the top of her hand, and she'd be drawing stuff. I didn't know why she was doing it, but I got interested in it. Then I developed and developed, and she'd say, "OK, now I want you to draw this." And I would do it.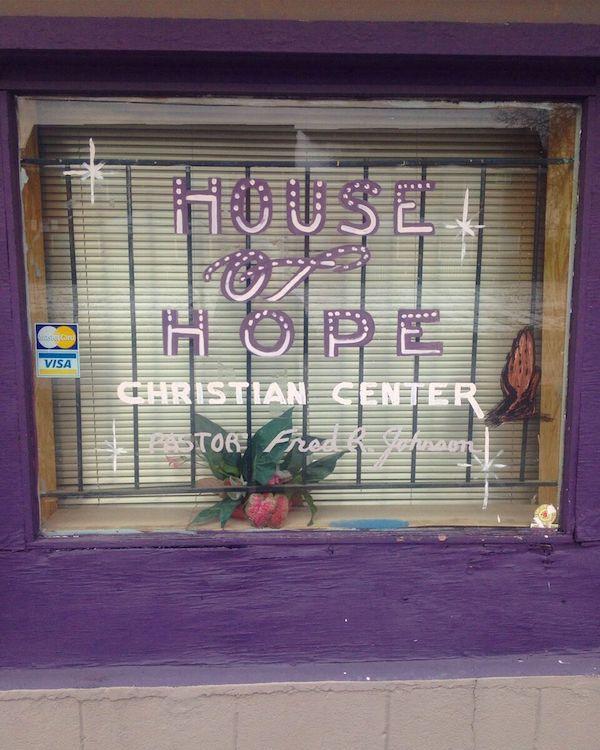 Kyle: What kind of things did your mom like to draw? 
Mississippi: My mom did different characters, and she did stuff for the church. You know, like the different eras they speak of in the Bible? She would draw that out for the church. The church was a little raggedy old church, but mom had it looking good. She would sew stuff up, and decorate.
Then, the people in school, during that time they didn't have copiers and printers like they do now. They had this machine that you'd put ditto fluid in, and you'd turn it by hand. Or they'd use carbon paper, and I'd have to draw little things for the tests they'd make for the students in the high school. I was just in 5th or 6th grade, and I was doing the high school work. Then when I finally got in junior high, they kept failing me, because they didn't want me to leave out of the school just so I could keep doing the carbon paper copies.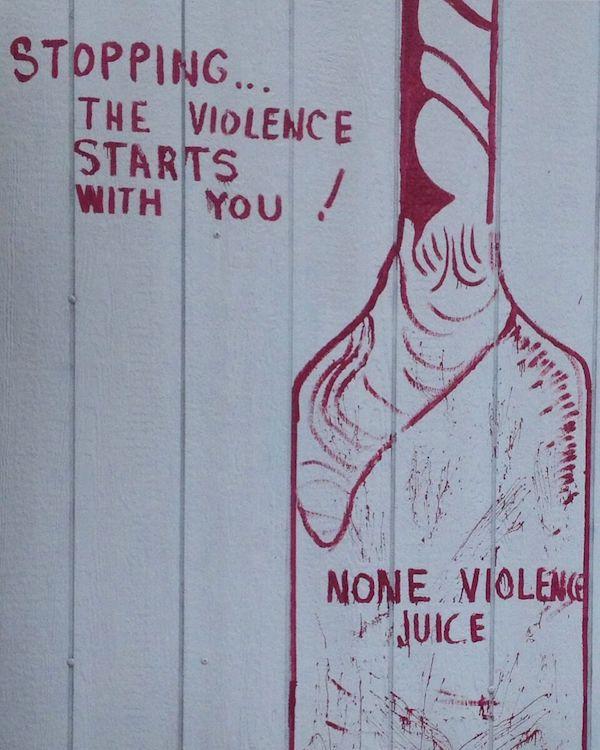 Kyle: So the school administration noticed you had artistic talent and they put you to work? 
Mississippi: Yeah, I would go to class, but I was mostly in the office. And they would hold me back, just so they could keep me doing that. When I got up to the point I could almost get out of school, it was pretty much the same. So I thought, "I'm gonna get up outta here." I left. 
I used to go 10 miles away when I'd save money up. I'd go buy paint brushes from Sherwin-Williams. They were the only ones that had the brushes I liked. They were camel hair brushes. They were expensive in Mississippi. They was really expensive. Now that I'm here, I can buy all kinds of brushes for little or nothing. But back then, I would hitchhike to Cleveland, Mississippi. I don't know if anybody has ever heard of that, but it's 10 miles south of Mound Bayou. I would hitchhike there, and I walk around to different businesses and ask the people if they wanted their car washed, or their trash picked up, just to make money to buy brushes and paint. I was successful at that because I'd always talk. I'd get to talking to them and they'd always let me work.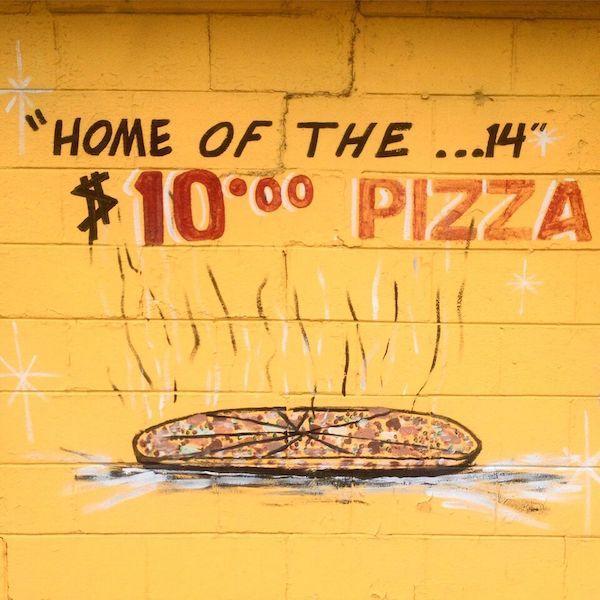 Kyle: Were you already painting signs as a teenager? 
Mississippi: I would get little jobs at different businesses in Cleveland and Mound Bayou. I would just go out and paint to make the town look better. Mound Bayou was an all-Black town; it was one of the only all-Black towns in the United States. I would go around town just painting stuff, trying to make it look better and then people would start asking, "Hey, can you do this?" They wasn't paying much, they didn't have a whole lot of money. But they had little restaurants and stuff like that. 
Kyle: How old were you at that time? 
Mississippi: About 14 or 15 then. Then when I was about 16, I started hitchhiking out of town. I'd be walking along the road with my paint bag filled with brushes and stuff. I'd go to Greenville, Mississippi. That was 60-some miles away. I would go to Shelby. I got hitchhiking to [the point where] the people driving knew who I was, "Where you going today?" I'm like, "Where you going?" They were driving truck, and 18-wheelers. White people and Black people. They knew me by waking along the highway, hitchhiking with my paint bag. My paint bag had gotten to the point where it weighed up to 85 or 90 pounds. They'd pick me up and I'd go to different cities.
At first, I didn't have no money. I'd go hitchhike there, and if I didn't get no money I'd have to hitchhike back. Most times, I'd get something to paint. After a while hitchhiking, I'd go out as far as St. Louis without a dime in my pocket. I'd go out and paint and then I would have money.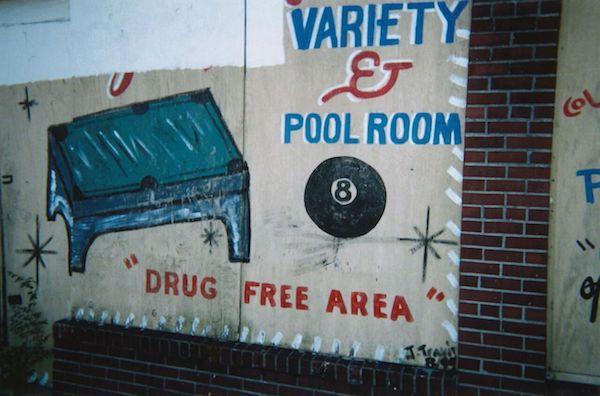 I remember one time, I was in a white city, I can't remember the name, and I had painted all that day. They had paid me, but I couldn't leave. So I was trying to get a hotel room, but I was too young, so I had to embellish a little. I said, "My dad is in the car and he told me to get a room. He'll be right on in, he had to go fix a flat." I give them the money and they gave me a room in the back. I went on in the room, and the guy came in later that night saying, "Where's your daddy?" I said, "I guess he's still getting that flat fixed." [laughs] So they found out I was alone. And this guy, he was a pretty good white guy. He saw I had my paint bag open, and he said, "You know what? I got this sign I want you to do." It started from that sign, and then I started painting and painting every day. I stayed there about two weeks. When I left he had gave me 150 dollars. So I was happy and headed back home. I just hitchhiked all around. I hitchhiked to Chicago.
Kyle: You were still a teenager at this point? 
Mississippi: By then I was like 17 or 18. I was painting in Chicago, and I'd been painting a lot. I decided to go to New York. I painted a lot of places. I've painted in 42 states. I've gone from city to city painting, and the Lord has worked it all out for me. Because he's kept me. It's got to be him, it ain't me. Because I can mess some things up. [laughs] So I know it's got to be him that's watching for me. I never had no problem with people. I guess I was a people person. I talk to them, and laugh and joke with them, and whatever else. I guess they thought I was just part of their clique. I've done that in several cities.
I've been flown places to paint. I've been flown to Cleveland, Ohio to paint, and Atlanta. I painted a portrait of a family inside their swimming pool. Believe it or not, painting took me to two countries without a passport. I guess painting is a universal language.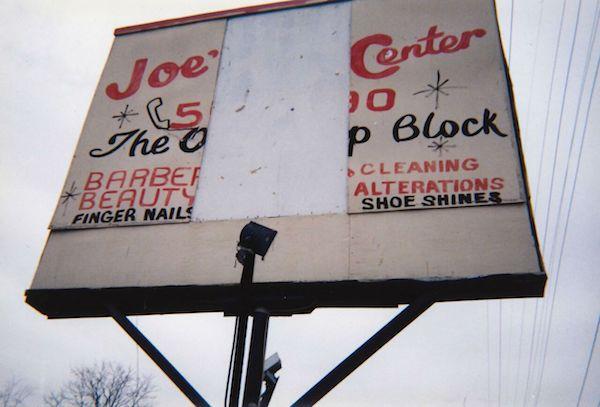 Kyle: So, what brought you to Indianapolis? 
Mississippi: The way I got here was my mother was coming to visit my sister. My sister was here working, training people to drive the city buses. My mom was coming to visit her, and she was like, "You want to come and go with me?" I think at that time she saw I was headed the wrong way in life, so she took me with her. I remember it was July 3 when we got here, and I had a great time. I thought Indianapolis looked like a country town. I saw trees, and it was woody. There wasn't no hustle and bustle and big buildings. I liked it. 
So after we went back to Mound Bayou, I hitchhiked back up to Chicago. My brother James was living there, and I kept telling him about Indianapolis. He said, "It's only a hundred and some miles from here. One day I'll take you back over there." I was drinking at that time. I wasn't doing nothing but drinking and painting. I was drinking up all the money I made. My brother got tired of that. He said, "Come on, let's go to Indianapolis." He brought me over here to my sister's house. He dropped me off and said, "All right, I'll be right back." But he went straight back to Chicago and left me here. [laughs] So, I stayed. 
The first job I got here was painting signs for a car lot. Then I found these people that owned a place called The Bluebird, and I painted all up in there. Then I just started spreading out.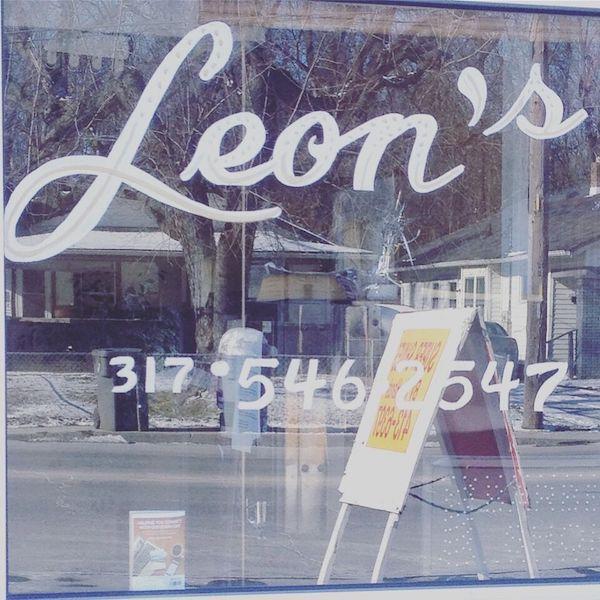 Kyle: By the early 2000s, your work was covering almost entire city blocks in Indianapolis. I remember driving down areas of East 16th Street, or Keystone Avenue and storefront after storefront featured your work. During this period of time, your artwork was a major aesthetic component of Indianapolis, and really contributed toward defining what this city looked like. 
I wonder what that was like for you to drive around Indianapolis then and see your work covering this enormous span of the cityscape? That must've felt pretty good to know your work was respected and in demand. 
Mississippi: Yeah, it was surreal. But I'd see it and I'd be thinking about the next job. And see I didn't charge that much to do these jobs. I was just trying to make it by. I had two sisters here, but I never wanted to be a burden on them, so I wanted to do my own thing. But I just like making stuff pretty, you know, to make it look different and beautiful. 
Sometimes I'd do stuff just to make things look good for the city. They'd ask me to make a sign and I'd say, "Why don't you do this, and this too, and make it look good for the city." They'd say, "Well, how much is that gonna cost?" I'd say, "You just buy the paint. If you buy the paint, I'll just paint it." I'd just start painting a whole building and keep going.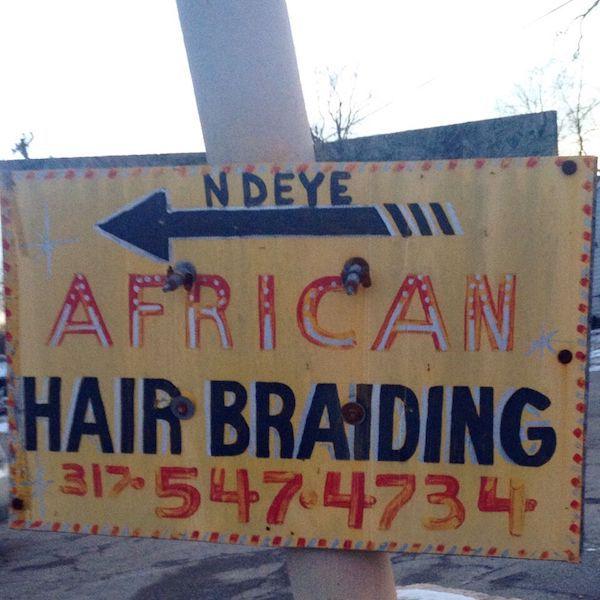 Kyle: I want to make sure I get this straight for the record, your name is Jasper Travis, but everybody calls you Mississippi. For a long time I thought your name was the Brush Master, because I saw that as a signature on some of the signs you painted. I'd go around asking people if they knew the Brush Master, and nobody knew who I was talking about. 
Mississippi: That's the name of the business! People here started calling me Mississippi, though. That's where I'm from, but they started calling me that because of the way that I cook. As a matter fact, a lot of people used to come in to Big Mama's Soul Food. I was working there and [if] they couldn't think of my name, they was like, "Is Mississippi here?"
Big Mama could cook. I went in there painting them a sign. I painted them a sign, and they were so busy the dishes were pilling up. So I just started washing dishes to help out. At the end of the day, they said, "Mama want to know if you can come back tomorrow?" I said, "Man, I need my money today for painting that sign." He said, "No, no, no, Mama wants you to come back and wash dishes." [laughs]
Big Mama's Soul Food, I did that for 18 and a half years. I cooked, and cooked, and cooked.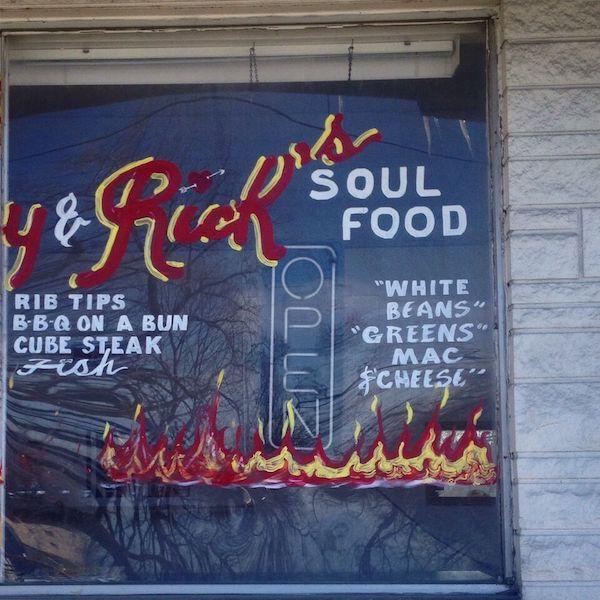 Kyle: I'm curious how much of your self-identity is derived from your work as a sign painter. I know you've done a lot of different jobs in your life. Do you feel like the sign painting is your main calling? Is that how you think people will remember you and your contribution to the world?
Mississippi: Yeah, and most of the time if I paint something it will be there for 10 or 20 years. Or there will at least be remnants of it for 10 or 20 years.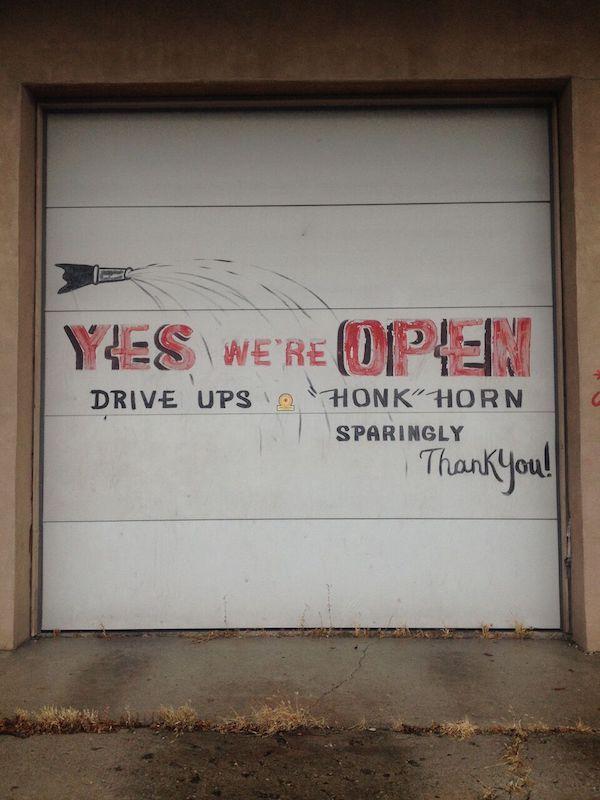 I remember there was this guy Carl Henry in Mississippi. I'd been painting on his cars. The Henrys used to like to race cars. He told me, "Man look, what you should do is paint for everybody the same." His name was Carl Henry and he told me to paint for everybody the same. He said, "You should paint like your handwriting. You should paint the way you actually write. That could become your trademark."
I thought, "Why would he tell me that?" Then I got to looking at some of my work and noticing how some of it was the same. So I started just painting the same. So when they said paint me a sign, I would just paint them a sign freehanded. I figured the signs had to have their own character. 
Kyle: When you think back on all your work, do you have a favorite piece that stands out in your mind? 
Mississippi: I like this one I did inside a church right off of 30th and Keystone. I did a picture of John baptizing Jesus inside the church. I like that one. 
As far as my favorite painting? I haven't painted it yet. I just want to keep on painting.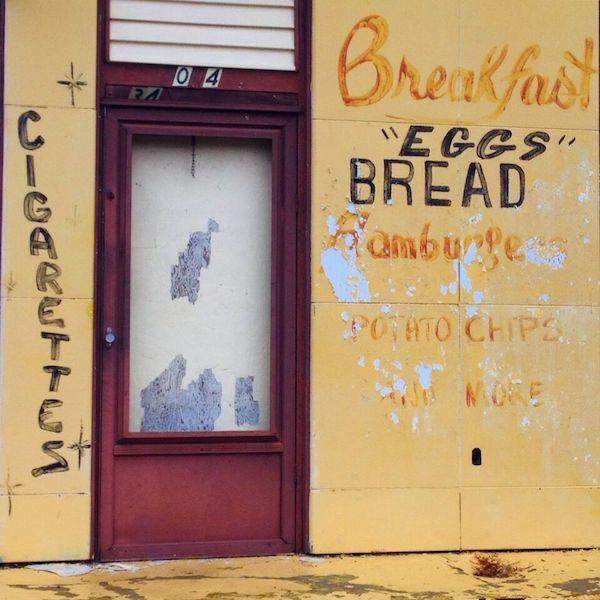 Kyle: You haven't painted it yet? Do you have a specific idea in mind? 
Mississippi: Well, I don't know. I just want to keep going. Maybe it will be somebody else's idea, and I'll just build on it. As long as it makes wherever I live at look good.
What I would really like to do is a big mural, just do a whole big wall. I'd like to do something like that Downtown. I want to create something that would say something to young people to steer them back on track. If you could go paint different messages in certain areas where the kids are having a hard time, you could put something positive on their minds. That would help the kids that are growing, if you put out positive stuff. I think if I could go around the city and paint positive messages, it would put something on people's minds. 
That would be my greatest achievement, if I could control atmospheres by painting.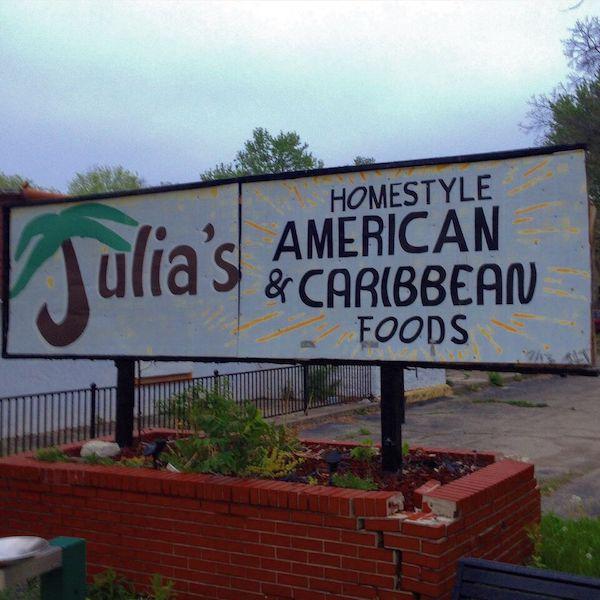 Kyle: As a sign painter, I'd say your biggest competitor is technology. These days it's fairly easy for a small business to purchase a printed sign, or an electronic sign. How do you compete with technology? 
Mississippi: The technology is good, and it's quick, and it's fast. But the machines don't have creativity. What I'm saying is that it still needs a human touch. Here's the thing about those signs that machines do; they're all straight, there's no abnormalities. But it ain't original.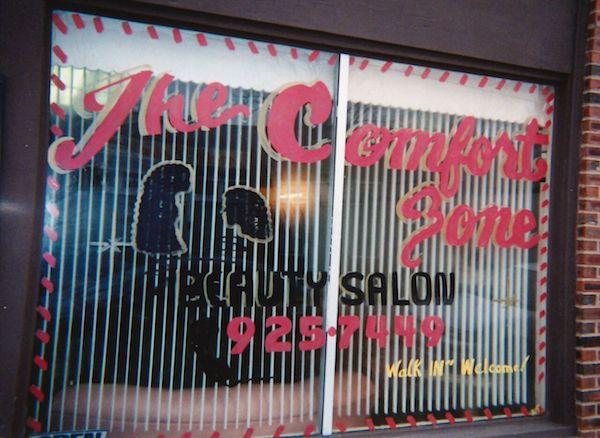 Kyle: The signs you paint have soul. 
Mississippi: Yeah, and when I do a sign I try to make it look like it's been there all the time.  
Kyle: Do you think of yourself as a businessman, a craftsman, or an artist? 
Mississippi: I see it as a craft, for the work I do with the people. But as far as painting and drawing, that's an art for me. But some people treat it like this is my hobby. But this is what got me to meet them, and this is what got me to this city, and other cities. 
I'm gonna always paint in this city. I like it. I like this city. This city is beautiful.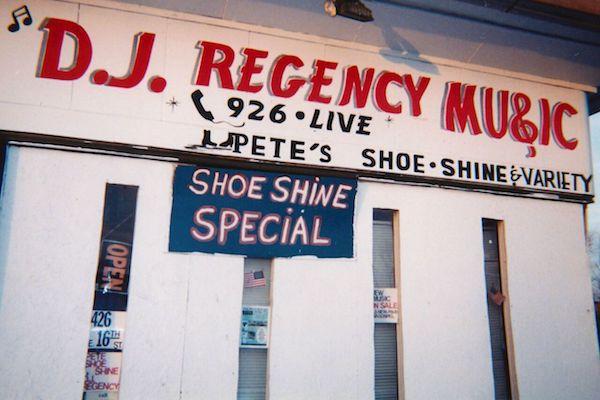 Kyle: Do you ever think about all the people who have been exposed to your work, and what it might mean to them? Did you ever think there might be someone like me, who'd go around and try to document all your work?
Mississippi: I was shocked when I saw all the pictures you had. 
I think about what people's initial first reaction is gonna be when they see it. I don't know whether it affects them or not, but at least I know when I put the signs up, I don't get chased around with shotguns and beat up. [laughs] I figure it must be a good thing if I didn't get beat up.
I do what I can to make my signs believable to the people I'm painting them for, so they could pay me my little chump change. Because I never charged a lot. That's what kept me working a lot. People right now don't want to pay for the work, and you're actually mostly just doing them favors.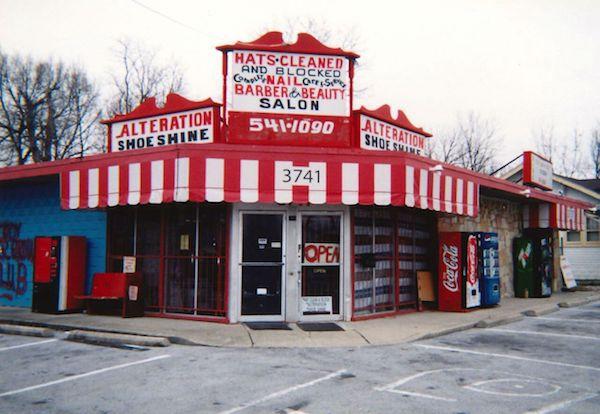 Kyle: When I started posting some of those pictures I'd taken of your work on social media, it stirred up quite a bit of interest in you. Would you believe me if I told you that Central Library in Downtown Indianapolis contacted me about arranging a show featuring your art? I've had people contacting me about everything from books, to a documentary about your work. Would you be surprised if I told you the interview we're doing right now is for a cover story about you in NUVO?
Mississippi: It's really surprising. It's very surprising. Because I was just mostly doing it to make things pretty. I was doing it to make things look pretty and nice, because I liked Indianapolis. When I got here it felt like the country, like where I grew up as a little boy. That's why I told you I'm gonna always paint here. I won't never stop painting here. 
Many thanks to Mississippi and his wife Brenda for their hospitality. Thanks to Karla Lopez-Owens, Jackie Kelly, and Mike Perkins for their help in making this story possible. In memory of my sister and mother, who were my co-conspirators while documenting many of these signs.