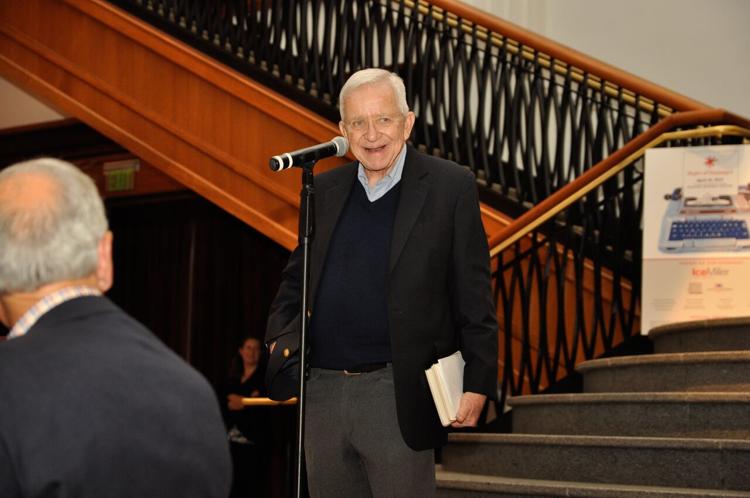 Although they were about 10 years apart in age, beloved Indiana authors Dan Wakefield and Kurt Vonnegut always had one shared passion that they just couldn't stop talking about.
 "Shortridge [High School] was always very important to Kurt, and it's always been important to me too," Wakefield reflects. "We used to talk about it a lot. In fact, after I met him the first time, several writer friends said, 'Oh, you met Vonnegut. Did you talk about writing?' And I said, 'No, we talked about Shortridge.'"
 With this in mind, Wakefield will be presenting $1,000 college scholarships to two Shortridge High School student writers at the 2018 Night of Vonnegut, being held on Thursday, April 12 at the Indiana Roof Ballroom. Presented by the Kurt Vonnegut Memorial Library, this year's Night of Vonnegut will also feature several other special guests and award presentations. John Berendt, a friend of Kurt Vonnegut and author of Midnight in the Garden of Good and Evil and The City of Falling Angels, will be giving this year's keynote address, and Indiana native Kate Lamont will treat guests to a musical performance, among other festivities.
A former sports columnist with Shortridge High School's newspaper (The Daily Echo), Wakefield didn't meet Vonnegut until the two were far removed from their teenage days. "I met him in 1963 when he was living on the Cape," Wakefield remembers. "I was on a Neiman Fellowship at Harvard for a year, and a mutual friend introduced us and had us both to dinner." From this point on, the two Shortridge High School grads kept in touch.
 "I wouldn't describe myself as a close friend—I was just a friend," Wakefield says. "Whenever I was in New York, I had lunch or dinner with him. We wrote each other about our books. I got to know his son Mark. And then, Kurt introduced me to his daughter Edie, and I bought one of her paintings, which is still in my living room."
 When it comes to his own writing career, Wakefield is grateful for the support that Vonnegut gave him over the years. In particular, he pinpoints Vonnegut's review of Going All the Way in Life magazine as being something that especially gave him a boost. "I think of him as the godfather of my first novel, Going All the Way," Wakefield says. "I think he really helped make it a bestseller." After Vonnegut's passing decades later, Wakefield was able to return the favor, in a sense, when he wrote the introduction to Kurt Vonnegut: Letters.
"His son Mark is the literary executive of the Vonnegut estate; I think he was the one who suggested me doing the Letters book," Wakefield says. "And then, I got an official invitation to edit it and write an introduction from Kurt's longtime agent, lawyer, and friend, Don Farber. That's how that happened."
 Much like Shortridge High School, Vonnegut also embraced his Indiana roots. In regards to this, Wakefield references a classic quote from Vonnegut. "I trust my writing most, and others seem to trust it most when I sound most like a person from Indianapolis, which is what I am," Vonnegut once said. According to Wakefield, these words were something the late Indianapolis author really did live by.
"He also wrote about Lake Maxinkuckee and how swimming across Lake Maxinkuckee had been a big thing for him and influenced a lot of the ways he looks at things," Wakefield says. "He was very proud of his family."
Although his Indiana pride has never quite reached the extent of Vonnegut's, Wakefield still admits that the Hoosier state has shaped his career in certain ways. "I was never at Lake Maxinkuckee, but Going All the Way was set in Indiana, and the movie was filmed here," Wakefield says. "Also, another of my novels, Under the Apple Tree, is set during World War II with a kid growing up. That's really based on my own growing up in Broad Ripple."
But at the end of the day, the thing that Wakefield and Vonnegut would always return to was Shortridge High School. "I remember the last time I ever saw him, which was a year before he died," Wakefield says. "He had come to a talk that I gave in New York, and he had written a wonderful blurb comment for a book that I had written. We talked about Shortridge then." For this reason, Wakefield is especially excited to award the Shortridge High School students with their scholarships at this year's Night of Vonnegut.
"We went to Shortridge at different times, but we were both very proud of it and proud of the education we got there and the chance to work on a daily high school newspaper, which was very special," Wakefield concludes.