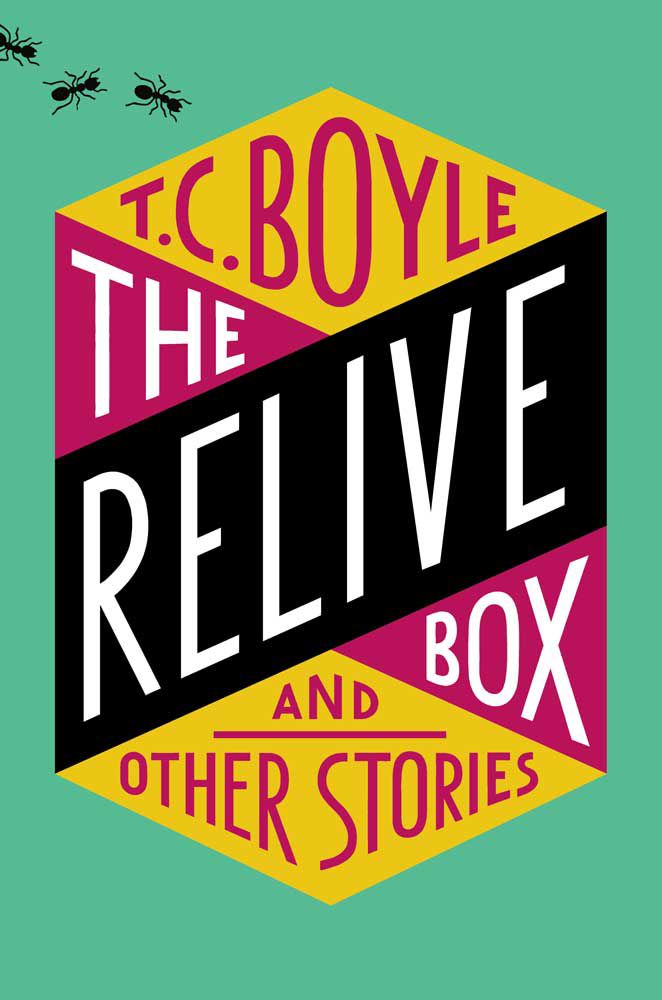 You're reading one of NUVO's Winter CityGuide top ten lists. Find all of our winter guide content here.
1// The Relive Box and Other Stories 
by T.C. Boyle
The title story in this 2017 story collection is about a box that can get you to relive your past experiences. And if you had enough of those in the bank, would you shop anywhere else? Would you let your career slide into oblivion? Yet, perhaps we're already in a similar boat already when it comes to our obsession with smartphones and other devices.Boyle's take in this story isn't entirely original (think moviewise Strange Days and Her) but his writing is so fucking good that you just don't care.The author paid a visit to the Schrott Center for the Arts on Nov. 14, and was the subject of a November NUVO cover story.
2 // Love and Greed in the Heartland: The Richmond Hill Murders
by Robert L. Snow and Russ McQuaid
In this book you will find detailed, methodical reporting and crystal clear writing about the explosion that literally shook the Richmond Hill Community in Southside Indianapolis, took two lives and injured others. It's a compelling read, shedding light on the crime itself, the twisted love affair behind it, and the slow but relentless wheels of the court system as they turn towards justice. Available at Bookmamas.
3 // Turtles All the Way Down
by John Green
John Green's writing has entranced thousands of adoring fans around the world, and two of his films have been made into motion pictures. While his books are classified as Young Adult, he has many adult readers as well. The author lives right here in Indianapolis, where many of his novels are set. (It would be cool to see his movies filmed here, rather than Pittsburgh, just sayin'.). Turtles All the Way Down, which was released in October, is also set in Indianapolis and chronicles a young woman with OCD, on the hunt for a fugitive billionaire.
4 // Indiana: Across the Land
by Lee Mandrell and DeeDee Niederhouse Mandrell
There's more than covered bridges in Indiana, but what would a coffee table book of panoramic Indiana photos be without some pics of covered bridges? The Mandrells not only capture images of covered bridges: they capture images of Indiana Dunes, Turkey Run State Park, and Abe Lincoln's homestead. They also go underground, capturing images of Squire Boone Caverns.They also capture images of small town Indiana, but they eschew the urban centers. But, hey, that's okay…. There's more to Indiana than Indianapolis.
 5 // Daylily Called it a Dangerous Moment
Poems by Alessandra Lynch
What becomes of poetry in the age of the Trumpian Tweet? Such tweets are almost a mockery of poetry, with their lies and accusatory statements in 280 characters or less. Consider that the writer of said tweets himself is on tape bragging of sexual assault, and has been repeatedly accused of it. Sexual assault is an issue that is addressed in Butler University instructor Alessandra Lynch's 2017 book of poems, buried deep in the stanzas. You will also find here dream imagery, darkened corridors, owls and — just perhaps — passages towards healing. These are not poems that reveal their meaning or their intentions easily, but their doors are not locked, as it were.
6 // Indiana Noble Sad Man of the Year
Poems by Steve Henn
Steve Henn is an Indiana high school teacher whose poems, written in his humorous, conversational style, are influenced by his work and his family life. (His young children contributed the artwork to this tome.) In his previous book, the humor occasionally turned to cynicism and overwhelmed compassion towards his subjects. In this book, however, he is still just as funny... but less jaded. The first poem in the collection, "The Dawning," ends with these lines: "This is what the world is coming to, I so much want/to believe in this, tell me this is where we start anew."
7 // Days for an Occasion: Poems 1978 - 2016
by Kit Andis
I've known Kit Andis for more than 20 years. But this Indy resident (who recently moved back into town after a stint in Tampa, FLA.) had hit his stride writing poetry long before. The dead-on precision of his writing might be the first thing you notice. The often raw subject matter will strike you too: "Guilty," recalls a childhood incident that took place on the creek bank that James Whitcomb christened "The Old Swimmin'- Hole." But uber-sentimental Riley fans might want to stay away from Andis's trip down memory lane, lest their jaws drop through the earth's crust, hitting China.
8 // Rare: The Memorabilia Collection of a Lifetime
by Tom Fontaine
Tom Fontaine's big bold book of memorabilia is a big beautiful book that will look bodacious on your coffee table. It's amazing to think that one guy collected so much stuff by so many music icons. It will inspire you to turn up the Jimi Hendrix, while browsing the pages thick with pics. The autographed items span the gamut from Elvis to Prince, from the Beatles to Annette Funicello. You'll see screenplays albums, booklets... as well as gobs of personal stories, and fun trivia (available on Amazon.) 
9 // Any book from Bookmamas
This Irvington bookstore — a great excuse to visit this funky Eastside community — sells both new and used books that specializes in both new and used books. (You can also check out Indy Vinyl which shares the Bookmamas space.) And if you want your giftee to have as much fun as you do browsing the shelves, buy them a Bookmamas gift certificate for Christmas.
10 // Any book from Indy Reads
This is a bookstore with a mission, to make Indianapolis 100 percent literate, as they say on their website, promoting and improving the literacy of Hoosiers. They've got a great selection of books, both new and used. They even have a rack of books where you can pay what you want and/or choose your own discount, call it what you will. They sell gift cards.