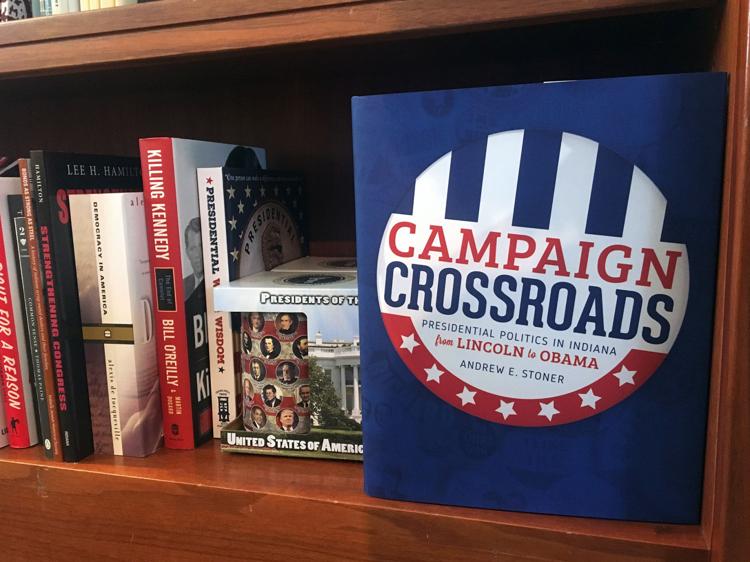 No audio book for this one: Campaign Crossroads must be read to be absorbed. With a state map by your side, the reader is oriented to the locations where presidential candidates pitched for votes, traveling to small towns and outposts via horseback and by train. Then, they ventured by plane with rallies at airports, then jetting in and motorcading to major cities. Technological advances changed the delivery and the rhetoric. In overview, issues circle back to essentials of economics, justice and opportunity.
Author Andrew E. Stoner brings us into a whirl of activity not found in standard history books and what he reveals elicits a range of reactions from, "Wow, I never knew that" to "I really should know this." Case in point: Ulysses S. Grant in the 1868 election was the first president elected carrying a minority of white votes. I learned why.
The election of 1880 sent me to my bookshelf and to the library to learn more about Benjamin Harrison and William English, and got me moving around Indianapolis to the sites connected with them. In 1880, Indiana Congressman and Civil War General Harrison stumped for Republican candidate William McKinley; English was the VP candidate on the Democratic ticket headed by Civil War General Winfield Scott Hancock. Harrison's presence continues along Delaware at 14th and 16th and at the IMA, with a stained glass window in his memory. English has lesser cognizance, but during the 19th century English was a major force. In a building named for him, he's still a major force for philanthropy.
And so it goes, with page after page of prompts to further pursue revelations about nine VP candidates from Indiana and hundreds of others vying for a Hoosier votes, in one-on-one at small gatherings, at rallies numbering in the ten thousands, on the pages of daily newspapers, on radio and via TV. What's been at stake for Hoosiers? Why are we a swing state everyone woos?
Here's an interview with author Andrew Stoner to whet your desire to make Campaign Crossroads your Summer 2017 book of choice:
Rita Kohn: What prompted this study of presidential electioneering in Indiana?
Andrew Stoner: I'm a native Hoosier and a political junkie from way back. When I was 13 years old, I was lucky to attend a speech by former President Gerald R. Ford in my hometown of Goshen, Indiana. I was just fascinated about the event and excited about how the community really came together to hear (in this case) our former President. I've been politically active for years, and I was lucky to get exposure to some of this also during my work in the administration of Governor Frank O'Bannon.
Rita: What were the particular surprises during researching? The challenges? 
Andrew: My biggest surprise was reading speeches by Presidents and candidates I didn't know much about, but came to appreciate through their words. Lyndon Johnson's words were often beautiful and poignant -- he had great speechwriters -- but he was not great at delivering speeches. It was an entirely new experience reading his speeches as opposed to listening to them. It's always hard to try and boil down a large speech into its essential points, but also to place it in the context of the time in which it is being offered. Presidents and Presidential candidates make so many speeches, and not all of them are important or interesting. That said, there are many instances where speeches in Indiana made headlines and were an important part of the political (and historic) discourse of the time.
Rita: Which of the hopefuls and candidates most endeared themselves as you delved into their campaigns?
Andrew: Indiana's own Benjamin Harrison was a particularly nice surprise -- such gentlemanly, kind and earnest words in his speeches. I found myself very taken by his grandfatherly manner. Robert F. Kennedy's words offered in the 1968 Indiana primary reflect that his heart was truly still on his sleeve -- he loved this country and its people and believed a government, a President could change things for the better. He did this just five years removed from terrible loss in his (and the nation's life), and it's remarkable to read his words, even confrontational ones, when speaking to voters.
Rita: You clearly show how advancing technologies changed the way candidates connect with the public and how the public views politicians. What should a reader be taking away from your presentation to become a more astute voter?
Andrew: I almost hesitate to say this in the current environment, but there is no substitute for speaking face-to-face or in person with our elected officials, or those who seek to be our leaders. Lately, it seems, town halls have sort of devolved into shouting matches, but I'm hopeful they will return to more dialogue. I have always believed people running for office and asking for my vote not only should ask for it, but explain to me why I should give it to them. The 2008 primary between Barack Obama and Hillary Clinton demonstrated that more ads, more TV appearances, more big rallies only gets you so far. Personal contact was needed -- and Obama's team, in particular, noted in Indiana that he ran rather "hot" on TV with massive audiences. As a result, he sought more "retail" or "in person" encounters in Indiana, and Hoosiers that spring were very lucky to have that contact.
Rita: A major factor in election outcomes has been low voter turnout. What do you advocate as a way to change that?
Andrew: The only solution I can think of, in Indiana, would be to have an earlier primary and hopefully, as a result, a more competitive primary. A competitive race in Indiana is a rare thing - and that carries over to the fall election as well. Having lived in a couple of purple states (Colorado and Wisconsin), you definitely notice the difference in the engagement of campaigns. I'm in a very blue state now (California) and like Indiana (a mostly red state), the Presidential campaigns don't seem inviting. I would also suggest, by the way, that certain forces (PACs, political parties, etc.) sometimes prefer a lower turnout in the belief they can better control the outcome. That's sad to think about, but if you think about the effect of negative advertising on so many voters (causing them to disengage or get disgusted and turn off), you wonder what could really change this. (I'm thinking if I REALLY had a good answer to your question, I'd be rich!!)
Rita: Please add anything else to lure NUVO readers to read Campaign Crossroads.
Andrew: I hope people will read the words of the men (and one woman) who have asked for your vote and through that identify what is important to them, and try and apply that going forward. History is a wonderful teacher. I'd also say, if you have that political or historical junkie in your family, or among your friends, they're gonna love this book as much as I loved writing it.