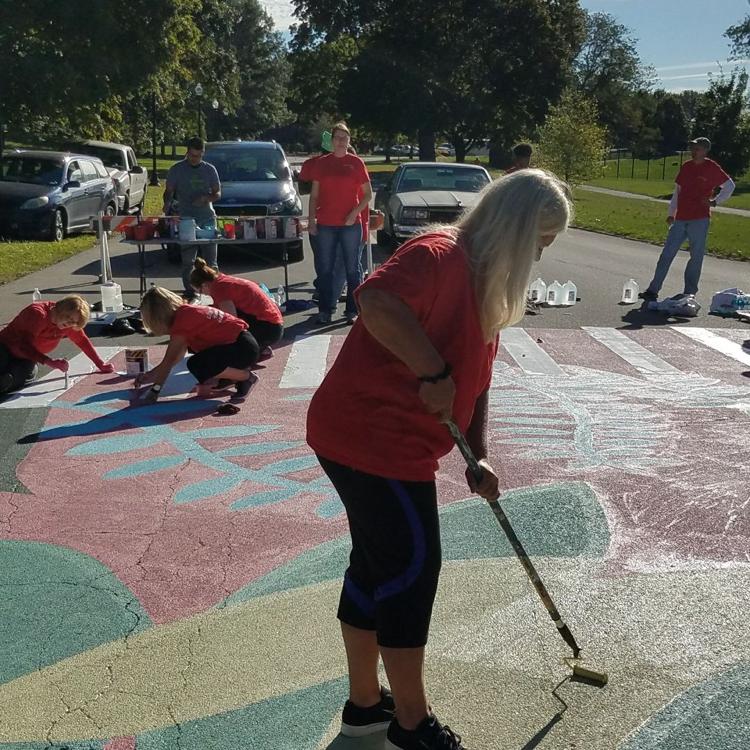 If you'll be around Garfield Park over the next couple of months, you'll notice five murals that were laid down in the morning of Thursday, Sept. 28. 
These murals weren't painted on walls though: they were painted on the street.
You might just slow down to check out the artwork.  And slowing down just might be the point, from a perspective of both enjoying artwork as well as safety.
It's part of a massive volunteer program organized for Indy Do Day by It's My City – and its many partners — raising awareness about the importance of taking care of the planet by drawing urban murals on the streets and elsewhere throughout Indianapolis, with chalk.
Or, per the It's My City website:
It's a city-wide civic initiative designed to give YOU a chance to make a visible difference in Indianapolis. Help raise awareness of the necessity of living in a clean, green, and beautiful city through art. 
Big Car Collective is one of the It's My City partners, and Big Car Collective Executive Director Jim Walker was on hand in Garfield park helping organize the street mural-making.
"A lot of [the murals] in the other part of the city are just chalk chalk," said Walker.  "But we decided as part of our Street Spark program to do these as street murals."
What this meant was various artists, paid for their services, laid down the outlines of the street murals in chalk.  Volunteers who worked for partner organizations, such as Eli Lilly, filled in between the lines of chalk with paint.
 Elsewhere in the city, volunteers were picking up trash, and creating a "30-mile-long PSA [public service announcement]" about environmental awareness.
Andrew Black, a senior community investment officer with the Central Indiana Community Foundation, was on hand volunteering.  The mural project that he was working on was actually a restoration project: last year Montreal-based artist Roadsworth painted a giant white squirrel on Garfield Drive. 
Black and his fellow volunteers were repainting it.
"It's really important to CICF that all of our neighborhoods, the residents in all of our neighborhoods have access to art, nature and beauty any given day and we feel like this project is a big part of that," he said.  "And we certainly value Garfield Park and the relationship that we have with this community".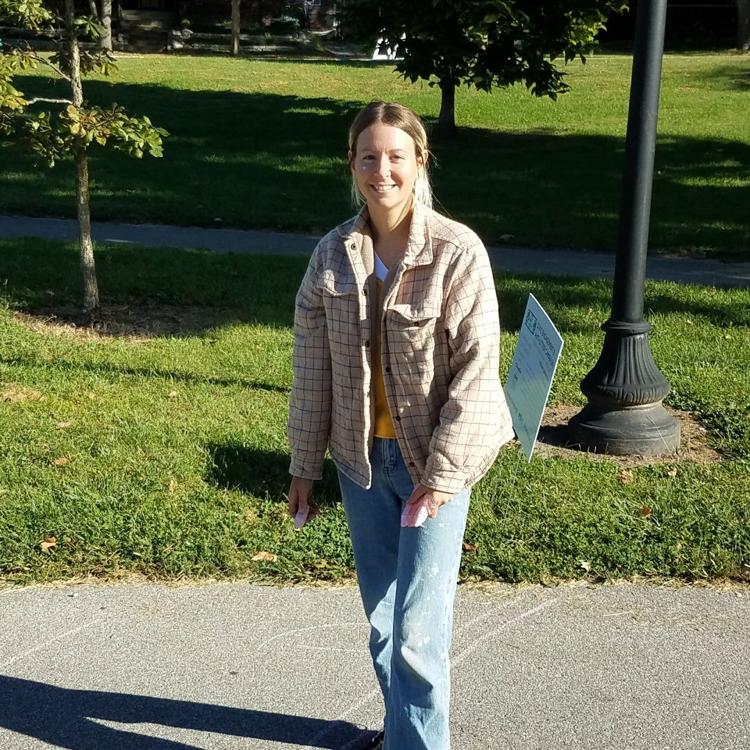 On Conservatory Drive, artist Emily Gable was on-hand drawing designs on Conservatory Drive that volunteers were filling her design with paint.  Like the other artists involved in this project, Gable lives in the community.  But she may be the only artist who lives on the street she was painting.
She described the design as a "shout out" to the Garfield Park Conservatory. 
"That place is an oasis for a lot of people who live here," she said.