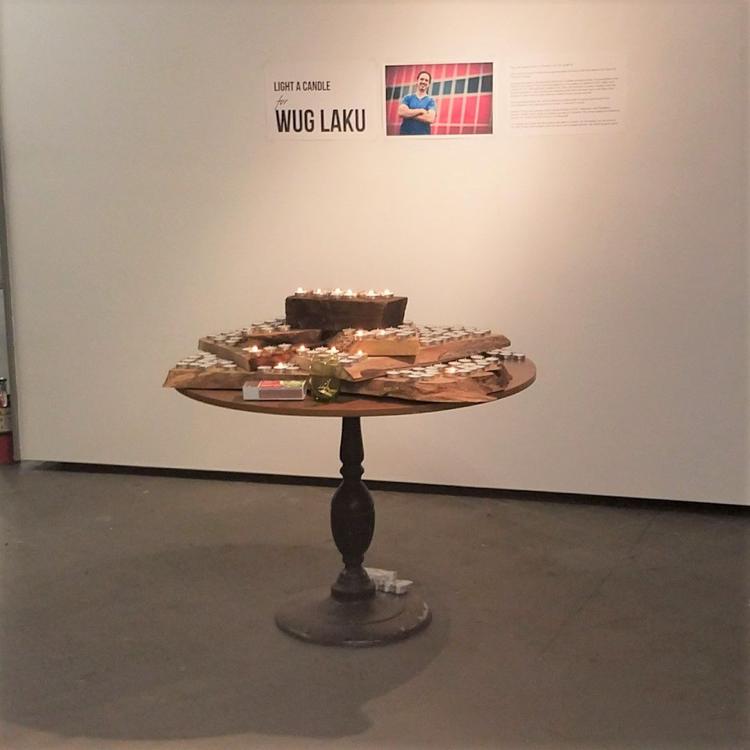 On First Friday, July 7, there was a subdued mood in much of the Circle City Industrial Complex as many artists there were still coming to terms with the loss of Wug Laku, who died on Thursday, June 29, at the age of 63.
From 2007 to 2013 he ran wUG LAKU's Studio & gARAGE, a gallery that gave many Indy artists their first solo show. Not only that, but his work and his presence were crucial to developing a critical mass of art makers (and patrons) that have turned CCIC into a major arts center in Indianapolis. But his influence even goes beyond that as we shall see.
CCIC is a vast facility that Schwitzer Corporation used to manufacture cars in the 1920's. During WWII, Cummins tested airplane engines in the facility. In the mid 2000s, a decade after the Schwitzer Corporation had folded, most of the building was vacant even though management had opened parts of the facility up to artists and other entrepreneurs.
Martha Nahrwold was one of the first artists to move in; her Five Season's Gallery is down the hall from the studio space that Wug used to occupy.  
"Dolphin Papers was first and then I came," said Carlson And then when Wug came he immediately joined IDADA (the Indianapolis Downtown Arts and Dealers Association).  So he immediately started having First Fridays here. And then he kept bringing in so many people who would just overflow into the hall. And then they would stay the late hours."
Katrina Murray, an artist with a studio/gallery on the second level, knew that she wanted to be part of it.  "I wanted to rent space, and I wanted to find something that I could afford," she said. I knew what he was doing was valuable to the art community and I just felt like i wanted to be here. So I started talking to him and I started helping him with the facebook page, doing stuff.  I was always here, he was always here, so I would always go downstairs and talk to him about what was going on, finding another artist, need to fill in a hole next month, who do you know? Oh, I know Marna Shopoff…."  
Shopoff's show Structured Essence, on Aug.8, 2012, was Indy's Introduction to her architecturally themed, spectacularly colorful, and mind-bending work that is a sometimes uneasy balance between representation and abstraction. Shopoff has gone on to achieve national renown, as well as representation with the Jonathan Ferrara Gallery out of New Orleans.  
Another artist who had his first solo show at Wug's is Joseph Crone, whose highly-detailed, film noiresque drawings captured the imagination of patrons at his show "Fragments," in December, 2011. But fellow artists admired him also for his technique, and his innovative use of media as he drew directly on film stock.
"My first show was with him, which put my work on the map," said Crone.  "I'm extremely grateful for everything he brought to the table and the relationships he laid the foundation for.  It's crazy to think he's no longer with us."  
Carla Knopp is an artist with a gallery/studio in CCIC's South Studios, known for her paintings of otherworldly landscapes, who currently is experimenting, and making new work, with a 3D printer.
"Wug was a presence," she said. "He would influence a gathering with his mix of enthusiasm, openness, humor, generosity, and authority.  Okay, the authority part was annoying when it came to his backseat driving instructions.  He was honest. He was kind.  He cared about others.  He love art, both his own and that of others. He was perhaps the most supportive person I've ever met."
Wug Laku's art spanned a wide range; he sometimes displayed his photography in small galleries, and he sold his lamps in his Studio & Garage.  One of his paintings, "Walking Forward." featured the rainbowish, abstracted figure of a man walking towards points unknown.  But according to the artists who spoke about him for this article, his priority during his time at the Studio & Garage was the welfare of his fellow artists.  
He had also been involved with many other artists' communities, galleries, and organizations before coming to CCIC including the Faris Building and Art IN Hand Gallery. He had worked a variety of positions at the Indianapolis Art Center.  His desire was to continue supporting artists after his passing, and, accordingly, a fund will be established in his name, administered by the Indianapolis Art Center.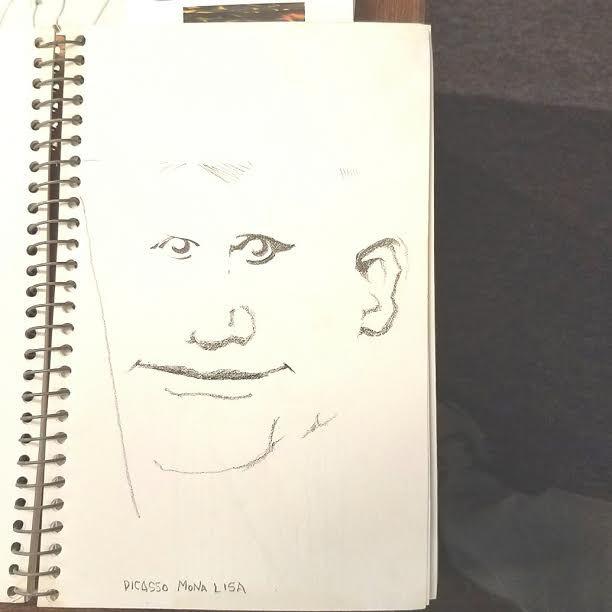 Another CCIC artist, Julie Kern, aka Satch, recalls Wug fondly and helped organize a remembrance. Patrons were able to come up to the second story studios and light a candle in a shrine. 
"It all came from Facebook posts, reading the sad news about the loss of Wug," said Kern. "But on the positive side there were so many entries from people who talked about how Wug mentored them and assisted them, and were so helpful to them as an artist.   And there was another section of people talking about when he was here at CCIC. And I remember wandering back and him having one of the few studios here. And going to those shows and seeing the lanterns that he bought, and I just thought at CCIC we should do something to commemorate tonight for  Friday, so I had the idea for the candle.  Rachel Ferguson [V.P. of Marketing for Teagan Development, which purchased CCIC in 2014] took it a step further; she's got a shrine upstairs, there's actual candles you can light upstairs."
And maybe the most significant thing that can be said about Wug Laku is that he had a vision for the arts in Indianapolis, a vision that he acted on.
Says his friend and former partner Nancy Lee, "He was heavily in support of artists doing their highest and best work and remaining true to their artistic vision and of course taking certain critique as to how work is presented, where is the work shown, what do I charge for my work, what is the next step; he wanted artists to focus on being very professional handling the business end of things, but to remain true to their core artistic vision and not be focused on production work for pay.   If you had to have a day job to be productive, that was in one area, but your artistic work should remain pure."  
The last words of this article belong to Wug Laku, in the form of some jotted down reflections, taken from one of his notebooks:
PUBLIC NOTICE:
HISTORICALLY THE ART WORLD HAS HYPED THE PORSCHES, LAMBORGHINIS, CONTENENTALS OF THE ART WORLD. A LOT OF PEOPLE WANT THEM BUT HOW MANY CAN AFFORD IT.  ITS TIME TO PROMOTE THE FORDS, TOYOTAS, AND VOLKSWAGENS.  WE MIGHT NOT HAVE THE PEDIGREE, THATJ DOESN'T MEAN WE DON'T HAVE QUALITY. THAT DOESN'T MEAN WE WON'T BECOME CLASSICS.  IT'S TIME FOLDS FOUND OUT THERE'S HIGH-CALIBER, AFFORDABLE ART OUT HERE.