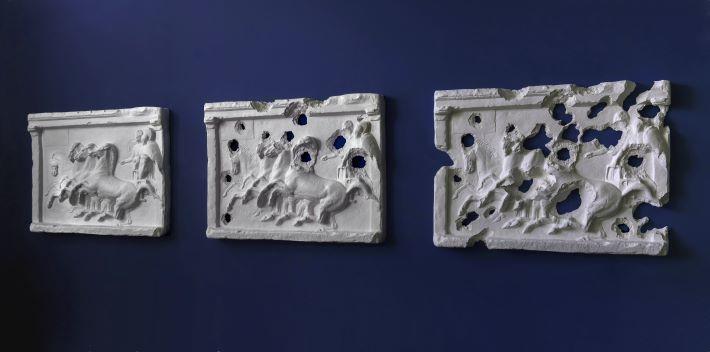 At Long-Sharp Gallery, Sept. 7, British artist Piers Secunda unveiled his work reflecting the damage ISIS militants have inflicted on Iraq's cultural legacy. On the same night, in Fountain Square, Indy artist Leena Dobouni addressed some of the same themes in her work, albeit from a different angle.
In ISIS Bullet Hole Paintings, Secunda is showing his "paintings" of commonly available reproductions of ancient relief sculptures though Oct. 27.
Many of these works have holes in them.
Secunda created molds of the bullet holes that he found on walls shot up by ISIS in northern Iraq. He then superimposed those holes onto his sculptural, wall-hanging historical friezes that represent the artistic and cultural legacy of the territories that fell under ISIS control.
Said 3-dimensional works are cast using industrial floor paint as a medium, rather than a more traditional sculptural material.
In the exhibition, Secunda displays reliefs such as "Four Horses" which depict scenes of ancient pop iconography, as it were. You'll also see works with bullet holes, and without, side-by-side.
Secunda traveled to Iraq in 2015. That year he went to Kirkuk with the Peshmerga (the Kurdish military) to make molds of the bullet holes that he found after ISIS had been driven out of the area. On his latest trip, he travelled to Mosul, which was liberated from ISIS control in 2017.
The ruins of the ancient city of Nineveh—mentioned in Genesis 10:11 in the Hebrew Bible—are located in the outskirts of Mosul. When ISIS took control of Mosul, they systematically destroyed the priceless archaeological treasures located there. What they didn't destroy, they sold off. As ISIS was in need of hard currency to sustain their operations, they sold many foreign artifacts to American buyers.
Secunda again went to Iraq in March of this year carrying a letter from the the Iraqi culture minister to allow access to the ancient sites in Mosul, and also to the Mosul Museum.
"There's mostly nothing there," Secunda said about the museum. "But what little is there has been badly abused, thrown around broken, and then the most significant things that remain there were winged bull sculptures that had been broken down by ISIS into rubble with power tools and jack hammers and that sort of thing."  
Simultaneously, in London, Secunda is exhibiting his work in the Iraqi ambassador's residence. The exhibition, Cultural Destruction Paintings, was organized at the request of a representative of the Kurdish regional government as an attempt to mend fences with the Iraqis after recent hostilities. The Iraqis and the Kurds were briefly at war in 2017, in the area of Kirkuk.
"It's a very helpful thing because it helps them to talk in a context which is mutually agreeable but ultimately in which they can deal with each other in an entirely differently human and personable level," said Secunda. "The house where the exhibition is happening was bought by Saddam Hussein in the 1980s, so it's sort of difficult thing to happily walk into the house. But they understand that it's moving in a direction... so they'll move forward."
At the same time as Secunda's First Friday opening, down at Future Friends Holographic Magic Club in Fountain Square, a group of Muslim artists seemed interested as a group in moving forward from reductionist stereotypes about their religion and culture.
The group art exhibition Muslims Aren't Interested in Being Afraid, organized by the Muslim Youth Collective, depicted work ranging from the pointedly political to the contemplative, featuring drawings, photographs, and mixed media work.
One of the artists featured in the exhibition, which will be up through September, is Indianapolis Art Center printmaking instructor Leena Dobouni. In an etching on a copper-coated aluminum plate, titled "The Wall", the 25-year-old Dobouni depicts similar images, such as bearded men in profile, that Secunda depicts in his work.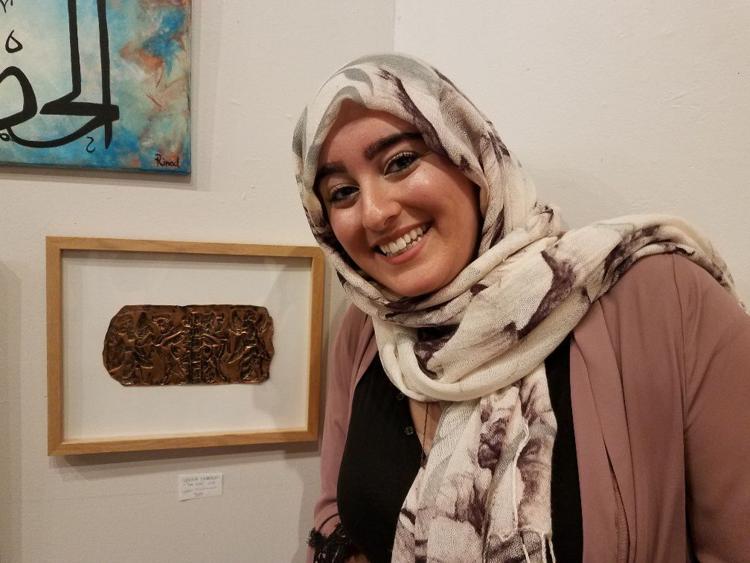 Dobouni's method here is to "mix and match and sketch out the images" before engraving them.
The work relates directly to the memories of a trip that Dobouni took in the summer of 2001 to Mosul. (Her father is Iraqi.) You can see also on this copper plate rows of characters in cuneiform, one of the earliest systems of written language.
The copper plate is not the only work that Dobouni has on display. A particularly stunning print titled "All is Well" (silkscreen, print, and graphite on paper) shows a body in a burial shroud against a background with the Koranic phrase in Arabic Inna lillahi wa inna ilayhi raji'un (إِنَّالِلّهِوَإِنَّـاإِلَيْهِرَاجِعُونَ) — "We belong to God and to Him we shall return"—repeated many times, each calligraphic phrase forming a small square. And the square seems to become a building block, as it were, in a wall behind the shroud.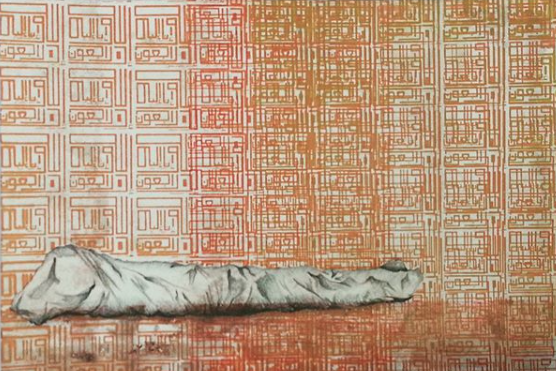 It's a phrase that is often said by Muslims when somebody dies, a phase that is supposed to offer comfort. But the sad irony in this phrase, Dobouni said, is that it offers more comfort to the person saying it (because it is something to say in a difficult emotional situation) than to the person on the receiving end.
"All is Well" has a sister print "Nothing to see here" that also depicts burial shrouds against the repetition of the Arabic phrase. Both bear witness to the ongoing tragedy in the Middle East.
Dobouni also has a work that consists of a map-like image of Iraq, printed as if it were a barcode—as if Iraq were a consumer product.
"I believe that many of the ideas that surround Iraq now in the media and in topics of conversation are either about war or what the west can gain from the country's land with no regards to its people, culture, or civil and historical importance," says Dobouni.
Not all of her work is so overtly engaged with politics and history. Take, for example, her photo-realistic portrait of a turbaned Iraqi boy drinking tea, drawn in colored pencil on paper.
"The boy's portrait reminds me of my own childhood surrounded by family in the Middle East," says Dobouni. "This is what resonated with me about the subject of the image was how ready this little boy is to grow up and blend in with the grownups. We've all had that feeling of being stuck at the kids table and just wanting to be a part of that adult conversation. I also find it inspiring for such a young boy to have such a strong representation of his culture and traditions."