I tried to make it out to as many galleries as I could last (First) Friday, to see all the galleries exhibiting art. I made it to the Harrison Center, Indiana Landmarks, Long-Sharp Gallery, Gallery 924, and Circle City Industrial Complex, and Tube Factory artspace. I wasn't expecting to make the trek to the Murphy Art Center. I wasn't expecting to get in another conversation with Mike Graves about erotic art, but ...
Tube Factory certainly was a highlight, considering that Kipp Normand's art was on display: a show titled This Just In. If I had to describe This Just In, I'd say it's like visiting an antique store with Alice — in Wonderland. I was thinking of calling it quits, because it was late and I felt like I had fallen pretty far down the rabbit hole.
But WFYI's Jill Ditmire told me there was art to see at the Murphy Arts Center. So I went. I caught an exhibit of Post-it art run by students from the Herron School of Art and Design. I also was able to catch up with Mike Graves. He was busy supervising the second floor of the Murphy Building. 
Earlier in the week, Graves and I had talked by phone about the Amorous Art Show opening on Valentine's Day at 1014 Prospect, right behind the Murphy Arts Center. So we talked a little more about the show, about the Murphy Arts Center, and about the burgeoning Indy art scene.  
Here's a transcript of our conversations, edited for length and clarity.
DAN GROSSMAN: I'd love you to tell me about Amorous Art.
MIKE GRAVES: It's a good old-fashioned adult art show. Sometimes the term erotic gets on my nerves because I think that maybe brings up some connotations. It's just a show with open nudity ... Definitely it's a sexy art show ... but I've always had a problem with that term "erotic art show."  It makes it seem, I don't know, a little bit too sexy. Sometimes you just have to have a show with open nudity. 
There's a lot of quality images that you can't show on a first Friday to the general public. … This show is a Valentine's Day show ... art for lovers. There's a lot of sexy things going on. We have our good friend Rachel Schwebach; she's going to be doing a rope thing. Some live performance artwork is going on. We have some sexy cocktails. ... So it's kind of a date thing. But the next day, on Saturday, it's just for people to come through and see the work. I think there's a lot of super-talented artists in this town that are doing work that they can't show because it's just open nudity.
GROSSMAN: Tell me about some of the artists involved.
GRAVES: Rachel Schwebach, she's frickin' awesome. I'm going to be in it. Bridget Wilson, Jeff Jeffries, Jedediah Johnson — he's a photographer doing a lot of very cool stuff around town. ...  These are all super-talented artists, but because of their subject matter it's just sometimes hard to get shows at the normal venues. Stuart Wayne is a local artist guy here in Indianapolis who's just coming up in the ranks, and he's doing some amazing stuff. Kylin Brown, she's new to the scene, but she's got some amazing artwork. Gwynneth Reitz, she's been in town for a long time.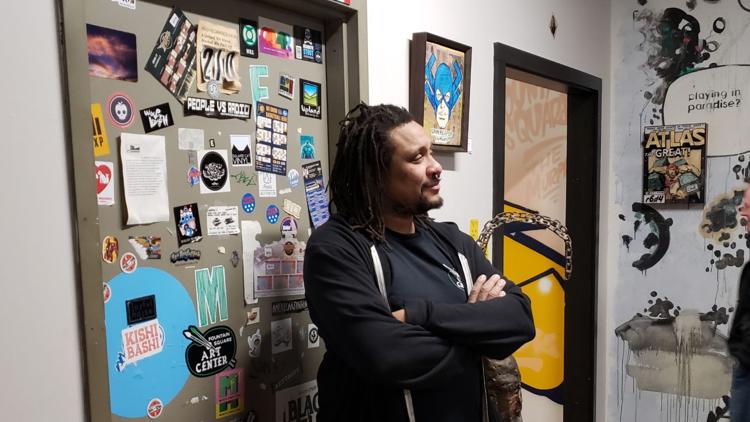 GROSSMAN: Tell me how you conceived Amorous Art.  
GRAVES: Me and Jeff Jeffries, we're really good friends. We're both Fountain Square artists, and we've been doing erotic artwork collaborations for years. We were doing a thing out in Seattle called the Seattle Erotic Art Festival, which is a three-day super-extravaganza with all kinds of stuff going on. It's an internationally juried event. 
We got accepted to that for three or four years in a row, so we were going out there and doing this big show in Seattle. It's really fun, but it's pretty costly. And we're back here in town thinking, "We throw shows all the time. Why can't we create an opportunity for ourselves here instead of going to the other side of the country every year?"
With the advent of the internet and being on Instagram, you see all kinds of cool stuff. And it's just kind of hidden away. … Indianapolis has had erotic art shows in the past. Jennifer Kaye did a couple for a few years, so it's not something that's brand new to the scene. It's been done before, just not on a consistent basis. So we thought, "Let's do something."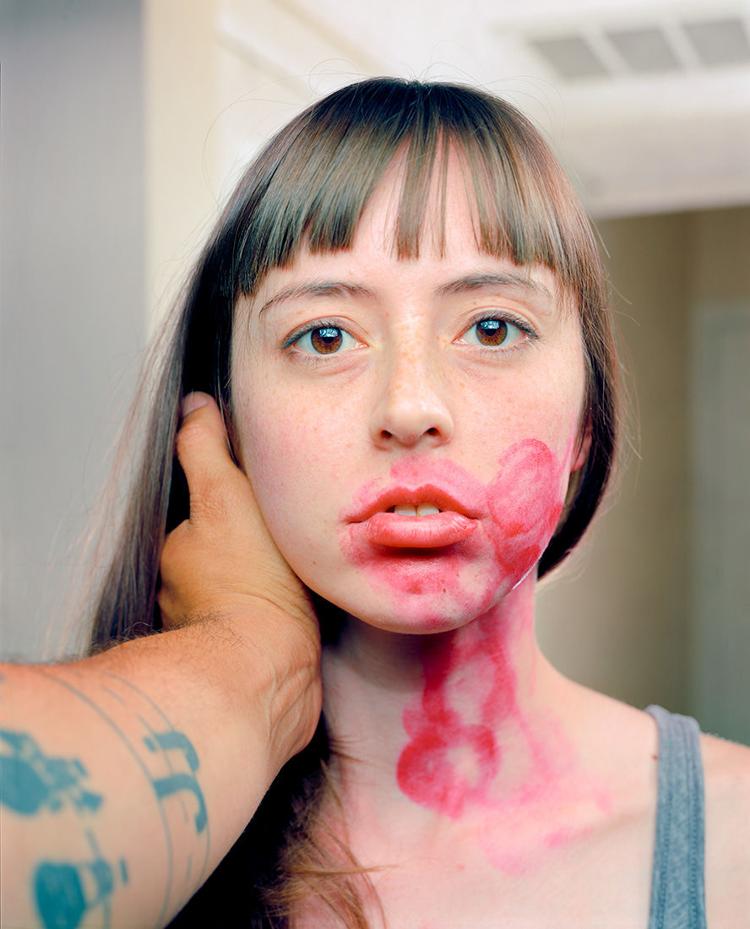 GROSSMAN: So what have you been up to since I talked to you last?
GRAVES: I stepped away from my 9-to-5 cooking job. I'm managing First Fridays now; that's my full time job at the Murphy Arts Center. The Bridge Collective is doing really well. We're still curating different spots around town and managing a bunch of different artists. For me personally, a lot of decent conditions have come my way. I put up a piece in a piece in the Alexander at CityWay.
GROSSMAN: Last time I wrote in depth about you, the Murphy was a different place, right? What's been the change, as you see it, since 2012?
GRAVES: The difference between what the Murphy was —  what a lot of people were in love with — and what it is now is that it's become way more art community-based. Now that I'm managing the second floor, art is in the hallways, it's not in the studios. There's not a lot of open studios, although there are a few galleries left in the building that are just open on Friday, like the Tandem Gallery and Future Friends Holographic Magic Club. But as far as the First Friday, I'm managing artworks in the hallways. 
So instead of it being the same five to eight artists, every month, trying to figure out something new to do in their studio or trying to figure out something for them to sell out of their own in their studio, I opened it up to the community. Now every First Friday there's different artists and three or four different vendors that are also artists.They get opportunities to show in a place that has a reputation for artwork.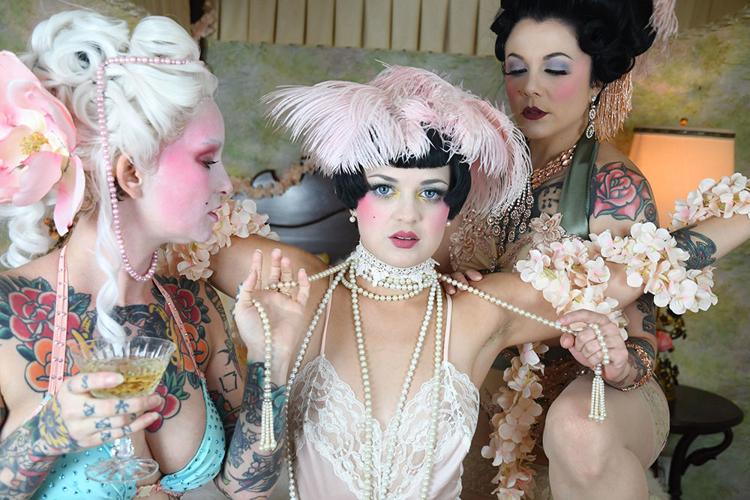 GROSSMAN: I've seen the vendors with tables in the halls at the Murphy and I've seen a lot of different paintings on the walls. I've also noticed that there's much better bathroom facilities than there used to be and better security. 
GRAVES: When the Von Deylens took over, I think maybe people were scared that they were going to be some big developer or maybe they were from out of town. But these guys are local guys who invested their time and their money in the art scene. They're not trying to get it back to where it was but preserve the fact that it is. It's never going to be what it was because it's a different thing. But it's still here. 
So, they enlisted me ... and I was one of the last artists in the building, literally, and people were still coming to First Fridays, wanting to see artwork. But there were no art studios besides mine, and mine is never open because it's a working studio, not a gallery. It's where I work and live half the time. Like there's socks on the floor. My place is not open. 
But there were people still coming to the Murphy building on First Friday to see artwork. So I took it upon myself,  because of my being in the Bridge Collective and the fact that I represent anywhere up to eight artists at a time. I had a bunch of my art  and other artwork in my studio, and I just went around to the different businesses in the studio, or in the Murphy, and asked if it was okay if I hung on their outside wall. Everybody was like "Sure, fine, that'd be great."
Well, I did that and after two or three months, the owners caught on and they're like, "Wow, this looks really great, who's doing this? Who said you can do this?"
I told them, "I just asked my neighbors in the building if it was cool, and did it."
And starting January 1 of 2019. It was my job. They were like, "Oh we want to hire you to do this, so it's a full-time job."
GROSSMAN: How do you solicit artists to get the art on the walls?
GRAVES: I just sent out a call to artists, and instead of curating, if you reply to the call to artists, I find you a space, I find you a month, and you get to display your art. It's not judging you ...  I don't charge the artists. ... It's not a curated event ... If your art's bad, it's not my fault. It's on you!  
GROSSMAN: Do you think this might turn into an annual thing, that it will grow and become like a festival, like in Seattle?
GRAVES: I hope so. One of our reasons for starting it this year is because Valentine's Day this year is on a Friday. Next year, we've got the weekend to play with. It's going to be on the weekend for the next two or three years. I do want to because of the other places [exhibiting erotic art] in the state like down at IU Bloomington, they have the Kinsey Institute. We're going to try it at least the next two or three years and see how it goes.