The sun was beating down on Mass Ave in full force as I watched artist and poet Nasreen Khan painting on plywood outside the offices of Schmidt and Associates on June 11. Taking a much-welcomed water break in the shade, Nasreen talked with me about her mural, an initiative in conjunction with the Arts Council of Indianapolis, St'ArtUp 317, and PATTERN magazine.
While Khan was initially intrigued about the project, she admittedly also had some reservations. "I thought it was meant to cover up the words that protestors had inked on storefronts," she said. "When I realized that it was not that —   it was in fact places that didn't have anything on them —  I wanted to participate."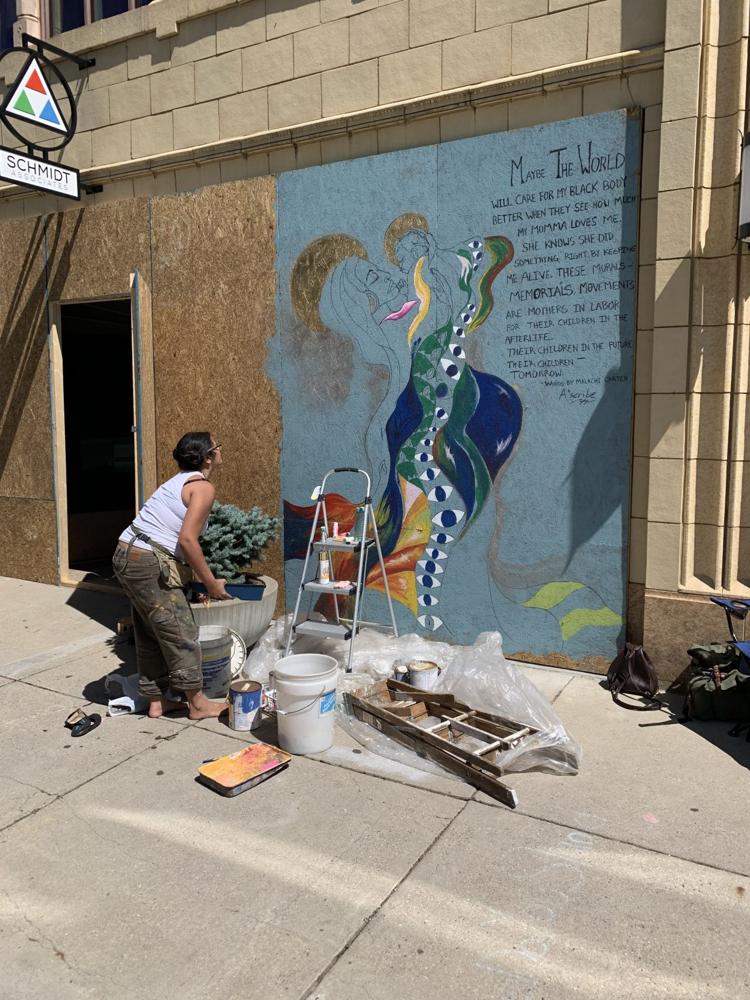 Khan has been working in art and poetry since moving to the United States for college, a practice she found as a way for her to connect with the immigrant experience, highlighting and referencing the places she comes from. "I grew up in West Africa and Indonesia, my father is half Afghan, half Russian, and my mom is Filipino, Chinese, Spanish, and Indigenous," she shared. 
In conceptualizing a mural proposal, Khan knew she wanted to center the voices of Black poets, submitting a joint application with local poets Manon Voice and Malachi Carter. "The idea that Black and brown voices, or black and brown art is not part of the canon is so intrinsic. Everything that our language does is meant to uphold whiteness. The very syntax, the lexicon of respectability is meant to uphold whiteness. So the idea is that you're taking Black and brown work and making it not an option. If you want to live in this city you have to see the work of Black and brown artists." 
The poems of Voice and Carter flank the entrance of Schmidt and Associates, their words serving as the focus of the mural. Voice's poem, "Vigils," speaks to the power of Black femininity and the strength of black female voices, while Carter's "Maybe the World" conjures notions of faith and maternal love.  Khan's painting highlights the text, complimenting each piece in an airy, ethereal approach. The ideas of breath and voice, Khan says, were very much inspirations for the mural. 
"I was at the protest Saturday night, and I just realized that we're standing in this poisonous smog of literal chemical gas. That's wreaking havoc on all of our lungs in the same way that black and brown bodies have inhaled the toxicity of racism and exhaled it through our pores day-in and day-out through our whole existence. It's that idea of breath —   of all of us taking a collective breath together — as black and brown people," Khan states.
Taking a breath together, as a community and as a city, is an important concept right now, Khan believes. Guided by her strong faith and background in congregational work, Khan sees collective breathing as both an act of grieving and contemplation. 
"The city itself, taking a big lungful of the teargas this weekend has just felt really meaningful to me," she said. "That idea of breathing together in a meditative space is significant. "