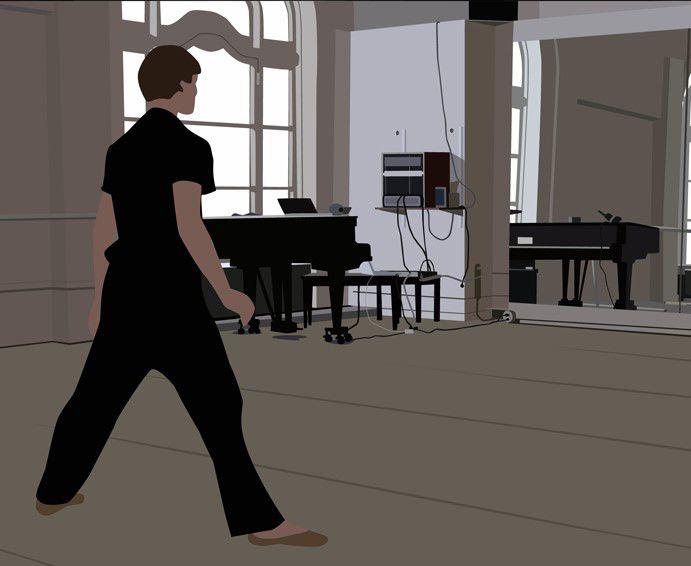 My expectations were raised by the three giant video screens as I walked into  Tonya by Kota Ezawa at the Herron Galleries. This three channel video loop depicts choreographer James Kirby Rogers dancing the same routine from three different angles. The ballet choreography was first filmed, then digitally animated in a very abstract manner. 
Rogers' face appears as a blank oval. Details of the ballet studio where he danced have also been simplified.
The soundtrack, at least at first, seems neither here nor there. The theme is from the motion picture Jurassic Park, which was the music Tonya Harding chose for her figure skating routine at the 1994 Lillehammer Olympics in Norway. But the sound doesn't just consist of the Jurassic Park score; it also includes the audio of the broadcast of her performance.
"Taken down from its pedastal, dance in Tonya is the expression of a blurred identity, a shifting mirror that obscures who the portrayed subject is, or could be," explains the German-born Ezawa in the wall text. "Removed from their original contexts, the images and the sound are more memorable in their isolation and simplicity. Rogers becomes a symbolic dancer."
I'm not so sure that the images and sound are more memorable in their isolation and simplicity and I'm not sure what was gained by juxtaposing them in this four minute video.
And yet, my expectations for this exhibition weren't entirely disappointed.
I did think of the enormous effort any great artist—in any genre or medium—makes in order to become successful. I also thought of the tragedy of it all when it all goes awry, as in the case of the disgraced figure skater Tonya Harding.
What was more interesting for me, however, were four the videos by four other artists who also bridge the worlds of dance and videography. These videos, found in the adjacent video space, were works from the 1960s and 70s that the German-born Ezawa's found influential.  
All of these artists combined video and/or animation with their love of dance.
There's Bruce Nauman's black and white video "Dance or Exercise on the Perimeter of a Square," a black and white video where the world-renowned artist is the subject. You see Nauman standing on a square made of masking tape, on the floor, using his body as a type of metronome.
Also on view was one of the first music videos ever made "Wuthering Heights," by Kate Bush, from 1978. In this video, you see the singer dancing to her own choreography against the backdrop of the English countryside.
Yvonne Rainer's "Trio A [Excerpt]," is also something of an Exhibit A when it comes to contemporary modern dance. Rainer, who is considered a major figure not only in postmodern dance but contemporary film and art, is also a subject here. That is, you see her performing her own task-oriented choreography.
The most disjointed of all of these videos was Merce by Merce by Park Part One: Blue Studio... which depicts American dancer and choreographer Merce Cunningham multiplied onscreen against a moving highway, a dance studio, and a green screen while the soundtrack consists of various random noises and artists' conversations with one another.
These four videos serve as something of a history lesson.
And while Ezawa's work didn't feel cutting-edge contemporary (as the medium is moving quickly into virtual reality), it did nevertheless give me a sense of the possibilities of synthesis between contemporary dance and videography.
I'm looking forward to comparing and contrasting this work to the group exhibition The Video Show  opening Feb. 1 at Gallery 924.  Stay tuned.