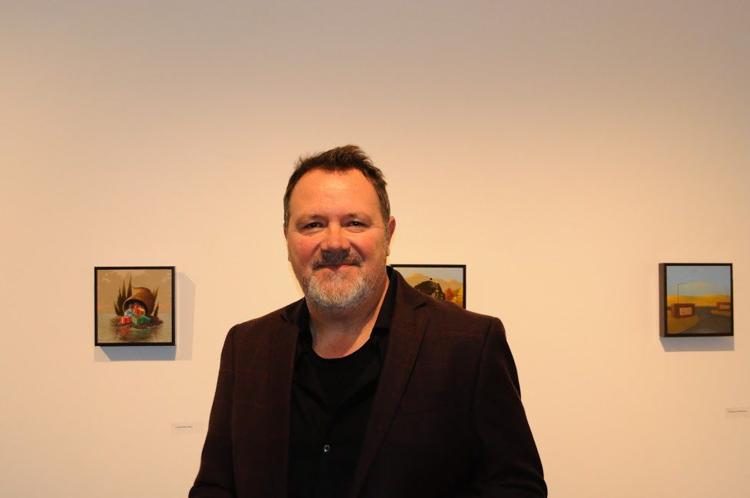 Steve Paddack's exhibition in the Edington Gallery is his first solo show in almost a decade, the last having taken place at the now defunct Four Star Gallery in 2009. It is made up of two groupings of paintings, his "Water Tower Travelogues" consisting of 24 miniature paintings (4"x4") depicting mostly water towers in rural locations all over the U.S., and his larger (6"x6") "vignettes."
It is his vignettes, though, that grabbed my attention first with precisely detailed landscapes featuring strange, surreal, and sometimes anthropomorphic subjects.
Consider the title painting "Over the Falls" where you see a Christmas tree quite literally going over the falls. The colors in this painting are muted; the sky is in sepia-tones; the only thing that pops color-wise are the Christmas ornaments on the tree. You might already be through with the Christmas season, but the ornaments are not.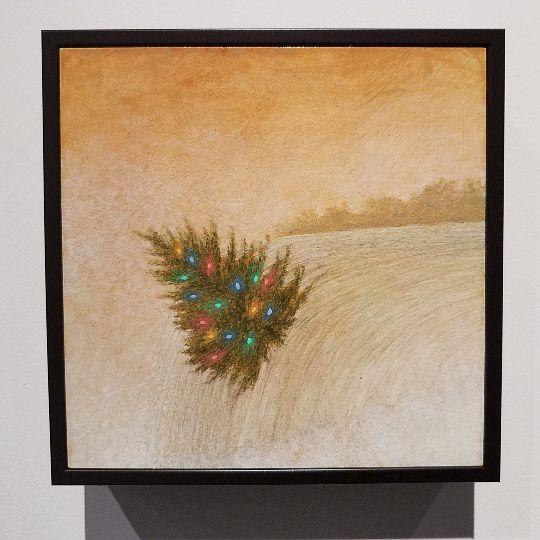 There's often a narrative element in these paintings, as in "Fairy Book Cottage in Bubbling Tar Pit"—the title aptly describes the content of the painting—that might make you wonder if Paddack was force fed Grimm's Fairy Tales as a child.
If you're acquainted with Paddack's paintings, you'll know that a recurring image is that of a oversized rolled up carpet that you see in various outdoor settings. In the painting "Symptoms of Nostalgiaphilia" you see that carpet joined by a covered bridge; both are vomiting. Seeing that the covered bridge is such an enduring subject in Hoosier painting, you might wonder how one exactly contracts nostalgiaphilia. Does it involve visiting one too many bucolic art galleries in Nashville, Ind.?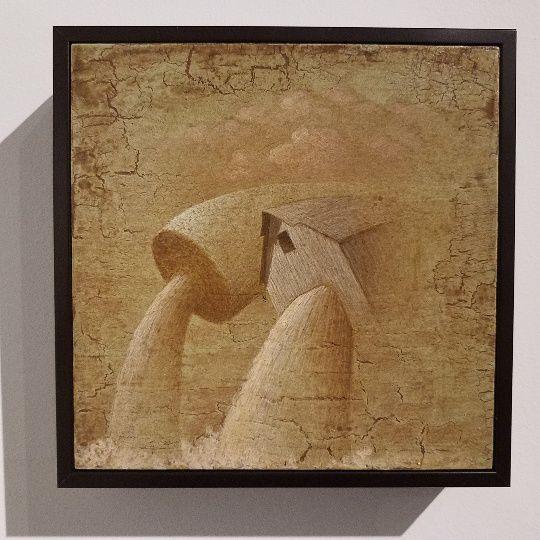 In a painting titled "After Böcklin," named the Swiss symbolist painter who was influential to Giorgio de Chirico, Max Ernst and Salvador Dali, you see a nod to Böcklin's most famous work "The Island of the Dead." Except, in this painting you see one of Paddack's signature rolled up carpets holding court on a tree-covered island, You see the carpet reflection in the water and blotches of paint that seem like they might be portals to whatever universe Jackson Pollock currently inhabits.
In "Sunday in the Park with Kelvin-Helmholtz," you see another covered bridge, but this one encountering a physical phenomenon known as a Kelvin-Helmholtz instability. That is, where you find a velocity sheer in a single continuous fluid. The upshot is that you find this particular covered bridge going air-bound.  
But it's not all brooding landscapes with covered bridges and rolled up carpets in Steve Padack's universe.
Sometimes it's brooding interiors.
 In "The Corridor of Grief" you see the word grief carved into the walls of a hotel corridor that seems to have the world's dreariest color scheme; off green, off yellow, and off brown. And at the end of the corridor—in the "I" of grief, as it were—you see a mysterious reddish-orange glow.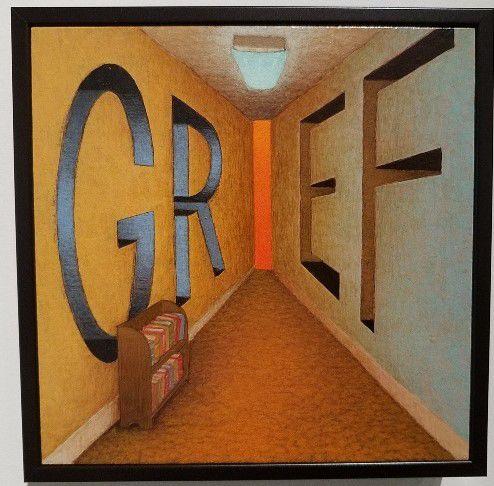 "The Water Tower Travelogues" are less fraught, but just as engaging; each of the water towers, standard features in the American rural landscape, seems to have a different personality. The water tower in "Mid-morning Fairview Heights, Illinois" appears almost like a face, albeit one with a blank expression.
There's a lot to admire in this exhibition; a masterful command of color theory and technique; riffs on ideas, an almost obsessive vocabulary of images, homages to painters, suggestions of symbolism, inside jokes.
I just hope we don't have to wait another nine years for another solo show.