The art of Lobyn Hamilton, Jay Parnell, and Mason Archie on display this month at Gallery 924 is at once interlinked thematically and deeply rooted in Indianapolis. Titled Circles: The Renaissance, The Rebirth, The Remix, it might just be the best exhibition ever shown at the signature gallery of the Arts Council of Indianapolis.
These artists — as we are told in the wall text — have been meeting among themselves for years, discussing politics, art, and life in general. If the subjects in their artwork are any indication, they also grapple with issues of African American life and culture in these discussions.
You can check out their work, and see them discussing their work, during their artist talk on Thursday, Oct. 24, at Gallery 924.  
The most well-known of these artists is Walter Lobyn Hamilton, an artist who made a name for himself internationally. He has done so with his dead-on, mosaic-like portraits — using broken vinyl records on canvas as a medium —  of musicians, politicians, and African American icons. Lately Hamilton has moved away from portraiture, while still testing the limits of, it seems, every possible material he can get his hands on. He hasn't abandoned vinyl as a medium completely in this exhibition, however. 
The vinyl on canvas "Black Mirror" is a mirror, of sorts, made of broken records. You might just catch a dim reflection of yourself in this work, the title of which might suggest to you the eponymous British anthology TV series, or it might have resonances that are suggestive of black culture. Or maybe it will resonate for you both ways, if you take into account that the FBI has increased the surveillance of the Black Lives Matter movement in the Trump era. 
Hamilton is also treading, more or less, on familiar territory with his two wall-hanging flags made out of vinyl record album spines and record players on wood. Both are titled "With or Without". One of them an "Evel Knievel Flag", the other an "Alex Haley Flag". The turntable in the corner of the "Alex Haley Flag" takes the place of the stars, and the spines take place of the stripes. Looking at the flag conjures up a wealth of associations; you might think of the work of artist Jasper Johns, of the place of black music in American culture, as well as Haley's legacy as author of Roots, and, by extension, the legacy of the slave trade in the Americas.
In "The Complexity of Legacy," he uses the hood of a 1968 Jaguar E-Type as a sort of canvas. The piece acknowledges Madam C.J. Walker and her legacy in Indianapolis. 
I can say that this is probably the first time a car hood has been in the 924 gallery space. I can also say with some certainty that this is probably the first time a bazooka has been in this space —  incorporated in a piece titled "Black Panther Party FOR SELF DEFENSE" — covered with newspaper clippings and posters about the Black Panthers.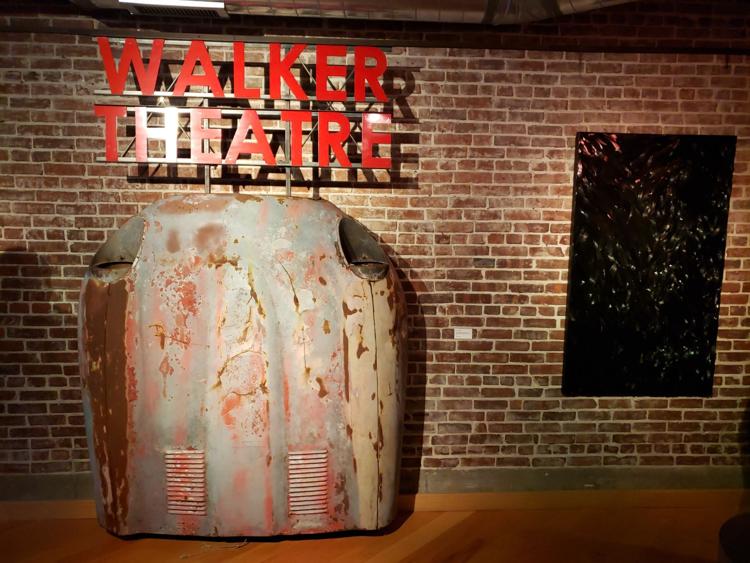 Another found object requires no words from me other than a brief description and a quote from the artist himself. Said object is a blood soaked rug, titled "Wasted Potential." From the wall text: "My brother spent his last moments in his home bleeding out on this rug and the surrounding area due to a fatal gunshot wound on Feb. 26, 2019."
This exhibition marks the first time I've seen the work of Mason Archie. His work incorporates a wealth of rural landscape painting, such as "After the Rain" (oil on linen), a work that might be described as photoreal in its intimate detail and its capturing of the play of light on a landscape. His landscapes do not seem dashed off in an afternoon outside on an easel, en plein air. But if that is indeed the case, then hey, more power to him.
Archie also is a talented portrait artist, judging from "Madam CJ Walker #1" a painting that captures the Madam Walker Building in the background and a young African American woman walking across the street, her hair in braids, in the foreground. It's not an accident that both Archie and Hamilton refer to Madam C.J. Walker — the millionaire hair products manufacturer, activist, and philanthropist who at the time of her death in 1919 was considered to be the wealthiest African-American woman in the U.S.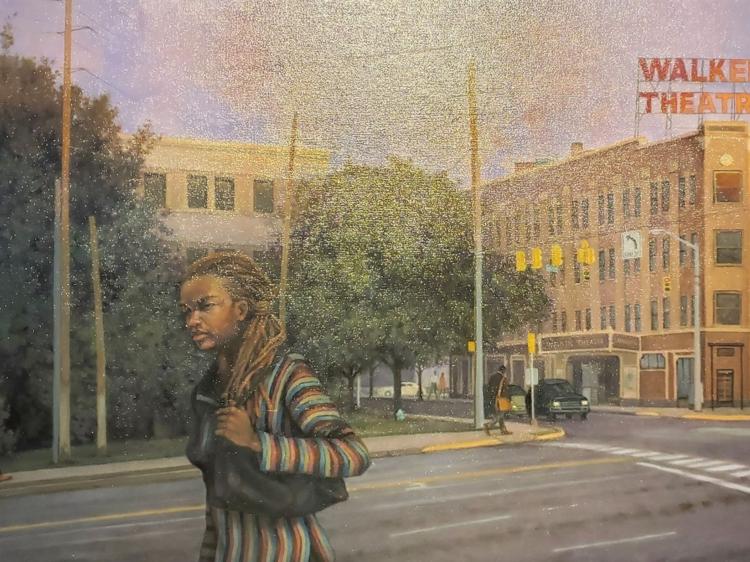 In a profile I wrote about Jay Parnell, published in NUVO in July 2018, the painter told me that Swedish-born Norwegian figurative painter Odd Nerdrum and American Andrew Wyeth are "the gods of my art world." Unlike Lobyn Hamilton, Parnell has been pretty consistent about his mediums (oil on board). With his classically rigorous style, he at once acknowledges and transcends his influences. If anything, over the past year or two, he has journeyed deeper into his subject matter.
"Acknowledgement" shows a man facing forward, with two messenger pigeons in either hand, against a mountainous backdrop. Another painting shows an adolescent girl standing on an old broken down car against an agrarian backdrop with two birds flying in the same direction behind her.  These sharply focused paintings share a mysterious symbolic content that draws you in as much as the stunningly rendered surface detail. 
So too does the stunner of this exhibition, a painting titled "Extraordinary Time," a painting that probably belongs in a museum. In this painting you see approximately three dozen subjects, all black males, looking toward the viewer. Each is unique in their physical demeanor, and something of their interior lives seems to show through in their expressions. Most of them appear to be sitting or standing on a truck bed.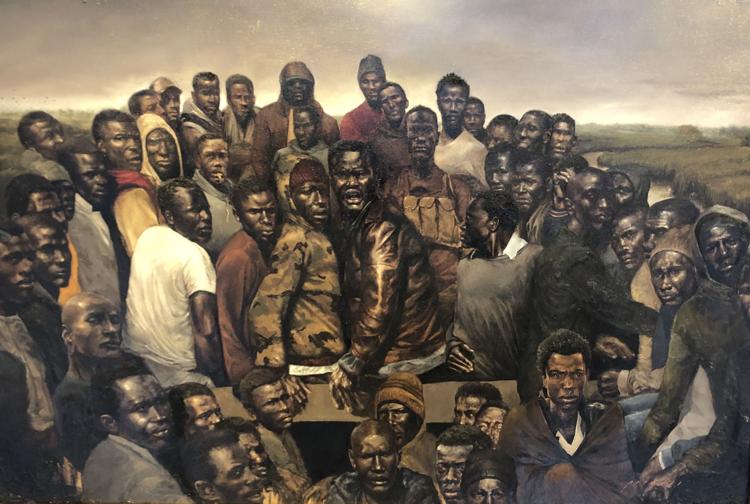 Maybe they're African refugees headed to the Sahara, hoping to make it to Europe. Maybe they're passengers in a too-crowded taxi in the bush of Africa. (My own interpretation of this painting is informed by my experience as a Peace Corps volunteer in Niger, West Africa, where I took quite a few trips in open-bed bush taxis.) The sky behind them is gray, over a flat empty horizon. 
And the men are all looking toward you as if you are the subject that they are considering.  
This exhibition of extraordinary art is one more bit of evidence that it's an extraordinary time for the arts in Indianapolis. It's an outcome that wouldn't have happened without the hard work of many artists, art administrators, and volunteers working to make the Circle City more inclusive — and making the city more inclusive by the nature of their work.
Exhibitions like Circles enrich us all.