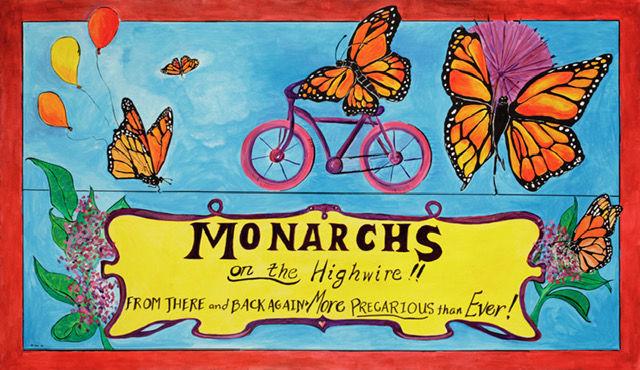 The monarch butterfly population in California, according to a survey conducted in late 2018, was down 86 percent in the Western U.S. compared to the previous year. The monarch, it so happens, is just one of the subjects of an upcoming art exhibition at the Harrison Center opening Jan. 4. 
Professor Animalia's Menagerie of Struggling Species features circus-style sideshow banners, one of which portrays a monarch butterfly bicycling on a high wire. Another features a honeybee being shot out of a cannon.
It's part of  the Harrison's Thru•way event, which also features the landscape paintings of Tyler Meunick in its main gallery. 
The Bloomington-based Bess and Joe Lee, both in their mid-60s, created this work. Bess is a painter who worked as an art teacher in the public schools for thirty years. Her husband Joe worked as a cartoonist/illustrator for the Bloomington Voice and the Herald-Times. He also worked in various circuses after graduating from Barnum & Bailey's Clown College. His resume as clown includes stints with King Brothers and Hoxie Brothers circuses.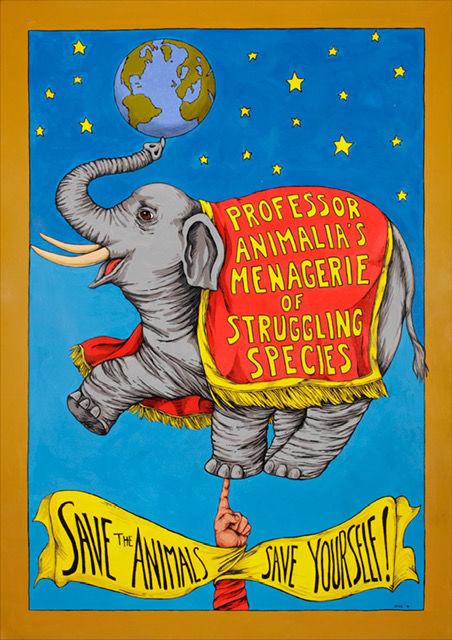 "During my first season on King Brothers, I lived with two other clowns in a closet-sized sleeping room," says Joe. "On the other side of a thin sheet of plywood were 11 ponies, two llamas, and a baby elephant. We lived very close to the animals and in fact our conditions were almost identical to the animals' conditions, but it enabled me to get to know elephants that are an amazing incredible species; intelligent and sentient in every way imaginable."
The inspiration for the artwork in this show stems from a visit they paid to an exhibition at the Folk Art Museum in Santa Fe 10 years ago.
"We saw this amazing banner in a roomful of sideshow banners," says Bess. "One was advertising a flea circus and they were walking a high wire. This was about ten years ago and we were starting to realize the monarch population was going down. I started to look at that banner and all the sudden I realized that the monarch was so at risk that it was like the monarch was on the high wire of a death defying act. I saw monarchs instead of the fleas."   
In the show at the Harrison Center, the banners—painted in acrylic and then gelled on heavy watercolor paper—remain true to this vision.
"The act in every banner is some kind of incredibly risky thing that's being done with the animal," says Bess. "For instance, a honey bee is being shot out of a cannon and a rhinoceros is balancing on a very tiny peak. So in the way sideshow banners take your breath away about humans risking their lives, we tried to make each banner have a feeling of there's this huge risk except the risk is real because they're becoming extinct."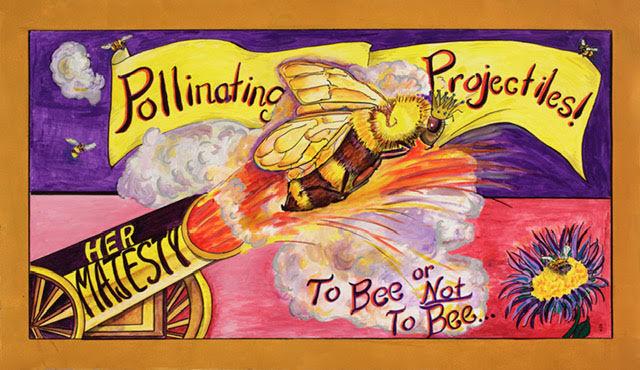 The industry Joe worked in as a clown has also pretty much gone the way of the dodo bird—at least the types of circuses that feature tigers, lions, bears and elephants.
"A lot of people who are for animal rights are very anti-animals in the circus. And something that I certainly don't disagree with," says Joe. "These days, the only animals that you might see in the circus, and there aren't that many circuses still on the road tend to be domestic animals; think of dogs and horses."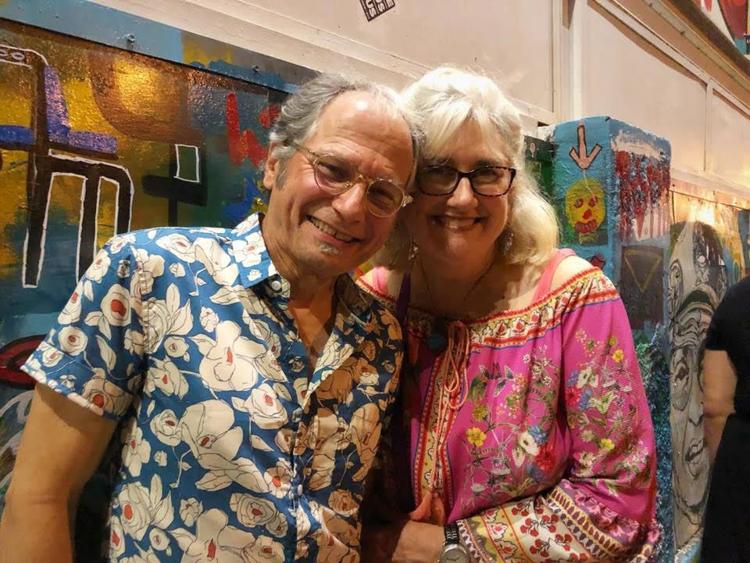 In the shows that Joe was involved in, he says that the circuses took care of the animals well.  
"But I will say this; the travelling which is a completely unnatural way for an animal to get from one place to another," he adds.  
But no animal rights activists will be upset by Bess and Joe depicting endangered species in unnatural situations in order to create an "uncomfortable juxtaposition" in their work.
"When you talk about endangered species, and you're trying to show the animal's a beautiful creature, and you do it in way that's surprising it can be a little cartoonish," says Joe. "At same time you can look at that and maybe laugh and then you get the sense that we are talking about animal that is severely endangered."
The VIP preview of the exhibition will be a benefit for Earth Charter Indiana, run by Executive Director Jim Poyser [who was also NUVO editor from 2000-2013].  Sales from the exhibit will also benefit Earth Charter.
"We had known Jim for 25 years or so," says Joe. "I first met Jim when he was doing some editing for the Bloomington Voice which was an alternative paper here... We became friends. We collaborated on a lot of different things. Jim would write a satiric little comedy piece for the Voice called Zeitgeist and I would always do an illustration.  And then we collaborated on different things…. And so when Jim became executive director for Earth Charter of Indiana, he started casting around for ways that we could collaborate; I did some illustration for him and so it was just a natural fit that when we came up with the idea to do this show, that we would do it as a benefit for Earth Charter.
During the Jan 4 exhibition, Joe will be be doing what he calls a "sideshow spiel" as "Professor Animalia" that will help illustrate some of the dire issues touched upon in the exhibition, but in an entertaining and engaging way.
"Part of the spiel comes from this great old sideshow talker named Henry Thompson," says Joe. "And Henry he had a wonderful way with words and he could convince anybody to come into that sideshow and of course not everything Henry said was exactly the truth, so I will be departing from Henry by telling the truth in every way."
"Henry had a wonderful way with words," says Joe. "And he could convince anybody to come into that sideshow. Of course not everything Henry said was exactly the truth, so I will be departing from Henry by telling the truth in every way.
Henry Thompson, says Joe, was also a sword swallower.
"It's something I never learned but I might do a little escape tricks I'm not sure yet; I'm going to see how time permits," says Joe.