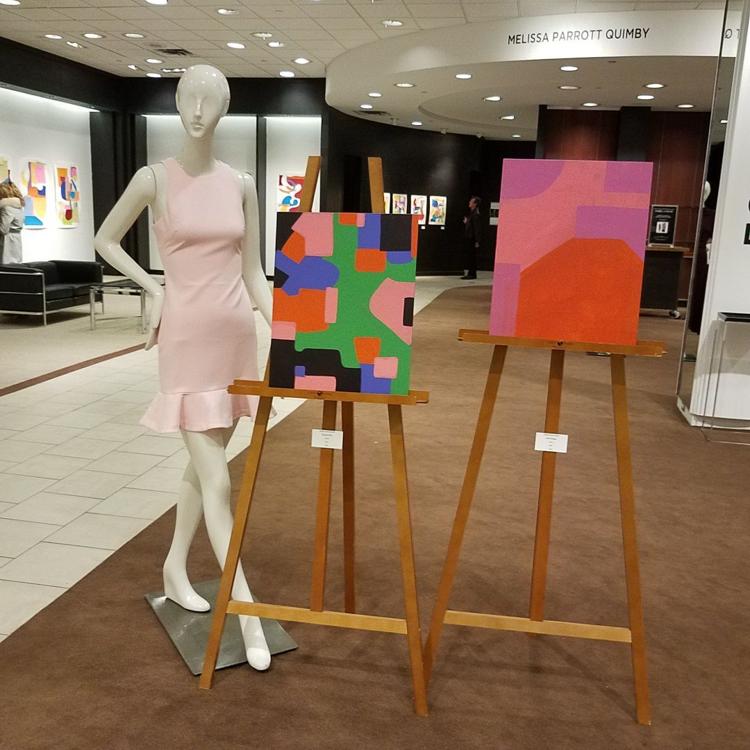 Katrina Murray's studio is an essential stop on any art tour of the Circle City Industrial Complex, where she's had her studio for quite a while now. It's always fun seeing what she's up to next, whether that involves abstract painting, realistic landscapes, portraiture, collage, or ceramics.  
Currently, her work is part of the exhibition Form + Color in the Saks gallery on the third floor of Saks Fifth Avenue at Keystone at the Crossing. Here, Murray's work is displayed alongside that of Herron adjunct instructor Melissa Parrott Quimby who is exhibiting a good number of brightly abstract paper collage works, drawings, and paintings.
If you were forced to make a generalization based on the title of the exhibition, you might label Murray's work as the "form," as Murray is displaying wall hanging ceramic work, and Quimby's work the "color."
While all of their work in this exhibit tended towards abstraction, in general Quimby's work is bright and cheerful, while much of Murray's is in earth tones. I liked the freshness, playfulness and Miami Vice colors of Quimby's abstract work and felt it complimented Murray's more subdued palette well.
There is a humorous note to parts of the exhibition, where work by the artists is set beside various mannequins, reminding you that, yes, this exhibition is taking place in a department store.  
After Murray suffered a traumatic brain injury in late 2015, she started working with paper collage, as returning to oil and canvas in her months of convalescence afterwards was too high a hurdle.
"I started out making collages with tiny strips of paper; and that transitioned into making collages with larger strips of papers and collaging with painting and scrap; and making paintings that look like collages," she says. "Then I got the [ceramics] residency with Julie Edwards, a Rhode Island School of Art and Design graduate. She started teaching me all of this; I was with her for about six months so I consider this a form of collage too. All of it is collage work to me."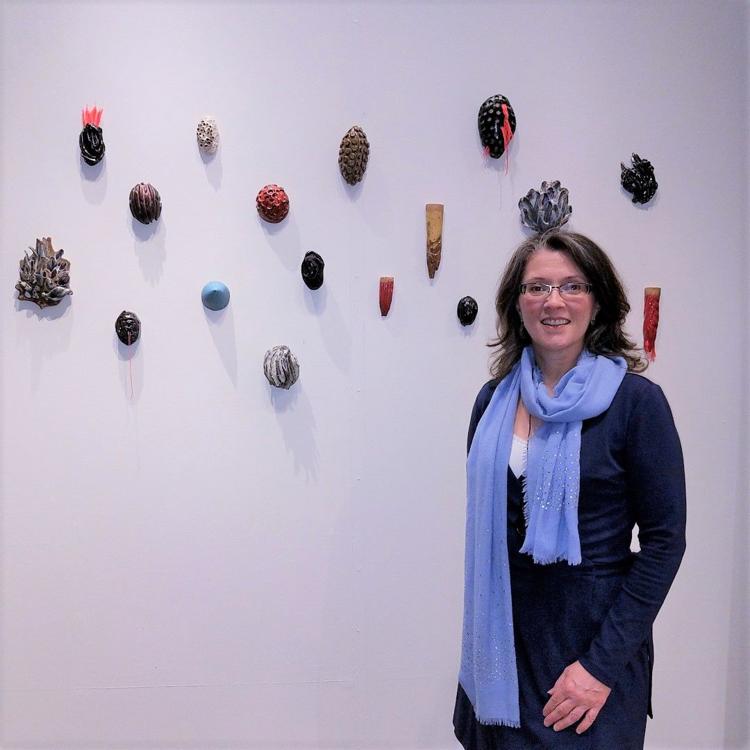 At Saks, Murray has a bit of paper collage on view, as well as a painting from her Particle Physics series from 2015, where she basically painted portraits of various subatomic particles.
But it is her work with ceramics, an installation of wall hanging ceramic work in particular, that is the emphasis in this exhibit.  And the sculptural works are sort of like subatomic particle portraits with dimensionality. 
The show was curated by Tony Quintana and Maria Behringer who display Murray's work at 10th West Gallery and curated the Impromptu show that opened Friday, Jan. 4 at the Circle City Industrial Complex, where Murray's studio is located.  
The Saks Gallery, which had its inaugural exhibit last March, is the brainchild of Jim Longfellow, who is by day the Saks Fifth Avenue office manager.  
"I would say we've had really good success," says Longfellow of the art exhibitions.
"We're gaining attendance with our patrons. We've had partnerships with the Indianapolis Ballet. All of the artists have sold pieces up here with the exception of two. Attendance has been increasing as we go. Right now they're following the artist. They're not necessarily coming because of Third Thursday which I'm hoping to gain traction on in the spring."