My last stop of the evening on First Friday, Feb. 7 was Big Car Collaborative's former garage, as it were, the Murphy Art Center, located in the near southeast side Indy neighborhood of Fountain Square.
The Murphy seemed like an appropriate place to end up for this series of articles, considering the explosion of creative energy that the facility has nurtured over the past 15 years, and considering how a healthy arts scene is dependent on more than just the talent, say, of the artists making the art.
Despite its nonprofitty-sounding "art center" moniker, the Murphy building —  which began its life in 1884 as a  five and dime store —  is currently managed as a for-profit facility, housing restaurants, bars, artists' studios, and the headquarters for the Heartland International Film Festival.
I met up with DJ and visual artist Mike Graves who manages First Friday events and security at the Murphy, where he rents a studio. Like Joy Hernandez, Graves is a talented painter who often works multiple jobs to make ends meet. In 2019, he stepped away from working as a line cook. (St. Elmo's, Indy's premier steakhouse, is the most impressive restaurant listing on his resume, if you ask me.)
As part of his job, Graves seeks out art to hang in the hallways, but not as a curator. He has, in fact, a distinctly laissez-faire approach: "If you reply to the call to artists, I find you a month, and you get to display your art," he told me. "I don't charge the artists. If your art's bad, it's not my fault. It's on you!"
At the time we spoke, Graves was in the middle of organizing an "Amorous Art show", a group show of erotic art, scheduled for Valentine's Day weekend. Bondage-themed dancing and "sexy cocktails" would be part of the programming.
 "It's a good old-fashioned adult art show," Graves told me. "Sometimes the term erotic gets on my nerves because I think that maybe brings up some connotations. It's just a show with open nudity  ... Sometimes you just have to have a show with open nudity." 
You could say that the Amorous Art Show was too sexy for the Murphy. That is, Graves decided not to hold the group exhibit not in the Murphy Art Center itself, but in a more "relaxed" offsite location.
I told him that I had never seen, in more than a decade of covering the art scene in Indianapolis, so many people out and about on a First Friday.
He agreed. 
"We've got this great word of mouth community that's sprouting up everywhere," he said. "It's a good time for arts in the city."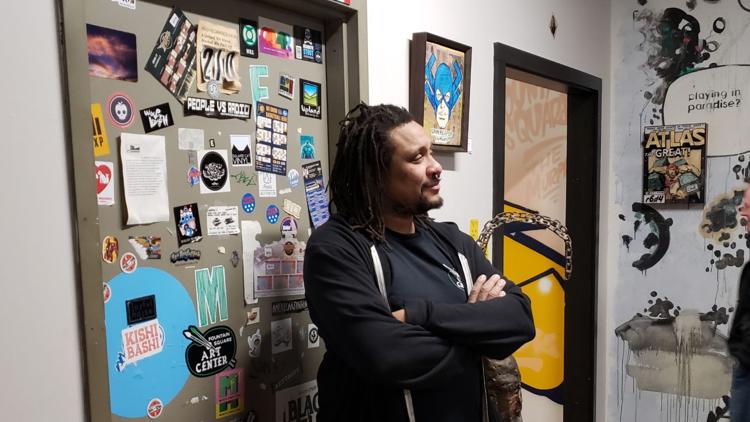 The Baby Mothership
To my surprise and delight, the Museum of Psychphonics, on the Murphy Art Center's second floor was open. This was my chance to finally check out the studio apartment-sized museum (if that) dedicated to musical memorabilia and antique curiosities. Kipp Normand, he of the Snake Oil show at Tube Factory, is the museum's chief curator. 
Inside, I eyeballed the display cases containing the ashtray from the Burger King that Elvis was reported to have visited before he died, and the currencies from defunct empires among other curiosities. The museum has attracted visitors, and notice, from all over the world. Atlas Obscura calls the museum "a modern-day wunderkammer dedicated to Indianapolis history, Afrofuturism, and musical vibrations."
The pièce de résistance of the museum, the Baby Mothership, is a metallic replica of a flying saucer that made me think of that old science fiction TV series Lost in Space. In its former life, the Mothership was a prop from Parliament Funkadelic's roadshow. Indy resident Tom Battista was the funk group's road manager, responsible for constructing their props. None other than Funkadelic founder George Clinton made a pilgrimage to see the Baby Mothership in 2016.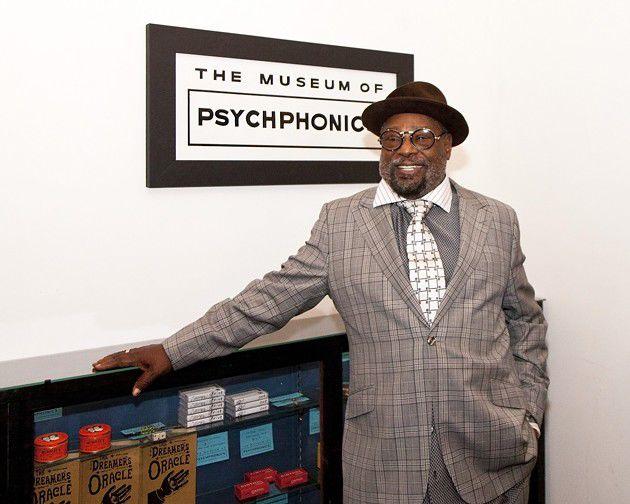 Little did I know, after leaving the Baby Mothership and driving home —  in a vehicle considerably less cool — that the Indy art scene would likely never be the same again.
While I did get out to several galleries during the following month's First Friday artwalk, in March, the shadow of COVID-19 had already fallen on the scene, and the crowds were much thinner, and just about everybody I talked to was preoccupied by that shadow. Within a week of that art walk, most people in the city of Indianapolis would be sheltering in place at home. 
As a consequence, it's the February First Friday that stands out in my mind as my last art pilgrimage, as it were, before the onset of COVID-19.
Conclusion: Tikkun olam
On June 5, I was finally able to get out and see art for the first time in three months even though galleries were shuttered at this time due to the governor's stay-at-home orders.  The catch was, that, in order to do so, I had to give blood.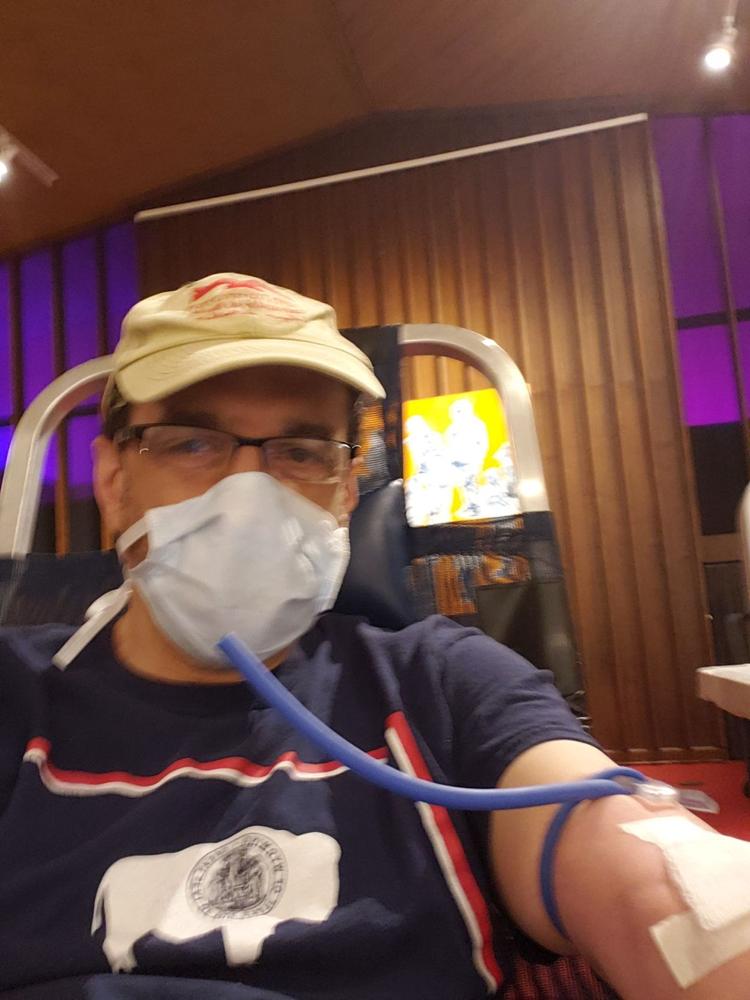 That is because the Harrison Center had transformed itself into a blood donation center in partnership with Versiti Blood Center of Indiana. In order to get in the building to see the art, you either had to be a volunteer to help with safety flow or a blood donor.
In between signing the required donation paperwork and getting my temperature checked —  twice —  I was able to talk to Willard Johnson through my surgical mask about his show "When Strangers Meet".  
Willard's work is heavily influenced by his upbringing. Born in Seoul, South Korea, he spent time in Egypt and went to high school in Beirut, Lebanon.
"The Tide" is a mixed media painting, which features layers of cut paper in the form of arabesques. "They would always throw in mistakes to the designs," Johnson said of Muslim artists who created abstract designs, to show that they were human and not divine. 
He told me he was influenced by Islamic art and New York School Abstract Expressionism.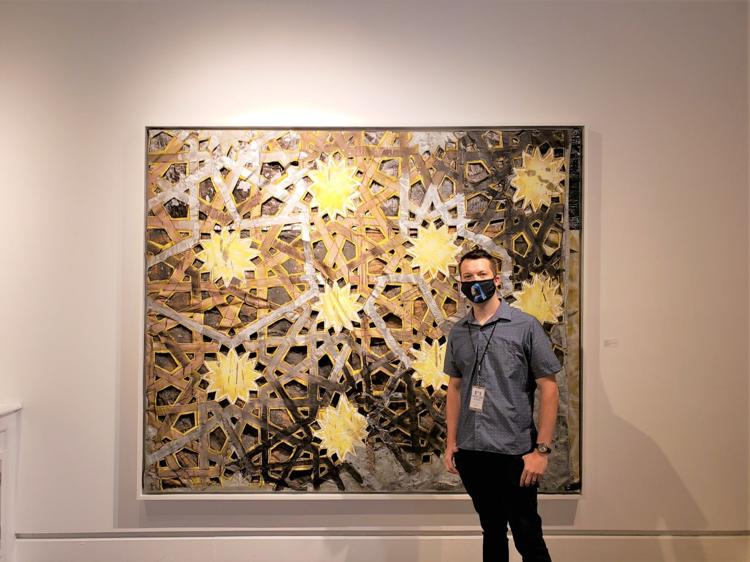 But his work made me think not of Muslim art or Abex but of the concept deriving from Jewish mysticism called tikkun olam, which means, "to heal the world." 
That is when God created the world, according to various rabbis, His divine presence contracted to make room for creation. Some of the vessels meant to contain the light of God shattered, meaning Adam was born with the task of freeing the divine light from the broken vessels, to heal the world, but his imperfection —  his sin —  prevented him from doing so.  
In the wake of COVID-19, there is the danger that the fragile network of financial mechanisms supporting the art scene in Indianapolis might shatter like so many glass vessels. 
Arts Council President and CEO Julie Goodman laid out the problem facing artists and art organizations in stark terms in a Zoom conference titled "the 2020 Virtual State of Indy Arts & Culture" on June 24.
She did not neglect the news of that day. That is, she reported that Lilly Endowment would fund, per the breathless Indy Star headline, a "$10.2 million grant program [to] help Indianapolis arts and cultural organizations reopen."
But, in looking at the big picture, the grant money —  that the Arts Council will distribute —   looks like a small lump in a large hole.  Having surveyed the arts community on an ongoing basis since the statewide stay-at-home orders went into effect in mid-March, Goodman was in a position to know.
"We've experienced nearly 20,000 event cancellations and closures," she said. "That is expected to grow to 30,000 by the end of September, and the impact on artists on our arts organizations and on our audiences in our city has been devastating. The nonprofit arts sector is experiencing $8.6 million in financial losses per month. That's growing to 50 million by September. And that doesn't include the 20 million in additional unexpected expenses and restart costs required to operate in this new world with these new COVID realities."
Casualties already include Indy Contemporary, the museum Jeremy Efroymson founded in 2002 (then called the Indianapolis Museum of Contemporary Art).  Efroymson served as its first executive director. This "museum without walls", as its organizers described it, has been in and out of several fixed locations over the 18 years of its existence.
In an April 3 article in The Indianapolis Star, board president Casey Cronin cited COVID-19 and the resulting financial uncertainty as a reason for the closure.
This economic uncertainty does not bode well for commercial art galleries nationwide. A shakeout is imminent, according to Rhonda Long-Sharp of the Long-Sharp Gallery, whose business has been affected by COVID-19 closures of art fairs. Many contemporary gallery owners, like Long Sharp, rely on these fairs for the bulk of their income. To adjust, she's speeding up the process of moving towards a more digital business model. She was planning to do this anyway, she told me, because of long-term trends.
"It's been very obvious to us over the last seven-eight years that brick and mortar galleries, while still important are less important, and a virtual presence while always important has become more important," she told me. "Over the past two years, we have been behind the scenes, working out a new program for our virtual presence."
Indy nonprofits are also using online resources to adapt to the pandemic. Just a few weeks into the crisis, the Arts Council of Indianapolis set up a "COVID-19 Resources" page on its web site and started the COVID-19 Emergency Relief fund to assist Indianapolis artists financially, and is now focusing its energies on assisting arts organizations.  It has also found other innovative ways to employ artists as well. In the wake of one night of rioting resulting in shattered windows and other damage throughout the Mile Square,  the Arts Council employed Black artists to work downtown, to create murals on boarded up windows, and they took this opportunity to address Black Lives Matter subjects. 
The Harrison Center, having forgiven its studio artists two months' rent, began selling their works online, which it has never done before. In addition to the Harrison's socially-distanced First Friday Blood Drive, they retrofitted their City Gallery with convertible patio doors so it could effectively act as an outdoor space, which it did for its July First Friday opening.
Big Car has marshaled its social media resources and its radio station to keep its community informed. The organization is also working with those financially strapped artists in its APLR housing program who are unable to make rent during the pandemic, so they can keep a roof over their heads.
The Circle City may not be unique among cities when it comes to its art scene, but it is, I think, noteworthy. There is ample evidence here of an innovative and responsive arts community — in addition to the plethora of world-class artists. The strength and innovation of these artists and art professionals is what makes me think that if any city's art scene can survive COVID-19, it is that of Indianapolis.