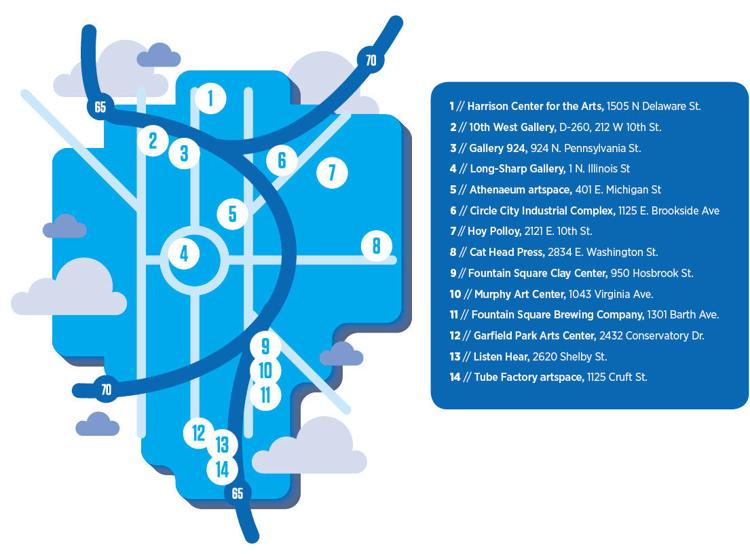 It's the First Friday of the month and time to discover a whole new crop of Local art and artists. As February is Black History Month, we have several venues hosting exhibitions in keeping with that important theme.
Here's a quick reminder: First Friday isn't just First Friday anymore. Some venues have Saturday events, others have "collector's nights" on Thursdays. Many exhibits are open through the month. Check websites for details.
At the Harrison Center, I'm looking forward to painter Courtland Blade's exhibition Black Spaces and Places. In previous exhibitions, the painter has focused his attention to the common public spaces that we share, whether they be interiors of shopping malls, playgrounds, or Indy's downtown street intersections.
But in this exhibition, it seems he's going for something a little more more particular.
Per Blade's statement:
"Here I am simultaneously exploring some of the culture and history of Black people in the city of Indianapolis through place and space—whether it be Madame Walker's legacy through the theater, or King Park commemorating the night that Kennedy spoke to the people of Indianapolis after Dr. Martin Luther King's assassination," he writes.
"The idea of 'Black space' is a space where people of color feel comfortable and are usually not outnumbered. These are often places where people that are considered white may not feel as comfortable. In a 'white space,' people of are color outnumbered, often feel out of place and many times find themselves looking around to find another face of color."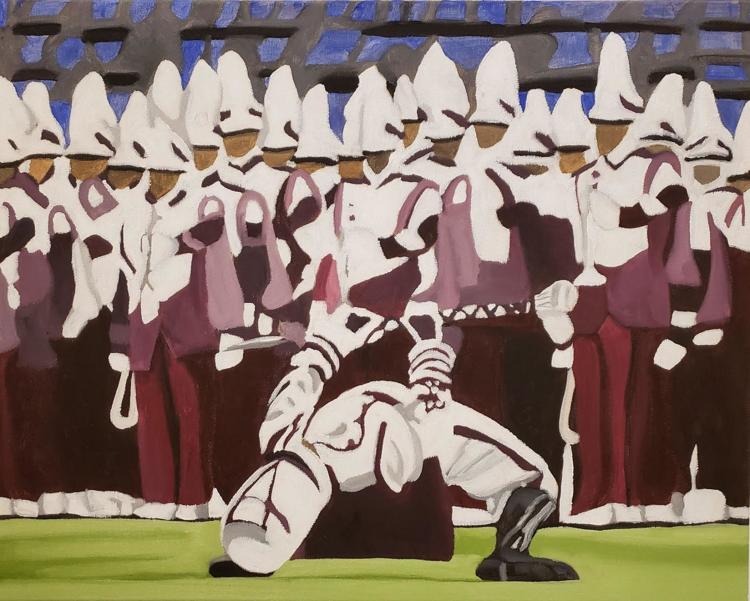 I'm also looking forward to Kate Oberreich's Roam at Harrison Center's Speck Gallery, featuring her new mixed media work. And when Oberreich says mixed media, she means mixed media—ranging from pastel to acrylic, from house paint to chalk to embroidery.
Moving onto 10th West Gallery. In addition to being able to check out their "collective" artists, you will also be able to check out some signed lithograph prints by Robert Indiana.
Just across Meridian Street, Gallery 924 will be doing something a little more out of the box; hosting their show of contemporary video, The Video Show.
"We are very excited about it and expect it to be a "who's who of Indy video and new media in 2019," says interim arts council of Indianapolis president Shannon Linker. "We'll be expanding the gallery space to include our new board room for artist Bryn Jackson and our neighbor The Cabaret will be showing a video piece by Artur Silva."
Long-Sharp Gallery, right in the heart of Downtown Indy, will be exhibiting prints by British-born David Hockney, whose 1972 painting "Portrait of an Artist (Pool with Two Figures)" sold for $90.8 million in 2018, the highest price paid for artwork from any living artist. But even more interesting, to me anyway, is the fact that this artist is referenced in a malaprop in the third episode of The Sopranos season one "Denial, Anger, Acceptance" (when Tony's Russian mistress admits that a painting on the wall of her bedroom, depicting a pool splash, reminds her of "David Hockey.")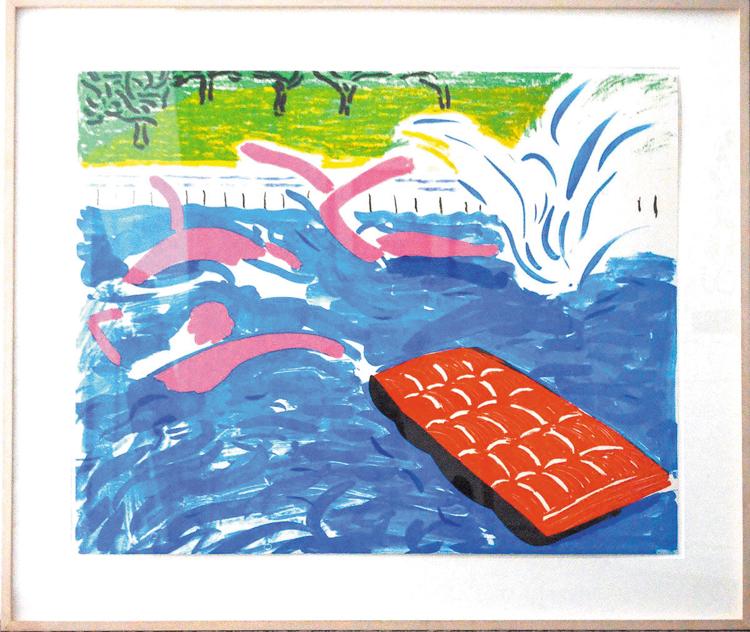 In the midst of all of the Mass Ave. District's swank shops, restaurants, bars, and more bars, you can still find art, believe it or not. Credit for this has to be given to the innovative nonprofit organizations that inhabit the district. One of the places you can find it is the Athenaeum's ArtSpace. The February show, titled Re-Generation Indy, will feature work by teaching artists who volunteer as youth art instructors for that program, including Gary Gee, R.A. Buys, and Jessica Hancock. The featured youth artist is Sophia DeFelice. Kudos to them for the work they do. Portions of the proceeds of this family-friendly exhibition will be used to fund their spring workshop section.
To the east a bit, at Circle City Industrial Complex you can find the work of dozens of local artists. In the Schwitzer Gallery, you can check out Kassie Woodworth's solo exhibit Habits featuring sculpture, collage, printmaking and collage. Also at CCIC is the photography studio/gallery Darkroom Revelations, which will host Howard Bond: A Retrospective, featuring the work of the influential photographer.
At Hoy Polloy it's All Power to the People,"in honor, and dedicated to the power of Black and Brown folks." The event will feature local artists answering such questions as "What does power look like to you? What are you owed? Do you feel you have power? What do reparations look like to you?"
Included at the opening will be tarot readers, story tellers, as well as visuals relating to the Black Power movement.
We've heard a lot about walls these days for all the wrong reasons, but the exhibition of photography by Herron instructor Jared Landberg titled The Painted Wall at Cat Head Press's Middle Space Gallery will be worth a visit.
"The images in the exhibition were created in the deserts of Southern California during the fall of 2016 and spring of 2017," Landberg says in his artist's statement. "They are monumental and subtle, monochromatic and saturated, inhabited and ownerless. The ability to see and be seen over vast amounts of space is consoling and overbearing. Sun bleaching magazine pages from travel publications and augmenting the color of the landscape through artificial lighting are methods I use in world building."
Moving onto Fountain Square, to the Fountain Square Clay Center, we take note of Birthday Party, a solo show of new work that shows the parallels between baking and pottery, by Alexa Adamson. "The pieces demonstrate various baking techniques such as piping, extruding, and hand rolling by using varying states of clay in the surface decoration," according to the promotional text.
You could also make your own ceramic Valentine's card on First Friday evening, for $20 a tile.
At the Murphy Art Center, you've just got to stop by Future Friends Holographic Magic Club, hosting an exhibition titled Frequencies, which will feature the art of visual artists, fashion designers, and poets. Also at the Murphy, the LO-FI will feature the visual artwork of the Bridge Collective featuring Mike Graves, Jeff Jeffries, Dan Thompson, Justin Cooper, Rachel Rose, and Aaron Reynolds. I've always admired the collective—particularly the work of Mike Graves and Justin Cooper. Their work as both individuals and collaborators is fun, imaginative, innovative, sly, snarky, and about as packed with pop culture as your average pulsar.  
While I love the Murphy and their exhibition spaces, I would like to see a big retrospective exhibit of the Bridge Collective artists outside the Murphy, in a venue like the Harrison Center, Tube Factory, Gallery 924, or the Circle City Industrial Complex so more people can become acquainted with their work. It's about time.
I should mention that the LO-FI is an over 21 venue, but it is free. While you're checking out the artwork, you can check out the music of Jay Jones and the Party Crashers, booked for that evening.
I should also mention another commercial venue that's been hanging work by local artists on a regular basis. That is Fountain Square Brewing Company which will be featuring the digital designs, paintings, and photography of MLM Artworks, the moniker of one Mike McKinley.
Garfield Park Arts Center will have a Black History Month exhibition featuring the work of local African American painters.
Also on view at GPAC is an exhibit by Lauren Ullrich aimed particularly at those of us with wanderlust, titled Wanderlust, featuring depictions of destination locales such as Venice, Prague, and the Ukraine in woodcuts, watercolor. Also opening at GPAC Feb. 1 is Organic Matter, featuring Beth Ann Thomas' gouache and ink renderings of landscapes.
Big Car Collaborative's Listen Hear will feature Bliss, a pop-up, presented by Tropical Gift Shop, described as a "career retrospective sale" in "various mediums," and you will be able to shop, eat, and drink at the First Friday Night Market adjacent to Tube Factory artspace.
Do not miss the exhibition Crashing through the Front Door at Tube Factory, featuring the work of photographer Casey No and writer Taylor Rose. The exhibition documents the history of Low Pone, a monthly event in Fountain Square that cultivates and celebrates Indy's LGBT community.
"Usually Indianapolis lags far behind when it comes to trends, especially performance-wise," Shauta Marsh, co-founder/director of programs and exhibitions at Big Car Collaborative, explained to NUVO's Seth Johnson. "Low Pone is bringing horror drag to our city around the same time its' popularity has risen in New York and Los Angeles. They are also creating a new platform for the queer community at a time we've lost venues like Talbott Street, The 501, and several others."